FreshDirect Review
More Options Than You Ever Imagined

Advertiser Disclosure
This website features affiliate links. For purchases made via these links, we earn commissions that allow us to keep producing helpful content. To find out more
click here
.
Close
FreshDirect is much more than just a meal kit delivery service. It is a one-stop shop for all your dietary needs. As soon as you enter the website, you will notice the overwhelming abundance of delicious goodies just waiting to be taken off the virtual shelf. In this FreshDirect review, we will focus on the company's rich offer of ready-made meals and meal kits and hint at the vast range of groceries, pastries, and drinks you can pop into the cart on your way to the checkout.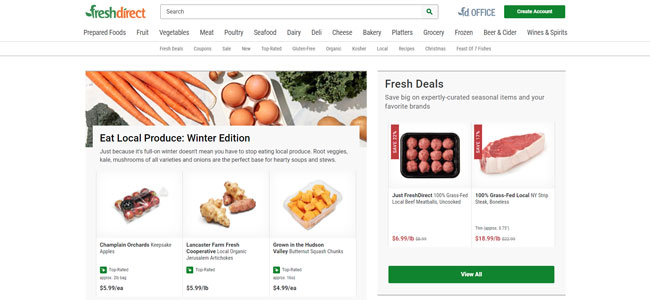 What Is FreshDirect
FreshDirect is a delivery service that provides natural and organic groceries, chef-prepared meals, and meal kits for various preferences and budgets. You can shop at your convenience, with the only limitation being the low minimum order threshold.
While it is one of the best meal kit deliveries for singles at the moment, it is also a complete solution for couples and families who want to eat healthily. It virtually eliminates the need for shopping at brick-and-mortar stores since all the food and drinks you may need during the week are available in its online shop.
If you are not in the mood for cooking, you can pick up a couple of ready-made meals that suit your dietary preferences and taste. If you want to cook but have not got much time, you can opt for its convenient kits that minimize prep time and cleanup. In case you are throwing a party, you can order some appetizers, baked goods, party platters, and various spirits for as many people as you like. Finally, if you just want to stock up your fridge and pantry and fill your freezer with ice cream and treats, FreshDirect has got you covered once again.
Simply put, FreshDirect is a reliable source of healthy food in all its shapes and sizes and it allows you to shop any way you wish. Its offer is huge, the quality is always high, and no matter how much you want to spend, you can find items that suit your budgeting plans.
How Does FreshDirect Work
Shopping at FreshDirect is the same as at any other e-store. You browse the offer, pick your meals, kits, and groceries, and proceed to checkout. FreshDirect is not a subscription service, so you can order whenever you wish, with no commitments. However, if you do not already have an account, you will be asked to create one to streamline the ordering process.
As far as the variety of meals is concerned, we will just say that at any given moment, you have hundreds of dishes at your disposal. The convenient classification of the dishes by type makes it easier to find what you're craving. The categories are further divided into subcategories and there are over a dozen filters you can apply when searching for the perfect meal. The meal kits are slightly less numerous, but you still get around 30 different kits you can try out.
Once you select the meals and kits you wish to enjoy, all you need to do is confirm your order and let the FreshDirect staff do the rest of the work. Their job is to neatly pack everything into separate boxes and deliver the delicious food to your doorstep.

FreshDirect is a reliable source of healthy food in all its shapes and sizes and it allows you to shop any way you wish. Its offer is huge, the quality is always high, and no matter how much you want to spend, you can find items that suit your budgeting plans.
What Makes FreshDirect Different
FreshDirect offers an unparalleled variety of both meals and other food items, without compromising on the freshness and the quality. In comparison to the food you can normally buy in stores, this company offers fresher, healthier food with a longer shelf life. The items can stay in your fridge for up to 7 days.
At the moment, FreshDirect offers over 3,000 varieties of fresh food items. Apart from the hundreds of meals we have mentioned in the previous section of this FreshDirect review, the store features a variety of fresh groceries. You can purchase fruit, vegetables, meat, poultry, seafood, dairy, deli items, bakery goods, pastry, party platters, frozen goods, beer, wine, and spirits. You can also purchase groceries for your pantry, a variety of beverages, household items, baby, pet, and health and beauty items, and even flowers. As you can see, the store has virtually everything you need in one place.
What truly sets this store apart from its competitors is that it strives to excel in every aspect of the service and settles for nothing short of absolute customer satisfaction. It uses custom software fed with all the information on the size shape and location of all the items you ordered, which allows FreshDirect to pack faster and use optimal packaging for every item. All meat and seafood are custom-cut and all the meals are carefully prepared by professional chefs. You get full nutritional information, including lists of possible allergens. Your shopping lists are saved for easy reordering and your preferred delivery time is reserved in order for the deliveries to perfectly fit your schedule. In case you are not satisfied with your order, FreshDirect does everything to make it right. Simply put, you get premium quality along with stellar service.
FreshDirect does not only deliver to home addresses but also makes deliveries to offices and schools. Businesses can create standing orders and regularly receive delicious items for the staff, opt for FreshDirect event catering, and order office-friendly fruit. Making sure that no customer desire goes unfulfilled, the company is always adding new products to its offer in accordance with customer requests.
FreshDirect Meals And Recipes
FreshDirect meals are divided into several basic categories. These include entrées, marinated meat and kabobs, sauces and marinades, side dishes, appetizers, salsas and dips, green salads, sandwiches and wraps, pizzas, sushi, deli salads, soups and chili, Passover dinners, and breakfasts. These categories are divided into several subcategories for easier navigation. You can also check out the new meals, the meals that are on sale, family-sized, kid-friendly, and vegetarian meals, dishes under 500 calories, and party food.
If you find it hard to make a choice because there are too many dishes at your disposal, you can sort them by popularity, price or alphabetically or you can choose the Sale option and view the special offers first. You can also filter the meals by nutritional value and sort them by serving size, amount of calories, total fat, saturated fat, cholesterol, sodium, total carbohydrate, dietary fiber, sugars, protein, vitamin A % daily value, vitamin C % daily value, calcium % daily value, and iron % daily value.
FreshDirect offers meals for a variety of special dietary needs. Its offer includes vegetarian and organic dishes, meals suitable for children, low-calorie meals, and much more. No matter what your needs and preferences are, there is a high chance that this company can satisfy your desires.
Meal Kits
FreshDirect always has dozens of excellent, novice-friendly meal kits on its offer. You can go with the standard offer or choose something from the Smart & Simple and Stir-Fry collections. All the kits come with detailed instructions, as well as information on the number of servings, skill level, spice level, cooking time, necessary equipment, pantry items you should have on hand, and nutritional information.
You even get great pairing suggestions so you can make your meals even more satisfying. The meals normally take between 10 and 50 minutes to prepare and the instructions are super-easy to follow.
FreshDirect's meal kits are suitable for carnivores, omnivores, pescatarians, and vegetarians. They normally feed 2 people and they can contain anywhere between 200 and 960 calories per serving.
How Much Does FreshDirect Cost
With several hundred meals and over 3,000 items in the FreshDirect store, it is hard to speak of a definite price range. Generally, meal kits cost $6.50 – $14.99 serving. Meal items start at $3 per serving and rarely cost more than $10 per portion.
The minimum order for home deliveries is $30 for all areas, except for the Hamptons, where the limit is set at $99. Unfortunately, shipping does not come free of charge, unless you purchase a Delivery Pass ($79 for 6 months, $129 for a year). The delivery fee depends on the area and ranges from $5.99 to $15.99.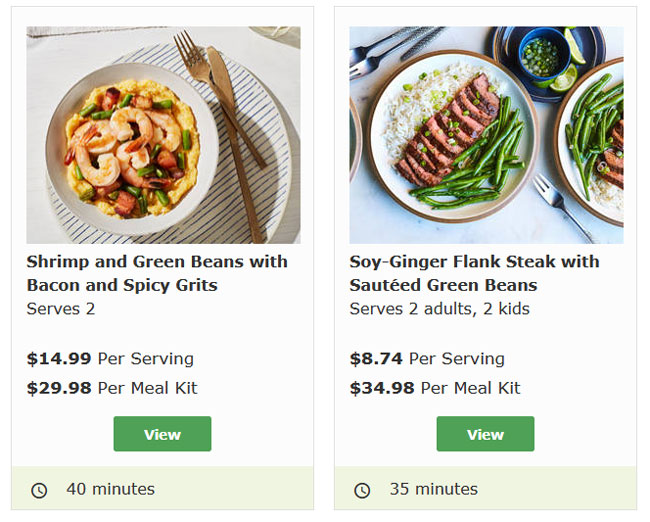 Where Does FreshDirect Deliver
FreshDirect delivers its products to most addresses in selected counties of New York, New Jersey, Connecticut, Pennsylvania, Delaware, and Washington D.C. The company also makes deliveries to the Jersey Shore and the Hamptons – but only in the summer. You can check whether FreshDirect delivers to your zip code as soon as you enter the website.
You should be at home to receive your delivery. FreshDirect allows you to decide on the timeslot that works best for you. After you receive your second delivery, you can choose to have a neighbor pick up the box if you are not at home. Certain suburban areas qualify for unattended delivery and customers who live in large buildings can authorize the doorman to receive the package.
FreshDirect Pros And Cons
To make sure FreshDirect meets all your standards and expectations, it is important to know its biggest advantages and disadvantages. With a short overview of its pros and cons, you can easily decide if FreshDirect is the right meal delivery service for you.
Pros
Commitment-free ordering
Hundreds of delicious ready-made dishes
Over 3,000 kinds of fresh food items
Organic, vegetarian, low-calorie, and kid-friendly meals
More than 2 dozen convenient meal kits
Fresh food items with a long shelf life
Suitable for various special diets
Cons
Limited delivery area
Rarely changes its meal kit selection
Sample Dishes
If you subscribe to FreshDirect, you can easily prepare culinary masterpieces using only the ingredients and recipes found in your meal kit box. You may not be a pro chef just yet, but with FreshDirect, you can easily make restaurant-grade meals. You don't have to take our word for it – check out the images below to get a better idea of the types of dishes you can enjoy with FreshDirect.
Dinosaur Bar B Que Pulled Pork
Frozen Crispy Chicken Fingers
Oregano Lime Chicken
Three Cheese Lasagna
Bottom Line
FreshDirect proves that freshness does not have to come at the expense of variety. With hundreds of dishes and thousands of items at your disposal, you can experiment with new flavors all year long, but you can also stick with your favorites and reorder whenever you wish. There are no commitments, just the sheer joy of discovering new ways to make your palate happy. Customers with special dietary needs also get a lot of options to choose from and the meal kits are designed so even the most inexperienced of home cooks can create lovely dishes with a little help from the FreshDirect chefs. The main downside of the service is that it only delivers to a handful of counties in a couple of US states and it does not offer free shipping unless you are willing to invest in a Delivery Pass (which still means it isn't free). We would also like to see new meal kits introduced more often.
FreshDirect FAQ
Does FreshDirect take food stamps?
FreshDirect has joined state and federal agencies in testing a pilot nutrition assistance program. The company delivers fresh food and groceries to select Bronx ZIP codes for customers using Electronic Benefit Transfer (EBT) cards.
Where does FreshDirect get its food from?
FreshDirect takes pride in its short supply chain that enables the company to always provide fresh food to its customers. It carefully selects suppliers, opting for responsible fishermen and local farmers who employ sustainable farming practices.
What is the minimum order with FreshDirect?
At FreshDirect, the minimum order for all home deliveries is $30 (not including tax and the delivery fee). The Hamptons are the only exception, with the minimum order in the amount of $99.
View All FAQs