Diet-To-Go Review
Fresh and tasty weight loss program

Advertiser Disclosure
This website features affiliate links. For purchases made via these links, we earn commissions that allow us to keep producing helpful content. To find out more
click here
.
Close
Diet-To-Go is a revolutionary meal delivery service that allows you to enjoy a personalized selection of healthy, delicious, and ready-to-eat dishes based on your taste, preferences, and long-term goals. 
Directly from the company's kitchen to your plate, these highly customizable, portion-controlled, and chef-prepared meals let you enjoy the food you love and help you reach your dietary milestones one by one. Keep reading our Diet-To-Go review to find out what makes this meal delivery service stand out from its competition. 
What Is Diet-To-Go
Diet-To-Go is a weight loss meal delivery program that has been around since 1991. It provides flexible diet plans for men and women with different dietary requirements. Its plans are easy to follow and its meals are known for their exquisite taste.
The company's offer includes specialized weight loss programs for health-conscious omnivores, diabetics, and vegetarians. The programs include dietitian-designed, chef-prepared breakfasts, lunches, and dinners controlled for calories, cholesterol, sodium, and fat. They are crafted in accordance with the guidelines proposed by the USDA, the American Diabetes Association, the American Cancer Society, and other relevant national institutions.
In contrast to many other weight loss solutions, it does not advocate meal replacements, dietary supplements or extreme changes in diet and lifestyle. It promotes healthy and natural weight loss through a well-balanced diet focusing on fresh, good-for-you food that tastes amazing and has just enough calories to keep you full and help you get slim.
With Diet-To-Go, you do not have to drink water every 2 minutes, exercise until you drop or starve yourself in order to get into shape. You get to eat delicious, professionally designed meals, enjoy occasional healthy snacks when you need them, and only engage in those physical activities you enjoy. You get to lose weight gradually and steadily and achieve long-term results that can positively affect your overall well-being.
Diet-To-Go For Weight Loss
The main purpose of this Diet-To-Go review is to help you understand what this service is all about and what it can do for you. In this section, we will focus on the key aspects of the Diet-To-Go program, including its structure and effectiveness, its rules and guidelines, and its health benefits.
Does Diet-To-Go Work
Diet-To-Go does not make any concrete claims regarding its effectiveness and it does not guarantee absolute success. However, the majority of dieters who enroll in its programs lose 1 to 3 pounds per week on average. Individual results greatly vary.
What can be deduced from user reports is that Diet-To-Go can lead to major changes in body composition and significant reductions in body mass. Dieters report shedding upward of 80 pounds on the program.
How much weight you can lose with Diet-To-Go primarily depends on your metabolism, that is, how easily you gain and lose weight in general. Physical activity can help, but it does not inevitably result in more visible results and it is not a prerequisite for weight loss. One of the most important factors contributing to your progress is sticking to your meal plan. In order to lose weight consistently, you should avoid processed foods, sugar, and bad carbs and make sure not to exceed your weekly calorie limit.
Generally speaking, following the Diet-To-Go program does result in weight loss. However, this diet is not designed to help you lose weight rapidly but gradually and healthily. It allows you to shed a pound or so per week for as long as you are on the program and keep the pounds off by forming good eating habits.
Why Does Diet-To-Go Work
Diet-To-Go does not promise magical, instant results. Instead, it provides the necessary help to improve your diet and reduce your daily calorie intake. It allows you to shed pounds effortlessly and steadily while helping your body function properly.
The logic behind the Diet-To-Go program is perfectly straightforward. Losing and maintaining weight is about eating healthily, getting all the nutrients you need in the right amounts, and keeping your portions moderately sized.
Your body mass index determines how many calories you need to eat in order to lose weight or stay in good shape. Diet-To-Go helps you structure your diet in accordance with this fact and provides meals designed by dietitians who understand your nutritional needs.
Diet-To-Go meal plans allow you to consume 1,200 – 1,600 calories per day. This amount of calories is enough to keep your body nourished and prevent it from going into starvation mode. However, it is also small enough to allow for gradual weight loss.
With the exception of its keto-friendly and diabetic-friendly meal plans, which are carb-controlled, Diet-To-Go provides meal plans that have a calorie ratio of 50% carbs, 25% proteins, and 25% fat. That means that you get to enjoy all macronutrients in carefully calculated amounts, which helps your body run like clockwork.
By helping your metabolism work properly and reasonably limiting your calorie consumption, Diet-To-Go allows you to lose weight at a pace that works for your body. That way, it ensures long-term results and prevents the yo-yo effect.
Your Typical Day With Diet-To-Go
So far in this Diet-To-Go review, we have talked about the program in general with the goal of determining whether its basic principles are sound. Now it is time to discover what following this diet looks like. We will describe an average day on the Diet-To-Go program, focusing on what you eat and what you need or need not do to improve your results.
Meals
Diet-To-Go's dietitian-designed meals make up the largest part of your menu. You get to enjoy:
A Diet-To-Go or homemade breakfast low in calories;
A light Diet-To-Go lunch;
A filling Diet-To-Go dinner.
As you can see, you can get all 3 daily meals from Diet-To-Go or prepare your breakfast on your own. There are no strict rules on what you can or cannot eat for breakfast. You just need to focus on fresh produce, good carbs, and healthy fats and proteins. You can check the Diet-To-Go menu for inspiration or explore the company's blog and find excellent recipes that you can try out in the mornings. Just make sure to stick to your calorie count.
Snacks
As far as snacks go, they are entirely optional. You eat them if you really need them. If your daily meals provide all the calories you are allowed to consume on the program, you should try to avoid snacking and drink water instead to alleviate cravings. Otherwise, you can enjoy 1 or 2 healthy snacks, like fresh fruit or some nuts.
For omnivores and vegetarians, Diet-To-Go recommends the following snacks:
1 cup of strawberries (46 calories);
1 cup of plain Cheerios (100 calories);
½ cup of fruit sorbet (100 calories);
1 cup of blueberries (85 calories);
1 small baked sweet potato (60 calories);
2 cups air-popped popcorn (62 calories);
1 small apple or orange (55 calories);
25 pistachios (100 calories);
1 pickle (8 calories)
1 stick of sugar-free gum (5 calories);
8 Baby Carrots with 1 tablespoon of low-fat ranch dressing (100 calories);
1 cup Fresh Raspberries (87 calories).
Diabetic-friendly snacks recommended by Diet-To-Go include:
14 whole almonds or pistachios (97 calories, 3.3 grams of carbs);
1 large hardboiled egg (80 calories, 0.6 grams of carbs);
2 tablespoons of sunflower seeds (93 calories, 3.9 grams of carbs);
2 cups of green salad with herbs or lemon juice (20 calories, 4 grams of carbs);
10 kalamata olives (85 calories, 3.8 grams of carbs);
1 tablespoon of natural peanut butter (94 calories, 3.1 grams of carbs);
4 sliced radishes with 2 tablespoons of fat-free cream cheese (35 calories, 2.4 grams of carbs);
1 cup of sliced bell peppers with 2 tablespoons of low-fat black bean dip (34 calories, 3 grams of carbs);
1 cup of raw broccoli florets with 2 tablespoons of fat-free ranch dressing (57 calories, 9.7 grams of carbs);
1 small cucumber with 2 tablespoons of plain hummus (90 calories, 14.9 grams of carbs);
½ cup of blueberries (45 calories, 10.7 grams of carbs);
Sugar-free Jell-O snack cup (10 calories, 0 grams of carbs);
1 mandarin orange (50 calories, 12 grams of carbs);
1 fresh pear (50 calories, 13 grams of carbs);
Sugar-free Jell-O pudding snack cup (80 calories, 8 grams of carbs);
1 fresh apricot (17 calories, 3.9 grams of carbs);
½ cup of fresh raspberries (32 calories, 7.3 grams of carbs);
1 cup of strawberries (46 calories, 11.1 grams of carbs);
3 strawberries with 2 tablespoons of plain, non-fat Greek yogurt (37 calories, 4.1 grams of carbs);
½ cup of fresh raspberries with ½ cup of fat-free Greek yogurt (99 calories, 12 grams of carbs).
Finally, if you need low-carb, keto-friendly snacks, you can enjoy:
3 slices of turkey rolled in 3 lettuce leaves (2 grams of net carbs);
Sugar-free Jell-O snack pack (0 grams of net carbs);
5 raw baby carrots (3.1 grams of net carbs);
14 raw almonds (1.3 grams of net carbs);
5 celery stalks (5.6 grams of net carbs);
2 cups of salad with lemon juice and olive oil (4 grams of net carbs);
2 hardboiled eggs (0.4 grams of net carbs);
1 medium avocado (2.5 grams of net carbs);
10 kalamata olives (3.8 grams of net carbs);
28 peanuts (2.2 grams of net carbs);
14 dry-roasted pistachios (1.6 grams of net carbs);
1 tablespoon of peanut butter with 1 celery stalk (2.1 grams of net carbs).
Workout
As mentioned earlier in this Diet-To-Go review, you do not have to work out in order to shed pounds with this program. In fact, you should allow your body to adjust to your new diet before you start engaging in moderate physical activity.
After the first few weeks, once your body is used to the Diet-To-Go way of eating, you can choose the kind of exercising that works for you. You can enjoy fast-paced 30-minute walks 3 times a week, you can go to the gym every couple of days or do anything that feels good. Just be sure not to overexert yourself due to your limited calorie intake.
Water
What is interesting is that Diet-To-Go does not make you drink 8+ glasses of water per day, unlike the majority of contemporary diets. This is because an average adult should consume about 64 ounces of water per day in order to stay hydrated, but not all water comes in a glass. On the Diet-To-Go program, you get to eat plenty of produce, which is usually 97% water. Therefore, you get to eat your water, not only drink it.
Of course, you should try to drink water often during the day to properly hydrate your body, but you do not have to go up to 8 glasses a day. According to Diet-To-Go professionals, you do not have to increase your water intake as long as you urinate several times a day and your urine is a pale yellow color.
Is Diet-To-Go Healthy
Diet-To-Go is a healthy weight loss program that helps you choose food that is good for you and stick within a healthy calorie range. It can help you improve your metabolism along with your energy levels and manage health conditions like diabetes.
The program is far from restrictive. It does limit your calories but not to the point that your body would identify your diet as starving. It lets you eat just the right amount of calories during the day in order to lose extra pounds. It does not eliminate any food groups and lets you enjoy everything that your body needs – in moderation.
It is important to note that Diet-To-Go has no known side effects. Unlike overly strict diets, it can improve your well-being and make you feel better. It is not known to cause any of the common issues, like fatigue, nausea, diarrhea or constipation.
In sum, Diet-To-Go is perfectly safe and suitable for all dieters who do not suffer from conditions that would prevent them from reducing their calorie intake.
How Does Diet-To-Go Delivery Work
Diet-To-Go offers 4 weekly diet meal plans: Balance, Balance-Diabetes, Keto-Carb30, and Vegetarian. All plans bring you 10-21 meals per week. You can get pre-selected meals or customize your order by choosing replacements from the Substitution Menu.
You can choose your plan based on your preferences or get a free diet analysis and find out which plan is the best fit for you based on your dietary needs and Body Mass Index. Plans are available in both women's and men's versions. With the Balance and Carb30-Keto plans, you can also choose between omnivore and no-seafood options.
In the final step of the ordering process, you get to decide how much food you want to receive every week. You can choose to enjoy Diet-To-Go meals 5 or 7 days a week. Furthermore, you can opt for the full program, which brings you 3 meals a day (breakfast, lunch, and dinner) or go with the 2-meals-per-day option (lunch and dinner only).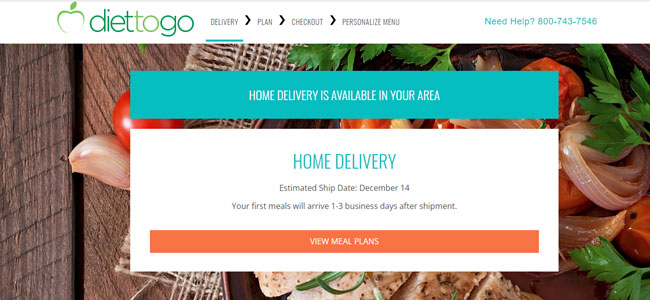 When you place your order, a team of highly skilled chefs, nutritionists, dietitians, and certified health coaches start creating delicious meals that make weight loss actually taste good. You can have your meals shipped to your home or pick them up yourself.
If you opt for home delivery, you can change or cancel your order by Friday at noon EST. For pickup orders, the weekly deadline for modifications and cancelations is Monday at noon EST. The company does not charge cancelation fees and you are free to stop and restart your plan at any time.
Diet-To-Go Meals and Recipes
All meals prepared by Diet-To-Go are nutritionally balanced, perfectly portioned, and ready to eat. The weekly menu includes 15 meals, including 5 breakfasts, 5 lunches, and 5 dinners. If you do not like all the options on the menu, the Substitution Menu is there to provide tasty replacements. Meals are rotated on a 5-week schedule, which gives you plenty of time to explore your potential favorites without things getting repetitive.
Balance
The Balance menu is the company's #1-rated menu. It is calorie-controlled, nutritionally balanced, and carefully controlled for sodium, carbs, fat, and cholesterol. It is suitable for omnivores and individuals who do not like seafood. With the Balance meal plan, you get to eat 1,200 calories a day if you are a lady or up to 1,600 calories per day if you are a gentleman.
Balance-Diabetes
The Balance-Diabetes plan follows the American Diabetes Association guidelines for fat and carbs. It helps you manage pre-diabetes, prevent type-2 diabetes, and lose weight even if you are not diabetic. The meals available with this plan are designed to help you naturally control your blood sugar and shed pounds at the same time, with no health risks.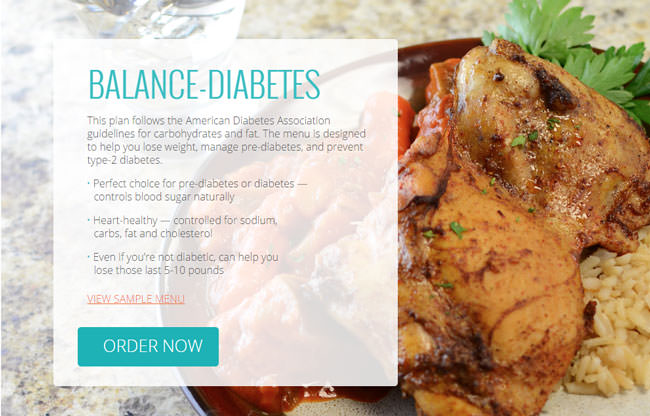 Keto – Carb30
The Keto-Carb30 plan is specifically designed for those who prefer Atkins-style, carb-restricted diets. By replacing carbs with fat and offering a wide variety of meals based on meat, cheese, and eggs, it helps you lose weight quickly and effectively. With this plan, your daily carb intake is limited to just 30 net carbs on average, which makes it a perfect choice for individuals on the keto diet. On average, the meals included in the Carb30 plan have around 1,300 calories per day.
Vegetarian
The Vegetarian plan represents a meat-free version of the famous Balance plan. The meals included in this plan are heart-healthy, perfectly balanced, and portion-controlled. They contain limited amounts of sodium, cholesterol, fats, and carbs. They are rich in nutrients and protein coming from healthy sources such as dairy, eggs, beans, and occasionally soy. 
Diet-To-Go dispels the myth that restaurant-grade food and weight loss cannot go hand-in-hand. As already mentioned in this Diet-To-Go review, all meals are prepared from fresh and natural ingredients and promise the best possible dining experience – not only when you are on your weight loss program but when you just want to stay healthy and enjoy everyday activities with maximum energy.
The service provides assorted condiments with its meals, so you do not have to purchase anything extra. All the meals have a 7-day shelf life when properly refrigerated, but if you freeze them, you can extend it to 30 days. The meals are prepared fresh and delivered flash-frozen. Local pickup locations provide fresh meals.
How Much Does Diet-To-Go Cost
At Diet-To-Go, the price of your weekly delivery depends on the meal plan you choose, the number of days per week, and the number of meals you want to receive per day. You can expect to pay between $121.99 and $204.59 per week.
With the Balance, Balance-Diabetes, and Vegetarian plans, the price per day ranges between $18 and $24. With the Carb30-Keto plan, you pay $21-$26 per day, depending on how many meals per day you order. Take a look at the pricing table below to find out how much Diet-To-Go plans cost.
Balance (Women's)
Days per week
Meals per day
Price
Price per meal
5
2
$121.99
$12.20
5
3
$143.59
$9.57
7
2
$162.99
$11.64
7
3
$179.99
$8.57
Balance (Men's)
Days per week
Meals per day
Price
Price per meal
5
2
$129.99
$13.00
5
3
$151.99
$10.13
7
2
$174.99
$12.50
7
3
$198.99
$9.48
Balance Diabetes
Days per week
Meals per day
Price
Price per meal
5
2
$121.99
$12.20
5
3
$143.59
$9.57
7
2
$162.99
$11.64
7
3
$179.99
$8.57
Keto-Carb30
Days per week
Meals per day
Price
Price per meal
5
2
$137.99
$13.80
5
3
$163.99
$10.93
7
2
$186.99
$13.36
7
3
$204.59
$9.74
Vegetarian
Days per week
Meals per day
Price
Price per meal
5
2
$121.99
$12.20
5
3
$143.59
$9.57
7
2
$162.99
$11.64
7
3
$179.99
$8.57
Where Does Diet-To-Go Deliver
Diet-To-Go delivers its frozen meals throughout the mainland United States. Weekly shipping costs should amount to $9.99-$19.98, depending on your location. Due to its choice of carrier and customs regulations, the service is currently unavailable in Canada, Alaska, and Hawaii.
If FedEx home delivery does not work for you or you just want to avoid shipping costs, you can pick up fresh food from over 200 local pickup locations in the following areas:
Washington DC Metro area (including Northern Virginia and Suburban Maryland);
Baltimore area;
New Jersey;
Greater Los Angeles area.
You can collect your fresh meals twice per week, on Tuesdays and Fridays from 5 pm.
Diet-To-Go Pros And Cons
To make sure Diet-To-Go meets all your standards and expectations, it is important to know its biggest advantages and disadvantages. With a short overview of its pros and cons, you can easily decide if Diet-To-Go is the right meal delivery service for you.
Pros
Customizable plans
Team of professionals creates the meals
Wide variety of food options
Pickup locations
Affordable prices
Cons
Deliveries only once a week
Sample Dishes
Diet-To-Go provides its happy customers with finger-licking chef-prepared meals that can suit virtually any taste. With this meal delivery service, you can enjoy restaurant-grade dishes in the comfort of your own home without breaking the bank. Take a look at our curated selection of Diet-To-Go meals to get a glimpse of the delights that await you on its menu.
Vegetarian Food
Balance Diabetes Food
Balance Food
Carb 30
Bottom Line
When it comes to deciding about using one meal delivery service or another, weighing all the available information is what makes the difference. While working on this Diet-To-Go review, we felt fairly certain that our positive experience would encourage even more people to try this amazing brand. 
We all want to eat delicious food, stay healthy, and enjoy our lives to the fullest. Diet-To-Go offers that in an all-in-one experience – awesome recipes for tasty meals, healthy ingredients, and calorie-controlled portions, all designed to suit your personal preferences and lifestyle. Choose your menu, choose your plan, and start the weight-loss journey you have always dreamed of. 
Diet-to-Go FAQ
How does Diet-To-Go work? 
Diet-To-Go is a weight loss meal delivery service that allows you to customize your menu according to your needs and have your diet meals delivered to your door once a week. Subscriptions include free access to a health coach. Find out more here.
How many servings do Diet-To-Go meals contain?
Diet-To-Go offers single-serving meals.
How does Diet-To-Go's pickup service work?
Diet-To-Go has 200+ pickup locations in Baltimore, New Jersey, Washington DC, the San Francisco Bay area, and the greater Los Angeles area. You can place your order online, choose the nearest location, and pick up your meals on Tuesday or Friday.
View All FAQs