Diet-to-Go Review
Advertiser Disclosure
This website features affiliate links. For purchases made via these links, we earn commissions that allow us to keep producing helpful content. To find out more
click here
.
Close
Diet-To-Go is a revolutionary meal delivery service that allows you to enjoy a personalized selection of healthy, delicious, and ready-to-eat dishes based on your taste, preferences, and long-term goals. 
Directly from the company's kitchen to your plate, these highly customizable, portion-controlled, and chef-prepared meals let you enjoy the food you love and help you reach your dietary milestones one by one. Keep reading our Diet-To-Go review to find out what makes this meal delivery service stand out from its competition. 

How Diet-to-Go Works
Diet-To-Go's concept is very simple. First of all, you are entitled to a free analysis that gives you an assessment of your body mass index (BMI), suggesting one of a number of plans depending on the results. After that, you can customize your menu based on your recommended daily intake of calories or simply order from the existing sample menu. 
Are you a vegetarian? No problem. You don't enjoy seafood? Not an issue. You don't want the full weekly menu? You can order whatever you want! Once you choose your plan, a team of highly skilled chefs, nutritionists, dietitians, and certified health coaches start creating delicious meals that make weight loss actually taste good.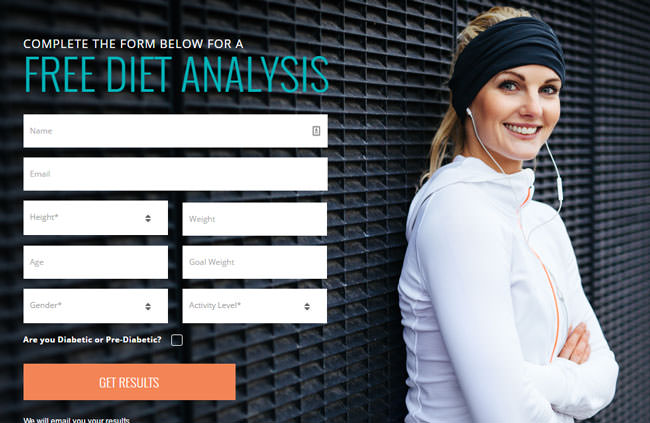 What Makes Diet-to-Go Different
Many things! The entire team of Diet-To-Go is there to help you succeed in your weight loss efforts. Along with professional support, Diet-To-Go offers additional resources to help you on your way. On top of everything, the company features loads of useful information on its official blog and the food safety section on the website. You can also attend local events organized by Diet-To-Go where you can meet people and discuss particular meal choices and long-term weight loss goals. 
As we already pointed out in this Diet-To-Go review, this meal delivery service makes weight loss easier than you ever thought possible. Restaurant-grade food spread across four award-winning menus lets you enjoy fully-prepared, great-tasting meals, all while losing weight. You are finally through with stressful meal planning/preparing and spending countless hours shopping for the right ingredients. All that for less than the cost of eating out. It makes a difference, doesn't it?  
Also, you can learn a lot about nutrition and how our bodies actually function, so you'll never again fall prey to advertising campaigns that promote shakes, teas, and other concoctions that magically "burn" calories. 
Meals and Recipes
All meals prepared by Diet-To-Go are nutritionally balanced, perfectly portioned, and ready to eat. You can choose from 4 carefully designed plans, including Balance, Balance-Diabetes, Carb30-Keto, and Vegetarian. All the meals are rotated on a 5-week schedule, which gives you plenty of time to explore your potential favorites without things getting repetitive.
Balance
The Balance menu has been helping dieters reach their weight loss goals for 25 years. It is calorie-controlled, nutritionally balanced, and carefully controlled for sodium, carbs, fat, and cholesterol. It is suitable for omnivores and individuals who do not like seafood. With the Balance meal plan, you can eat between 1,200 and 1,600 calories per day.

Balance-Diabetes
The Balance-Diabetes plan follows the American Diabetes Association guidelines for fat and carbs. It helps you manage pre-diabetes, prevent type-2 diabetes, and lose weight even if you're not diabetic. The meals available with this plan are designed to help you naturally control your blood sugar and shed pounds at the same time, with no health risks.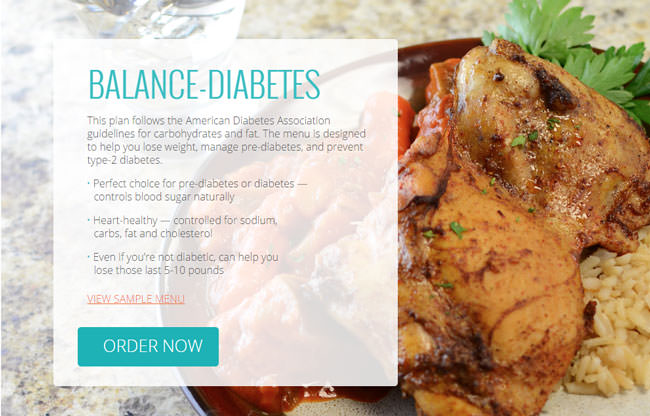 KETO – Carb30
The Keto-Carb30 plan is specifically designed for those who prefer Atkins-style, carb-restricted diets. By replacing carbs with fat and offering a wide variety of meals based on meat, cheese, and eggs, it helps you lose weight quickly and effectively. With this plan, your daily carb intake is limited to just 30 net carbs on average, which makes it a perfect choice for individuals on the keto diet. On average, the meals included in the Carb30 plan have around 1,300 calories per day.

Vegetarian
The Vegetarian plan represents a meat-free version of the famous Balance plan. The meals included in this plan are heart-healthy, perfectly balanced, and portion-controlled. They contain limited amounts of sodium, cholesterol, fats, and carbs. They are rich in nutrients and protein coming from healthy protein sources such as dairy, eggs, beans, and occasionally soy. 

Diet-To-Go dispels the myth that restaurant-grade food and weight loss can't go hand-in-hand. As already mentioned in this Diet-To-Go review, all meals are prepared from fresh ingredients and promise the best possible dining experience – not only when you're on your weight loss program but when you just want to stay healthy and enjoy everyday activities with maximum energy. All meals have a 7-day shelf life when properly refrigerated, but if you freeze them, you can extend it to 30 days.
Diet-To-Go also provides its users with assorted condiments so you won't have to purchase anything extra. Whether you need BBQ sauce or light mayo for your sandwichs, light cream cheese for your bagel or jam for a muffin, Diet-To-Go has you covered.
Pricing
Diet-To-Go enables you to customize not only your daily and weekly menus but lets you choose a pricing plan that best fits your budget. There are many parameters that greatly influence your final weekly price. You can choose one of two delivery options. You can either get a once-per-week home delivery, which brings you your entire weekly menu in frozen form, or you can opt for the Fresh Local Pickup option on Tuesdays and Fridays. There are currently more than 200 pickup locations in selected parts of the US. 
As for the meal options, you can choose one of the 4 menus previously described in this Diet-To-Go review. The next step is choosing between 5 and 7 days per week. With the Balance and Carb30-Keto plans, you can also choose between omnivore and no-seafood options. Finally, you can decide on 2 (no breakfast) or 3 meals per day. The decision, of course, rests solely on your personal preferences. 
The price you pay depends on the meal plan you choose, the number of days per week, and the number of meals you want to receive per day. With the Balance, Balance-Diabetes, and Vegetarian plans, the price per day ranges between $18 and $24. With the Carb30-Keto plan, you pay $21-$26 per day, depending on how many meals per day you order. The average price per meal is around $7, which is quite reasonable.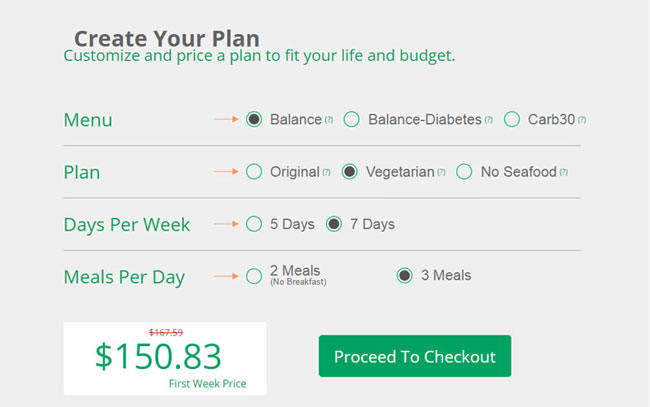 Balance (Women's)
Days per week
Meals per day
Price
Price per meal
5
2
$121.99
$12.20
5
3
$143.59
$9.57
7
2
$162.99
$11.64
7
3
$179.99
$8.57
Balance (Men's)
Days per week
Meals per day
Price
Price per meal
5
2
$129.99
$13.00
5
3
$151.99
$10.13
7
2
$174.99
$12.50
7
3
$198.99
$9.48
Balance Diabetes
Days per week
Meals per day
Price
Price per meal
5
2
$121.99
$12.20
5
3
$143.59
$9.57
7
2
$162.99
$11.64
7
3
$179.99
$8.57
Keto-Carb30
Days per week
Meals per day
Price
Price per meal
5
2
$137.99
$13.80
5
3
$163.99
$10.93
7
2
$186.99
$13.36
7
3
$204.59
$9.74
Vegetarian
Days per week
Meals per day
Price
Price per meal
5
2
$121.99
$12.20
5
3
$143.59
$9.57
7
2
$162.99
$11.64
7
3
$179.99
$8.57
Delivery Areas
Diet-To-Go provides you with two delivery options. Although focusing on fresh meals, the company also provides a weekly delivery of frozen meals for the mainland United States. Weekly shipping costs amount to $19.98 for all plans. The service is provided by FedEx, so it's currently unavailable in Canada, Alaska, and Hawaii. 
Another option is to pick up fresh food from local pickup locations from more than 200 locations in the following areas: 
Washington DC Metro area (including Northern Virginia and Suburban Maryland)

 

Baltimore area

 

New Jersey

 

Greater Los Angeles area

 
You can collect your fresh meals twice per week, on Tuesdays and Fridays from 5 pm. 
Diet-to-Go Pros And Cons
To make sure Diet-to-Go meets all your standards and expectations, it is important to know its biggest advantages and disadvantages. With a short overview of its pros and cons, you can easily decide if Diet-to-Go is the right meal delivery service for you.
Pros
Customizable plans

 

Team of professionals creates the meals

 

Wide variety of food options

 

Pickup locations

 

Affordable prices

 
Cons
Deliveries only once a week

 
Sample Dishes
Diet-to-Go provides its happy customers with finger-licking chef-prepared meals that can suit virtually any taste. With this meal delivery service, you can enjoy restaurant-grade dishes in the comfort of your own home without breaking the bank. Take a look at our curated selection of Diet-to-Go meals to get a glimpse of the delights that await you on its menu.
Vegetarian Food
Balance Diabetes Food
Balance Food
Carb 30
Bottom Line
When it comes to deciding about using one meal delivery service or another, weighing all the available information is what makes the difference. While working on this Diet-To-Go review, we felt fairly certain that our positive experience would encourage even more people to try this amazing brand. 
We all want to eat delicious food, stay healthy, and enjoy our lives to the fullest. Diet-To-Go offers that in an all-in-one experience – awesome recipes for tasty meals, healthy ingredients, and calorie-controlled portions, all designed to suit your personal preferences and lifestyle. Choose your menu, choose your plan, and start the weight-loss journey you have always dreamed of. 
Diet-to-Go FAQ
How does Diet-To-Go work? 
Diet-To-Go is a weight loss meal delivery service that allows you to customize your menu according to your needs and have your diet meals delivered to your door once a week. Subscriptions include free access to a health coach. Find out more here.
How many servings do Diet-To-Go meals contain?
Diet-To-Go offers single-serving meals.
How does Diet-To-Go's pickup service work?
Diet-To-Go has 200+ pickup locations in Baltimore, New Jersey, Washington DC, the San Francisco Bay area, and the greater Los Angeles area. You can place your order online, choose the nearest location, and pick up your meals on Tuesday or Friday.
View All FAQs