South Beach Diet Review
Advertiser Disclosure
This website features affiliate links. For purchases made via these links, we earn commissions that allow us to keep producing helpful content. To find out more
click here
.
Close
South Beach Diet is a low-carb, high-protein weight loss program originally designed by a famous cardiologist by the name of Dr. Arthur Agatston. It is safe, healthy, and created to reprogram your body and help you shed pounds by switching to a healthier diet and eliminating your refined-carb and sugar cravings.
To date, more than 11 million people have opted for the South Beach Diet and now you can enjoy all of its benefits with no effort thanks to the South Beach Diet meal delivery service. In this South Beach Diet review, we explore how this diet works, reveal what kind of food you get to enjoy while on the program, and discover whether it constitutes a healthy and budget-friendly weight loss solution.

How South Beach Diet Works
South Beach Diet is not developed just to help you shed pounds. Its goal is to help you kick-start your metabolism and put it into a fat-burning mode during the first week of the program, help you adjust to your new diet in the following three weeks, and allow for easy maintenance after you have reached your goal weight.
The program focuses on lean protein, nutritious veggies, and healthy fat. It is less restrictive than the Atkins diet and allows you to enjoy some of the good, unrefined carbs. During the first 2 weeks, most dieters lose around 7 pounds on average.
With the South Beach Diet meal delivery service, you have all your meals prepared by professional chefs. You get to enjoy healthy breakfasts, lunches, and dinners, as well as guilt-free snacks. You can opt for one of the 3 meal plans – Silver, Gold, and Platinum – depending on how much money you want to spend, how much you value menu variety, and whether you want to receive snacks and protein shakes in your deliveries. Keep reading this South Beach Diet review to find out more about the program and available meal plans.

What Makes South Beach Diet Different
First of all, unlike most weight loss solutions, South Beach Diet does not make you feel hungry and irritable all the time. It allows you to eat delicious food 6 times a day, so you can have a meal or a snack every 2-3 hours.
Second, it does not just help you get fit but also helps you stay fit. It does not merely provide meals and snacks you should eat while on the program but also offers expert guidance and handy tools, trackers, guides, and other useful resources. It does not simply eliminate everything you love from your diet but differentiates between good and bad carbs and good and bad fats.
Furthermore, it makes sure that all of its meals and snacks are genuinely good for you. Its meals are heart-healthy, they have limited sodium content, they are low in added sugars, and they are free from artificial colors and flavors. They are made of wholesome food that has great health benefits.
Finally, if you are familiar with the original South Beach Diet, there are a couple of facts you need to know about this version of the diet. Namely, all the basic principles are the same, with two minor alterations made in accordance with recent medical findings. First of all, this version of the South Beach Diet gives preference to full-fat dairy over low-fat varieties due to the protective effects of full-fat versions, including decreased risk for diabetes and easier weight control. Second, it eliminates beans and legumes during the first week of the program due to their higher carb content.
Meals And Recipes
South Beach Diet meal options
South Beach Diet has a rich menu including more than 20 breakfasts, around 50 entrées suitable for lunch and dinner, and about a dozen of healthy snacks. Most of the items on the menu are healthier renditions of classics and traditional favorites, like chocolate shakes, muffins, pancakes, omelets, frittatas, sandwiches, comforting soups, chili, fajitas, BBQ chicken, and more.
The menu is designed to accommodate certain types of special dietary needs. Some of the items on the menu are gluten-free, many of them are shellfish-free, and for individuals allergic to wheat, the service can create a wheat-free menu. Diabetic-friendly meals are available upon request. The program is not suitable for vegans and individuals with nut allergies.
Now that we have covered the basic facts about the menu, let us explore the service's meal plans in greater detail and find out what you get to enjoy with each of the 3 options at your disposal.
Silver
The Silver plan is the most affordable plan that allows you to choose from a slightly smaller assortment of meals in comparison to the menu available with the other two plans. You can choose the meals yourself or let the South Beach Diet experts choose the meals for you. The plan includes 4 weeks' worth of ready-made breakfasts, lunches, and dinners. Ladies can purchase snacks in the form of an add-on while the Silver plan for men includes snacks since men need more calories.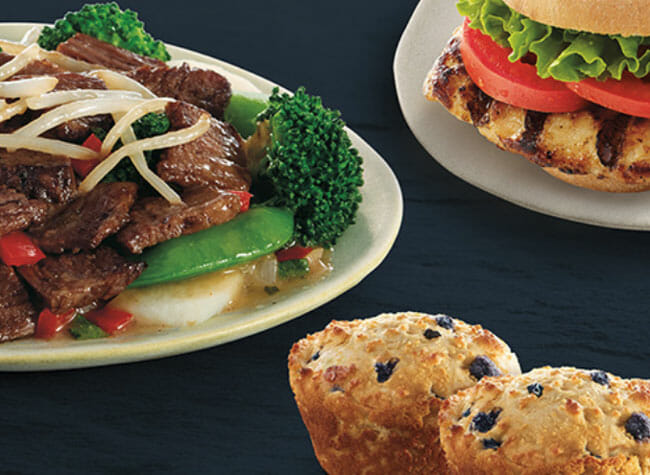 Gold
In comparison to the Silver plan, the Gold plan allows you to enjoy greater menu variety and comes with snacks included. Just like the Silver plan, this plan provides you with enough food to last you 4 weeks.

Platinum
The Platinum plan offers all the benefits included the Gold plan, with one important bonus. It provides you with 21 South Beach Complete shakes that contain 20 grams of protein each, with zero added sugar.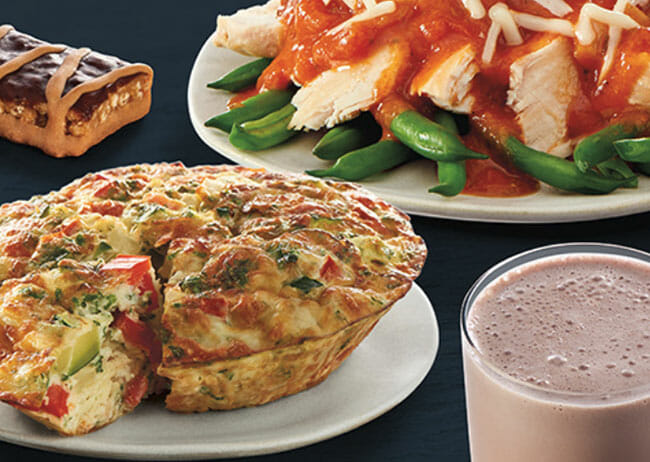 Pricing
We were happy to find out that South Beach Diet meal plans are actually highly affordable. Here are the exact prices. With the Silver plan, you pay just $10.71 per day. Thus, you pay $299.99 for 4 weeks of deliveries. You can get the snack add-on for $40.
The Gold plan costs $12.14 per day, which amounts to around $85 per week and $339.99 for all 4 weeks. Finally, the Platinum plan costs $13.21 per day, with protein shakes included. The total price you pay for the 4-week plan is $369.99. All plans come with free FedEx shipping.

Silver
For
Price
Price per day
Women
$299.99
$10.71
Men
$339.99
$12.14
Gold
For
Price
Price per day
Women
$339.99
$12.14
Men
$369.99
$13.21
Platinum
For
Price
Price per day
Women
$369.99
$13.21
Men
$399.99
$14.29
Delivery Areas
South Beach Diet is available throughout the contiguous US. At the moment, the service does not ship to Hawaii, Alaska, PO boxes, APO boxes, and military addresses. You can expect to receive your delivery within 4 to 10 business days.
South Beach Diet Pros And Cons
To make sure South Beach Diet meets all your standards and expectations, it is important to know its biggest advantages and disadvantages. With a short overview of its pros and cons, you can easily decide if South Beach Diet is the right meal delivery service for you.
Pros
Not too restrictive
Easy-to-follow program
Great weight loss results
Healthy and tasty breakfasts, lunches, dinners, and snacks
Diabetic-friendly
Affordable plans
Expert guidance and tools
Sample Dishes
With South Beach Diet, you get delicious meals prepared by pro chefs at affordable prices. To find out what kinds of delights you will receive in your delivery, we have chosen a couple of sample dishes that accurately represents its offer and can help you decide if it is the right service for you.
Grilled Chicken Sandwich
Mushroom Stuffed Chicken
Texas Style Chili Meat
Tilapia Cacciatore
Bottom Line
If you want to lose weight but do not want to starve, spend a lot of time on meal preparation or waste a bunch of money, South Beach Diet may be just right for you. It is healthy, affordable, and most importantly, it is doctor-designed, safe, and effective. It may not be suitable for everyone since it does not offer a vast range of special diet options, but as long as you are not vegan or do not have any serious food allergies, South Beach Diet can be a perfectly easy, budget-friendly solution for shedding pounds and staying slim and healthy.