Healthy Chef Creations Review
Organic meals for all ages & tastes
Advertiser Disclosure
This website features affiliate links. For purchases made via these links, we earn commissions that allow us to keep producing helpful content. To find out more
click here
.
Close
– – – – –  Important Update!!! Healthy Chef Creations is officially closed! As of late 2020 they are no longer serving meals after 18 years. We do not have any additional informations about the reasons. If you're looking for a meal delivery service like this, we recommend you check out our review of Home Chef.
Healthy Chef Creations is an organic meal delivery service that has been delivering delicious, chef-crafted meals across America for nearly 2 decades. It has received numerous national awards for both taste and quality and constitutes a great choice for families, couples, and singles alike, as well as dieters, seniors, celebrities, and athletes. Read this Healthy Chef Creations review to find out if its offer is worth a taste.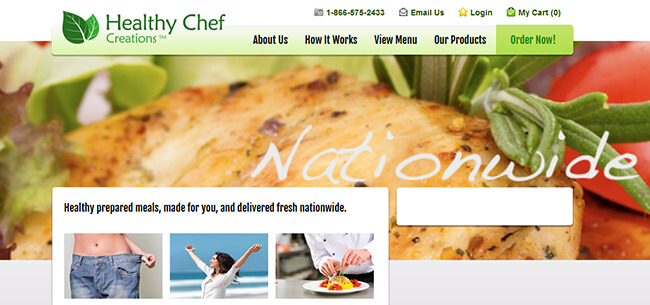 How Healthy Chef Creations Works
Healthy Chef Creations gives you the opportunity to skip grocery shopping and meal preparation by letting you select what you would like to eat the following week, preparing the meals for you, and delivering them directly to your doorstep.
With Healthy Chef Creations, you can opt for one of the 5 carefully planned meal programs, request a custom meal program or order a la carte and freely select your dishes and decide on the quantity of the meals and the frequency of deliveries.
The pre-designed meal programs at your disposal are divided into 2 categories. You can opt for everyday meal plans including Healthy Living and Healthy Mommy or go with one of the 3 weight loss plans – Mediterranean Weight Loss Diet, Low-Carb Diet or HCG Diet. You can subscribe or opt for one-off orders.
The company's a la carte menu features more than 60 items and changes on a weekly basis, so you are sure to find more than a few options that suit your taste at any time. The menu includes breakfasts, lunches, dinners, meals for kids, snacks, and other extras.
As far as custom meal programs go, they are available upon request. The meals included as well as the pricing is determined based on customers' unique preferences. The service offers custom meal programs for individuals, athletes, and business partners. The only way to request a custom program is via phone.
Whichever ordering option you choose, you can tailor your meals according to your food preferences. If you need meals for more than one person, you can make sub-profiles for your family and friends on your account and add important information like whether they are vegetarians, what kind of meat they prefer or what type of ingredients they are allergic to.
After you place your order, experienced chefs begin preparing the dishes using only wholesome and healthy ingredients and spices. When your meals are ready, they get packed in insulated BPA-free boxes and shipped to you overnight. You always receive your food fresh, never frozen.
Subscriptions are highly flexible and allow you to modify your orders, skip deliveries, opt for recurring orders or place every order separately. You can even order meals for a few weeks at once.
What Makes Healthy Chef Creations Different
Healthy Chef Creations makes sure you always get the food you like and offers an abundance of options to its patrons. Not only does it offer 5 distinct meal plans, it also gives you the opportunity to adjust your meal plan according to your specific dietary needs and request a custom meal plan of your own.
You can add special food preferences to your profile and get a meal plan tailored to meet all your requirements. And that is not a luxury only you can enjoy – it is also available to your family members. You can add sub-profiles to your own account any time you want and customize the meal plans to fit the users of those sub-profiles as well. This is an exceptionally handy option that is not that common among meal delivery services currently on the market.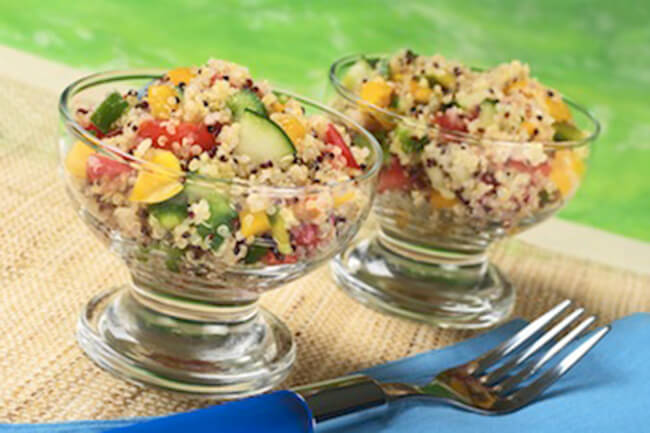 As suggested previously in this Healthy Chef Creations review, the folks behind this service are dedicated to bringing exclusively organic, wholesome food to your home. All the meals on the menu are incredibly healthy, nourishing, and equally good for both children and seniors.
If you know someone who would particularly enjoy Healthy Chef Creations meals, you can give them a gift certificate and treat them to a couple of delicious meals. You get to set a custom gift certificate value and add a special message to be displayed on the card.
Meals And Recipes
Healthy Chef Creations meal options
With Healthy Chef Creations, you can get all the food you need throughout the week in just a couple of clicks. Like we said earlier in our Healthy Chef Creations review, the a la carte menu includes dozens of mouthwatering breakfasts, lunches, and dinners, as well as meals for kids, salads, smoothies, fruit and veggie snacks, trail mixes, and beverages. The meals are designed to suit different dietary needs and there are plenty of gluten-free, soy-free, vegetarian, and vegan options available.
What is amazing is that you do not only get to freely choose your meals, but you can also customize each meal so it perfectly suits you taste and appetite. You can choose between regular and large portions, eliminate ingredients you dislike, and decide which 2 side dishes you want to get the meal you picked. Usually, you can choose from about 2 dozen different sides.
Now that we have covered the a la carte ordering options, let us focus on the meal programs the service provides. Previously in this Healthy Chef Creations review, we said that you can opt for Healthy Living, Healthy Mommy, Mediterranean Weight Loss Diet, Low-Carb Diet, and HCG Diet.
Healthy Living
The Healthy Living meal program is not designed with particular dietary needs in mind. It is suitable for anyone who wants to eat healthily. It provides you with nutrient-dense meals for 3, 4, 5, 6 or 7 days a week and allows you to decide how many meals you want to enjoy during the day. You can order breakfasts, lunches, and/or dinners. You further get to decide whether you want to get regular or large portions and set your dietary preferences.
Healthy Mommy
The Healthy Mommy program is designed for expecting and nursing moms. With this plan, your daily menu includes plenty of healthy proteins, whole grains, as well as fresh fruit and veg. The program is designed to provide all the vitamins and nutrients new moms need, including vitamins B and D, calcium, and iron.
Like with the previous program, you can decide whether you want to receive enough meals for 3, 4, 5, 6 or 7 days per week. The program brings you all 3 daily meals (breakfast, lunch, and dinner). You can choose your preferred daily calorie intake, with options including 1,900-2,100 calories, 2,100-2,300 calories, and 2,300-2,500 calories per day.
Mediterranean Weight Loss Diet
With the Mediterranean Weight Loss Diet program, you get to shed pounds by enjoying satisfying, wholesome meals inspired by the healthy diets of the Mediterranean.  The program includes breakfasts, lunches, and dinners and you can decide whether you want to eat Healthy Chef Creations meals 5, 6 or 7 days a week. The service lets you choose your daily calorie count based on how many pounds you wish to lose. You can consume 900-1,100 calories, 1,100-,1300 calories, 1,300-1,500 calories, 1,500-1,700 calories or 1,700-2,000 calories per day.
Low-Carb Diet
The Low-Carb Diet program is built on portion control and carb elimination. The meals you get with this program are moderate in calories, low in carbs, high in fiber, and rich in healthy fats, fruit, and veg. Included in the program are all 3 daily meals and you can choose to enjoy them 5, 6 or 7 days per week. You can opt for regular or large portions, depending on how strict you want your diet to be.
HCG Diet
The HCG Diet program is designed for individuals who receive HCG hormone treatments. It is a low-calorie program whose aim is to facilitate fat burning and complement the physician-delivered treatments. It includes lunches and dinners that you can enjoy 5, 6 or 7 days a week.
Regardless of whether you opt for a meal program or a la carte ordering, you get to enjoy balanced meals made of the finest, organic ingredients, free from artificial products, pesticides, hormones, and antibiotics, freshly made, and tuned to your taste and dietary requirements.
Heating And Storage Tips
Healthy Chef Creations meals are designed to be enjoyed fresh. You can keep them in your fridge for a week. If necessary, they can be frozen. However, you should avoid freezing meals made with fresh fruit and veg, like salads. We further recommend consuming your meals within a month or two after popping them into your freezer, for safety purposes and better flavor.
The service offers plenty of ready-to-eat items that do not require reheating. These include fruit bowls, parfaits, and various salads and snacks. For other meals, you can use a microwave for fast reheating or opt for a conventional oven.
When heating, you should first remove the lid and the protective seal from the container. In a microwave set on high, you should reheat lighter, smaller items for 45 to 60 seconds and heat larger meals for 60 to 90 seconds. If the meal is not heated through, you can extend the reheating time by 20 to 30 seconds. In an oven preheated to 300°F, you should heat lighter items for 6 to 8 minutes and keep heartier items in the oven for 8 to 10 minutes before checking whether your meal has reached the right temperature.
Pricing
Healthy Chef Creations is probably not the cheapest meal delivery service on the market, but that is understandable given the fact that it delivers organic, highly nutritious, fully cooked meals all over the US.
With meal programs, your weekly total depends on the amount of food you order, the portion size you choose, the number of weekly deliveries you request, and whether you choose to subscribe. If you decide in advance that you want to get 2, 3 or 4 weekly deliveries instead of just 1, you pay less. If you subscribe, you get a 5% discount on all orders.
The Healthy Living program starts at $90.20 per week with a subscription. The Healthy Mommy program starts at $162.42 per week. Mediterranean Weight Loss Diet and Low-Carb Diet start at $261.20 per week. Finally, HCG Diet starts at $128.20 per week.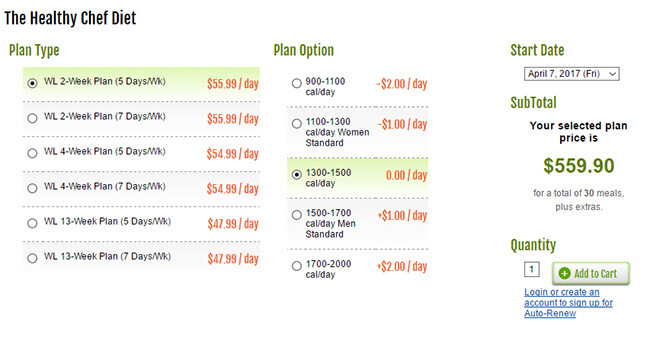 A la carte items all come with individual prices. Lunches normally range from $13.99 to $15.99 while dinners are slightly more expensive and costs between $15.99 and $17.99. Breakfasts usually cost $11.99 to $13.99. When it comes to meals for kids, you can expect to pay $6.99 to $9.99 per meal. Extras like snacks and smoothies cost $2.99 to $4.99.
Unfortunately, your bill is always increased after adding the shipping costs. Shipping does not come free of charge and the rate depends both on the amount of food you wish to order and your location.
A la carte
Meal type
Price range
Breakfast
$11.99 - $13.99
Lunch
$13.99 - $15.99
Dinner
$15.99 - $17.99
Meals For Kids
$6.99 - $9.99
Extras
$2.99 - $4.99
Meal plans
Healthy Living
Meals per day
Days per week
Price per week
Price per meal
1
5
$90.20 - $119.95
$18.04 - $23.98
1
6
$102.54 - $137.94
$17.09 - $22.99
1
7
$112.98 - $153.93
$16.14 - $21.99
2
3
$108.27 - $134.97
$18.04 - $22.49
2
4
$140.56 - $175.96
$17.57 - $21.99
2
5
$170.95 - 214.95
$17.09 - $21.49
2
6
$199.44 - $251.94
$16.62 - $20.99
2
7
$226.03 - $286.93
$16.14 - $20.49
3
3
$162.42 - $197.97
$18.04 - $21.99
3
4
$212.76 - $319.95
$17.73 - $26.66
3
5
$261.20 - $319.95
$17.41 - $21.33
3
6
$307.74 - $377.94
$17.09 - $20.99
3
7
$352.38 - $433.93
$16.78 - $20.66
Healthy Mommy
Meals per day
Days per week
Price per week
Price per meal
3
3
$162.42 - $194.97
$18.04 - $21.66
3
4
$212.76 - $255.96
$17.73 - $21.33
3
5
$261.20 - $314.95
$17.41 - $20.99
3
6
$307.74 - $371.94
$17.09 - $20.66
3
7
$352.38 - $426.93
$16.78 - $20.33
Mediterranean Weight Loss Diet
Meals per day
Days per week
Price per week
Price per meal
3
5
$251.70 - $309.95
$16.78 - $20.66
3
6
$296.34 - $365.94
$16.46 - $20.33
3
7
$339.08 - $419.93
$16.14 - $19.99
Low-Carb Diet
Meals per day
Days per week
Price per week
Price per meal
3
5
$261.20 - $329.95
$17.41 - $21.99
3
6
$307.74 - $389.94
$17.09 - $21.66
3
7
$352.38 - $447.93
$16.78 - $21.33
HCG Diet
Meals per day
Days per week
Price per week
Price per meal
2
5
$128.20 - $154.95
$12.82 - $15.49
2
6
$148.14 - $179.94
$12.34 - $14.99
2
7
$166.18 - $202.93
$11.87 - $14.49
Delivery Areas
Healthy Chef Creations delivers healthy meals all over the United States, including Hawaii, Alaska, and Puerto Rico. The meals are delivered on Fridays by overnight delivery services such as UPS or FedEx. Shipping to Hawaii, Alaska and Puerto Rico comes with additional costs.
Customers from Orlando and Florida can either receive meals at home or visit Healthy Chef Creations' kitchen and pick up the order by themselves.
Healthy Chef Creations Pros And Cons
To make sure Healthy Chef Creations meets all your standards and expectations, it is important to know its biggest advantages and disadvantages. With a short overview of its pros and cons, you can easily decide if Healthy Chef Creations is the right meal delivery service for you.
Pros
Organic, wholesome ingredients
Rich weekly menu
5 meal programs for different dietary needs
Fresh, optimally balanced, nutrient-dense dishes
Great flexibility
Nationwide coverage, including Hawaii and Alaska
Bottom Line
As you might have concluded from our Healthy Chef Creations review, this meal delivery service offers an amazing variety of organic food and meal plans. There are separate meal plans for people who want to live and eat healthily and lose some weight along the way and there are special meals for children, as well as expecting and nursing moms. You can opt for a meal program or a la carte ordering and the menu is rich enough to satisfy virtually anyone's taste and needs. The prices are not low, but they are more than justified by the quality of the meals. All in all, if you want to eat organic with zero hassle, Healthy Chef Creations is definitely worth checking out.