Organic meals for all ages & tastes
Healthy Chef Creations Review - UPDATED Apr 2018
Founded in 2001, Healthy Chef Creations credit themselves as the premier national provider of fresh, gourmet, prepared meals. They offer great-tasting, wholesome food for enjoyment and good health. Apart from being healthy and tasty, their food is also highly nutritious and crafted to satisfy your daily nutritive requirements, no matter what type of diet you prefer.
They feature a convenient meal delivery program, as well as a customizable A La Carte Menu that changes every week. They boast numerous national awards for both taste and quality and say that they are the top choice for families, couples, singles, dieters, seniors, celebrities, and trainers. Read this Healthy Chef Creations review to find out if they are the right choice for your dietary needs.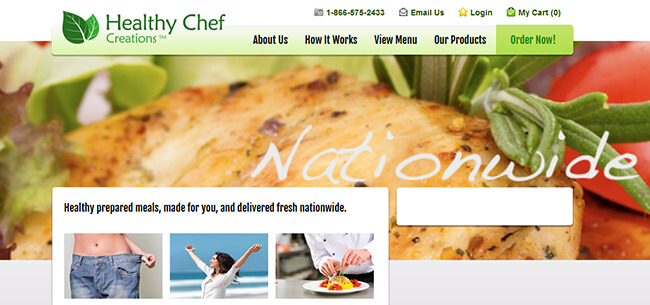 How Healthy Chef Creations Works
Healthy Chef Creations give you the opportunity to skip grocery shopping and meal preparation by letting you select what you'd like to have this week, preparing the meals for you and delivering them directly to your doorstep.
With Healthy Chef Creations, meal plans are numerous and various. You can opt for one of 7 carefully planned meal programs or order a la carte and choose any meal you like. Their menu changes on a weekly basis, so you can be sure that you will never run out of options when choosing your dish for the day. While browsing the menu, you can choose the delivery date and the menu will immediately change in accordance with the date selected.
Orders can be placed online or via phone. No matter what communication channel you use, you can tailor your meals according to your food preferences. In case you find online orders simpler and easier to handle, you can make sub-profiles for your family and friends on your account and add important information like whether they're vegetarians or not, what kind of meat they prefer or what type of ingredients they're allergic to.
After you place your order, experienced chefs begin preparing the dishes using only wholesome and healthy ingredients and spices. When your meals are ready, they get packed in insulated BPA-free boxes and shipped to you overnight. You always receive your food fresh, never frozen, and ready to eat. BPA-free packaging can also be put in the microwave, so you can reheat your meal in the blink of an eye.
What Makes Healthy Chef Creations Different
A feature you can rarely find in a meal delivery service is high-level flexibility. Healthy Chef Creations make sure you get the food you like and, therefore, offer many different options for their customers. Not only do they offer 7 meal plans, they also give you the opportunity to adjust your meal plan according to your specific dietary needs.
You can add special food preferences to your profile and get a meal plan tailored to meet all your requirements. And that's not a luxury only you can enjoy – it's also available to your family members. You can add sub-profiles to your own account any time you want and customize the meal plan for the users of those sub-profiles as well.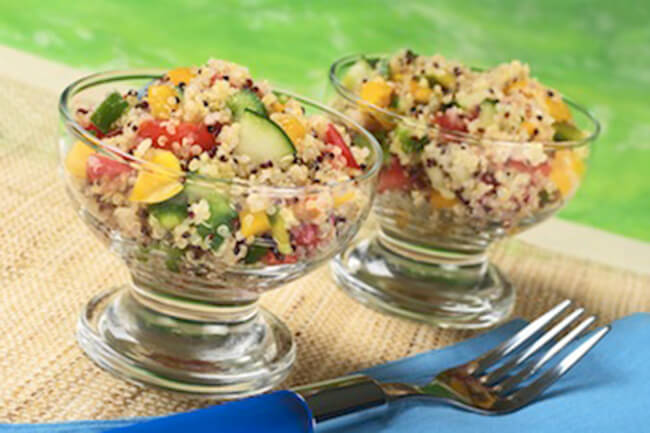 Probably the best thing about Healthy Chef Creations is that, even though they offer nearly every single dish there is, they also provide some of the finest quality cuisines on the market. Most of their users have given them the highest grades, praising the quality of the ingredients, as well as the service, customer support, and delivery times.
Various delivery dates are available and the menu is different for each date. So, you can opt for the selection you find interesting or order a la carte and choose whatever you like from the menu.
Whatever your choice is, you definitely don't have to worry about the quality and nutritive value of the meals you receive. Healthy Chef Creations are dedicated to bringing exclusively organic, wholesome food to your home. Their meals are incredibly healthy, nourishing, and equally good for both children and seniors.
We also have to point out how flexible their ordering schedule is. All deliveries arrive on Fridays, but you can change or skip any of your orders – as long as you notify the company 8 days before the delivery. You can enable the option of automatically renewing your orders, so you'll get your shipments every week, without repeating the ordering process. There are also options to place every order separately, place a multi-week order or order for a few weeks at once.
Meals And Recipes
Healthy Chef Creations meal options
When it comes to the variety of their food, Healthy Chef Creations have pretty much anything you could ask for. When you scroll through their menu, you will notice straight away that it is packed with all kinds of different meals, which range from yogurt parfaits to cinnamon muffins, steaks, salads, mixed meat plates, vegetable wraps, casseroles, lasagnas, fillets, etc. You'd have to be a really picky eater not to find anything suitable for your dietary needs on their menu.
You can select one of the convenient 7 meal plans Healthy Chef Creations have in their offer. You can choose between: The Healthy Chef Diet, Healthy Mommy, Healthy Senior, Healthy Living – Breakfast, Lunch & Dinner, Healthy Living – Lunch & Dinner, Healthy Living – Breakfast & Dinner, and Gluten-Free Meals.
Healthy Living meal plans provide you with nutrient-dense meals for 3, 5 or 7 days a week. The Healthy Chef Diet, Healthy Mommy, Healthy Senior, and Gluten-Free plans come in 5-day and 7-day delivery programs. Each of these 4 plans brings you nutritionally balanced meals adjusted to meet your dietary needs. With all of these plans, you get breakfast, lunch, and dinner for every day of your order. Main meals are followed by various additional food like snacks, desserts, side dishes or even a Spa-Energy Drink.
Pricing
Healthy Chef Creations probably isn't the cheapest meal delivery service on the market, but that's understandable given the fact that they deliver organic, highly nutritious, fully cooked meals all over the US.
If you decide that one of the given meal plans is a good choice for you, your Healthy Chef Creations order can cost you $39.99 per day for 2 meals from one of the Healthy Living plans. The prices go up to $55.99 daily for 3 meals and additional dishes and drinks with The Healthy Chef Diet. Then there's the Gluten-Free plan, which costs $57.99 per day. The most expensive meal plan is Healthy Mommy, amounting to $59.99 for 3 meals, side dishes, snacks, and dessert a day.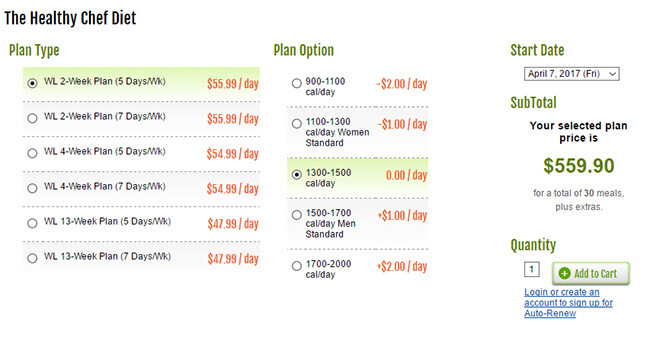 In case you opt for ordering a la carte, a lunch is going to cost you from $10.99 to $14.99 while dinner is slightly more expensive and costs between $15.99 and $17.99. Breakfasts are $12.99 or $13.99. A special treat for your baby can be added for only $5.99. Desserts cost only $3.99.
Unfortunately, your bill is always increased after adding the shipping costs. Shipping isn't free and the rate changes depending on the amount of food you order and your address.
Delivery Areas
One more amazing feature of Healthy Chef Creations is their delivery coverage. They deliver delicious healthy meals all over the United States, but that's not all. It's also possible to receive tasty organic food from Healthy Chef Creations in Hawaii, Alaska, and Puerto Rico. The meals are delivered by overnight delivery services such as UPS or FedEx and shipping to these 3 exotic areas might require additional costs.
Customers from Orlando and Florida can either receive meals at home or visit Healthy Chef Creations' kitchen and pick up the order by themselves.
Pros
Incredible variety of meal plans
Organic, nutrient-dense dishes
Great flexibility of the delivery schedule
Nationwide coverage, including Hawaii and Alaska
Cons
They deliver only once a week
Shipping isn't free
Bottom Line
As you might have concluded from our Healthy Chef Creations review, this meal delivery service offers an amazing variety of organic food and meal plans. There are separate meal plans for people who want to live and eat healthy and lose some weight along the way, for children, and also for people who have reached the golden age.