Balance By BistroMD Review
Advertiser Disclosure
This website features affiliate links. For purchases made via these links, we earn commissions that allow us to keep producing helpful content. To find out more
click here
.
Close
Balance By BistroMD is a frozen meal delivery service powered by the science developed by BistroMD, one of the market leaders when it comes to preparing and delivering delicious and healthy meals. The company was founded by Dr. Caroline Cederquist, a board-certified bariatric physician.  
Every meal is chef-prepared using only top-quality, fresh ingredients and developed using scientific studies on how our bodies break down food and turn it into fuel. Read our comprehensive Balance By BistroMD review to learn more about this company and its impressive service.
How Balance By BistroMD Works
Balance By BistroMD puts a unique twist on healthy eating. The company offers a highly customizable meal delivery program allowing you to build your own dietary regimen to meet your personal nutritional requirements. In other words, Balance By BistroMD is built for flexibility and optimal user experience. 
The meals offered by the company are already cooked by world-class chefs, so you do not have to think about waiting in lines for groceries, planning meals or finding enough time to spend in the kitchen every single day. Balance By BistroMD puts you in full control of your diet without all the tedious elements that used to go with it.  
The ordering process is as simple as it gets. All you have to do is take a look at the menu provided on the official website, fill your shopping cart with delicious meals that suit your taste, and order. No subscription is required and you can shop as often as you want, with no minimum order value. The company delivers the meals of your choice to your home address whenever you need them and all that is left for you to do is heat and enjoy.
Balance By BistroMD allows you to choose from more than 100 seasonal meals every week, which are delivered to you in a 100% recyclable packaging. Customers have also successfully repurposed its shipping coolers and made them into coolers for fishing/beach, storage containers or planters. 
Balance By BistroMD is an excellent tool that can help you immensely in creating your ideal diet based on your health, daily activities, nutritional needs, and potential medical conditions.
What Makes Balance By BistroMD Different
While doing research for this Balance by BistroMD review, we encountered an abundance of different meal options created to meet even the pickiest of dietary tastes and demands. In order to maximize its customizability potential, Balance By BistroMD does not feature any order minimums, membership fees or subscription plans. You can order a whole week's worth of food or a single meal, it is entirely up to you. You never have to worry about honoring a certain contract or any other type of commitment since there aren't any.  
All Balance By BistroMD meals are created by a team of certified dietitians in accordance with Dr. Cederquist's science for healthy weight loss. They are doctor-approved and prepared by top-of-the-line chefs.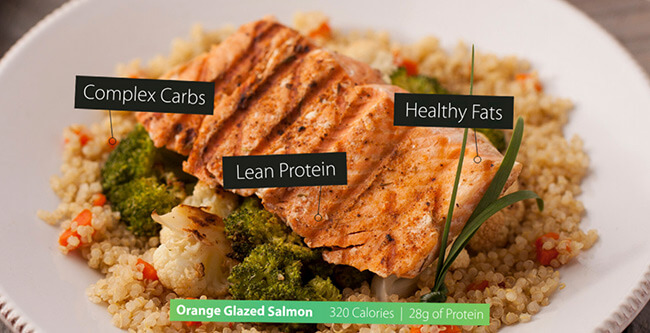 For permanent weight loss, Balance By BistroMD also provides informative blogs about leading a healthy lifestyle, including articles about fitness, healthy eating, healthy recipes, and much more. You can learn everything you need to know about healthy and effective weight loss. When you back up your knowledge with perfectly planned meals from Balance By BistroMD, the results will be visible in no time.  
Meals and Recipes
Balance By BistroMD meal options
As mentioned earlier in this Balance By BistroMD review, the company features over 100 items on its menu. It offers everything from ready-made meals to snacks and weight management supplements created to support glucose levels and healthy metabolism.
All the meals are optimally balanced and good for 1 person, so they work great for singles, as well as families with diverse tastes. Snacks usually come in multi-count packs and they represent an excellent source of proteins in between meals. As far as the supplements go, they are 100% gluten-free, hypoallergenic, and free from any GMO or artificial sweeteners or coloring.
The company's wide array of pre-cooked dishes includes: 
Breakfasts – Frittatas, pancakes & waffles, omelets & scrambles, breakfast sandwiches, and crepes & wraps;

 

Lunches & Dinners – Chicken, beef, pork, turkey, pasta, seafood, soups & stews, and plant-based;

 

EATS Snacks – Cookies & bars, sweet & salty crisps, jerky, cheesecakes, and nuts & fruit.
As you can see, Balance By BistroMD aims to satisfy a vast range of tastes and needs and primarily focuses on classics that even the pickiest eaters love. It turns comfort food into healthy, calorie-controlled meals that keep you fit. To help you easily find just what you need, the company lets you filter its meals by dietary categories including gluten-free, heart-healthy, diabetic-friendly, low-carb, low-sodium, dairy-free, Mediterranean, vegetarian, and menopause-friendly meal choices.
Nutrition Facts
Balance By BistroMD meals contain between 240 and 400 calories each. The company values transparency above all else and uses the FDA food labeling standard. In other words, you are always provided with all the information regarding the nutritional breakdown of the meals you are eating. The recommended daily allowances are adopted from the USDA's 2,000-calorie dietary guidelines.  
Speaking of nutritional breakdown, Balance By BistroMD meals offer 40-45% of calories from lean protein sources, 30-35% from complex carbs, and 20-25% from healthy fats. These macros provide your body with all the fuel it needs without compromising your health with nutritional imbalances. The macronutrient target set by Balance By BistroMD also helps you feel fuller between meals, reducing your cravings, including the need for snacks.  
Heating And Storage Tips
The company's meals are delivered frozen, so you can just pop them into your freezer and enjoy them whenever they suit your cravings. We always recommend enjoying frozen meals within a month for optimal flavor and nutritiousness, but the meals can last for up to a year in a freezer if needed.
When you are ready to eat, you can either thaw the meals for 24-48 hours in your fridge or heat them straight away. For reheating purposes, you can use a microwave or an oven. Usually, the meals take about 6 minutes to reheat in a microwave or 30 minutes in an oven. The easiest way to check whether your meal is heated through is to use a food thermometer.  Once your meal reaches the temperature of 165° F, it is ready to eat.
Pricing
The official Balance By BistroMD FAQ states that all meal prices range from $5.99 to $13.99. The prices of the snacks, however, go up to $19.99.  Breakfasts range from $6.49 (bagel sandwich with egg, natural ham, and Swiss) to $9.89 (Hickory smoked BBQ pork crepe). Lunches and dinners go from $7.99 to $11.99. Snacks range from $11.99 to $19.99.  
Balance By BistroMD introduces Weekly Specials regularly and the chosen dishes from the breakfast and lunch/dinner menus are then available at a temporary discount. There are nine meals on the special menu every week and each comes with a 1$ discount, so you can save quite a bit of money if your favorite meals hit the Weekly Specials Menu.  
Individual meals
Meal
Price range
Breakfast
$5.99 - $9.89
Lunch and Dinner
$7.99 - $13.99
EATS Snacks
$10.99 - $19.99
Delivery Areas
Balance By BistroMD's delivery area is limited by FedEx shipping locations. This means that Hawaii and Alaska are not covered at the moment. Orders received on Wednesday after 11:59 PM ET are shipped the next Monday. The exact delivery time depends on your current location. Your order can be processed up to two days after receipt and will usually arrive 2-5 work days via FedEx Ground.  
You can also change the address of delivery when you access your online account. In case you are out of town for the weekend but still want to enjoy tasty meals from Balance By BistroMD, simply change the address and place your order.  
In case you want to change or skip your order, you have to inform Balance By BistroMD on time – before your shipment gets processed. If you receive something you didn't order, Balance By BistroMD guarantees a refund. All orders over $99 receive free shipping.  
Balance By BistroMD Pros And Cons
To make sure Balance By BistroMD meets all your standards and expectations, it is important to know its biggest advantages and disadvantages. With a short overview of its pros and cons, you can easily decide if Balance By BistroMD is the right meal delivery service for you.
Pros
100+ items on the menu
Unique meals for people with special dietary needs

 

No subscriptions and order minimums

 

Flexible ordering time

 

Doctor-approved recipes

 

Nationwide coverage

 
Sample Dishes
Balance by BistroMD provides its happy customers with finger-licking chef-prepared meals that can suit virtually any taste. With this meal delivery service, you can enjoy restaurant-grade dishes in the comfort of your own home without breaking the bank. Take a look at our curated selection of Balance by BistroMD meals to get a glimpse of the delights that await you on its menu.
Meatloaf with Honey Bourbon Glaze
Macadamia Crusted Barramundi Seabass
Chicken with Mushroom Cream Sauce
Salted Caramel Pecan Bar 6 Count
Bottom Line
During our research for this Balance By BistroMD review, we were amazed at the sheer customizability of the program and the width of possible dietary plans. Apart from their numerous benefits for your health and general well-being, Balance meals also taste downright delicious.  
The company also makes great efforts to optimize the macronutrients in every single meal. This, in turn, can help you feel fuller between meals, eliminate your unhealthy snacking habits, and allow you to lose weight the right way. If you continue your Balance By BistroMD daily regimen, you can rest assured your lost weight will never come back.  
The meals are created by doctors, dietitians, and professional chefs to meet all gastronomic, medical, and personal preferences. The nutritional values are clearly marked, so you can know your exact calorie intake every day.
Balance By BistroMD delivers healthy, cooked meals to your doorstep as far as FedEx can reach. You can order whatever you want from its extremely rich menu and enjoy delicious, healthy meals without the trouble of actually making them.