Healthy meals for special diets
Balance By BistroMD Review - UPDATED Apr 2018
Balance by BistroMD is an innovative meal delivery service that proves ordering food doesn't have to be all about fast and unhealthy food. BistroMD has introduced Balance by BistroMD, a special meal delivery program for all people who want to take special care of their health and diet. Read our Balance by BistroMD review to learn more about the program.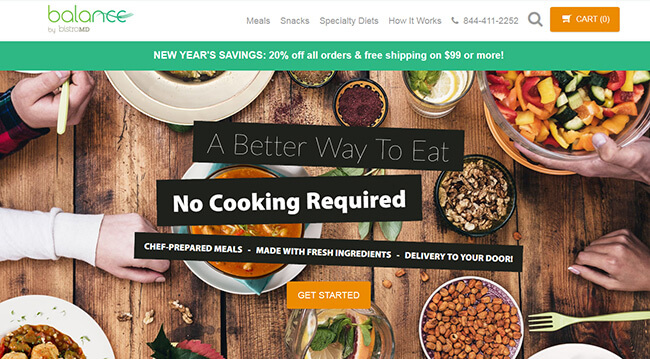 How Balance By BistroMD Works
Balance by BistroMD provides a unique approach to healthy eating. They understand that every single customer has different dietary needs and requirements. Therefore, if you opt for their services, you won't have to subscribe to a certain meal plan. Instead, you can tailor your own eating plan.
Balance by BistroMD offers fully prepared meals, cooked by professional chefs. The menu is available on their website and you can order whatever you want by putting it in a cart or simply by contacting the company via phone.
Healthy nutrition is the highest priority of Balance by BistroMD. They offer meals specially created for vegetarians, people allergic to gluten or women in menopause. A team of professional dietitians develops the menu, so you can be absolutely certain that the food you get is appropriate for your dietary needs. All meals are carefully planned and all nutrition values are noted. Food from Balance by BistroMD is also a great choice for all those who want to lose some weight.
What Makes Balance By BistroMD Different
While doing research for this Balance by BistroMD review, we found out that this meal delivery program offers an incredible selection of meals, snacks, and shakes. There aren't subscription packages, which means that you don't have to pay the same amount every month and hope that you'll love the meals. You have full control of your nutrition by picking meals all by yourself. You can choose what you like and enjoy eating without worrying about calories or unhealthy ingredients. Additionally, we can assure you that you're going to be extremely satisfied with your meals because all the food is prepared by professional, experienced chefs and delivered to you in perfect condition, ready to be served in just a couple of minutes.
One more thing that makes Balance by BistroMD different is that you can order only one meal if that suits you the most. The number of meals or snacks you order isn't limited in any way.
Balance by BistroMD takes your nutrition very seriously, so they prepare their dishes in cooperation with a team of registered dietitians. Their meals are doctor-approved and created according to Dr. Cederquist's science for healthy weight loss.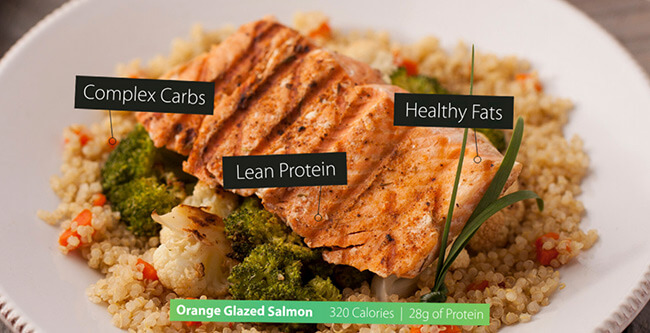 For permanent weight loss, Balance by BistroMD also provides informative blogs about leading a healthy lifestyle, including articles about fitness, healthy eating, healthy recipes, and much more. You can learn everything you need to know about healthy and effective weight loss. When you back up your knowledge with perfectly planned meals from Balance by BistroMD, the results will be visible in no time.
Meals and Recipes
Balance By BistroMD meal options
Balance by BistroMD doesn't have prepared meal plans. Instead, there is an open menu for all their customers. You can choose your favorite breakfast or decide to try something new. There are more than 30 breakfast options and you can pick an omelet, pancakes, waffles, frittatas or something else from their colorful offer.
When it comes to main courses, there are more than 70 dishes on the menu. Balance by BistroMD offers vegetarian meals, various stews, and meals that include all kinds of meat. There are options for everybody's preferences. Balance by BistroMD offers one of the richest menus on the market. Lunches and dinners aren't just delicious and innovative but also healthy, perfectly responding to your nutritional needs.
Their menu also contains different snacks. There are crisps, cookies, shakes, dried meat, etc. With these special treats, your day is completely covered in terms of meals. You can get three delicious meals and two healthy snacks, meaning you won't have to think about grocery shopping or meal preparation.
In case you need some help with choosing meals, Balance by BistroMD caters for 8 special diets: low carb, gluten free, diabetic, menopause, heart healthy, low sodium, dairy free, and vegetarian. You can filter the recipes in accordance with one or several of these diets. You just need to mark the diets you want to follow and appropriate meals will appear on the page.
Pricing
While buying healthy food can be rather expensive, Balance by BistroMD has made all their meals available to everyone who is interested in healthy eating. Their meals are made under the supervision of professional dietitians, but their prices are still incredibly reasonable. You can get a delicious breakfast starting from only $5.95, rising up to the highest prices of $7.95. Lunch/dinner costs a bit more and the prices range from $6.95 to $11.95, which is significantly lower than a cooked dinner or ordering pre-portioned ingredients from many other meal delivery services.
When it comes to snacks, the prices get a bit higher. While looking through the menu, you can find dried meat for $11.95, honey pretzels for $13.95 or a protein shake at a price of $17.95.
Balance by BistroMD introduces Weekly Specials regularly and the chosen dishes from the lunch/dinner menu are then available at a temporary discount. There are six meals on the special menu every week and each gets a $2 discount. So, if your favorite lunch is a weekly special, you can pay only $5.95.
Balance by BistroMD charges for the delivery unless your order is over $99. There might be some sales taxes added as well. If you're ordering by phone, you can ask for the details.
In case you want to change or skip your order, you have to inform Balance by BistroMD on time – before your shipment gets processed. If you receive something you didn't order, Balance by BistroMD guarantees you a refund.
Delivery Areas
With Balance by BistroMD, you don't have to worry about availability because they deliver nationwide. No matter where in the mainland United States you live, you can receive a shipment from Balance by BistroMD.
You can also change the address of delivery when you access your online account. In case you're out of town for the weekend but still want to enjoy tasty meals from Balance by BistroMD, simply change the address and place an order.
Pros
Special diets created for people with various dietary needs
No restrictions on the number of ordered meals
Flexible ordering time
Doctor-approved recipes
Nationwide coverage
Bottom Line
When our team conducted research for this Balance by BistroMD review, we were pleased to discover that their offer can be adjusted to meet the needs of different customers. In addition to helping you live a healthier life and losing or maintaining weight, Balance by BistroMD offers meals that are incredibly delicious.
There are meals for everyone with a special food preference. All recipes are approved by a team of professional dietetics and information on nutritive values is available on the website.
Balance by BistroMD delivers healthy, cooked meals to your doorstep anywhere in the United States. You can order whatever you want from their extremely rich menu and wait for the extraordinary shipment to reach your home.