Magic Kitchen Review
Meals for all your dietary needs

Advertiser Disclosure
This website features affiliate links. For purchases made via these links, we earn commissions that allow us to keep producing helpful content. To find out more
click here
.
Close
No meal delivery service is able to accommodate everyone's taste and needs, but Magic Kitchen comes pretty close. This service offers delicious and healthy meals for singles and families, seniors and diabetics, omnivores, carnivores, and vegetarians. Its menu includes meals for individuals who suffer from chronic diseases, people with food allergies, and those who need to limit their intake of sodium, fat, cholesterol, carbs or calories. Whatever your dietary needs may be, chances are Magic Kitchen has something tasty for you in its rich offer.
Menu variety in itself was enough to get us interested, so we decided to take a look around this unique kitchen, sample some dishes, and report our impressions in this detailed Magic Kitchen review.

How Magic Kitchen Works
When ordering from Magic Kitchen, you have plenty of options at your disposal. First, you should decide whether you want to order meals from time to time or wish to enroll in a meal program. While commitment-free ordering allows you to freely determine the frequency of your deliveries, a meal program can save you quite a lot of money, as it comes with great discounts and no contracts to sign.
No matter which of these two options you choose, you can pick your meals from the company's two menus: A La Carte and Complete Meals. While the A La Carte menu includes individual entrées, soups, sides, and desserts that you can combine any way you wish, the Complete Meals menu features full meals including an entrée and 1-2 sides. Unlike many other meal deliveries, Magic Kitchen does not only focus on dinners but provides complete breakfasts, lunches, and dinners, as well as snacks and treats.
In addition to the individual a la carte items and complete meals, you have another option: meal bundles. These bundles normally include 1-8 meals and they are designed with different tastes and dietary requirements in mind. Apart from browsing meals by type, you can browse them by 11 types of dietary interests, ranging from medical conditions to food allergies.
If you decide to order commitment-free, you can simply pick the meals you want and proceed to checkout. If you opt for a meal program, the process is almost equally simple. Pick the items you like from the A La Carte or Complete Meals menu, decide whether you need 1, 2 or 3 meals per day, fill out a short form, and opt for recurring orders instead of a one-time shipment. You can receive deliveries every week, every other week or every month.
What Makes Magic Kitchen Different
The main distinctive feature of Magic Kitchen is the spectrum of special dietary needs it covers. While many meal delivery services take pride in offering vegetarian dishes in addition to omnivore offerings, Magic Kitchen offers something for everyone, from people allergic to gluten to individuals on the renal diet.

This service does not only provide healthy meals for different diets but also educates its customers on how to live and eat healthily and adjust their diet in accordance with their dietary requirements. It is a service that that truly cares about the well-being of its patrons and goes to great lengths to make sure they are healthy, happy, and satisfied.
It is important to note that Magic Kitchen meals come with a 100% satisfaction money guarantee. If any item reaches your home damaged or spoiled, you just need to get in touch with the company's friendly staff and the item or items will be replaced at the company's expense. Likewise, if you try a meal that you are not satisfied with, you can get a replacement or credit that you can use for your future purchases.
Meals and Recipes
Magic Kitchen meal options
As previously mentioned in this Magic Kitchen review, Magic Kitchen has its offer split into two main categories – A la Carte and Complete Meals. The service offers meals for singles, couples, as well as families of 4.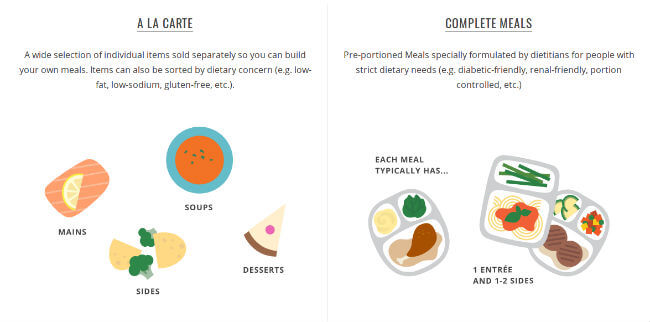 The A la Carte menu features more than 100 main courses, side dishes, soups & breads, and desserts. The items can be filtered by special diets, including dairy-free, gluten-free, low-carb, low-fat, low-sodium, and vegetarian.
Items on the Complete Meals menu are equally numerous and similarly categorized by dietary requirements. They include 1-person, portion-controlled, senior-friendly, diabetic-friendly, low-sodium, low-carb, low-fat, renal diet, dialysis-friendly, vegetarian, and gluten-free dishes, as well as Magic Kitchen's signature meals.
Meal bundles are divided into 9 major categories. These include 1-person bundles, family-size bundles, comfort food bundles, customer favorites, top-rated meals, senior bundles, homestyle bundles, dessert bundles, and soup for the soul.
If you want to surprise your loved ones with healthy, delicious food, Magic Kitchen also features gift packs in its offer. These are meals and courses designed for a wide range of occasions, including Mother's Day, baby shower, anniversary, retirement, Valentine's Day, and more.
Nutrition Facts
With Magic Kitchen meals, the average calorie count per serving is 350 to 550 calories. The service offers dozens of low-carb, low-fat, and low-sodium items. Low-fat dishes contain up to 3 grams of fat per 100 grams, low-carb meals have no more than 25 grams of net carbs per serving, and low-sodium meals have less than 700 milligrams of sodium per serving. The meals are designed in accordance with the rules of special diets for which they are deemed suitable and they adhere to the recommendations of the American Heart Association.
Heating And Storage Tips
The meals you receive from Magic Kitchen are always chef-crafted, prepared fresh, and flash-frozen to preserve the flavor and nutrients. You can keep them in your freezer for 6 months or more, but they taste best when enjoyed within 30 to 45 days. You should thaw the meals overnight in your fridge before heating them. Once thawed, they should be consumed within 3 days and they should not be kept at room temperature.
With the exception of about half a dozen ready-to-cook items, which are clearly labeled, all meals are fully cooked and they can be heated in a microwave or an oven. In a microwave, reheating should take about 3 minutes, while heating in an oven may take 20 to 30 minutes. All meals come with simple heating instructions. With ready-to-cook items, the only option is to cook them in an oven, with the exact cooking time specified on the label.
Pricing
With Magic Kitchen, individual meals cost anywhere between $10 and $25. It all depends on what you order. For example, the vegetarian-friendly, diabetic-friendly Vegetable Caponata with Orzo & Spinach costs $11.50 per serving.
The prices for meal bundles range from $52.99 to $197.99, depending on the ingredients and the number of meals and portions in the bundle.
If you opt for a meal program, you get a nice discount, so meals generally cost $11 to $12 per serving with recurring orders. The service also offers senior discounts and discounts on various individual meals.
Individual Meals (2 servings)
Meal
Price per meal
Breakfast
$7.99 - $9.99
Lunch/Dinner
$9.99 - $55.99
Snacks
$7.99 - $13.99
Dessert
$6.99 - $9.99
Meal Programs
Meals per day
Price per week
Price per meal
1
$75.00 - $85.00
$10.71 - $12.14
2
$150.00 - $165.00
$10.71 - $11.78
3
$225.00 - $250.00
$10.71 - $11.90
Delivery Areas
Magic Kitchen delivers throughout the United States, including Hawaii and Alaska. The service has a specialized central warehouse located in the Kansas City area, so shipping is done from one single place. Deliveries are made with FedEx and UPS Ground delivery services.
Shipping costs depend on location and typically start at $20. You can check out the company's official website for more information on when you can expect your order to arrive.
Magic Kitchen Pros And Cons
To make sure Magic Kitchen meets all your standards and expectations, it is important to know its biggest advantages and disadvantages. With a short overview of its pros and cons, you can easily decide if Magic Kitchen is the right meal delivery service for you.
Pros
Healthy meals for a number of special diets
Incredibly rich menu
A la carte ordering
Great discounts with meal programs
Highly flexible
100% satisfaction guarantee
Ships to the entire United States
Cons
Certain meals are bland
Shipping is not free
Sample Dishes
With Magic Kitchen, you get delicious meals prepared by pro chefs at affordable prices. To find out what kinds of delights you will receive in your delivery, we have chosen a couple of sample dishes that accurately represents its offer and can help you decide if it is the right service for you.
Beef Pot Roast with Red Wine Sauce
Beef Stroganoff with Rotini Pasta
Beef with Smoky Barbecue Sauce
Breaded Fish
Bottom Line
Magic Kitchen is a great choice for anyone who wants to eat healthily with zero hassle. It is a particularly good solution for individuals with special dietary requirements due to medical conditions, food allergies or other health concerns. It is rather affordable to begin with and it offers pretty nice discounts on meal programs and individual meals. What is more, all of its meals come with a 100% satisfaction guarantee, so you can order worry-free.