Meals for all your dietary needs
Magic Kitchen Review - UPDATED Apr 2018
Magic Kitchen is a meal delivery service that prepares a very good selection of diet plans and meal packages for every taste. If you're  just looking for an occasional takeout dinner or want to purchase a meal plan for your entire family, Magic Kitchen might have an option or two in store.
They started out in 2005 when their CEO Greg Miller saw the opportunity to provide healthy, tasty, restaurant-quality meals for a growing market of busy families and seniors. The aim of Magic Kitchen is to give families a good reason to come together during dinner time and provide senior citizens with healthy, nutritionally balanced meals. In this Magic Kitchen review, we'll tell you how they do it.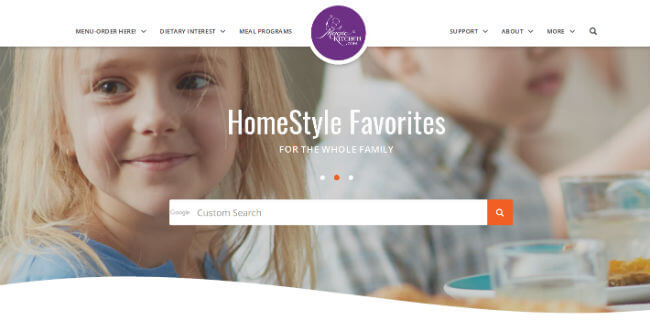 How Magic Kitchen Works?
Magic Kitchen is pretty straightforward. You can choose between two menus and have your meals delivered frozen. The two menus on offer are the A la Carte Menu and Complete Meals Menu. Also, you can order a wide variety of gift programs.
Ordering is also very easy. All you need to do is make your choice of meals or packs you want to order and you're prompted to either continue shopping or go to the checkout page. The checkout page offers you the option of entering your gift certificates or promo codes which can lower your total price.
Aside from the tasty food, Magic Kitchen also provides a section with health news that helps their customers and readers by informing them on very interesting topics. You can learn more about all the health related risks and precautionary steps in one of many blog posts that deal with loads of specific topics.
Magic Kitchen also has a very detailed FAQ section that covers all the basic questions that you might have when it comes to ordering, packaging, product and service quality, and the delivery itself. This might be a good place to mention that Magic Kitchen delivers their meals and packages in frozen form. The meals are ready to serve after reheating.
They also have a discount page that is constantly updated with discounts on individual meals, and information regarding first-time customer and senior discounts. More on that in the pricing section of this Magic Kitchen review.
What Makes Magic Kitchen Different?
Probably one of the key differences between Magic Kitchen and other meal delivery services is the fact that they focus on preparing healthy meals and creating diet plans that help you live a healthy life.
Because they place a special accent on providing up-to-date health news and pay attention to senior citizens and people with health problems, Magic Kitchen probably can't compete with the premium meal delivery services. But still, their focus is on providing healthy food that tastes good, which is exactly what their customers want.

Magic Kitchen is so invested in this market that they even offer free e-books. One deals with health issues concerning senior citizens while others offer info on staying healthy and leading a healthy life, special diets, meal ideas, and even gift giving tips. Basically, Magic Kitchen provides you with an in-depth tutorial that explains all their products and services.
Raising health awareness with their detailed news and blog sections is very nice to see in a meal delivery service and we give them kudos for doing it. The fact that their food actually tastes good is just an added bonus.
Meals and Recipes
Magic Kitchen meal options
As previously mentioned in this Magic Kitchen review, Magic Kitchen has their menu split into two main categories – A la Carte and Complete Meals.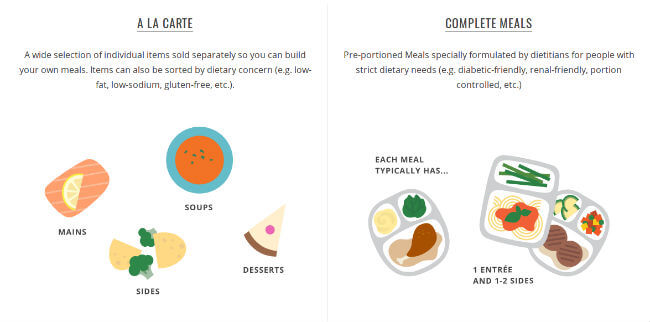 The A la Carte Menu allows you to personally design your diet plan by selecting individual entrees. Not only can you build the entire meal plan, you can also customize your entire meals by selecting main courses, side dishes, and desserts separately. All dishes are also categorized into appropriate categories that relate to their health options. You can choose from low-fat, low-carb, diabetic-friendly or gluten-free.
On the other hand, the Complete Meals Menu delivers complete meals crafted by their chefs and dietitians. The main difference between the two is that complete meal packages are all created by putting an emphasis on specific dietary needs. So, the options include diet-sensitive senior meals, portion control, diabetic meals, and also meals for renal and dialysis diets.
In the A la Carte Menu, all of the entrees are marked to symbolize which one is the main course, side dish, soup or dessert. Also, every individual item in both menus is marked with an appropriate health category – portion controlled, low sodium/diabetic, low carb, heart-healthy, dialysis meals, renal meals, and gluten-free meals.
Another big section of the website deals with specialized gift packs. These are meals and courses designed for a wide range of festivities and holidays and they can make a perfect gift for all your family and friends. Magic Kitchen really has the option for every occasion. And, on top of everything, you can even order a monthly catalog with additional info on their offer and with interesting company insights.
As with many other meal delivery services, all meals that were ordered for the purpose of this Magic Kitchen review were delivered in frozen form. A nice bonus is that every meal has very detailed info regarding the reheating process. For example, the beef stew had nice instructions for the oven temperature and cooking time.
Pricing
This part of the Magic Kitchen review will go into more detail about the pricing of their products. On average, individual meals can cost anywhere between 10-25$. It all depends on what you order. If you go for a combo of soup, main course, side dish, and dessert, it can cost you a bit more than the meal package. For example, a senior meal consisting of BBQ chicken drums, broccoli, black beans, and corn can go for as low as 11.50$ per serving.
Meal packs usually consist of 7 servings, meaning you get 7 tasty dinners in one package. Prices for those are in the range of 75-90$, depending on the ingredients, while a family sized meal bundle can go for 166-215$ for 2 meals with 6 servings depending on whether you pick a dessert option or not.
As previously mentioned, Magic Kitchen offers senior discounts and discounts on many individual meals and packages.
Delivery Areas
Magic Kitchen has a specialized central warehouse located in the Kansas City area, so shipping is done from one single place. Deliveries are performed anywhere in the country by FedEx and UPS Ground delivery services. When we say anywhere in the country, yes, we mean that Magic Kitchen also delivers to customers from Hawaii and Alaska, including the rest of the continental United States.
It's important to note that your shipping fees depend on actual weight and distance the package is shipped. Typically, the shipping starts at 18-20$ and there is a nice overview on their website that shows you how quick you can expect your shipment to arrive.
Pros
Lots of categories and packages
Meals are nutritionally balanced
Affordable
Ships to the entire United States
Cons
Website design is outdated
Low ingredient quality
Certain meals are bland
Bottom Line
If you're looking for a diet plan tailored to suit a wide array of health categories, which comes at affordable prices, and is shipped all across the United States, then you should definitely give Magic Kitchen a try.