Vegin' Out Review
Tasty vegan meals at a great price

Advertiser Disclosure
This website features affiliate links. For purchases made via these links, we earn commissions that allow us to keep producing helpful content. To find out more
click here
.
Close
In the year 2000, Vegin' Out started out as a small business fueled by enthusiasm, love for food, knowledge about the vegan diet, and a desire to please customers. Since then, it has turned into a major vegan delivery service that offers great meals to hungry customers nationwide. Apart from choosing the best ingredients and constantly coming up with new meal ideas, they also understand that each customer has different needs, so they offer additional items like entrees, side dishes, cookies, and salad dressings, as well as customization upon request.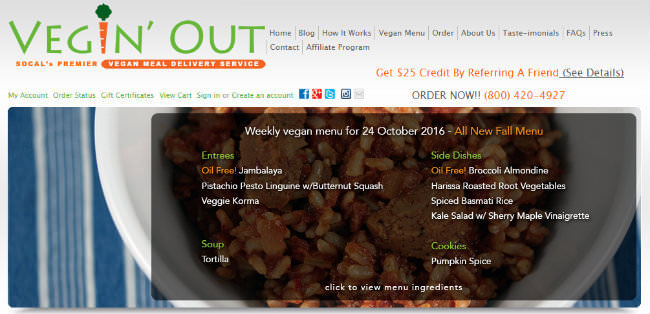 How Vegin' Out Works
Every Monday, Vegin' Out sends out delicious vegan and vegetarian meals across the nation. You can have the meals delivered to your home or office by simply choosing the package that works best for you (the packages differ in quantity). Before you place your order, make use of the special requests box and tell them if you want them to leave out the ingredients you are allergic to or would like to avoid, if you want your food to be gluten-free or if you want them to provide you with the nutritional information on your meals.
The ingredients they use are fresh and organic whenever possible (about 85% of their ingredients are organic). They use no processed foods and the meals are 100% vegan.
A good meal is always a great gift – and a week's worth of tasty dishes is about as good as it gets. If you know someone who would like the dishes Vegin' Out offers, you can send them a gift certificate for a single or double meal order or recommend Vegin' Out to them. Once they make a purchase, you will have $25 added to your account if you are a registered customer or get a $25 check if you do not have a Vegin' Out account. All your friends have to do is mention your name in the comment box. If you are not a customer, make sure you send an email to Vegin' Out, giving them your contact information, so they can send you a check, and do not forget to list the names of the people you are referring.
If you would like to learn more about the benefits of the vegetarian or vegan diets, get information on their special holiday menus or learn more about what they are up to next, be sure to check out their blog.

What Makes Vegin' Out Different
Vegin' Out's core concepts are what makes it different from most of the currently available meal delivery services, as it only offers vegetarian and vegan dishes. This is great news for all the vegans and vegetarians out there who are used to having a limited range of meals to choose from.
Another great thing about Vegin' Out is that all of their dishes have a low-fat content, they are free from cholesterol and trans-fats, and most importantly, they are cruelty-free. Additionally, they strive to provide their customers with meals prepared with the best locally grown and organic ingredients.
What really caught our eye when researching for this Vegin' Out review was the meal customization option. If the meals you want to order contain anything you do not like or cannot eat due to allergies, the undesired ingredients will be removed from the dishes in your meal package. You just need to let them know what you want changed or excluded.
Although their menu does not feature gluten-free meals per se, most of the meals can be made without ingredients containing gluten if you make such a request when placing your order. Unfortunately, the cookies cannot be gluten-free.

Meals and Recipes
Every week, Vegin' Out comes up with 9 amazing dishes that make up their meal packages. Take a look at the dishes in the menu section or on their home page and be sure to check the list of ingredients they provide. If you see a dish you are not sure about, you can have it removed from your order and get twice as much of your favorite dish.

A single meal package includes three 24 oz entrees, four 16 oz side dishes, one 32 oz soup, and a bag of delicious vegan cookies (5 per bag). That means that you can get up to three servings from each of the entrées, side dishes, and soup.
Vegin' Out invests a lot of time and effort into coming up with new, exciting dishes. Currently, their menus are repeated once every 8 weeks, which means that if you order from them every week, you will eat the same thing only 6 times a year.

Vegin' Out wants your food to remain as fresh as possible until you are ready to eat it. This is why they pack their meals into insulated cooler bags with ice packs that keep deliveries cool for 2-4 hours. If you cannot pick it up and put it in the fridge on the day of delivery, they urge you to ask someone to do it for you. If no one is available, you can also have the food delivered to your office. Alternatively, you can leave a cooler with additional ice packs in front of your home, so the driver can leave your meals there. If there is no safe place to leave the food, the driver will contact you in order to schedule a redelivery, which comes with a fee of $15-$20.
Pricing
The prices of meal orders at Vegin' Out include both the price of the meals and the shipping costs, which depend on your location. By ordering more, you save more, so if you opt for a double meal order instead of a single, you can save around 10%.
The price of a single vegetarian vegan order for LA deliveries is $127.99, $145.99 for South California, North California, and Arizona, and $189.99 for nationwide deliveries.
The price of a double vegetarian vegan meal order (exactly twice as much food as in the single order) for deliveries in LA is $234.99. The price for South California, North California, and Arizona is $269.99 and for other locations across the country, it amounts to $360.98.
You also get to order additional entrées ($13 each), side dishes ($11 each), cold pressed juices (12 ounces, $7.39 each), and vegan cookies ($6, 5 cookies per bag), as well as salad dressings ($0.50 each).
LA Delivery
Boxes per week
Price per week
Price per meal
1
$127.99
$6.09
2
$234.99
$5.59
4
$486.00
$5.78
Southern & Northern California and Arizona Delivery
Boxes per week
Price per week
Price per meal
1
$145.99
$6.95
2
$269.99
$6.43
4
Up Front $555.00
$6.60
Nationwide Delivery
Boxes per week
Price per week
Price per meal
1
$189.99
$9.05
2
$360.98
$8.59
4
Up Front $721.96
$8.59
Delivery Areas
Vegin' Out is based in Los Angeles, but apart from delivering food in Los Angeles and throughout Northern and Southern California, they offer their services nationwide. They ship to all US states, except for Alaska and Hawaii. The shipping costs vary depending on the location and they are included in the price of your meal order. There are no additional expenses.
They also offer the option of expedited shipping, which is available upon request and comes with an additional fee.
Vegin' Out Pros And Cons
To make sure Vegin' Out meets all your standards and expectations, it is important to know its biggest advantages and disadvantages. With a short overview of its pros and cons, you can easily decide if Vegin' Out is the right meal delivery service for you.
Pros
Meal customization
Gluten-free option
Nationwide delivery
Reasonable prices
Cons
Prices differ depending on location
Sample Dishes
With Vegin' Out, you get delicious meals prepared by pro chefs at affordable prices. To find out what kinds of delights you will receive in your delivery, we have chosen a couple of sample dishes that accurately represents its offer and can help you decide if it is the right service for you.
Chocolate hazelnut espresso cookies
Spaghetti
Vegan Apple Sauce Apple Bread
Vegan On A Budget
Bottom Line
We are happy to say that during our research for this Vegin' Out review, we did not manage to find any major flaws with this meal service. The ingredients they use are fresh, locally grown, and organic whenever possible, the dishes are tasty and healthy, and the portions are ample.
Whatever your preferences may be, we are sure that Vegin' Out will find a way to keep you happy. They allow you to alter your order in numerous ways – until it is just perfect for you. Whether you are on a gluten-free diet, have allergies, dislike an ingredient or dislike an entire dish, Vegin' Out will go the extra mile to make sure that the food you get is just what you wanted and even better.
If you are looking for a way to add more variety to your plant-based diet and eat healthy, fresh, professionally prepared meals without having to pay more, then we believe that Vegin' Out is a perfect choice for you.