One Potato Review
Advertiser Disclosure
This website features affiliate links. For purchases made via these links, we earn commissions that allow us to keep producing helpful content. To find out more
click here
.
Close
One Potato came into existence in 2015, when three parents decided that they wanted to create a meal kit service that could satisfy the needs of the whole family. At the time, one of the co-founders, Catherine McCord, was already famous for her Weelicious website chockfull of exciting, delicious, and perfectly easy family recipes. Combining Ms. McCord's extensive experience in cooking for the family with the expertise of a James Beard award-winning chef, One Potato creates quick, easy, and delicious recipes that both the little ones and the grown-ups are sure to love. Find out if this service is a good fit for your family in this honest One Potato review.

How One Potato Works
One Potato is a subscription-based service. Its meal kits are available within 5 meal plans that differ in the number of servings per meal, ranging from 2 to 6 servings. With each plan, you get to choose whether you want to receive 2 or 3 recipes per week.
Every week, the One Potato menu features 8 recipes, 6 of which are suitable for omnivorous families and 5 of which are vegetarian-friendly. All meals come in both adult-size and kid-size portions.
The selection of recipes in your delivery is entirely up to you. Along with the recipes, you get all the ingredients you need to cook the meals, semi-prepared to speed up the process. Unlike most meal kit services, One Potato even provides pantry staples, such as olive oil, in just the right amount. You can skip one or more weeks of delivery whenever you have some other plans. Furthermore, you can modify or cancel your subscription at any time, problem-free.

What Makes One Potato Different
There are numerous meal kit services that provide family-friendly recipes. However, One Potato stands out as one of the rare services that provide meal kits for families of different sizes, offer both adult-size and kid-size portions, and exclusively focus on dishes suitable for little picky eaters. Furthermore, One Potato provides instructions on how to safely include children in the cooking process and maximize fun in the kitchen.
If you decide to cook with One Potato, you get to enjoy the comfort of knowing that you have made the best choice for your family's health. Namely, this service makes sure that all the ingredients you receive in your delivery are certified organic, carefully grown by local farmers, and provided by trusted vendors specializing in organic food.
For your friends who would enjoy One Potato meal kits, the service has prepared excellent gift subscriptions. You can surprise someone with 1, 2, 3 or 4 weeks of One Potato deliveries and decide whether you want to give them 2 or 3 meal kits per week and choose the plan in accordance with the size of their family. Gift subscriptions start at $59.79 and include a personalized gift note.
Meals And Recipes
One Potato menu is divided into 2 sections: Seasonal Favorites and Family Favorites. Recipes in the Seasonal Favorites section change weekly and both omnivores and vegetarians have 3 new recipes they can choose from every week. The Family Favorites section includes picky-eater-approved meals that One Potato customers particularly love. These safe-choice meals are available every week and include Classic Burger & Fries, Mama's Spaghetti & Meatballs with Caesar Salad, and One Pan Chicken with Polenta Fries. Classic Burger & Fries and Mama's Spaghetti & Meatballs with Caesar Salad come in three versions: beef, turkey, and vegetarian-friendly.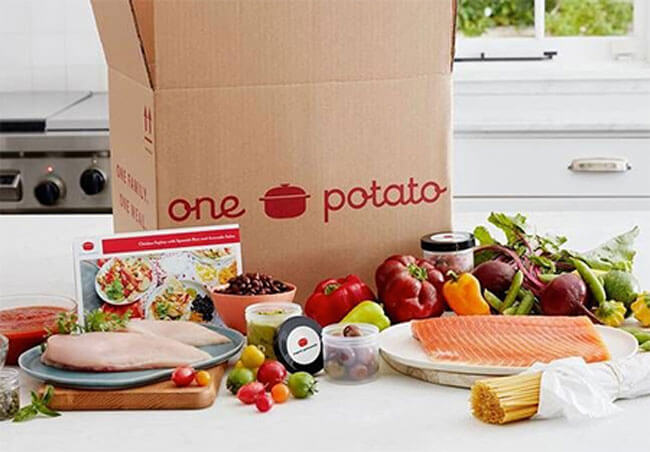 Apart from doing the hard work of finding only the finest, organic ingredients, One Potato goes one step further and delivers semi-chopped ingredients, along with sauces and marinades that can go straight into the pan, no prep required. That is why all One Potato meals take only half an hour or less to make. If you do not want any gluten or nuts in your meals, the service can take care of that as well.
Finally, apart from the amazingly quick, crowd-pleasing recipes, One Potato makes sure there is one sweet surprise in your box every week. All weekly deliveries include organic slice-and-bake cookie dough that can be turned into a scrumptious dessert in no time. This is a lovely and thoughtful bonus that really shows how much this service cares about making its patrons happy.
Pricing
As mentioned before in this One Potato review, this service offers 5 adorably named meal plans: Two Potato, Three Potato, Four Potato, Five Potato, and Six Potato.
The Two Potato plan is ideal for 2 adults, 1 adult and 1-2 small children or 1 adult and 1 teenager. The price per serving is $12.95. The Three Potato plan is suitable for 2 adults and 1 small child or 1 adult and 1-2 older children. One serving costs $10.13. The Four Potato plan is perfect for 2 adults and 2 small children, 3 adults or 2 adults and 1 teenager. The price is $8.72 per serving.

With the Five Potato plan, you get meals that can feed 2 adults and 3 small children, 3 adults and 1 child or 2 adults and 2 older children. The price per serving is $7.88.
The Six Potato plan is suitable for families including 2 adults and 4 small children, 2 adults and 2 teenagers or 4 adults. One serving costs only $7.32.
If you live in Arizona, Nevada or California, shipping is free with the Five Potato and Six Potato plans, as well as 3-recipe boxes with the Two Potato, Three Potato, and Four Potato plans. Otherwise, your deliveries with these plans come with a $4.99 shipping fee. No matter where you live, if you order 2 recipes with the Two Potato, Three Potato or Four Potato plan, you pay a $7.99 shipping fee per delivery.
Two Potato Plan (2 servings)
Meals per week
Meal kit price
Price per serving
2
$59.79
$12.95
3
$77.70
$12.95
Three Potato Plan (3 servings)
Meals per week
Meal kit price
Price per serving
2
$68.79
$10.13
3
$91.20
$10.13
Four Potato Plan (4 servings)
Meals per week
Meal kit price
Price per serving
2
$77.79
$8.72
3
$104.70
$8.72
Five Potato Plan (5 servings)
Meals per week
Meal kit price
Price per serving
2
$78.80
$7.88
3
$118.20
$7.88
Six Potato Plan (6 servings)
Meals per week
Meal kit price
Price per serving
2
$87.80
$7.32
3
$131.70
$7.32
Delivery Areas
Unfortunately, One Potato's delivery map covers only several states in the continental US. At the moment, the service ships to Arizona, California, Colorado, Idaho, Nevada, Oregon, Washington, and most of Utah. However, before you get too disappointed, we would like to point out that the service is actively working on making its meals available across the nation. If you want to receive One Potato meals as soon as they become available in your area, you can join the One Potato waiting list and get notified when the service adds your location to its delivery map.
One Potato Pros And Cons
To make sure One Potato meets all your standards and expectations, it is important to know its biggest advantages and disadvantages. With a short overview of its pros and cons, you can easily decide if One Potato is the right meal kit service for you.
Pros
Fresh, certified organic, locally sourced ingredients
Meal plans for families of different sizes
Vegetarian, nut-free, and gluten-free meals available
Kid-friendly recipes
Adult-size and kid-size portions
Minimum prep
Bonus dessert every week
Affordable plans for large families
Cons
Limited delivery area
Shipping is not always free
Sample Dishes
If you subscribe to One Potato, you can easily prepare culinary masterpieces using only the ingredients and recipes found in your meal kit box. You may not be a pro chef just yet, but with One Potato, you can easily make restaurant-grade meals. You don't have to take our word for it – check out the images below to get a better idea of the types of dishes you can enjoy with One Potato.
Beefburgers
Chicken Burrito
Polenta Lasagna
Sandwich
Bottom Line
To sum up: One Potato offers meal plans for families of 2, 3, 4, 5, and 6 and creates meals that please the palates of both children and adults. It offers kid-size and adult-size portions and provides advice on how to turn cooking into a fun activity for the whole family. It changes its menu every week but always keeps 3 recipes that its customers like to revisit often. It is suitable for both vegetarians and omnivores and offers gluten-free and nut-free alternatives. It provides all the ingredients, including pantry staples, and makes sure everything is certified organic. It delivers semi-chopped and prepared ingredients so you never have to spend more than 30 minutes in the kitchen. It allows you to skip weeks and modify or cancel your subscription anytime and its prices are absolutely justified by the quality. Plus, you get bonus organic cookie dough every week. As far as family-oriented meal kit services go, we honestly could not ask for more.