Dinnerly VS Purple Carrot Comparison
Advertiser Disclosure
This website features affiliate links. For purchases made via these links, we earn commissions that allow us to keep producing helpful content. To find out more
click here
.
Close
You no longer have to spend hours in the kitchen to eat healthy, delicious meals. Nowadays, you can order your food from meal delivery services and enjoy high-quality meals at affordable prices. Not sure whether Dinnerly or Purple Carrot can better meet your needs? This Dinnerly VS Purple Carrot comparison can help you make an informed decision!

Great Meal Kits At The Best Price
VS

Vegan Meals For A Healthy Lifestyle
Highlights

Dinnerly allows you to save both time and cash and enjoy delicious homecooked meals without spending more than 30 minutes in the kitchen.
Price Range:

$

Average Price Per Meal:

$4.80

Shipping Cost:

$8.99

Delivery Area:

29 states

Purple Carrot offers reasonably priced natural, plant-based meal kits designed for fitness enthusiasts, athletes, and vegans who want to eat healthily and cook effortlessly.
Price Range:

$$

Average Price Per Meal:

$10.19

Shipping Cost:

$0

Delivery Area:

48 states
Compare Features

Best For
Best for home cooks on a budget
Menu/Meal Plans
Dinnerly offers one menu that changes on a weekly basis.
Recipes/Meal Options
Dinnerly provides 14 meal options on its menu every week.
Meal & Recipe Variety
Dinnerly offers kid-friendly, vegan-friendly, vegetarian-friendly, low-carb, low-calorie, gluten-free, and dairy-free dinner recipes. You can also opt for one-pot and under-30-minutes recipes. However, keep in mind that not all of these options are available at all times. The meals are mostly classics and crowdpleasers.
Food Quality
Dinnerly sources only the best, freshest ingredients. It provides natural fruit and veg, grass-fed beef, antibiotic-free chicken, American-caught shrimp, and many other healthy, high-quality products.
Nutritional Value & Portion Size
The meals you make with Dinnerly normally have between 600 and 800 calories per serving, although some hearty meals may have 900+ calories per serving. The portions are large enough to keep you satiated for hours and they contain the right proportions of carbs, proteins, and fats.
Subscription Flexibility
Dinnerly offers plenth of flexibility to its patrons, allowing you to change, skip, pause or cancel your order whenever you wish. Any changes to your subscription must be made 5 or 6 days before your next delivery, depending on your location.
Refunds
As Dinnerly features a freshness and quality guarantee, you can contact the company within 7 days of your delivery date for a refund or credit.

Best For
Best for vegan home cooks with an active lifestyle
Menu/Meal Plans
Purple Carrot features 2 menus: 2-Serving and 6-Serving
Recipes/Meal Options
The 2-Serving Purple Carrot menu features 8 dinner recipes while the 6-Serving Purple Carrot menu includes 2 dinner ideas per week. With both menus, you can choose from 4 breakfast and lunch add-ons every week.
Meal & Recipe Variety
Purple Carrot offers vegan meals suitable for breakfast, lunch, and dinner. Its selection includes both everyday, healthy-eating meals and high-protein dishes. The meals are usually inspired by Moroccan, Chinese, Italian, and Spanish cuisines and include veggie stews, risottos, pastas, quesadillas, and grain bowls. The prep and cook time is 5-45 minutes.
Food Quality
Purple Carrot delivers fresh, nutrient-packed ingredients that are sustainably sourced. All ingredients are of high-quality, chosen in accordance with the season, and completely natural.
Nutritional Value & Portion Size
Purple Carrot meals come in medium-sized portions and contain 500-800 calories on average. They are nutritionally balanced, with the right quantities of healthy fats, lean proteins, and complex carbohydrates.
Subscription Flexibility
With Purple Carrot, you can skip or cancel your order anytime. You must inform the company about any changes to your order by Tuesday night at 11:59 PM EST the week before your next delivery is due.
Refunds
For information about returns and refunds, you must contact Purple Carrot within 7 days of your delivery.
Compare Plans & Pricing

Dinnerly Plans & Pricing
2-Person box
Meals per week
Price per serving
Price per week (shipping included)
3
$4.99
$38.93
4
$4.89
$48.11
5
$4.79
$56.89
Family Box
Meals per week
Price per serving
Price per week (shipping included)
3
$4.99
$68.87
4
$4.69
$84.03
5
$4.49
$98.79

Purple Carrot Plans & Pricing
Standard 2-Serving Meal Plan
Meals per week
Price per serving
Price per week
3
$11.99
$71.94
Standard 6-Serving Meal Plan
Meals per week
Price per serving
Price per week
2
$7.99
$95.88
Extras
Meal type
Servings per kit
Price per serving
Breakfast
4
$6.00
Lunch
2
$12.00
Suitable For

Meals For Families
Meals For Kids
Meals For Seniors
Meals For One

Meals For Families
Meals For Kids
Meals For Seniors
Meals For One
Compare Meal Options

Vegetarian Meals
Vegan Meals
Paleo Meals
Keto Meals
Low-Carb Meals
Low-Fat Meals
Meals For Diabetics
Gluten-Free Meals
Organic Meals
Weight Loss Meals

Vegetarian Meals
Vegan Meals
Paleo Meals
Keto Meals
Low-Carb Meals
Low-Fat Meals
Meals For Diabetics
Gluten-Free Meals
Organic Meals
Weight Loss Meals
Compare Sample Meals

Chicken Quinoa Grain Bowl
Crispy Honey Pork Stir Fry
Grass Fed Beef Burger
Tomato Soup

Butter Lettuce Wraps
Coconut Ramen
Coconut Tofu
Smashed White Bean and Avocado Club
Compare Extras

A La Carte Menu
Gift Cards
Marketplace

A La Carte Menu
Gift Cards
Marketplace
Compare Customer Reviews

Submitted By Lisa on 10/24/2019

I just received my Dinnerly box yesterday, and I am not happy at all. Everything was just thrown in the box and there are no recipe cards. I have no idea what products/spices go with what meal. I don't even know what the meals are! It takes MORE time to look up the recipe online and try to find a printer to print it out since I don't have a printer at home. The products were literally thrown into a box all together. There was a leak in one of the ice packs and everything was soaking wet, and I'm not sure the inside of those packets are even safe for foods, they could be packed with chemicals. The box was even wet when I picked it up off my porch! I was extremely upset as soon as I opened the box!!

Submitted By Natalie R on 08/28/2019

My box was shipped to CA, but I live in TX. I asked to be credited for this, but was denied three times. I loved the food and recipes. I probably would have been a loyal costumer for years. But, I don't feel comfortable supporting a company that doesn't follow good business standards. It's such a shame.

Submitted By Tracy-lee Barker on 08/04/2019

Up to my second box and husband and I loving the meals so far, was missing broccoli in my second box, bit disappointing but luckily had some in the fridge. Apart from missing product am happy with the quality so far.

Submitted By Alex on 07/08/2019

I'm surprised by all of the negative reviews. For the price I feel Dinnerly does a great job. Many recipes star beef or pork which I no longer consume, but they now offer 14 recipes per week and I can almost always can find 3 recipes that fit my wants. I find that each recipe for 2 creates 3 or 4 meals- especially if u choose to bulk up a recipe with something u have on hand(fried egg, side of veggies etc.). Being single and not wanting to cook nor shop/meal-plan daily this kit has been perfect for me. Meals always turn out better than they look in the Dinnerly image. I like a few other kits as well, sunbasket and green chef. But I order from Dinnerly more than any other provider.

Submitted By J.S. on 08/16/2019

I chose Purple Carrot because I'm very busy with grad school and thought it would be a good alternative to the time-consuming process of shopping. I picked the plan where you get to choose 3 meals, and they even give you options like "Gluten Free" and "High Protein." Just today I got an email saying "Due to demand, your meal has been swapped out for another." They didn't say anything about why I didn't make the cut for the meal I picked while other people did get it, and what it was switched to. Some of the other meals for the week contain ingredients that I am allergic or sensitive to, which is why I didn't choose them. I really don't like how Purple Carrot promises to let you choose the meals you want, but then it does a bait-and-switch: "Just kidding, we're gonna pick for you and we'll probably pick something you're allergic to!" We don't even get to pick an alternative. According to the customer service rep, this happens all the time. I don't think I'll be renewing my subscription at any time soon.

Submitted By Rhea on 05/03/2019

Delicious! The packaging was recyclable and easy to dispose of, and the presentation of the recipes was high-quality and durable (important for those spills). The food was excellent -- in the two weeks I've had it, I'm planning to incorporate 4 of the 6 recipes into my regular rotation.

Submitted By Dar on 04/16/2019

All I can say is I decided to give this a try because a friend had a free box to give away and asked me if I'd like it. I said sure why not. I am not vegan but wow, what delicious creative recipes!!! Most of the meals we've tried have been delish!!! My husband and I both have been pleasantly surprised. And wow are they ever filling! I thought that for the most part meat needed to be in a meal to make it complete and filling. My only complaint is that it's very expensive. Not really worth the cost but it is fun to try new and different things.

Submitted By Kristina on 04/12/2019

They promised that all packaging would be recyclable. It was not. My box arrived in a huge silver plasticine bag (not recyclable) AND although they promised that the "ice packs" contained a substance that is environmentally friendly, OMG! - What a gelatinous GOO !!! I had taken the packs outside on my gravel driveway to melt. Thank God I had a bucket nearby when I went to slit them open. An unctuous liquid started coming out and just sat there in an actual "pile" on the gravel. I threw both packs into the bucket and flushed them down the toilet. Then I had to take Dawn dishwashing liquid to remove the STAIN left by whatever chemical this stuff was. And last, when it came to the vegan selection, it's really limited and not very tasty. Oh, and I agree with the other person that I was so busy minding a boiling pot of beans while working with a blender and keeping an eye on the broiler. Dang - I want meals delivered that are EASY! I had a meltdown.
Winner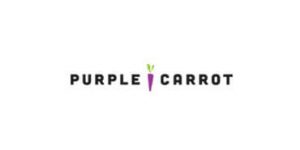 Purple Carrot brings you nothing but the freshest seasonal ingredients available and 100% vegan recipes. If you are on a vegan diet or just trying to eat healthily, Purple Carrot can make things simple and do all the grocery shopping and meal planning for you. Read our objective review and learn how Purple Carrot can help you improve your health.