Purple Carrot VS Gobble
Advertiser Disclosure
This website features affiliate links. For purchases made via these links, we earn commissions that allow us to keep producing helpful content. To find out more
click here
.
Close
The art of cooking isn't reserved for chefs only. With amazing recipes and carefully prepared ingredients from Purple Carrot or Gobble, you can become a great chef yourself. How to choose whether Purple Carrot or Gobble is better? Check out our honest comparison and find out everything you need to know about these two meal delivery services.

Vegan Meals For A Healthy Lifestyle
VS

Healthy, Fresh, And Ready In No Time
Highlights

Purple Carrot offers reasonably priced natural, plant-based meal kits designed for fitness enthusiasts, athletes, and vegans who want to eat healthily and cook effortlessly.
Average Price Per Meal:

$11.33

Shipping Cost:

$0

Delivery Area:

48 states

Gobble allows you to cook a beautiful meal in just 10 to 15 minutes and choose from a wide variety of healthy recipes that can satisfy virtually all tastes.
Average Price Per Meal:

$11.33

Shipping Cost:

$6.99

Delivery Area:

48 states
Compare Features

Best For
Best for vegan home cooks with an active lifestyle
Menu/Meal Plans
Purple Carrot features 2 menus: 1-2 Person and TB Performance Meals
Recipes/Meal Options
The standard Purple Carrot menu features 6 recipes per week while the TB12 Performance Meals menu features 3 recipes per week.
Meal & Recipe Variety
Purple Carrot offers vegan meals suitable for lunch and dinner. Its selection includes both everyday, healthy-eating meals and performance meals for active individuals. The meals are usually inspired by Moroccan, Chinese, Italian, and Spanish cuisines and include veggie stews, risottos, pastas, quesadillas, and grain bowls. The prep and cook time is around 30-45 minutes.
Food Quality
Purple Carrot delivers fresh, nutrient-packed ingredients that are sustainably sourced. All ingredients are of high-quality, chosen in accordance with the season, and completely natural.
Nutritional Value & Portion Size
Purple Carrot meals come in medium-sized portions and contain 500-800 calories on average. They are nutritionally balanced, with the right quantities of healthy fats, lean proteins, and complex carbohydrates.
Subscription Flexibility
With Purple Carrot, you can skip or cancel your order anytime. You must inform the company about any changes to your order by Tuesday night at 11:59 PM EST the week before your next delivery is due.
Refunds
For information about returns and refunds, you must contact Purple Carrot within 7 days of your delivery.

Best For
Best for home cooks who want to skip the prep and go straight to cooking
Menu/Meal Plans
Gobble offers its customers one weekly menu, which is divided into 4 parts, including From the Range, From the Ranch, From the Sea, and From the Earth.
Recipes/Meal Options
Gobble's weekly menu features 6 recipes in each section of its menu, amounting to 24 options.
Meal & Recipe Variety
Gobble offers family-friendly, low-carb, low-fat, omnivore, and vegetarian recipes. Its meals are conveniently categorized by protein source (poultry, red meat, seafood, and veg) and mostly inspired by hallmarks of the Italian, Spanish, Chinese, and American cuisines. In addition to dinner recipes, Gobble also offers sides, including soups, salads, cookies, and drink mixes. You can customize your order to exclude beef, fish, lamb, pork, poultry, shellfish or all of the above if you are a vegetarian.
Food Quality
Gobble sources fresh, local ingredients and works with the same farmers and purveyors as the local Michelin star restaurants.
Nutritional Value & Portion Size
Most meals you cook with Gobble have between 700 and 900 calories per serving and they are highly satisfying. The meals are nutritionally balanced and rich in nutrients.
Subscription Flexibility
With Gobble, you can make changes to your order anytime. You can also cancel your subscription whenever you want. To edit your order, you must notify the company before Wednesday at 11:59pm PST for the following week's delivery.
Refunds
Gobble has an awesome 100% customer satisfaction guarantee, so if you are dissatisfied with your meals, you can contact the company within 7 days of your delivery date and either get a replacement or credit for your next order.
Compare Plans & Pricing

Purple Carrot Plans & Pricing
Purple Carrot (2 servings)
Meals per week
Meal kit price
Price per serving
3
$72.00
$12.00
TB12 (2 servings)
Meals per week
Meal kit price
Price per serving
3
$78.00
$13.00

Gobble Plans & Pricing
Two People Plan (2 servings)
Meals per week
Meal kit price
Price per serving
2
$55.96
$13.99
3
$71.94
$11.99
Four People Plan (4 servings)
Meals per week
Meal kit price
Price per serving
3
$143.88
$11.99
Suitable For

Meals For Families
Meals For Kids
Meals For Seniors
Meals For One

Meals For Families
Meals For Kids
Meals For Seniors
Meals For One
Compare Meal Options

Vegetarian Meals
Vegan Meals
Paleo Meals
Keto Meals
Low-Carb Meals
Low-Fat Meals
Meals For Diabetics
Gluten-Free Meals
Organic Meals
Weight Loss Meals

Vegetarian Meals
Vegan Meals
Paleo Meals
Keto Meals
Low-Carb Meals
Low-Fat Meals
Meals For Diabetics
Gluten-Free Meals
Organic Meals
Weight Loss Meals
Compare Sample Meals

Butter Lettuce Wraps
Coconut Ramen
Coconut Tofu
Smashed White Bean and Avocado Club

Chicken Florentine Rigatoni Bake
Pan Roasted Salmon
Potato Pierogies
Vietnamese Shaking Beef
Compare Extras

A La Carte Menu
Gift Cards
Marketplace

A La Carte Menu
Gift Cards
Marketplace
Compare User Reviews

Submitted By Josette Romain, M.D. on 03/16/2019

I have been a vegan for many years and have been repetitively using the same type of meals, with no variety, because of the limited option offered in my non-vegan world. Purple Carrot opened my eyes, and my taste buds, to the large array of vegan food available not only locally but also from other countries. I have been using their food for more than a year now and they very seldom repeat the same recipe. I highly recommend Purple Carrot.

Submitted By Anitra on 12/02/2019

Average at best, we did the TB12 experience. Most of the vegetables were either too ripe, not ripe enough or needed to be tossed. The first week the meals were ok however the quality was progressively worse week after week. When I tried to cancel, my email went into spam and I was charged for an additional week of product that I did not want. I would say, choose another meal plan that is more tried and reliable.

Submitted By Jennifer Moline on 10/21/2018

I have to stress I'm not a vegan, I just had to switch to plant-based because of health problems. I've always loved meat and it was hard for me to find anything vegan that was satisfying enough. This is my third order so far and apart from (ironically) a couple of carrots in the first order that didn't look all that fresh when I got them, I've never had any problems with the service and when I told them about the carrots, they offered a full refund, which was really nice (I didn't take it because everything else was fine). I like the recipes and the portions are just right for me, I'll definitely keep ordering, at least until I start eating meat again.

Submitted By Tim Wilkerson on 09/24/2018

I wouldn't call myself picky, but there are foods I don't like and there are foods I don't even want to try. I like Purple Carrot and I've been ordering for months now, but it happened more than once that I had to skip because I didn't like all the recipes. Sure, 6 is better than 3, but I still believe there should be at least 10 recipes per week, that way I wouldn't have to skip and spend time grocery shopping and searching for recipes on my own, which I reaaaaalllyyyyy hate. I mean, it sounds like I'm unsatisfied, which I'm not, I loved everything I got from Purple Carrot, I just think it would be better for everyone if there were more recipes.

Submitted By Donna Carney on 02/20/2019

Tried this for the first time last week. I will start by saying the food was good and relatively short prep times. However, box arrived with torn package of raw chicken. Therefore I had raw chicken juice ALL over the rest of the stuff in my box (disgusting). Additionally, small bottle of sauce open and spilled all over the inside of a bagged set of meal ingredients, and no fennel for the chicken dish. They advertise great customer service and easy access to them for questions and advice. I have made 3 phone calls and sent 2 emails over a 4 day period. The only response I got was a "canned" email that didn't even address my issues. I cancelled my subscription - not easy to find this option on the website. I've never received any return phone call or other email or form of communication to address these issues. If someone had gotten back to me and at least apologized and offered to make this right, I likely would not have canceled my subscription. However, the poor customer service is enough of a reason to cancel despite the food being good.

Submitted By Thad saunds on 02/19/2019

I would give 0 if that was an option. Aside from the fact that the quality of the food is terrible, we tried to cancel our order and get a refund of our money. They canceled our order but would not refund our money since we should have canceled by last Friday, when we received the food on Thursday. ONE NIGHT is not enough time to try a company out. Unacceptable. In addition, we were sent two of the same recipe cards instead of the third card needed and one of our meals was missing an ingredient. Hello Fresh is a MUCH BETTER company, in every aspect. Quality of food, reliability and customer service.

Submitted By Danielle Downing 10/17/2018

I signed up for Gobble because "Gobble's chefs do all the prep work, like peeling, chopping & marinating.... We'll do the prep work for you. Our team of chefs do all the tedious prep work for you--no more chopping, measuring, or sink full of dishes." I received my box of ingredients and NOTHING was prepped. Full head of lettuce, whole shallot, whole tomatoes, whole cucumbers, and more. If I had time to do the prep, I certainly wouldn't be paying $90 a week for 3 days of meals. Gobble is engaging in false advertising, and I don't appreciate being misled. (The food does look delicious, and I'm hoping I have time to actually prep it all before it goes bad so I can try it.)

Submitted By Laura on 08/15/2018

I signed up to give it a try here is a link for a free box if you want to try also. https://www.gobble.com/invites/G0BvGrkPp
Winner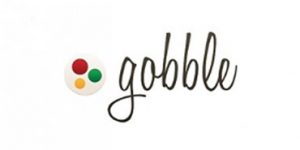 Gobble is a meal kit delivery service that offers par-cooked, pre-portioned ingredients alongside exquisite recipes to transform your tiresome everyday cooking into a joyful experience. Read our comprehensive Gobble review to learn more about this company's offer and check out the User Reviews section for useful customer-written Gobble reviews.