Fresh, tasty and healthy cooking
HelloFresh Review - UPDATED Oct 2017
The idea for HelloFresh started growing when two friends came to the conclusion that more and more people have less and less time to prepare and enjoy quality food. Getting fresh, handpicked ingredients has turned into too much of a luxury for a growing number of people in urban communities. Fueled by their love of food, they developed a business concept that allows their customers the opportunity to enjoy the kind of cooking they're missing out on because of their commitments.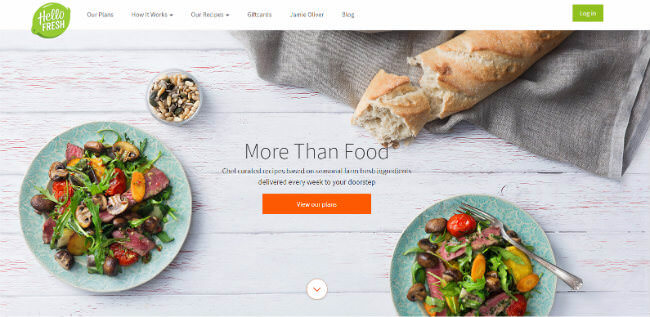 Their aim is to provide you with the opportunity to enjoy wholesome home-cooked meals with no planning, no shopping, and no hassle. You will get everything required for weeknight meals delivered free of charge to your door and all the ingredients are carefully planned and locally sourced.
After reading a couple recipes on their blog and after watching a couple of their YouTube videos, we decided to order and see what HelloFresh is all about. And we hope that after reading this HelloFresh review, you'll decide to give them a chance.
How HelloFresh Works?
Put simply, the entire process can be summed up in a couple of basic steps. First off, you choose from a menu filled with tasty recipes created by their culinary team. Then, they do all the time-consuming hard work – planning, selection, shopping, pre-production, and measurement. When the HelloFresh box arrives on your doorstep, all you have to do is follow the quick-and-easy recipes to prepare amazing home-cooked meals. It doesn't get any simpler than that.
Ordering is also perfectly easy. You can pick one of the 3 basic meal plans – Classic, Vegetarian or Family, choose how many dishes per week you'd like to prepare, and which day you want your food delivered. It is as simple as that. Also, you can purchase one of the packages and print a PDF gift card for your family and friends.
Furthermore, reading the HelloFresh blog can give you a great insight into many interesting topics like cooking instructions, an overview of the essential kitchen tools and the tools they use, interesting recipes and personal stories, and much more.
What Makes HelloFresh Different?
The difference is in the approach itself. This HelloFresh review should explain why this is not just another meal delivery service. Instead of sending you finished meals, you get fresh ingredients and easy to follow recipes for any day of the week. HelloFresh almost does it all, but you are left to perform the finishing touch and turn carefully selected, fresh, healthy ingredients into a culinary masterpiece.
As stated by none other than Jamie Oliver, HelloFresh is more than a business. It is a growing community of people who enjoy preparing tasty meals from scratch, using only the freshest and healthiest of ingredients. Jamie is known for taking part in socially responsible projects in the past and he fought many battles to encourage people to take their food into their own hands. This awesome concept allows you to do exactly that – get to know the ingredients and turn them into tasty meals following simple and creative recipes.
HelloFresh also cares about the environment. The fact that all recipes and ingredient quantities are carefully measured allows for very little to almost zero waste on your part of the supply chain.
Meals and Recipes
As previously mentioned in our HelloFresh review, this meal delivery service offers you 3 basic meal plans – Classic, Vegetarian, and Family. They all have options for 2 or 4 people, but while the Vegetarian and Family plans come with set recipes, the Classic plan gives you the freedom to chose your favorites. Also, you can choose up to 5 meals a week with the Classic plan while the Vegetarian and Family plans come with up to 3 meals. Let's take a more in-depth look at the plans.
Classic plan
The Classic plan has the largest variety of recipes with a handpicked selection of meat, fish, produce, and grains. Along with interesting twists on traditional favorites, you will often see unique recipes that will boost your cooking skills sky high.
Vegetarian Plan
The Vegetarian plan offers you an abundance of seasonal produce, healthy grains, and vegetarian-friendly proteins. Although aimed at the pickiest of vegetarians, we're certain that a lot of meat-loving food enthusiasts will fall for this awesome selection of tasty recipes.
The Family plan
The Family plan is for those who need to think about the sensitive tummies of children growing up. When thinking about the whole squad, a lot of attention is put into preserving the flavor and nutrition even though you're holding back on the spices. One of the coolest ways to get your entire family in the kitchen to prepare a meal together.
Also, each week, you'll get the option to receive a recipe created by top celebrity chef and food campaigner Jamie Oliver.
You can get a glimpse of the recipes and techniques needed to prepare these meals if you visit the "Our Recipes" section of the HelloFresh website. You can view the menus from past and previous weeks, up and coming ones, and Jamie's recommendations, as well as a growing archive of fun and tasty recipes for every day.
Pricing
HelloFresh charges per meal per person. The prices range from 9.99$ per meal, which serves 2 adults 5 times a week with the Classic plan, 9.99$ per meal for 2 people (3 meals) with the Vegetarian plan, and as low as 8.74$ per meal for 2 adults and 2 children 3 times a week with the Family plan.
Gift cards can be bought for the Classic and Vegetarian plans. Individual gift cards bring you a total of 3 meals for 2 people and can be bought for 79$ and 69$, respectively.
There is also a 15$ discount if you subscribe to the HelloFresh newsletter before ordering.
It's good to keep in mind that increasing the number of meals per week and choosing double portions (for 4 adults) significantly lowers the price that you pay for individual meals. So, bulk purchasing pays off.
Delivery Areas
HelloFresh delivers its boxes to your doorstep throughout the mainland United States. Hawaii and Alaska are still not covered, but they are working on it as we speak.
Deliveries are FREE OF CHARGE wherever you order your food from. Food is delivered in insulated boxes and packed to keep your ingredients fresh as long as possible, so you can be sure that a weekly delivery will stay fresh for at least 7 days.
Pros
Fresh and tasty food on your doorstep
Creative and easy-to-follow recipes
Healthy alternative to takeaway food
Cons
Still more expensive than alternatives
Only dinner recipes offered, no breakfast or lunch
Sample Dishes
Bottom Line
If you're into fresh, local produce from the farmers' market, but you don't have time to do all that shopping, you're in for a treat. HelloFresh delivers hand-picked ingredients and easy-to-follow recipes that turn them into delicious, tasty, and healthy meals. Want to cook but can't spare the time to go shopping for ingredients? Then HelloFresh is the perfect choice for you.
Although this HelloFresh review was fairly positive in almost all categories, we have to stress the fact that some people might find the exact quantities of delivered ingredients a bit on the low side. We all have different standards when it comes to portion sizes, but at the end of the day, they do deliver what they promise and it's very hard to stay hungry with any of their plans.