Healthy cooking made fun and easy
Blue Apron Review - UPDATED Apr 2018
Unlike what we're used to seeing, Blue Apron is not your standard meal delivery service. They deliver only fresh, seasonal ingredients along with easy-to-follow recipes created by culinary experts. While not exactly new, it's one of the meal delivery services that have been skyrocketing in popularity lately. If you want to make a home-cooked meal without the hassle of picking up groceries at the store and planning out the recipe by yourself, Blue Apron will provide you with exactly what you need. Read our Blue Apron review and see what they've got in store.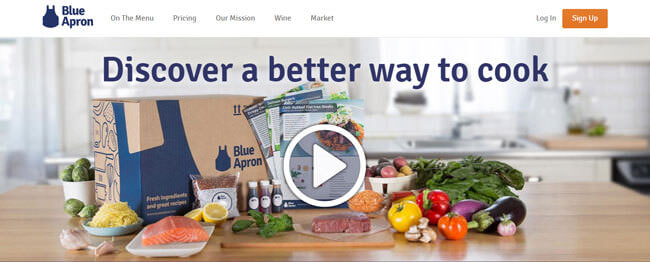 How Blue Apron Works
The whole process is really simple: pick out your plan (they offer a 2-person and family option), choose your recipes and wait for the box with all the ingredients to be delivered to your doorstep.
When everything arrives, just follow the instructions from their interactive recipes page and you'll feel like a professional chef in no time. You'll get all the details you need along with the ingredients – carefully portioned so you never have to work with too much or too little. From the exact kitchen utensils, pots and pans you need to use to the proper way to prepare each of your ingredients, everything will be covered in the interactive instructions. Blue Apron even has a nice selection of how to videos that can show you what to do if you're feeling stumped.
If you don't have proper cooking utensils and/or dishes, you can order some from the Blue Apron website. The market page offers a selection of high-quality cooking gear that you can use to prepare their (and other) meals. In addition, if you don't want to bother with choosing and then buying a wine to go with your meal, you can subscribe to their monthly wine delivery plan and have a box of finely selected wines delivered to you every month.
What Makes Blue Apron Different?
What makes this service stand out from countless others is their focus on, among other things, responsible food growing practices. Blue Apron is very selective when it comes to partnering with suppliers. They only work with fisheries which source sustainable seafood. They also partner very closely with farmers so that they are able to get all the fruits and vegetables when they are at the peak of freshness, which also allows Blue Apron to set a lower price than most grocery stores. The meat comes from animals grown on antibiotic-free and hormone-free diets, to ensure the best possible taste.
Why is this important? Well, specific deals with suppliers should make sure everybody benefits from the deal. The farmers have a guaranteed buyer, Blue Apron has a steady supply of produce, and the customers get high-quality ingredients to cook with.
Another part of the Blue Apron mission is to combat food waste and unsustainable food growing systems. Fruit and vegetables are grown with minimum pesticides use and using regenerative soil practices, allowing the land to remain healthy in the future.
Every recipe has a wine (or even wines) that their expert chefs say goes well with it. If you don't feel like picking out your own wine or just don't want to go shopping for anything, Blue Apron has you covered there, too. By signing up for their monthly program, you get a nice box with six 500 ml bottles of wine – three reds and three whites – along with a story behind each wine, some tasting notes and pairing tips. The bottles may be too small for some people's taste but the people behind the service claim it's perfect for two people.
Meals And Recipes
Blue Apron does their best to bring variety to your menu. They offer you a choice between the 2-person menu and the family plan, which serves 4 people. With the 2-person plan, you can select 2 or 3 recipes out of 8 each week whereas you get to choose 2, 3 or 4 out of 4 recipes if you opt for the family plan.
In addition, before checkout, you can also customize your dietary preference. There are 7 options you can select or rule out: beef, poultry, pork, lamb, fish, shellfish, or none of those if you are a vegetarian. The recipes you receive will be based on your dining preferences, which you can change at any point if you like. Each of their recipes is cooked only once a year.
In your package, you'll receive all the needed ingredients in pre-portioned amounts, along with step-by-step recipe cards to guide you through the cooking process.
Blue Apron takes care to inform you about the details of your ingredients, so nutritional and calorie labels are provided with each order. On them, you'll find information that might be important, such as possible allergens, sugars, and fat, alongside the nutrients and daily values. These values might vary only slightly depending on other ingredients you may add during cooking, such as oil.
If you happen to be vegetarian, there's no need to worry. Blue Apron always has vegetarian options among its weekly recipes, so you'll never have to feel left out.
If you're interested in cooking something not currently on the menu, though, you can check out Blue Apron's cookbook on their website, which features all the recipes that were on offer so far. You're free to browse through them and prepare one of the meals on your own if you wish.
Another interesting option that Blue Apron provides its customers is wine delivery. If you decide to order wines to go with your food, you'll receive 6 wine bottles per month, 500 ml each – just about enough for two people. They are selected by Blue Apron's expert chefs to match the recipes you'll be cooking that month, so you don't have to bother with going to the liquor store and dwelling on which wine to pick for your dinner.
Pricing
What would this Blue Apron review be without looking into this delivery service's pricing plans? Should you decide to subscribe to Blue Apron, you will first be asked to choose a plan. With the 2 person plan, the price of one serving is $10.99 if you order 2 recipes or $9.99 if you order 3 recipes. Should you decide to go with the family plan, the price of a single serving is $8.99.
If you opt for the family plan and order 3 or 4 recipes, shipping is free of charge. Otherwise, you have to pay a $7.99 shipping fee per delivery.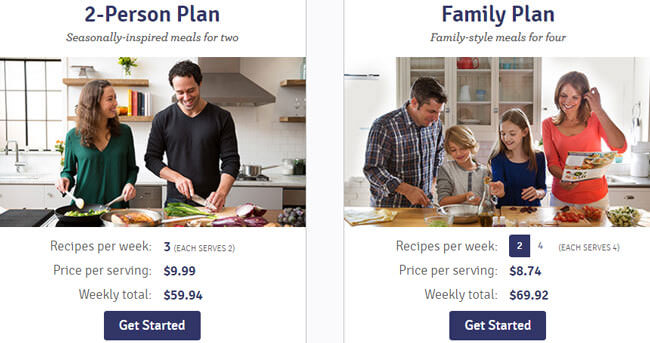 Delivery Areas
Blue Apron delivers your meal ingredients to most places inside the US. The delivery area is nationwide, so no matter where you are, Blue Apron will be able to reach you. They have a list of places where they deliver to, so you can also double check delivery areas on their website.
Pros
A lot of choice in creating your menu.
Menus are designed according to your personal preferences.
Easy to follow instructions for all recipes.
There is an option to have wines delivered with your recipes.
Special menus for vegetarians are available with the 2 person plans.
Only fresh, organic fruits and vegetables.
Meat free of hormones and antibiotics.
Nationwide coverage.
Cons
No vegetarian option in family plan.
Shipping is not free for all orders.
Bottom Line
While doing research for our Blue Apron review, we were pleasantly surprised to see so many interesting recipes and wine combinations. They've certainly done an excellent job of enabling you to tune the recipe offers to your personal dining preferences. Not only can you select different plans, you can also choose which meat combinations you'd like, as well as a vegetarian diet in case you're not much of a meat lover. Their delivery area coverage is terrific, covering almost all US places no matter what state you're in.