There is no doubt that Blue Apron is among the best and most popular meal kit delivery services around. However, that does not mean that you will never find yourself wondering how to cancel Blue Apron. If you are already asking yourself this question, we have everything you need to know about the process here. What follows is a step-by-step guide to modifying, pausing, and canceling your Blue Apron subscription.
Changing Your Blue Apron Meal Plan
With Blue Apron, you can easily switch between plans, so you do not need to cancel in order to pick the other plan. To switch to a different meal plan you need to:
Log into your Blue Apron account using your credentials;
Hover over your name on the top right-hand corner;
Click the "Account Settings" button;
Go to the "Plan Settings" section;
Click the "Edit" button in the "Meals" section of "Plan Settings";
Wait for a pop-up window to appear;
Locate the "Plan Type" title in the pop-up;
Next to "Plan Type," choose the plan you want to try out;
Locate "Recipes per week" title underneath "Plan Type";
Next to "Recipes per week", choose the number of meals you want to cook a week;
Click the "Update My Plan Settings" button;
Wait for a green confirmation banner to appear at the top of the page;
If the confirmation banner appears, you have successfully changed your meal plan.
Skipping A Delivery
If you only wish to skip a week, this can be done directly from your Blue Apron account. Here's what you should do:
Log into your Blue Apron account using your credentials;
Go to the "Upcoming" page of your Blue Apron account;
Scroll to the week you wish to cancel;
Check the "Changeable By" date in order to see whether it is still possible to cancel your weekly order;
If the order has not been processed yet, click the "Manage" button on the order;
Wait until the pop-up window appears;
Click the "Skip This Delivery" button;
Another window will appear, asking you to confirm your decision;
Click the "Yes, Skip This Week" button;
Check if there is a red cross next to the date of the order you skipped;
If a red cross appears, you have successfully skipped a week;
If you change your mind, click the "Unskip" button on the skipped delivery to make it active again;
If a green circle with a checkmark appears, your order has been reactivated.
Canceling Your Blue Apron Subscription
There are a number of reasons why you may decide to cancel your Blue Apron subscription or skip a week of orders. Your plans for the following week may change, you may decide to go out of town or you may simply no longer crave the food that is on the current menu.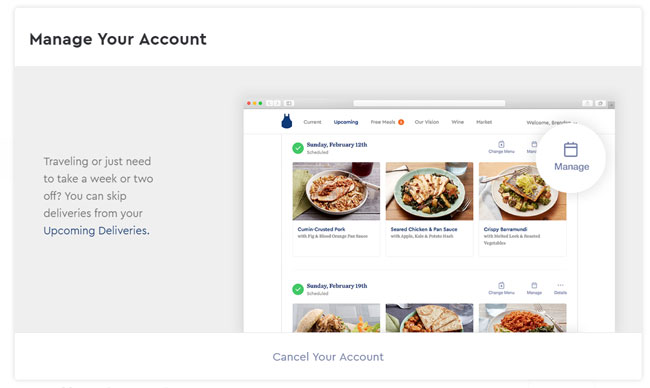 Whatever the reason may be, you can cancel whenever you wish, with no extra charges. The process itself is rather simple and includes the following steps:
Log into your Blue Apron account using your credentials;
Go to the "Upcoming" page of your Blue Apron account;
Click the "Details" button on your last order;
Check the "Changeable By" date;
If the date has not already passed, you can proceed to the next step; if it has passed, your order has already been processed and your cancellation will be valid after you receive your next shipment;
Send an email with your request to cancellations@blueapron.com;
Wait for a response from the same address;
Follow the instructions provided in the email;
If you are having trouble canceling, contact the support staff via phone or contact form.
If you want to cancel the easier way, without following all these steps, here is a shortcut:
Log into your Blue Apron account using your credentials;
Fill out the form;
If complications arise, contact the support staff via phone/contact form.
While the cancelation process is normally quick and painless, the most important information you need to remember is that you need to cancel by "Changeable By" date. Otherwise, you need to pay for your last scheduled shipment.
Once you have canceled your Blue Apron subscription, you are free to explore the rest of the meal kit market and find a service that is similar to Blue Apron but may be a better fit for your needs. If you are wondering which meal kit delivery to try out next, you can find plenty of safe alternatives on our list of the best companies like Blue Apron.
Refund Policy
Blue Apron offers its excellent Freshness Guarantee. If there is something wrong with your shipment (missing, spoiled or damaged ingredients) or you are dissatisfied with your shipment for any reason whatsoever, you can get in touch with the support staff via phone or contact form within 7 days after you receive your shipment. Depending on the issue, you can receive a replacement or full or partial refund.
A Better Meal Delivery Service Experience
If you're looking for a Meal Delivery Service that will not disappoint you, we recommend you check out Home Chef. With 200 million meals served, it's probably the best company on the market. You can read our comprehensive review of Home Chef to learn more or just check out their site.
Conclusion
Blue Apron has done everything possible to ensure a pleasurable customer experience. Skipping, canceling, and modifying your subscription can be done in a few simple steps. If you encounter any issues, the support staff is there to assist you. If you are not satisfied with your order, the service will quickly make it right, so you never waste any money on food you do not love. That is what we call stellar customer service.