Compare Prices
The following price comparison is designed to help you easily figure out which of our top-ranked companies like Blue Apron best fits your budget. We have brought all the pricing information to one place, including the shipping costs and details about the companies' delivery areas, so you can identify the perfect fit in a single glance.
Company
Avg. Meal Price
Shipping
Delivery Areas
Sunbasket
Avg. Meal Price
Shipping Cost
$6.99
Delivery Areas
Home Chef
Avg. Meal Price
Shipping Cost
$0
Delivery Areas
HelloFresh
Avg. Meal Price
Shipping Cost
$6.99
Delivery Areas
Green Chef
Avg. Meal Price
Shipping Cost
$7.99
Delivery Areas
Marley Spoon
Avg. Meal Price
Shipping Cost
$0
Delivery Areas
Gobble
Avg. Meal Price
Shipping Cost
$6.99
Delivery Areas
Dinnerly
Avg. Meal Price
Shipping Cost
$8.99
Delivery Areas
EveryPlate
Avg. Meal Price
Shipping Cost
$8.99
Delivery Areas
What Makes These Companies Similar To Blue Apron
Having multiple excellent companies like Blue Apron at your disposal is like having your favorite shirt in different colors. One color really complements your eyes, the other makes you look slimmer, and the third one brightens up your mood, but they are all versions of the same shirt that you love and that looks great on you. The same goes for companies like Blue Apron.
These meal box delivery companies all allow you to enjoy cooking for yourself and your loved ones while leaving grocery shopping, ingredient prepping, and recipe hunting to the experts. They offer simple, step-by-step instructions that ensure that you can get the recipe perfect every single time. On top of that, you do not have to worry about having to do any last minute purchases, as all the key ingredients are right there in your kit and the pantry staples you should have at hand are clearly indicated in the recipes. Whether you are cooking for only two people, a family of four or throwing a party, companies like Blue Apron can help you make sure everyone leaves the table feeling satisfied and full.
All of these qualities make these meal prep delivery services similar to Blue Apron. However, they all offer additional benefits that may make them even better suited for your needs. Some of them offer more options for special diets, some offer more flexible ordering, and others are more affordable. That way, they allow you to enjoy all the advantages of cooking with Blue Apron, along with a range of additional perks that Blue Apron simply does not offer.
What Makes These Meal Kit Services Different Than Blue Apron
As suggested previously, our top-ranked meal box delivery companies like Blue Apron possess key qualities that make people love Blue Apron so much. They offer the same food, recipe, and service quality that has helped Blue Apron reach the very top of the meal kit market. However, while similar in terms of concept, they differ in a range of nuances that may be highly important to Blue Apron lovers.
Blue Apron has a thoroughly impressive menu filled with creative recipes for a variety of tastes. However, there are several similar meal box delivery companies that offer a greater number of menu items and do not just offer recipes for omnivores, vegetarians, couples, and families but instead accommodate the needs of a vaster number of home cooks, like individuals allergic to gluten, dairy, eggs or soy, vegans, pescatarians, people on the Paleo diet, and more.
Furthermore, many of these meal prep delivery companies do not limit your choice to just 2 or 4 servings but allow you to opt for a larger number of portions, double or triple your order, and choose as many or as few recipes as you wish. They do not only offer dinner recipes but allow you to easily make a delicious breakfast, lunch, dessert or smoothie, thus covering your dietary needs throughout the day.
What may be particularly important to some home cooks, a couple of the meal prep delivery companies on our list offer the same quality Blue Apron provides but at much lower prices. You can even get gorgeous meals that are twice as affordable as those on the Blue Apron menu. That means that home cooks who cannot afford to order from Blue Apron on a regular basis can now enjoy equally good meal kits every week without paying more than they can afford.
Choosing The Right Company Like Blue Apron
We begin our search for the best companies like Blue Apron by identifying all meal kit services whose offers are essentially similar to that of Blue Apron. They have to possess all the key features that make Blue Apron one of the best meal kit services on the market.
In the subsequent steps of our selection process, we focus on the variety of menu items and the range of meal options offered. We select the companies that offer a vaster range of options for special diets and give preference to those that have more varied menus than Blue Apron, so you have plenty of meal ideas to choose from. We want our top choices to satisfy the tastes of even the pickiest of eaters, as well as people with various food allergies and different lifestyles and nutritional needs.
A good meal is always well-balanced and satisfying. That is why we spend a lot of time assessing the nutritional value of the meals and their portion size, so we can guarantee that the meals you cook with these companies can keep you well-nourished and full for hours.
Flexibility is also highly important and the companies on this list are highly flexible in terms of meal plans and cancellations. They allow you to skip an order, modify your subscription, and even cancel whenever you please.
Finally, we take a close look at the prices as well as potential additional costs, including shipping fees. We choose the companies that are at least as affordable as Blue Apron and select several options that offer prices that are much lower than the ones you pay at Blue Apron. Most importantly, we make sure that with all of our top picks you always get the best value for your money.
Best Companies Like Blue Apron
What all of our top picks have in common is that they are currently the best companies similar to Blue Apron. Now it is time to discover what makes each of these meal kit delivery companies unique. Explore their distinctive features in the mini-reviews below and choose the one that best satisfies your needs.
1. Sun Basket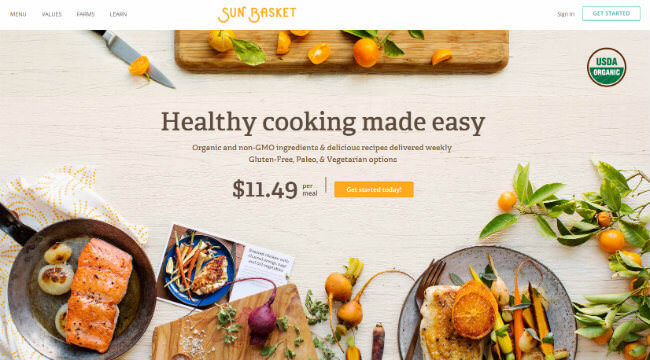 Sun Basket is definitely a synonym for variety. Apart from bringing only the best, freshest seasonal ingredients to your door, Sun Basket lets you choose between as many as 18 recipes every week and a dozen tasty add-ons, like 5-minute salads, sauces, dips, and veggie dippers. Keeping in mind the different needs and desires of their customers, the professionals behind Sun Basket organic meal box delivery have devised 11 different meal plans, including Chef's Choice (recipes handpicked by their star chef), Lean & Clean, Paleo, Gluten-Free, Mediterranean, Pescatarian, Diabetes-Friendly, Quick & Easy, Carb-Conscious, Vegan, and Vegetarian.
2. Home Chef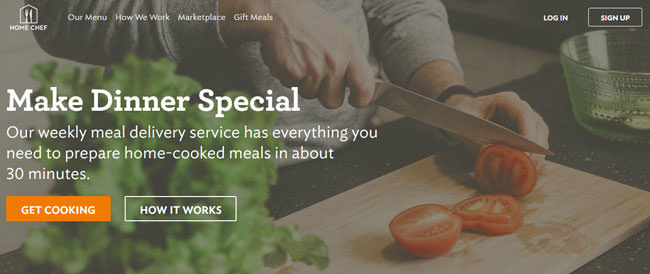 Home Chef is all about saving you time and effort and making sure you get exactly what you need and love. Each week, this healthy meal kit delivery allows you to choose between 13 tasty dinner options and 3 no-cooking 5-minute lunches. It also offers a fruit basket and a smoothie every week. As far as special dietary needs are concerned, its menus have got them all covered, with gluten-free, soy-free, and low-carb meals available every time you stop by.
3. HelloFresh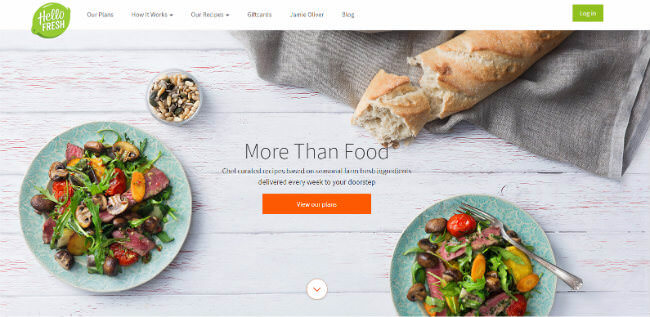 HelloFresh meal prep delivery was created with the sole purpose of letting you enjoy cooking without all the unnecessary hassle. Its recipes are easy, its ingredients are fresh and natural, and there are 4 different meal plans to choose from, including Classic, Vegetarian, Calorie Smart, and Family. You get to pick the number of meals you would like to prepare during the week, choose between 2 and 4 servings, and pick the delivery day that works best for you.
4. Green Chef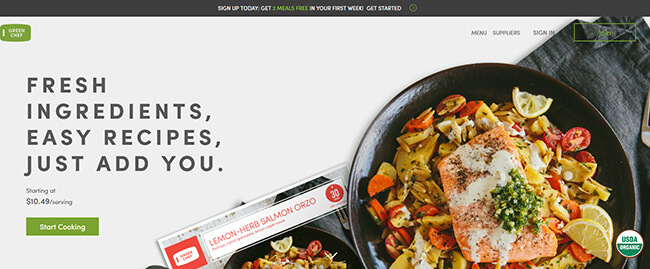 Green Chef is similar to Blue Apron in that it focuses on dinner recipes suitable for 2 or 4 people. However, what makes this organic meal box delivery superior to Blue Apron is the range of special dietary needs and preferences it accommodates. It allows you to choose from as many as 5 different meal programs suitable for omnivores, carnivores, pescatarians, vegetarians, vegans, keto dieters, and Paleo lovers, as well as people allergic to gluten.
5. Marley Spoon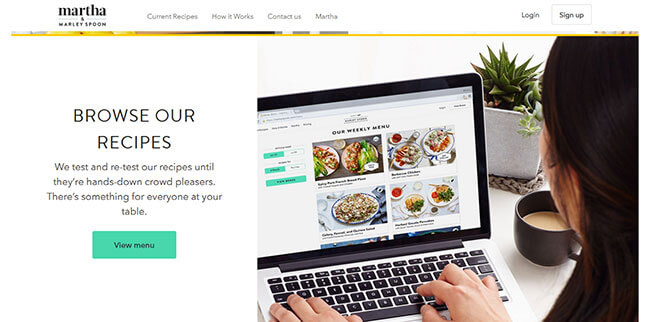 Marley Spoon a.k.a. the Martha Stewart meal kit service offers incredible recipes that can turn you into a real chef in no time. By providing superior-quality, pre-portioned ingredients and easy-to-follow 6-step recipes, it allows you to cook a sensational gourmet dinner in less than half an hour. The weekly menu features 20 mouthwatering dinner recipes suitable for a variety of diets. You can opt for vegetarian, kid-friendly, low-carb, low-calorie, dairy-free, gluten-free or one-pot delights. Every week, you can order 2, 3 or 4 recipes for 2 or 3-4 people.
6. Gobble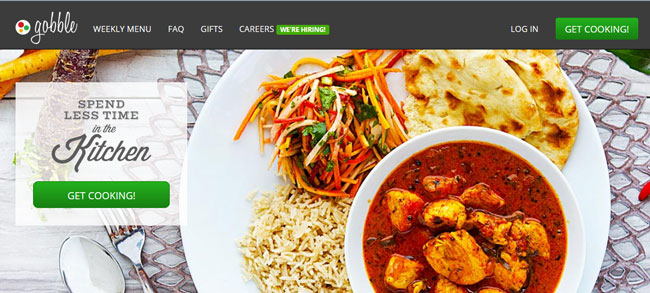 If you think that cooking with Blue Apron is easy, wait until you discover Gobble meal kit delivery. This service does not only choose the best ingredients and pre-measures them for your convenience but also does all the chopping and prepping. That is why its meals never take more than 10 or 15 minutes to make. Its weekly menu features 24 gorgeous dinner recipes designed for 2 or 4 people. You can choose your preferred source of protein and opt for meaty or meat-free recipes. If you need something healthy to enjoy at work, you can opt for the additional lunch subscription that allows you to batch-cook 6 individual lunches in just an hour and a half.
7. Dinnerly
You may already know that Dinnerly is the cheapest meal kit service in the US. There are two main reasons why Dinnerly is so affordable. First, it provides digital recipes instead of pretty printouts. Second, each recipe calls for just 6 high-quality ingredients. This allows Dinnerly to offer meal kits that are twice as affordable and just as delicious as those at Blue Apron. The weekly menu features 14 crowd-pleasing recipes suitable for couples and families of 4.
8. EveryPlate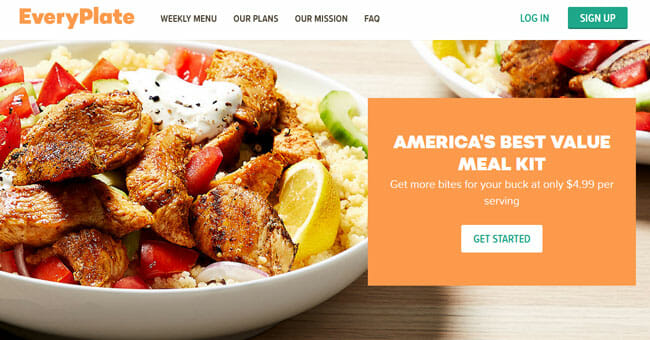 EveryPlate is an extremely affordable Blue Apron alternative that perfectly suits the needs of omnivorous couples and families. It brings you 9 fresh dinner ideas every week, all of which are suitable for picky eaters. Its ingredients are farm-fresh, naturally grown, and pre-measures for quicker prep. While some of its meals may take longer to make, most of them are ready in half an hour and some of them require the use of just one pot. The subscriptions are flexible and the prices are significantly lower than at Blue Apron.