Blue Apron VS Gobble
Advertiser Disclosure
This website features affiliate links. For purchases made via these links, we earn commissions that allow us to keep producing helpful content. To find out more
click here
.
Close
Gobble focuses on healthy eating and easy-to-follow recipes; Blue Apron prides itself on its fresh seasonal ingredients sourced from top-tier suppliers and simple recipes.
If you need some professional help picking between the two, our Gobble vs. Blue Apron comparison features all the information you could possible need to make a fully informed decision.

Healthy cooking made fun and easy
VS

Healthy, Fresh, And Ready In No Time
Highlights

Blue Apron is a healthy home cooking solution that allows you to cook impressive meals, save time on meal planning and preparation, and even save some cash by getting premium-quality ingredients in just the right quantity at a good price.
Average Price Per Meal:

$9.20

Shipping Cost:

$0

Delivery Area:

48 states

Gobble allows you to cook a beautiful meal in just 10 to 15 minutes and choose from a wide variety of healthy recipes that can satisfy virtually all tastes.
Average Price Per Meal:

$11.99

Shipping Cost:

$6.99

Delivery Area:

48 states
Compare Features

Best For
Best for adventurous foodies with little experience in the kitchen
Menu/Meal Plans
Blue Apron offers two menus, including the 2-Person menu and the Family menu.
Recipes/Meal Options
Blue Apron features 8 new recipes on the 2-Person menu and 4 new recipes on the Family menu each week.
Meal & Recipe Variety
Blue Apron's menu focuses on easy-cleanup, quick-prep recipes that are often ready in just 30 minutes. The recipes are suitable for omnivores, vegetarians, and fans of the Mediterranean diet. The chefs aim to strike a perfect balance between meat, seafood, and veggie options and create innovative meals inspired by international classics.
Food Quality
Blue Apron takes pride in offering nothing but the freshest, sustainably sourced seafood recommended by the Seafood Watch, hormone-free, antibiotic-free meat, and nutritious seasonal produce fresh from the farm, free from GMOs, and organic whenever possible.
Nutritional Value & Portion Size
Blue Apron offers optimally balanced meals with portion size based on the rules of healthy eating, thus allowing you to enjoy satisfying meals without overeating or wasting food.
Subscription Flexibility
With Blue Apron, you can switch from one plan to another or pause your delivery whenever you want. All changes to your subscription must be made before the 'Changeable before' date, which you can view in your account.
Refunds
Blue Apron boasts its unique Freshness Guarantee. If you are not happy with your order, you can contact the company and they will gladly resolve your issue.

Best For
Best for home cooks who want to skip the prep and go straight to cooking
Menu/Meal Plans
Gobble offers its customers one weekly menu, which is divided into 4 parts, including From the Range, From the Ranch, From the Sea, and From the Earth.
Recipes/Meal Options
Gobble's weekly menu features 6 recipes in each section of its menu, amounting to 24 options.
Meal & Recipe Variety
Gobble offers family-friendly, low-carb, low-fat, omnivore, and vegetarian recipes. Its meals are conveniently categorized by protein source (poultry, red meat, seafood, and veg) and mostly inspired by hallmarks of the Italian, Spanish, Chinese, and American cuisines. In addition to dinner recipes, Gobble also offers sides, including soups, salads, cookies, and drink mixes. You can customize your order to exclude beef, fish, lamb, pork, poultry, shellfish or all of the above if you are a vegetarian.
Food Quality
Gobble sources fresh, local ingredients and works with the same farmers and purveyors as the local Michelin star restaurants.
Nutritional Value & Portion Size
Most meals you cook with Gobble have between 700 and 900 calories per serving and they are highly satisfying. The meals are nutritionally balanced and rich in nutrients.
Subscription Flexibility
With Gobble, you can make changes to your order anytime. You can also cancel your subscription whenever you want. To edit your order, you must notify the company before Wednesday at 11:59pm PST for the following week's delivery.
Refunds
Gobble has an awesome 100% customer satisfaction guarantee, so if you are dissatisfied with your meals, you can contact the company within 7 days of your delivery date and either get a replacement or credit for your next order.
Compare Plans & Pricing

Blue Apron Plans & Pricing
Signature Plan (2 servings)
Meals per week
Meal kit price
Price per serving
2
$39.96
$9.99
3
$59.94
$9.99
Signature Plan for 4 (4 servings)
Meals per week
Meal kit price
Price per serving
2
$71.92
$8.99
3
$95.88
$7.99
4
$119.84
$7.49

Gobble Plans & Pricing
Two People Plan (2 servings)
Meals per week
Meal kit price
Price per serving
2
$55.96
$13.99
3
$71.94
$11.99
Four People Plan (4 servings)
Meals per week
Meal kit price
Price per serving
3
$143.88
$11.99
Suitable For

Meals For Families
Meals For Kids
Meals For Seniors
Meals For One

Meals For Families
Meals For Kids
Meals For Seniors
Meals For One
Compare Meal Options

Vegetarian Meals
Vegan Meals
Paleo Meals
Keto Meals
Low-Carb Meals
Low-Fat Meals
Meals For Diabetics
Gluten-Free Meals
Organic Meals
Weight Loss Meals

Vegetarian Meals
Vegan Meals
Paleo Meals
Keto Meals
Low-Carb Meals
Low-Fat Meals
Meals For Diabetics
Gluten-Free Meals
Organic Meals
Weight Loss Meals
Compare Sample Meals

Baked Harissa Chicken
Creamy Polenta Spicy Tomato Sauce
Mexico City Chicken Tinga Tostadas
Pork Chorizo Tacos

Chicken Florentine Rigatoni Bake
Pan Roasted Salmon
Potato Pierogies
Vietnamese Shaking Beef
Compare Extras

A La Carte Menu
Gift Cards
Marketplace

A La Carte Menu
Gift Cards
Marketplace
Compare User Reviews

Submitted By Virginia Cole 11/28/2018

When I first started using Blue Apron, I was amazed! The meals were delicious, flavorful, and very easy to prepare. We slowly switched to eating Blue Apron meals six days every single week and it was all great until a couple of months ago when they started sending the shipments late and missing the ingredients. Sometimes they don't pack a garnish or a spice which isn't a deal breaker but I've missed main ingredients a couple of times as well. Hope Blue Apron ups their game since I would really hate to switch companies after such pleasant experiences in the past.

Submitted By Jan on 09/04/2018

I have been using Blue Apron for about 10 months now. The ingredients are always fresh. The recipes have been delicious. And the variety and portion sizes make BA a top meal delivery service. I would recommend BA to anyone looking to cook healthy meal options. I love BA and can't imagine what I'd do without them now. I can't remember how we cooked prior to BA. Our meal planning before BA was so blah now that I think about it. Sign up for BA and you really will be glad you gave them a try.

Submitted By Diana on 07/19/2018

I've had two deliveries from Blue Apron so far and a third on the way, but I cancelled to check out Home Chef, of which I got my first box yesterday. I switched from BA because 1) I got zucchini in all three meals last week (I didn't bother to check out the detailed ingredients, so my bad) and because 2) BA doesn't have as many weekly choices as Home Chef.That said, I was sorely disappointed in the quality of Home Chef's veggies compared to Blue Apron's. I still have another box of BA coming and I'll give HC a few week's chance before I decide my final "go-to."I've been cooking from scratch for years and I shop at a "high-end" grocery store. I spend so much money a week on my elaborate meal plan, that these meal delivery services seemed more economical to me. So, depending on how you grocery shop and cook, this could actually save you money and leave you with less food waste.All in all, I was happy with the quality of BA's ingredients. Packaging is great. Recipe cards are easy to follow. It's all good stuff. I'd just like more variety each week, especially in the beef department. And less zucchini,

Submitted By Rachel Nobs on 04/18/2018

Blue Apron has totally changed my life. The food is fresh the recipes are surprising and my family is so happy that I am cooking dinner for them three nights a week. Every year I worry that blue apron will stop sending me food, and then I don't know what I will do. Three cheers for Blue Apron.

Submitted By Donna Carney on 02/20/2019

Tried this for the first time last week. I will start by saying the food was good and relatively short prep times. However, box arrived with torn package of raw chicken. Therefore I had raw chicken juice ALL over the rest of the stuff in my box (disgusting). Additionally, small bottle of sauce open and spilled all over the inside of a bagged set of meal ingredients, and no fennel for the chicken dish. They advertise great customer service and easy access to them for questions and advice. I have made 3 phone calls and sent 2 emails over a 4 day period. The only response I got was a "canned" email that didn't even address my issues. I cancelled my subscription - not easy to find this option on the website. I've never received any return phone call or other email or form of communication to address these issues. If someone had gotten back to me and at least apologized and offered to make this right, I likely would not have canceled my subscription. However, the poor customer service is enough of a reason to cancel despite the food being good.

Submitted By Thad saunds on 02/19/2019

I would give 0 if that was an option. Aside from the fact that the quality of the food is terrible, we tried to cancel our order and get a refund of our money. They canceled our order but would not refund our money since we should have canceled by last Friday, when we received the food on Thursday. ONE NIGHT is not enough time to try a company out. Unacceptable. In addition, we were sent two of the same recipe cards instead of the third card needed and one of our meals was missing an ingredient. Hello Fresh is a MUCH BETTER company, in every aspect. Quality of food, reliability and customer service.

Submitted By Danielle Downing 10/17/2018

I signed up for Gobble because "Gobble's chefs do all the prep work, like peeling, chopping & marinating.... We'll do the prep work for you. Our team of chefs do all the tedious prep work for you--no more chopping, measuring, or sink full of dishes." I received my box of ingredients and NOTHING was prepped. Full head of lettuce, whole shallot, whole tomatoes, whole cucumbers, and more. If I had time to do the prep, I certainly wouldn't be paying $90 a week for 3 days of meals. Gobble is engaging in false advertising, and I don't appreciate being misled. (The food does look delicious, and I'm hoping I have time to actually prep it all before it goes bad so I can try it.)

Submitted By Laura on 08/15/2018

I signed up to give it a try here is a link for a free box if you want to try also. https://www.gobble.com/invites/G0BvGrkPp
Winner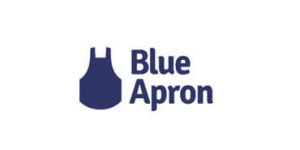 Blue Apron is a meal delivery service geared toward suiting your particular eating preferences, so you have a lot of freedom when it comes to choosing your ingredients. It focuses on responsible food and animal growing practices, which sets it apart from other meal kit deliveries. Read our Blue Apron review to discover if it is the right service for you.
Meal Options
With Blue Apron, you can choose from 4 meal plans, including 2-Serving Signature, 4-Serving Signature, 2-Serving Vegetarian, and 2-Serving WW Freestyle (Weight Watchers reimagined) plans. The Signature plans bring you omnivore recipes for 2 and 4 people, the Vegetarian plan is suitable for couples and focuses on veggie delights inspired by seasonal produce, and the WW Freestyle plan is designed for 2 people and features healthy recipes approved by WW.
Gobble has two different subscription plans, including the 2-People and 4-People plan. Both plans feature the exact same dishes, but the number of servings isn't the same. Gobble has meal options for meat lovers and vegetarians as well.
Variety
The Blue Apron menu contains a total of 22 tasty dinner recipes every week, with 3-8 recipes available per meal plan.  You can order 2-4 meal kits per week. The menu mostly focuses on the hallmarks of famous world cuisines, including French, Asian, American, and others, as well as popular street food with a healthy twist.
Gobble comes up with 10 palatable recipes each week. However, with Gobble, you can pick any of the offered recipes, regardless of your subscription plan. You must order at least 2 different dishes every week, but there's no upper limit.
Nutritional Value
Both Blue Apron and Gobble pay close attention to the nutritional value of the food they provide its customers. Moreover, both companies choose high-quality ingredients, helping its customers eat a healthy, nutritious diet. No matter which company you choose, you won't make a mistake, at least when it comes to the nutritional value of their ingredients.
Portion Size
Blue Apron and Gobble both provide carefully measured, pre-portioned ingredients for highly nutritive meals. Blue Apron servings are so rich that you can often put some leftovers aside and serve them later. The calorie count per serving ranges from about 500 to 1,000 calories.
Gobble won't leave you hungry either. Each meal from Gobble is tailored to provide 700-900 calories, so you don't have to worry about people leaving your table unsatisfied with the portion size.
Flexibility
Blue Apron is very flexible when it comes to your subscription. You can skip a week, reschedule your delivery or cancel your subscription whenever you want without any penalties, just make sure you do it before your next order is processed.
Gobble goes a step further: not only does it allow you to skip or cancel anytime, but it also lets you change your subscription and/or food preferences as often as you want. Of course, these changes have to be made before Gobble starts processing your shipment.
Price
Blue Apron charges $9.99 per serving if you order for 2 people and $7.49 – $8.99 per serving if you order meal kits designed for families of 4. Shipping is free for all deliveries except those that include 2 recipes for 2 people, in which case there is a $7.99 shipping fee per delivery.
Gobble is a bit pricier, so a serving costs $13.95 if you order 4 meals and $11.95 if you order 6 or more meals. Shipping is free.