Silver Cuisine By BistroMD Review
Advertiser Disclosure
This website features affiliate links. For purchases made via these links, we earn commissions that allow us to keep producing helpful content. To find out more
click here
.
Close
Silver Cuisine By BistroMD is one of the rare frozen meal delivery services particularly designed for people in their golden years. It offers easy ordering, incredible flexibility, and amazing menu variety. One of its main advantages is the range of special diet options it offers, which makes it suitable for all golden agers who want to eat healthily fuss-free and enjoy delicious, chef-prepared food crafted in accordance with their dietary requirements. On top of that, it is rather affordable, so there is no need to worry about overstepping your budget. If you are looking for a senior-friendly meal delivery service for yourself or a loved one, read this honest Silver Cuisine By BistroMD review and find out if this service is the answer to your needs.
How Silver Cuisine By Bistromd Works
Silver Cuisine By BistroMD delivers fully-cooked, chef-crafted, doctor-designed, meals straight to your home. Doctor Caroline Cederquist is board-certified in bariatric medicine and she designs the meals for Silver Cuisine customers. A team of professionals picks the finest ingredients and talented chefs prepare your food. The meals are flash-frozen to preserve freshness and flavor. FedEx then delivers them to your doorstep and all you need to do is heat the meals and enjoy the sublime food.
The opulent Silver Cuisine menu offers over 150 tasty breakfasts, lunches, dinners. In addition to the standard offer, every week, there are about a dozen weekly specials particularly recommended by the chefs and available at lower prices.
There aren't any restrictive meal plans or limitations when it comes to your orders. You can order only one meal or as many meals as you wish meals at once, as Silver Cuisine gives you absolute freedom to choose whatever you want, whenever you want.
The service offers 9 special menus for different dietary needs. You can opt for heart-healthy, gluten-free, diabetic-friendly, low-sodium, low-carb, menopause-friendly, dairy-free, Mediterranean, and vegetarian meals. One meal can be suitable for a range of special diets (e.g. low sodium, diabetic-friendly, menopause-friendly, and gluten-free) and all meals are clearly labeled in accordance with their suitability for different diets and categorized for your convenience.
What Makes Silver Cuisine By Bistromd Different
Silver Cuisine By BistroMD is unique in its efforts to satisfy the dietary needs of older adults who want to eat a healthy diet and stay in good shape. All recipes are doctor-designed and the meals are carefully planned to fulfill the dietary needs of people over 50. The range of special diets covered is truly extraordinary and indicates how well this service understands the varying nutritional needs of golden-agers.
Like we said previously in this Silver Cuisine By BistroMD review, the service is very flexible and gives its customers the opportunity to pick dishes by themselves, choose the number of meals in their orders, and decide on the frequency of deliveries. It is designed to be a convenient, budget-friendly, and healthy home dining solution for all individuals in their golden years who cannot cook on their own or could simply use some time away from the kitchen.
In addition to healthy and delicious food, Silver Cuisine By BistroMD offers excellent advice on healthy eating and living after the age of 50. Its blog is chock-full of insightful articles providing expert tips that can be useful to both seniors and caregivers. Furthermore, its customers can subscribe to the company's newsletter and receive tips on leading a healthy lifestyle every week.
Another positive side of opting for Silver Cuisine By BistroMD is that it is responsible about food waste and recycling. All meals from Silver Cuisine are delivered in boxes made of post-consumer recycled paper and printed using vegetable-based ink. Food is packed in high-quality isolated coolers that are made of recycled foam products, which makes them both environmentally friendly and perfect for transporting perishable products.
Meals And Recipes
Silver Cuisine By BistroMD meal options
Silver Cuisine By BistroMD's menu is simply stunning. We already stated in this Silver Cuisine By BistroMD review that the service offers more than 150 breakfast, lunch, dinner, and snack items suitable for low-sodium, gluten-free, dairy-free, low-carb, diabetic, heart-healthy, menopause, Mediterranean, and vegetarian diets.
Low-sodium meals are designed in accordance with the American Heart Association's (AHA) recommendations for calories, sodium, fat, and saturated fat. They never contain more than 600 mg of sodium per serving, which means that 3 meals per day contain 1,800 mg of sodium or less. Therefore, they fall below the AHA's guidelines that recommend no more than 2,300 mg of sodium per day.
Gluten-free meals are free from wheat, barley, and rye. They are FDA-tested and comply with the FDA's gluten-free standard of no more than 20 parts per million of gluten. Like the label suggests, dairy-free meals are prepared without any dairy products and they are completely safe for individuals allergic to dairy.
For individuals who need or want to steer clear of carbs, Silver Cuisine By BistroMD offers low-carb meals that contain no more than 25 grams of net carbs per serving. Similar to low-carb meals, the company's diabetic-friendly meals are controlled for carbs and contain 25 grams of carbs or less per serving. They are carefully designed to allow you to easily keep your blood glucose levels in check.
Heart-healthy meals are designed in accordance with the recommendations of the American Heart Association and just like low-sodium meals, they are controlled for calories, sodium, fat, and saturated fat. They contain no more than 600 mg of sodium and 3.5 grams of saturated fat per serving.
Menopause-friendly meals are nutritionally balanced and scientifically designed in accordance with the needs of women in menopause. They mainly focus on lean protein and they are lower in carbs, which makes them suitable for supporting hormone regulation.
Mediterranean meals are rich in Omega-3s and feature lean proteins, complex carbs, and healthy fats. They are designed to keep you fit and healthy, so they do not contain a lot of fillers like white potatoes, pasta, and white rice. They are also low in added sugar.
Strangely enough, the company's vegetarian meals frequently feature seafood, which makes them suitable for pescatarians. Still, about half of the Vegetarian menu is both meat-free and fish-free, so you do not have to worry about a lack of options. Vegetarian meals are rich in proteins and they should keep you energized for hours.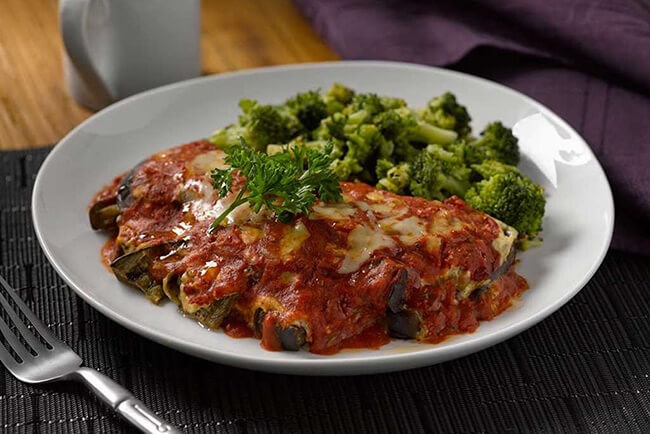 Silver Cuisine By BistroMD also features healthy snacks on its menu, including protein shakes, cookies, dried meat, and more. There are about 2 dozen different snacks in its offer.
Heating And Storage Tips
What is great about meals delivered by Silver Cuisine By BistroMD is that they are flash-frozen, which means that you do not have to worry about eating them before they go bad. They can stay in your freezer for up to a year, although we find that they taste best when enjoyed within a month.
You can heat them up frozen or thawed, in a microwave or an oven. If you want to thaw them beforehand and thus reduce the reheating time, you should let them defrost in your fridge for about 24 hours. The meals should take less than 6 minutes to reheat if you are using a microwave. In an oven preheated to 350°F, reheating should take about 30 minutes.
Pricing
Meals offered by Silver Cuisine By BistroMD all come with individual prices. The prices are significantly lower than with most other meal deliveries. You can have a healthy breakfast for $5.99 if you opt for an English muffin sandwich or for $9.89 if you order hickory-smoked BBQ pork crepes, which is the highest price for a breakfast. Lunches and dinners are a bit more expensive, ranging from $7.89 to $13.99. Silver Cuisine prepares specials every week, which start at only $5.29.

Snacks are the most affordable items on the menu and usually come in packs of 5, 6 or 8 items. The price of all 6-serving protein shakes is $17.99 while cookies, chips, and pretzels cost $13.99. The least expensive offer on the snack menu is the 5-serving raw power mix (mixed nuts), amounting to $10.99.
Since you can order whatever and whenever you want, your bill will be available at checkout. There's also a $19.95 shipping fee, unless your order is worth $99+, in which case you get to enjoy free shipping. In case you want expedited shipping, you have to pay $39.95.

It is important to note that Silver Cuisine By BistroMD provides discounts for AARP members. As an AARP member, you get 10% off every order worth $50+ and a 25% discount and free shipping for the first order worth $99 or more.
Individual meals
Meal
Price range
Breakfast
$5.99 - $9.89
Lunch and Dinner
$7.99 - $13.99
EATS Snacks
$10.99 - $19.99
Delivery Areas
Silver Cuisine By BistroMD delivers healthy meals anywhere in the contiguous US. Like most meal delivery companies, it does not deliver its food to Alaska and Hawaii. If something is wrong with your delivery, you should inform the company as soon as possible and you may get a refund.
Silver Cuisine By BistroMD Pros And Cons
To make sure Silver Cuisine By BistroMD meets all your standards and expectations, it is important to know its biggest advantages and disadvantages. With a short overview of its pros and cons, you can easily decide if Silver Cuisine By BistroMD is the right meal delivery service for you.
Pros
Great variety of healthy meals
Numerous options for people with specific dietary needs
Flexible menu and ordering options
Nationwide coverage
Discounts for AARP members
Cons
No automatic weekly or monthly delivery
Sample Dishes
Silver Cuisine By BistroMD provides its happy customers with finger-licking chef-prepared meals that can suit virtually any taste. With this meal delivery service, you can enjoy restaurant-grade dishes in the comfort of your own home without breaking the bank. Take a look at our curated selection of Silver Cuisine By BistroMD meals to get a glimpse of the delights that await you on its menu.
Artichoke Spinach and Roasted Red Pepper Frittata
Bagel Sandwich
Beef Stroganoff
Caramelized Mushroom and Onion Frittata
Bottom Line
Silver Cuisine By BistroMD is a convenient, flexible, and affordable meal delivery service specifically created for seniors. It provides healthy meals for everyone with special dietary needs, from diabetics to vegetarians. All recipes are doctor-designed and carefully planned to satisfy the nutritive needs of older adults. Ordering is simple, there are no minimum orders, and menu variety is immense.
To conclude this Silver Cuisine By BistroMD review, this company gives its customers the opportunity to enjoy their favorite meals whenever they want. You can order meals that can help you keep your medical condition under control or just improve your health. In addition to being healthy and tasty, these meals come at very reasonable prices, so anyone can eat a well-balanced, nutritious diet in senior years.