Healthy meals for older adults
Silver Cuisine By BistroMD Review - UPDATED Mar 2018
Silver Cuisine by BistroMD pays close attention to healthy nutrition and provides only the best food for seniors and older adults. While doing research for this Silver Cuisine by BistroMD review, we were pleasantly surprised to learn that heart-healthy foods low in sodium can be super healthy and delicious at the same time. If you are looking for a senior-friendly meal delivery service for yourself or a loved one, Silver Cuisine by BistroMD may be just what you need.
How Silver Cuisine By Bistromd Works
Eating a well-balanced diet is extremely important at any age. Longevity and good health are often the results of our lifestyle, habits, and nutrition. Silver Cuisine by BistroMD knows that very well. That is why they have introduced a special program for everyone who's over 50 and devoted to improving their health and well-being.
Silver Cuisine by BistroMD offers fully-cooked meals delivered to your home. Doctor Caroline Cederquist is board-certified in bariatric medicine and she designs the meals for customers of Silver Cuisine. A team of professionals picks the finest ingredients and talented chefs prepare your food. FedEx then delivers it to your doorstep and all you need to do is heat the meal and enjoy the sublime food.
The opulent Silver Cuisine menu offers 150 tasty meals which are available to any customer. There aren't restrictive meal plans or any limitations when it comes to your orders. You can order only one meal or 10 meals at once, as Silver Cuisine gives you absolute freedom to choose whatever you want, whenever you want.
There are 4 menu plans for people with special dietary needs, so you can opt for Healthy Heart, Gluten-Free, Low Sodium or Diabetic meals. You can always combine your need for gluten-free meals with a wish to get something dairy-free and find the perfect solution for your lunch.
What Makes Silver Cuisine By Bistromd Different
Silver Cuisine by BistroMD is different than other meal delivery services because they pay special attention to the dietary needs of older adults who want to eat a healthy diet and stay in good shape. All recipes are doctor-designed and the meals are carefully planned to fulfill the dietary needs of people over 50. They also offer meals specifically created for diabetics or people allergic to gluten.
Silver Cuisine by BistroMD is very flexible and gives their customers the opportunity to pick dishes by themselves. They offer over 150 meals for everyone's taste and preferences. The most important thing is that there are no restrictions, so you can choose any number of meals.
Another positive side of picking Silver Cuisine by BistroMD is that you're being responsible about food waste and recycling. All meals from Silver Cuisine are delivered in boxes made of post-consumer recycled paper and printed using vegetable-based ink. Food is packed in isolated coolers which are made of recycled foam products.
Silver Cuisine by BistroMD brings their customers more than food, they offer knowledge. Each customer can subscribe to their newsletter and receive tips on leading a healthy lifestyle from their experts every week. Moreover, there's a separate blog section that presents articles about caregiving, healthy eating, and healthy living.
Meals And Recipes
Silver Cuisine by BistroMD's menu is simply stunning. There's an amazing variety of 150 recipes for breakfast, lunch, dinner, and snacks. This rich menu offers you low-sodium, gluten-free, dairy-free, low-carb, diabetic-friendly, heart-healthy, vegetarian meals, and meals appropriate for women in menopause. The menu is available to all customers and there are no restrictions when it comes to ordering.
You do not have to opt for a specific meal plan. However, there are four special diets: Heart Healthy, Low Sodium, Gluten-Free, and Diabetic. These diets just give you suggestions about the dishes that are good for your dietary needs but you are not required to pick meals from a certain list.
Recipes from Silver Cuisine's menu are doctor-designed and all meals are prepared by professional chefs. They offer dishes for all three meals, plus snacks, so you can have your entire weekly food supplies delivered by them.
With Silver Cuisine by BistroMD, you don't have to worry about eating the same food all the time. There are about 40 recipes just for breakfast. On Monday, you can have a frittata, pancakes on Tuesday, and an omelet on Wednesday. Meals are adjusted for special dietary requirements, so there's no doubt that every diabetic or vegetarian can find an option for themselves.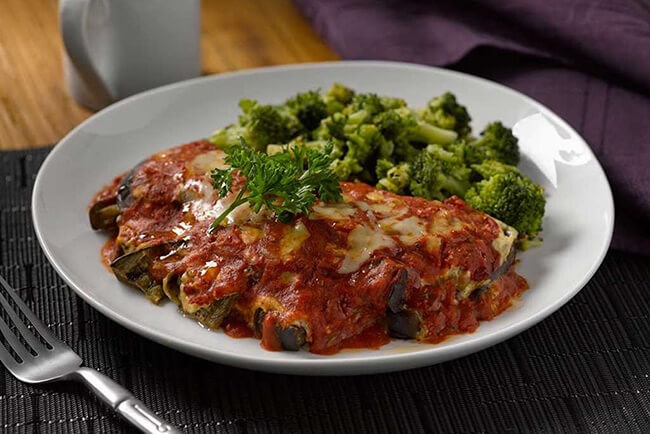 Lunch and dinner dishes are even more colorful, introducing around 70 different healthy meals. Choose between beef Stroganoff, grilled salmon or vegetarian stew. Silver Cuisine has a recipe for everyone. You can underline your dietary needs by marking that you want heart-healthy, dairy-free, gluten-free, low-sodium, low-carb, diabetic-friendly, vegetarian food or food recommended for women in menopause. Select one or several of 8 options for special dietary needs and the menu will automatically show dishes that meet all your requirements.
In the end, you can boost your order with a delicious chocolate protein shake or mouthwatering almond cookies. And for all those who like supremely healthy snacks, there are several types of dried meat. There are 24 different snacks on the menu and we are sure that many of them will match your taste.
Pricing
Silver Cuisine by BistroMD is one of the most flexible meal delivery services. With them, you pay for what you order; it's as simple as that. Meal prices are noted on the menu, so you can see how much you need to pay for any order.
The prices are significantly lower than with other meal deliveries. You can have an excellent healthy breakfast for only $5.95 if you opt for a bagel sandwich or for $7.95 if you order a smoked salmon omelet, which is the highest price for a breakfast meal.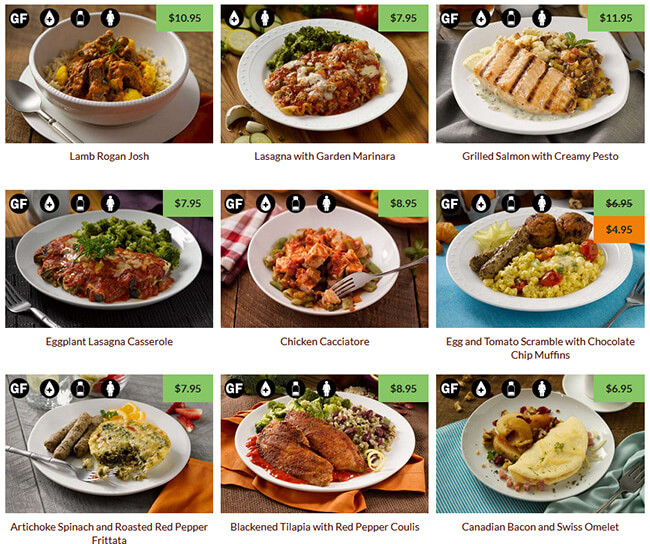 Lunch is a bit more expensive, standing at $6.95 for a vegetable stew. The prices go up to $11.95 in case you want to order salmon with okra stew. Silver Cuisine prepares specials every week, which cost only $5.95.
The most expensive items on the Silver Cuisine's menu are snacks, or protein shakes, to be more precise. The price of all protein shakes is $17.95 while cookies, chips, and pretzels cost $13.95. The least expensive offer on the snack menu is dried meat, amounting to $11.95.
Since you can order whatever and whenever you want, your bill will be available at checkout. There's also a $9.95 shipping fee. In case you want expedited shipping, you will have to pay $29.95.
You don't have to be a member to order food from Silver Cuisine, but if you are, you can pay less because Silver Cuisine provides discounts for their AARP members. As an AARP member, you get 10% off every order and shipping is free for the first order.
Delivery Areas
Silver Cuisine by BistroMD delivers healthy meals anywhere in the contiguous US. Hawaii and Alaska aren't covered at the moment, but it doesn't mean that they won't be covered in the future.
In case something is wrong with your shipment, you can't return the package, but you can inform Silver Cuisine about the error and they'll make sure you get a refund.
Pros
Great variety of healthy meals
Numerous options for people with specific dietary needs
Flexible menu and ordering options
Nationwide coverage
Discounts for AARP members
Cons
No automatic weekly or monthly delivery
Bottom Line
Silver Cuisine by BistroMD has introduced meal plans specifically created for seniors. They provide healthy meals for everyone with special dietary needs, from diabetics to vegetarians. All recipes are doctor-designed and carefully planned to satisfy the nutritive needs of older adults.
To conclude this Silver Cuisine by BistroMD review, this company gives their customers the opportunity to enjoy their favorite meals whenever they want. You can order meals that can help you keep your medical condition under control or just improve your health. In addition to being healthy and tasty, these meals come at very reasonable prices, which means anyone can eat a well-balanced, nutritious diet.