The Good Kitchen VS Freshly
If your body is craving something healthy and tasty, but there is no room for cooking in your overcrowded schedule, it is time to give meal delivery services a shot. Check out our The Good Kitchen VS Freshly comparison and find out which one to trust with taking care of your diet. Enjoy amazing meals, hassle-free!

Tasty, Healthy, & Stress-Free
VS

Gourmet meals that keep you fit
Highlights

The Good Kitchen offers healthy meals for the whole family, allows you to freely customize your meal plan, and lets you save cash by ordering meals in bulk.
Average Price Per Meal:

$10.00

Shipping Cost:

$0

Delivery Area:

50 states

Freshly offers reasonable prices and a rich menu filled with hallmarks of Italian and American cuisines, all made of fresh, natural ingredients.
Average Price Per Meal:

$9.99

Shipping Cost:

$0

Delivery Area:

27 states
Compare Features

Best For
Best for singles, couples, and families who don't want to compromise on food quality or taste
Menu/Meal Plans
With The Good Kitchen, you can opt for Adult Meals, Kids Meals, and Bulk Boxes, as well as a la carte ordering.
Recipes/Meal Options
The Good Kitchen provides 10, 14 or 21 meals with its plans for adults, 7, 14 or 21 meals with its plans for kids, 40 meals if you opt for bulk ordering, and 25+ meals on its a la carte menu.
Meal & Recipe Variety
The Good Kitchen offers a lovely selection of meals for both kids and adults. Its meals are always 100% clean and gluten-free, there are plenty of low-carb, diet, Paleo-friendly, and vegetarian-friendly items. Kids meals are all colorful, healthier versions of classics like burger sliders and chicken nuggets while the adult menu features a perfect combination of classics and exotics.
Food Quality
The Good Kitchen exclusively uses wholesome, natural, non-GMO, and organic ingredients. It uses grass-fed and grass-finished beef, pasture-raised poultry, pork, and lamb, and Seafood-Watch-compliant seafood. Its meals are always free from gluten, soy, and processed sugars.
Nutritional Value & Portion Size
The Good Kitchen meals mostly come in 6 oz. and 12 oz. servings and usually contain between 400 and 750 calories. They are nutritionally balanced but may have a rather high cholesterol content.
Subscription Flexibility
You can modify, pause or cancel your subscription from The Good Kitchen at any time, just make sure to do it before the date when you are to be charged for your next order.
Refunds
If you are not happy with your order from The Good Kitchen, you can contact the company within 10 days of your delivery and you may either get a credit or refund.

Best For
Best for home diners who prefer classics and comfort food
Menu/Meal Plans
Freshly provides its customers with a weekly menu to choose from.
Recipes/Meal Options
Freshly offers 25+ entrees and half a dozen breakfasts on its menu every week.
Meal & Recipe Variety
Freshly offers chef-prepared entrées and breakfasts for different diets. Its menu includes low-carb, high-protein, Paleo, omnivore, vegetarian, gluten-free, soy-free, dairy-free, and calorie-conscious meals. It offers both classic and exotic dishes, most of them originating from the American and Italian cuisines, with occasional Asian dishes.
Food Quality
Freshly exclusively uses fresh, natural ingredients. Its meals never contain any artificial flavors or colors and they are free from gluten, added sugars, and preservatives.
Nutritional Value & Portion Size
Most Freshly meals contain between 400 and 500 calories per serving. They are generally healthy and nutritionally balanced but they are not free from cholesterol and may contain more than 600 mg of sodium. The portions are usually around 13 oz.
Subscription Flexibility
With Freshly, you can change, skip, pause or cancel your order whenever you want. The deadline for making any changes is 11:59PM PST 5 days before your scheduled delivery day.
Refunds
If you are not satisfied with your delivery from Freshly, you may receive a full or partial refund or credit. You must report your complaints to the company within 5 days of your delivery date.
Compare Plans & Pricing

The Good Kitchen Plans & Pricing
Adult Meals
Number of meals
Price
Price per meal
5 - 9
$70.00 - $168.87
$14.00
10 - 14
$130.00 - $182.00
$13.00
15 - 30
$164.85 - $329.70
$11.00
Kids Meals
Number of meals
Price
Price per meal
7 - 35
$48.93 - $244.65
$6.99
Bulk Boxes
Number of meals
Price
Price per meal
40
$425.00
$10.62
20
$215.00
$10.75

Freshly Plans & Pricing
Meal Programs
Meals per week
Price per week
Price per meal
4
$49.99
$12.50
6
$59.99
$9.99
9
$89.99
$9.99
12
$107.99
$8.99
Suitable For

Meals For Families
Meals For Kids
Meals For Seniors
Meals For One

Meals For Families
Meals For Kids
Meals For Seniors
Meals For One
Compare Meal Options

Vegetarian Meals
Vegan Meals
Paleo Meals
Keto Meals
Low-Carb Meals
Low-Fat Meals
Meals For Diabetics
Gluten-Free Meals
Organic Meals
Weight Loss Meals

Vegetarian Meals
Vegan Meals
Paleo Meals
Keto Meals
Low-Carb Meals
Low-Fat Meals
Meals For Diabetics
Gluten-Free Meals
Organic Meals
Weight Loss Meals
Compare Sample Meals

Braised BBQ Brisket Fork
Low Country Boil
Taco Bowl
Vegetarian Szechuan Rice Noodles

Buffalo Chicken Breast
Pork Carnitas
Steak Peppercorn
Three Bean Ancho Turkey Chili
Compare Extras

A La Carte Menu
Gift Cards
Marketplace

A La Carte Menu
Gift Cards
Marketplace
Compare User Reviews

Submitted By Kevin on 07/06/2018

I have been ordering from this company now for a few months. The portion sizes are perfect for me. The calories are low and the food is clean. The taste is always really good. The nutritional information is posted on the website for each dish before you order in case you're counting calories or looking for something else. I like the variety and I choose the 1 time ordering option so I can order 30 meals at a crack and pop them in the freezer. I take 1 out each day for my lunch at work. A quick microwave and I have a great lunch everyday. Easy to pack to take to work as well. This has helped me with portion control and I look forward to my lunch everyday. Good service and I think the price is well worth the product. I'm going to enjoy the Falafel with Tahini Sauce and Grilled Eggplant at lunchtime today.

Submitted By Bob Arnaud on 03/10/2018

I'm a busy single working professional, I wanted the facility to have a healthy meal at lunch (work) and late at night when I come home. The meals come refrigerated thus it is convenient, 2-3min is the microwave and you are good to go. The choices are ok, there are a lot of exotic dishes (just an opinion), which means a lot of weird spices, sometimes you just want a good simple piece of protein and some vegetables. They deliver on a Tuesday or Wednesday, for me that wasn't convenient because I required meals during the work week. However, the worst criticism I have to deliver, and why it only got a one star, is the meat quality. I found myself chewing on bits of cartilage (chicken meat ball and Italian sausage) or worst a long piece of fat/intestine in a beef meal, it was very disgusting. Perhaps, to some people that might not be a problem but for the "hand-made" claims they advertise, this appears to be more industrial food preparations. This was a huge disappointment as I was going to continue their subscription, you can choice meals that week (though don't wait until Friday because all the good stuff is gone), packaging is good, easy to use but all that doesn't matter if the meal is uneatable.

Submitted By Kelly C on 01/31/2018

I can't believe how many good ratings this has received. I ordered from the Good Kitchen. The order arrived 5 days early which would normally be nice but threw off my weekly plans. It was from my understanding the meals for 2 adults. They must think they are adults with an Ethiopian appetite. Not only disappointed in portion size, as that would be overlooked if it was good, but not one meal was tasty. One was even thrown away after one bite. SO if you are rich and lazy, with no taste buds, this is for you! Otherwise the $3 TV dinner at the grocery store is better than this.

Submitted By JennyM on 01/26/2018

The Good Kitchen has been a life saver for me and my family. My husband and I are fairly conscious of what we eat and try to stick to organic, non-GMO, whole food whenever possible. With working full time and raising a family, dinner planning used to be such a chore. But not anymore, thanks to The Good Kitchen! Now, there is no more sacrificing nutrition or time on a busy weeknight. It is truly the next best thing to having a personal chef! I can understand some saying the cost is a bit high, but when you factor in the quality of food you're getting with the convenience - it's a no brainer!

Submitted By Bonnie Gordon on 08/02/2018

I'm absolutely delighted with the Freshly meals. They are indeed fresh, wholesome, and delicious. I recently regurned from the Duke University Diet & Fitness Center where I was fed 3 balanced, relatively low calorie meals a day for 3 weeks. The Freshly meals are entirely comparable, both in terms of ingredients and total calories. I live alone and do not want to prepare dinners on a daily basis. Freshly is a reasonably priced, excellent alternative. The packaging is great in terms of keeping the food cool and protected delivery. I only regret that the insulation isn' recyclable.

Submitted By Travis Wright on 02/05/2018

Awesome meals, my only complaint is that they focus on chicken, more beef and pork wouldn't hurt.

Submitted By Glenn Holmes on 01/25/2018

Don't know if it's because of the shipping costs, but the 4-meal plan is too expensive. I mean, 4 meals and 6 meals cost almost the same, it's like they are trying to force me to order more. And yeah, the meals are really good, I'm just talking about the ridiculous pricing.

Submitted By Molly Bunyard on 01/19/2018

Great choice of entrees but the breakfasts are kinda boring.
Winner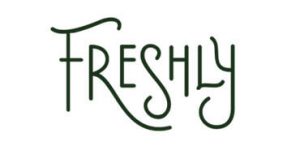 Freshly is a Paleo-inspired meal delivery service that brings you protein-packed, chef-prepared meals that are sure to keep you feeling full and energized throughout the day. If you are thinking about giving Freshly meals a try, be sure to read our detailed review of Freshly and check out Freshly reviews written by more or less satisfied customers.