You no longer have to spend hours in the kitchen to eat healthy, delicious meals. Nowadays, you can order your food from meal delivery services and enjoy high-quality meals at affordable prices. Not sure whether Dinnerly or Gobble can better meet your needs? This Dinnerly VS Gobble comparison can help you make an informed decision!

Great Meal Kits At The Best Price
VS

Healthy, Fresh, And Ready In No Time
Highlights

Dinnerly allows you to save both time and cash and enjoy delicious homecooked meals without spending more than 30 minutes in the kitchen.
Average Price Per Meal:

$5.00

Shipping Cost:

$8.99

Delivery Area:

29 states

Gobble allows you to cook a beautiful meal in just 10 to 15 minutes and choose from a wide variety of healthy recipes that can satisfy virtually all tastes.
Average Price Per Meal:

$11.99

Shipping Cost:

$6.99

Delivery Area:

48 states
Compare Features

Best For
Best for home cooks on a budget
Menu/Meal Plans
Dinnerly offers one menu that changes on a weekly basis.
Recipes/Meal Options
Dinnerly provides 6 meal options on its menu every week.
Meal & Recipe Variety
Dinnerly offers kid-friendly, vegan-friendly, vegetarian-friendly, low-carb, low-calorie, gluten-free, and dairy-free dinner recipes. You can also opt for one-pot and under-30-minutes recipes. However, keep in mind that not all of these options are available at all times. The meals are mostly classics and crowdpleasers.
Food Quality
Dinnerly sources only the best, freshest ingredients. It provides natural fruit and veg, grass-fed beef, antibiotic-free chicken, American-caught shrimp, and many other healthy, high-quality products.
Nutritional Value & Portion Size
The meals you make with Dinnerly normally have between 600 and 800 calories per serving, although some hearty meals may have 900+ calories per serving. The portions are large enough to keep you satiated for hours and they contain the right proportions of carbs, proteins, and fats.
Subscription Flexibility
Dinnerly offers plenth of flexibility to its patrons, allowing you to change, skip, pause or cancel your order whenever you wish. Any changes to your subscription must be made 5 or 6 days before your next delivery, depending on your location.
Refunds
As Dinnerly features a freshness and quality guarantee, you can contact the company within 7 days of your delivery date for a refund or credit.

Best For
Best for home cooks who want to skip the prep and go straight to cooking
Menu/Meal Plans
Gobble offers its customers one weekly menu, which is divided into 4 parts, including From the Range, From the Ranch, From the Sea, and From the Earth.
Recipes/Meal Options
Gobble's weekly menu features 6 recipes in each section of its menu, amounting to 24 options.
Meal & Recipe Variety
Gobble offers family-friendly, low-carb, low-fat, omnivore, and vegetarian recipes. Its meals are conveniently categorized by protein source (poultry, red meat, seafood, and veg) and mostly inspired by hallmarks of the Italian, Spanish, Chinese, and American cuisines. In addition to dinner recipes, Gobble also offers sides, including soups, salads, cookies, and drink mixes. You can customize your order to exclude beef, fish, lamb, pork, poultry, shellfish or all of the above if you are a vegetarian.
Food Quality
Gobble sources fresh, local ingredients and works with the same farmers and purveyors as the local Michelin star restaurants.
Nutritional Value & Portion Size
Most meals you cook with Gobble have between 700 and 900 calories per serving and they are highly satisfying. The meals are nutritionally balanced and rich in nutrients.
Subscription Flexibility
With Gobble, you can make changes to your order anytime. You can also cancel your subscription whenever you want. To edit your order, you must notify the company before Wednesday at 11:59pm PST for the following week's delivery.
Refunds
Gobble has an awesome 100% customer satisfaction guarantee, so if you are dissatisfied with your meals, you can contact the company within 7 days of your delivery date and either get a replacement or credit for your next order.
Compare Plans & Pricing

Dinnerly Plans & Pricing
Two Person Box (2 servings)
Meals per week
Meal kit price
Price per serving
3
$30.00
$5
Family Box (4 servings)
Meals per week
Meal kit price
Price per serving
3
$60.00
$5.00

Gobble Plans & Pricing
Two People Plan (2 servings)
Meals per week
Meal kit price
Price per serving
2
$55.96
$13.99
3
$71.94
$11.99
Four People Plan (4 servings)
Meals per week
Meal kit price
Price per serving
3
$143.88
$11.99
Suitable For

Meals For Families
Meals For Kids
Meals For Seniors
Meals For One

Meals For Families
Meals For Kids
Meals For Seniors
Meals For One
Compare Meal Options

Vegetarian Meals
Vegan Meals
Paleo Meals
Keto Meals
Low-Carb Meals
Low-Fat Meals
Meals For Diabetics
Gluten-Free Meals
Organic Meals
Weight Loss Meals

Vegetarian Meals
Vegan Meals
Paleo Meals
Keto Meals
Low-Carb Meals
Low-Fat Meals
Meals For Diabetics
Gluten-Free Meals
Organic Meals
Weight Loss Meals
Compare Sample Meals

Chicken Quinoa Grain Bowl
Crispy Honey Pork Stir Fry
Grass Fed Beef Burger
Tomato Soup

Chicken Florentine Rigatoni Bake
Pan Roasted Salmon
Potato Pierogies
Vietnamese Shaking Beef
Compare Extras

A La Carte Menu
Gift Cards
Marketplace

A La Carte Menu
Gift Cards
Marketplace
Compare User Reviews

Submitted By Samantha Bullard on 06/11/2018

I'm not giving Dinnerly 5 stars just because I think that they can be even better. Now that they have added more meals, they could maybe consider adding desserts as well or maybe wine pairing or something like that. I think that most people think it's too cheap to be good, with something extra like dessert they would attract more people. But other than that, I wouldn't change a thing. Doesn't cost much, food's always great, the recipes are easy, and now I can even choose my meals, which is really nice.

Submitted By Bob Rael on 06/10/2018

I'm a simple guy who likes simple things so Dinnerly is my kind of service. I don't have to choose from 20-something meals that seem like just a whole bunch of kale and brussels sprouts and fancy stuff no one eats. Just a couple of nice ingredients, cheap, quick to cook, and even when I try something a bit different, like a meal with greens I'm not too fond of, I end up liking it. I cook once and eat twice, save time and money, and I am getting better at cooking, which is a pretty big plus.

Submitted By Lana Mayberry on 06/09/2018

As far as I'm concerned, Dinnerly just keeps getting better. More meals on the menu, recipes always simple, food fresh and tasty, plus I'm a bit picky, so I like that you can always get something like pasta or burgers, it's not some failed attempt at haute cuisine like most of the others. It costs less that buying the food myself, so really, it's as good as it gets.

Submitted By Tina on 06/06/2018

I haven't even gotten a delivery yet. But they did take my money. I tried calling customer service and continued to get disconnected. I tried to cancel but couldn't so I went to my financial institute to keep from having money taken from my account... Ughhh what a headache

Submitted By VRA on 05/17/2018

Food was not flavorful and it is more expensive than other home food delivery services. It also used a lot of common allergens in the recipes such as tree nuts.

Submitted By Sonia on 05/12/2018

I would not suggest Gobble. We've tried a few and theirs was the most bland and AWFUL customer service. I could buy the most inexpensive glass bottle of Indian Masala sauce at someplace like Aldi, some jasmine rice and that would have WAY more flavor and be much less expensive and quicker. I really disliked that when you cook their meals at home, you have no idea what is in their sauces. What really made me the most upset was their customer service. I tried to cancel on their website and it wasn't possible. I then made several calls over two weeks to them, via an "urgent" number, and they never once answered. Terrible service! They never once called me back but sent me some blanket emails saying they tried, although they never did. They then sent me another package and charged my VISA $145 for a week of food. I didn't even get to make the selections. I had no other alternative but to cancel my VISA card at that point. Don't go with this company. I've tried other wonderful services in which people actually answer my phones calls and the other food services are quick to respond for things like customer service, billing, questions on a meal, an ingredient missing, produce not up to par. Needless to say, I was EXTREMELY dissapointed in Gobble's customer service and their lack of food taste/quality and will say don't bother with them. Too many others out there when Gobble can't be bothered with customer service and good meals.

Submitted By Lani Johnson on 04/05/2018

Not bad, but not impressive. The flavors were a bit bland compared to other services. My biggest complaint was that they use pre-made sauces and spice blends. Not knowing what is in the sauces, was a little problematic for us because we try to avoid corn (syrup, starch, maltodextrin, etc.). I can use potato starch instead of corn starch if it's an option, but when they're pre-mixed, I have no control. In addition, the purpose of getting these meal plans is to help us learn better how to combine ingredients when we're cooking other meals.

Submitted By Dorothy on 03/23/2018

This is my fourth week with Gobble and while I have enjoyed the meals two of my four boxes have arrived a day late. The one time a box arrived late when I used Plated customer service very quickly stepped up and provided a credit on my next box. Both times the email I received from Gobble was the same scripted response that the food should still be fresh. For now I will continue to use Gobble as the ease and taste of the meals is of high standard, but I do think they have some work to do in the area of customer service.
Winner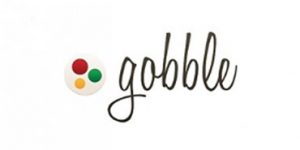 Gobble is a meal kit delivery service that offers par-cooked, pre-portioned ingredients alongside exquisite recipes to transform your tiresome everyday cooking into a joyful experience. Read our comprehensive Gobble review to learn more about this company's offer and check out the User Reviews section for useful customer-written Gobble reviews.