ICON Meals Review
Advertiser Disclosure
This website features affiliate links. For purchases made via these links, we earn commissions that allow us to keep producing helpful content. To find out more
click here
.
Close
ICON Meals is a Texas-based meal delivery service that primarily caters for fitness enthusiasts but can be a great fit for anyone who wants to eat healthily without spending time in the kitchen. Since 2012, the service has been delivering chef-prepared meals that are tasty, budget-friendly, and do not add extra inches to your waistline.
Read our full ICON Meals review to find out what makes this service's offer unique, how you can order its products, and how much you can expect to pay for your delivery.
What Is ICON Meals
ICON Meals is a healthy meal delivery that provides meals low in carbs and unhealthy fats, rich in protein and veg, free from preservatives, and controlled for sodium and sugar. In addition to fresh meals, it provides super-popular protein snacks.
The service's products are mostly designed with omnivores in mind. However, ICON Meals offers more than a few options for vegans and vegetarians as well. It further has a special menu section dedicated to gluten-free dishes.

As a new customer, what you are sure to notice straight away is that this service is all about personalization. It does not have any rigid meal plans or impose any strict limits on how many meals you can order. It offers chef-designed meals but also lets you create meals of your own. Its menu features dishes suitable for breakfast, lunch, dinner, and snack and you can mix and match these items any way you see fit.
In addition to handpicking your meals and deciding how many different items you want to have delivered, you get to decide how many portions of each meal you want to receive. If you choose to design your meals on your own, you can pick the desired quantity for every meal component. Furthermore, you can get complete meals of your own design or you can order meal components individually and assemble your meals at home.
With ICON Meals, the options are limitless. Your order can be anything you want it to be. Stick around to find out exactly how ordering works and what kind of deliciousness is waiting for you on the company's menu.
How Does ICON Meals Work
While ICON Meals may start offering subscriptions and meal plans in the near future, it currently employs the a la carte ordering system. This means that you can order as many meals and snacks as you want, as often as you wish, with no minimum order threshold.
At all times, you can choose from over 2 dozen chef-crafted meals (also known as Signature meals) and just as many protein snacks. If you do not want your meals to be pre-designed, you can create custom meals and breakfasts by choosing the proteins, carbs, and veggies in each dish and deciding on portion size. You can further order proteins, carbs, and veg by the pound and combine them into unique meals in your kitchen. You can even order ICON Meals signature seasonings and make your meals even tastier.
The company ships its meals in perishable boxes that come in 3 sizes. The smallest box can hold 10 Signature meals, the medium holds 12 standard-size meals, and the biggest box holds 20 meals. If you are ordering custom meals, the number of meals per box depends on portion size.
Although you can order just 1 meal or as many as you want, you should keep in mind that your box size determines how much you pay for shipping. For example, you pay the same shipping fee regardless of whether you order 1 or 10 meals. If you order more meals than can fit in the largest box, you pay extra for the additional box.
Another important piece of information is that orders cannot be modified after they are placed. Therefore, be careful when choosing your meals and entering your shipping and payment information.
If there is something wrong with your delivery, you should notify the company's support staff within 24 hours. You can get in touch via email or phone. To maximize your chances of getting a refund, be sure to provide photos of the damaged goods and explain what the issue is in great detail.
What Makes ICON Meals Different
There are 3 characteristics that make ICON Meals different than many of its competitors. These include food quality, customizability, and simplicity.
First of all, ICON Meals makes sure that its ingredients are always natural and sourced locally. Every meal is prepared from scratch, shipped fresh and cooled, and delivered within just a day. The preparation process is supervised by both culinary officers and the company's in-house dietitian.
Furthermore, the service's facility is HACCP-compliant and inspected on a daily basis by the State of Texas Health Department. Its nutrition label claims are FDA-compliant and lab-tested by a third party. Its suppliers go through regular quality assurance checks. In other words, the service does everything possible to ensure the food it delivers is perfectly safe, fresh, and of high quality.
The second distinctive feature of this service is the one we have already mentioned in this ICON Meals review. Namely, this service offers the highest level of customizability, allowing you to decide on every protein, carb, and veg in your orders. This is something not many services offer and it is certainly a feature that is greatly appreciated by its patrons.
Finally, ICON Meals makes ordering simpler than ever. Its website is uncluttered and easy to navigate, there are no ordering rules to remember, and you can finish packing your cart in mere minutes. Its offer is well-organized and easy to browse, so you are sure to enjoy picking and choosing and you are highly unlikely to get confused in the process. In a sea of poorly designed meal delivery websites that lack in functionality, ICON Meals stands out as one of the most user-friendly sites of its kind.
ICON Meals And Recipes
Earlier in this ICON Meals review, we have stated that the service offers pre-designed and custom meals, snacks, and cooked proteins, carbs, and veg that you can purchase by the pound. All of these items are low-carb, low-sugar, low-sodium, preservative-free, and low in unhealthy fats.
You can choose between omnivore, vegetarian, vegan, and gluten-free options. Unfortunately, only sans-gluten items are clearly labeled. If you have allergies to foods other than gluten, in addition to checking allergen info for each menu item, you can reach out to the company's staff to inquire about allergy-friendly options.
All items are single-serving dishes. The average calorie count is between 250 and 550 calories per serving. Nutrition information is provided for each item, along with an ingredient list and allergy warnings.
Now that we have covered all the basic facts about ICON Meals products, it is time to learn more about each part of the company's offer.
Weekly Signature Meals
Usually, there are about 25 Signature meals on offer, 8 or 10 of which are particularly designed for the week. You can opt for breakfast items or dishes that are suitable for both lunch and dinner.
Breakfasts mostly include pancakes, omelets, breakfast skillets, and sandwiches. They usually come in 5-6-ounce servings.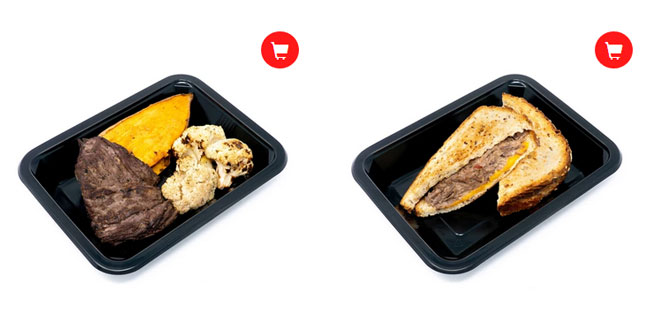 Signature lunch/dinner items contain 4 ounces of protein, 4 ounces of carbs, and 2 ounces of veggies per serving. They are not particularly creative, but they are tasty and often come with piquant sauces. You can look forward to quesadillas, enchiladas, ciabatta burgers, beef medallions, marinated salmon, pulled turkey, bacon-wrapped chicken, colorful roasted veg, saffron rice, and much more.
When it comes to nutrition, Signature meals normally contain 250 to 560 calories per serving. They are high in protein (30+ grams per serving) and moderate in fat (about 6 to 26 grams). You can opt for both low-carb and high-carb items, depending on your current needs and activity levels.
Custom Meals
When designing a Custom meal, you determine the nutritional value yourself and start by choosing your main protein source. The standard options include chicken and ground turkey. For an extra dollar or two, you can choose cod, salmon, bison, steak, roasted turkey breasts or a vegan patty. The standard protein sizes are 3 and 4 ounces. If you do not mind paying extra, you can get anywhere between 5 and 10 ounces of protein per serving.
The standard carb choices include saffron rice, white rice, white potato steak fries, roasted sweet potato wedges, sweet potato mash, and gluten-free pasta. You can also opt for a carb-free meal or get quinoa with a small surcharge. You can get ½ cup of carbs per serving or pay a bit more and opt for 1-2 cups of carbs.
Finally, the available veggie options include broccoli, green beans, and asparagus. Only asparagus costs extra. The standard veggie sizes are 2 and 3 ounces, but you can pay more to get 4-8 ounces per serving.
Custom Breakfasts
Custom breakfasts consist of 2 different proteins and 1 source of carbs. The first protein source is either eggs or egg whites. Included in the standard price are 3 ounces of egg whites or 1 whole egg. Alternatively, you can get 2-6 whole eggs or 6 to 12 ounces of egg whites.
The second protein can be turkey bacon, ground turkey, grilled chicken, steak or ground bison. Steak and ground bison cost extra. You can get 2 ounces of meat or pay more to increase your protein serving to 3-8 ounces.
Finally, your carb options include plain oatmeal, protein pancakes, roasted sweet potato wedges, white potato steak fries or no carbs. You can get ½ cup, 1 cup or 2 cup of oatmeal, 1+ protein pancake or 4+ sweet potato wedges or steak fries. Greater quantities come with small surcharges.
Protein Snacks
In the Protein Snacks section, you can find the company's famous protein popcorn in a variety of flavors, including white chocolate peppermint, orange creamsicle, blueberry cheesecake, banana split, dark chocolate, and much more. You can also get the company's cookies in 5 flavors, along with high-protein bread, popped protein crisps, and peanut butter.
Protein snacks usually contain about 270 calories and 10-20 grams of proteins per serving.
Cooked Food By The Pound
Finally, if you prefer assembling your meals on your own, you can choose from about 30 food-by-the-pound options. The service offers over a dozen protein items, some of which include brisket, cod, kobe ground beef, ground bison, salmon with ginger-orange sauce, and turkey breast with BBQ sauce.
There are about half a dozen cooked carbs, like cilantro-lime rice, saffron rice, and roasted garlic scallop potatoes. Veggies are the least numerous and include the same options you can choose from when creating your Custom meals: broccoli, asparagus, and green beans.
Seasonings
The company's signature seasonings are currently available in 7 variations. You can opt for Vodka Lemon Pepper, Tequila Lime, Tennessee Whiskey, Garlic Beer, Hawaiian BBQ, Butter Herb or Cheddar Bacon. Alternatively, you can opt for the seasoning starter pack and get all 7 flavors at once.
Each bottle is good for about 200 servings. The seasonings have 0 calories and contain less than a gram of fat, carbs, and proteins. They usually contain up to 90 milligrams of sodium.
Heating And Storage Tips
All meals you get from ICON Meals are delivered fresh, so you can enjoy them at their best. They come with a Best By date printed on the packaging, so you know how long you can keep them in your fridge. They should remain perfectly fresh for at least 3 days if refrigerated. In case you order larger amounts of food, you can freeze the extra meals and keep them in your freezer for up to 30 days.
The meals can be heated in a microwave or an oven. Since they are fully cooked, they should take just about 3 minutes to reheat in a microwave set on high or about 20 minutes in an oven preheated to 350°F.
How Much Does ICON Meals Cost
With ICON Meals, the total cost of your delivery depends on the type of meals you choose and the number of servings you get per meal. The prices generally range from $7 to $11 per single-serving meal. Shipping costs are not included in the price.
If you opt for pre-designed Signature meals, you pay $7 to $8.50 for single-serving breakfasts and up to $11 for single-serving lunches or dinners.
Custom meals start at $8.50. Premium options and larger portion sizes increase the price of your meal by $0.50 to $2 each and up to $11 per portion. Custom breakfasts cost $7 to $14.25, depending on your protein and carb choices.
Cooked proteins, carbs, and veggies cost $8 to $22 per pound. Protein snacks can cost anywhere between $9.99 and $28 per pack. Seasonings cost $9.99 each.
Shipping is never free and the fees vary depending on location and order value. The shipping fee starts at $15 for Texas deliveries but can amount to $50+ per delivery.
ICON Meals Pricing
Meal type
Price per meal
Signature meals
$7.00 - $11.00
Custom meals
$8.50 - $19.50
Custom breakfasts
$7.00 - $14.25
Protein snacks
$9.99 - $28.00
Food by the pound
$8.00 - $22.00 (per pound)
Where Does ICON Meals Deliver
ICON Meals delivers to all addresses within the continental United States. For shipments to Hawaii, Alaska, and Puerto Rico addresses, you should get in touch with the support staff via phone prior to ordering since FedEx does not ship to all areas.
You can have your meals delivered to your home or hotel room. Orders placed by 2 PM CST Saturday through Thursday are shipped the following day. If you place your order after 2 PM CST, your order is processed the next business day and shipped the day after that, unless you order after 2 PM on Thursday, in which case your order is shipped on Monday.
All meal boxes are delivered within 1 day after they are shipped. Snacks and non-perishables are shipped separately and arrive within 2 business days. Once your box is dispatched, you receive a FedEx tracking number via email.
If you live in Texas, you can purchase or pick up ICON Meals products at the company's retail store or any store within the company's network of retail partners. You can find the nearest store or pickup location by making use of the store locator on the official ICON Meals website.
ICON Meals Pros And Cons
To make sure ICON Meals meets all your standards and expectations, it is important to know its biggest advantages and disadvantages. With a short overview of its pros and cons, you can easily decide if ICON Meals is the right meal delivery service for you.
Pros
Natural, locally sourced ingredients
Fresh pre-designed and custom meals
Protein snacks and cooked food by the pound
Omnivore, vegan, vegetarian, and gluten-free options
Preservative-free, low-carb, low-sugar, and low-sodium
Subscription-free ordering
No minimum order
Affordable prices
Cons
Needs more options for special diets
Steep shipping fees
Sample Dishes
With ICON Meals, you get delicious meals prepared by pro chefs at affordable prices. To find out what kinds of delights you will receive in your delivery, we have chosen a couple of sample dishes that accurately represents its offer and can help you decide if it is the right service for you.
Chicken rice veggies
Chicken tacos with a purple cabbage blend
Iiconcookie box triple chocolate
Kobe meatballs in a bell pepper marinara
Bottom Line
With ICON Meals, ordering is easy, you can get anything you like whenever you wish, and the selection of meals and snacks is as vast as it is varied. A few extra special diet options would not hurt, but the service does satisfy the needs of the majority of home diners.
We are thoroughly impressed by the level of customization the service offers and pleasantly surprised by the pricing. The only real downside we can think of is the shipping fee that can get pretty high if you order a lot of food and do not live in Texas. Still, if you are looking for a service that can help you stay healthy and fit and perfectly adapt to your needs, we cannot think of many solutions that are better than ICON Meals.
ICON Meals FAQ
Who owns ICON Meals?
The owner of ICON Meals is entrepreneur and IFBB Pro Men's Physique competitor Todd Abrams.
Where can I buy ICON Meals popcorn?
You can order ICON Meals popcorn online via the company's website. Alternatively, you can stop by the company's retail store in Texas (4681 Ohio Drive #113, Frisco, Texas 75035).
How should I reheat frozen ICON Meals dishes?
If you do not have the time to thaw your ICON Meals dishes, you can reheat them in an oven, a microwave or a bowl of hot water. However, for the best flavor and texture, we recommend thawing overnight and reheating in an oven.
Should I store ICON Meals dishes in a freezer or a fridge?
If you plan on enjoying all the meals in your order within 3 to 5 days, you can keep them in a fridge. In case you order more food than you can eat within a few days, you should freeze the extra food and keep it in your freezer for up to a month.
When should I order from ICON Meals to have enough food for the week?
ICON Meals does not deliver on Sundays and Mondays. To have your meals delivered on Tuesday, you can order after 2 PM CST on Thursday the previous week. To receive your delivery on Friday, you should order by 2 PM CST on Wednesday.
How long are ICON Meals dishes good for?
ICON Meals dishes do not contain preservatives, which limits their shelf life to 3 to 5 days in a fridge. If you freeze your meals, they can last for 30 days in your freezer.
How can I make ICON Meals popcorn?
ICON Meals popcorn is ready to eat, so you can simply buy a bag and enjoy. It is virtually impossible to make it at home because it is infused with whey protein and additional flavors in a controlled environment, using special equipment.
How much does ICON Meals cost?
ICON Meals charges $7 to $11 per serving for its Signature meals. Custom meals start at $8.50 and Custom breakfasts start at $7. Snacks cost $9.99 to $28 per pack and cooked food by the pound costs $8 to $22 per 1-pound pack.
How much does ICON Meals charge for shipping?
With ICON Meals, the shipping fee you pay depends on where you live and how much food you order. Texas deliveries come with the lowest shipping costs, starting at $15. The shipping fee can exceed $50 for larger orders and more distant addresses.
View All FAQs