The Vegan Garden Review
Advertiser Disclosure
This website features affiliate links. For purchases made via these links, we earn commissions that allow us to keep producing helpful content. To find out more
click here
.
Close
– – – – – – – Important Update – – – – – – – 
As of early 2019, The Vegan Garden is officially out of business. We recommend you check out our Home Chef review for a similar meal deliver service.
– – – – – – – Important Update – – – – – – – 
The Vegan Garden is a meal delivery service based in the San Francisco Bay Area. It delivers vegan and vegetarian meals, yummy smoothies, and other plant-based treats right to your doorstep. The company is family-owned and inspired by international, gourmet, and cruelty-free cuisine with nothing but the finest plant-based ingredients. Read this objective Vegan Garden review and find out more about the company's offer.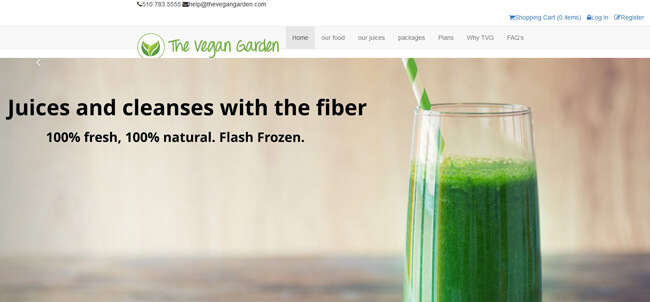 How The Vegan Garden Works
Ordering from The Vegan Garden is as simple as it gets. You only need to decide what you want, how many meals you want, and how often you wish to receive the deliveries. You can order your meals on a one-time basis or you can subscribe for weekly, bi-weekly or monthly shipments.
When it comes to the meal options, you are truly spoilt for choice. This company offers a range of meals, packages, and plans you can hardly find elsewhere. First of all, you can order a la carte. That means that you can choose from dozens of breakfasts, entrees, desserts, and juices and decide how many items and how many servings you wish to order. You can also check out the current specials and choose from over a dozen of the most popular packages.
You can order meal packages that include dinners, gluten-free meals, cookies, cleanses, weight-loss packages, and other packs that can help you stay healthy and energized. Once you opt for a package, you can choose how many you wish to have delivered. You can also order individual or larger packs of smoothies, cleanses, and teas. Finally, you can opt for one of the 5 meal plans and get up to 4 meals a day for up to 7 days a week.
The Vegan Garden meal plans come with two-month contracts. That means that by opting for one of the plans, you automatically order two months' worth of food, delivered to you in several packages, on a regular basis. Therefore, we advise you to sample their meals from the a la carte menu before opting for a meal plan in order to make sure you really like what they are offering. That way, you can avoid penalties that come with canceling your subscription before the subscription period is over.
What Makes The Vegan Garden Different
There are plenty of reasons why you should choose The Vegan Garden over other vegan meal delivery services. Here are only several qualities that make it different and often superior in comparison to most similar companies on the market.
First of all, its meals are vegan, professionally prepared, and made from sustainably-sourced, high-quality ingredients. Its meals are also designed for both vegans and people who want to eat a healthy diet, lose weight or avoid gluten. Therefore, it does not only cater to vegans, like many other meal delivery services of this kind, but also offers specialized meals that perfectly suit the needs of customers with different preferences.
Second, it gives you plenty of room for customization. You are not stuck with only a couple of meal plans that you have to stick to, but you can handpick the meals you wish to have delivered. You can choose the quantity and the number of servings, creating a completely custom menu of your own.
Third, you have dozens upon dozens of meals at your disposal. The variety of meals in its offer is truly impressive and you can hardly find a vegan meal delivery service that offers so many meals, meal packages, and meal plans. With such variety, it is highly unlikely that you can get tired of its delicious meals.
Finally, you do not only get to receive dinners and lunches, which is often the case with meal delivery services. You can receive dishes suitable for every meal of the day, plus additional treats including cookies, juices, and teas. That way, you do not need to go grocery shopping at all, as you can get everything you eat and drink throughout the day straight from The Vegan Garden.
Meals And Recipes
The Vegan Garden meal options
As we have mentioned before in this The Vegan Garden review, this company lets you order meals for every part of the day and every day of the week. You can order them individually, in packages or within a meal plan of your choice. Apart from meals, you can order smoothies, cleanses, and teas, including the ultimate 21-day juice fast that is designed to reboot your organism, wash away all the toxins, and help you lose weight and feel lighter and healthier than ever.
When it comes to meal plans, the company offers as many as 5 of them, including 7 Day High-Protein Weight Loss Plan, Taste Great Lose Weight Plan, 5 Day Weight Loss Meal Plan, U Pick 'Em Plan, and Customized Meal Plan. As you can see, all plans are named in a way that lets you know what the plan provides straight away, so you can easily pick the right one for you.
The U Pick 'Em Plan allows you to choose any 28 dishes you like from the menu and have them delivered to your home once a month. It is quite similar to the Customized Meal Plan, which has all your meals covered for a month and lets you freely choose the dishes you like the most. However, with the Customized Meal Plan, your meals are delivered every Monday.
The 5 Day Weight Loss Meal Plan brings you 15 perfectly balanced, low-calorie, low-carb meals a week. You get to enjoy 3 meals per day for 5 days and easily shed those extra pounds. Deliveries are made weekly.
An even more advanced version of the vegan weight-loss plan, the 7 Day High-Protein Weight Loss brings you 3 meals a day for all 7 days of the week, including smoothies with protein, lunches, and dinners, so you have all of your meals covered and lose weight worry-free.
We have to stress that although The Vegan Garden offers special gluten-free meals, it cannot give you a 100% guarantee that the meals do not contain even the smallest trace of gluten, as its facilities also process gluten products. They clean their utensils regularly and make sure no undesired gluten ends up in your meals, but if you have an extremely severe gluten allergy, we are afraid that it is better to avoid their meals.
Heating And Storage Tips
The Vegan Garden delivers frozen meals, which means that you should put them in your freezer as soon as you can. They can last for more than a month if frozen, but they taste best during the first 30 days after delivery. Once thawed, you should try to consume them within 24 hours and avoid refreezing them. Thawing in a fridge is strongly recommended.
The meals are fully cooked and come in microwaveable bags. Specific heating instructions are provided for each meal. Normally, all you need to do is cut the bag at the top and pop it into your microwave for 3 to 5 minutes. Then just let the meal sit for a minute and enjoy.
Pricing
Now, let us take a look at the prices of the company's meal plans. The U Pick 'Em Plan is $199 per month. The Customized Meal Plan comes at the price of $695 per month and the Taste Great Lose Weight Plan is $620 per month. The 5 Day Weight Loss Meal Plan is $450.00 while the 7 Day High-Protein Weight Loss Plan is $580.00 per month. All meal plans come with a 2-month contract. If you choose to cancel your subscription earlier, you will be required to pay the half of the remaining sum.
The prices of meal packages normally range from $89 to $295. The prices of smoothies, cleanses, and teas range from $6.95 for individual packages to $549.00 for larger packages that can last you up to 21 days. A la carte items may cost from $2.25 up to $549.00, depending on the number of servings and the number of meals included in the order. However, it is a good idea to check regularly, since they often offer discounts that may be greater than 50%.
Meal Plans
Plan name
Price per month
Price per meal
Customized Meal Plan
$695.00
$6.20
7 day high protein weight loss
$580.00
$6.90
Taste Great Lose Weight
$620.00
$5.53
5 Day weight loss
$450.00
$7.50
U Pick-em
$199.00
$7.11
Meal Packages
Package name
Price per package
Price per meal
Superfood Cleanse
$160.00
$8.88
5 Day Fast
$265.00
$13.25
Two Week Slim Down Package
$215.00
$7.68
Slim & Trim
$210.00
$10.50
Get Slim Meal Medley
$237.00
$8.46
Skinny Feast Protein Pack
$237.00
$11.45
Starter Pack
$89.00
$6.86
Slim Down
$210.00
$10.50
Slim Dinners
$160.00
$5.71
The Gluten FREE Pioneer Meal Deal
$295.00
$8.43
The Pioneer Meal Deal
$295.00
$10.53
Delivery Areas
The Vegan Garden delivers anywhere in the continental United States. Unfortunately, they do not deliver to Alaska and Hawaii, probably due to high shipping costs. Namely, the shipping costs per package may be as high as $65. However, they only charge $19.00 per package in California and $29.00 per package in the rest of the country and make up for the difference themselves. With larger packages and plans, you also get free shipping, which makes their meals even more affordable.
The Vegan Garden Pros And Cons
To make sure The Vegan Garden meets all your standards and expectations, it is important to know its biggest advantages and disadvantages. With a short overview of its pros and cons, you can easily decide if The Vegan Garden is the right meal delivery service for you.
Pros
Incredible range of vegan dishes
Plenty of customization options
Special weight-loss plans and packages
Gluten-free meals
Deliciously healthy smoothies, cleanses, and teas
5 different meal plans
Free shipping on larger orders
Cons
Does not ship to Hawaii and Alaska
Not 100% organic
Sample Dishes
With The Vegan Garden, you get delicious meals prepared by pro chefs at affordable prices. To find out what kinds of delights you will receive in your delivery, we have chosen a couple of sample dishes that accurately represents its offer and can help you decide if it is the right service for you.
Huevos Con Chorizo
Morning Glory Bars
Siciliana Frittata
Tuitti Fruitti Quinoa
Bottom Line
We believe that there is not much left to say about The Vegan Garden, except to state once again that this is by far one of the best vegan meal delivery services we have had the pleasure to review. The variety of items on their menu is incredible, the customization options are unparalleled, and it offers as many as 5 different meal plans for different needs and preferences. They can help you stay healthy, lose weight, and provide you with all the meals and drinks you need throughout the day. On top of that, if you opt for larger deliveries, you even get free shipping. We can honestly say that we could not be more satisfied with the offer of this amazing company.