ButcherBox VS US Wellness Meats Comparison
Advertiser Disclosure
This website features affiliate links. For purchases made via these links, we earn commissions that allow us to keep producing helpful content. To find out more
click here
.
Close
Both ButcherBox and US Wellness Meats have an abundance of premium-quality, perfectly flavorful options for carnivorous foodies. Still, their offers differ in more than one way. Whether you are wondering which of these 2 meat delivery services is more affordable, more convenient or better suited for your preferences, we have the answers you are seeking. Explore our thorough ButcherBox VS US Wellness Meats comparison below and discover which service is more worthy of your trust and cash.

Grass-Fed Meat For Health-Conscious Carnivores
VS

Meat The Way Nature Intended It To Be
Highlights

US Wellness Meats delivers premium-quality, grass-fed meat of virtually all types, from beef to duck and from steaks to suet. Order commitment-free and choose from a vast range of meat products and extras.
Price Range:

$$

Average Price Per Meal:

$8.00

Shipping Cost:

$0

*

Delivery Area:

50 states plus Canada and Puerto Rico
*
Notes: Flat handling fee of $9.50

ButcherBox offers monthly deliveries of pasture-raised, grass-fed beef and high-quality, natural pork and chicken. Opt for a subscription and handpick the items in your box or let the experts do the choosing. Enjoy tasty meat gifts and free shipping with all orders.
Price Range:

$

Average Price Per Meal:

$149.00

Shipping Cost:

$0

Delivery Area:

50 states
Compare Features

Best For
Best for adventurous meat lovers seeking less conventional meat products
Meat Selection
US Wellness Meats brings you grassland beef, bison, lamb, heritage pork, gourmet rabbit meat, elk, venison, chicken, duck, and turkey. You can opt for everything from steaks, chops, and ribs to ground meat, sausages, bacon, organs, bones, and fat. The company also offers keto, Whole30-approved, Paleo, AIP-friendly, and sugar-free meat products.
Meat Quality
US Wellness Meats provides all-natural, pasture-raised, grass-fed meat free from artificial substances like antibiotics and hormones. The grass animals graze on is pesticide-free. The meat is either freshly chilled or frozen fresh and rich in valuable nutrients like omega-3s, vitamin A, vitamin E, and conjugated linoleic acid.
Other Products
Apart from meat, US Wellness Meats provides wild-caught seafood, healthy snacks, farm-fresh butter, cheese, broths, gelatins, sauces, seasonings, nutraceuticals, produce, and pet food.
Sourcing Practices
US Wellness Meats' farm network primarily includes family-owned farms located in northeast Missouri and Illinois. Due to increasing demand, the company occasionally cooperates with family-owned farms from other parts of the country. All the meat you receive from US Wellness Meats is raised in accordance with sustainable, humane farming practices focusing on rotational grazing. The company's seafood is always wild-caught.
Flexibility
Ordering from US Wellness Meats does not require a subscription. You can shop at any time, commitment-free. The minimum order value is $75 and the minimum order weight is 7 pounds.
Refunds
If there is something wrong with your shipment, US Wellness Meats can issue a refund or store credit, depending on the cause of complaint and your preferences.
Shipping Costs
US Wellness Meats offers free shipping on all orders but charges a flat $9.50 handling fee.
Delivery Area
US Wellness Meats ships to all 50 US states, Puerto Rico, and Canada.

Best For
Best for carnivorous families that want to eat healthily
Meat Selection
ButcherBox offers more than 60 different cuts of beef, pork, and chicken, available in curated and custom boxes. You can purchase delicious cuts like New York strip steak, ribeye, sirloin steaks, roasts, chops or ribs and various interesting add-ons such as breakfast sausage, burgers, and uncured, sugar-free bacon.
Meat Quality
ButcherBox offers premium-quality meat. Its beef is grass-fed and grass-finished, it only sells heritage pork, and its chicken is free-range and organic.
Other Products
ButcherBox only sells meat.
Sourcing Practices
The meat you receive from ButcherBox is grown on family-owned farms that employ humane cattle-raising practices. The animals interact with one another in the pastures, they have safe, uncrowded shelters, and the farmers do not interfere with their natural diet.
Flexibility
ButcherBox offers flexible subscriptions that you can modify, pause or cancel at any time. Keep in mind that you should make the desired changes before your order is billed.
Refunds
If something is wrong with your shipment, reach out to ButcherBox immediately and you can get a replacement or a refund.
Shipping Costs
ButcherBox offers free shipping on all orders.
Delivery Area
ButcherBox ships throughout the contiguous US.
Meat Types

Beef
Pork
Lamb
Chicken
Turkey
Duck
Quail
Elk
Venison
Bison
Rabbit
Charcuterie
Organs
Bones
Fat

Beef
Pork
Lamb
Chicken
Turkey
Duck
Quail
Elk
Venison
Bison
Rabbit
Charcuterie
Organs
Bones
Fat
Compare Customer Reviews

Submitted By Adam Foster on 03/05/2019

If you can't find it anywhere, you can find it here. These guys know that steaks are not the only part of the animal worth eating and I love them for it.

Submitted By Melinda Payne on 01/20/2019

The quality is great, we mostly order beef but we've tried bacon and lamb as well, you can taste that it's natural. I like that the packs are not huge and the minimum order isn't too high. Still, it's a bit expensive for me, not saying that isn't worth it but I hoped it would be a bit cheaper.

Submitted By Joe Martins on 12/18/2018

Honestly, since I first tried US Wellness Meats a couple of months ago, I've recommended it to basically everyone I know. I can't guarantee it's better than other meat deliveries because it is the first one I've tried, but boy, did it exceed my expectations. Great customer support too.

Submitted By Tom on 08/29/2019

Be careful prior to ordering. I was trying this service based on the 2 LB of ground beef for life. It wasn't until after the order had processed that there was any indication that the promotion was not part of my order. Even then, I only found out by making a call to customer service. Additionally, though the product is advertised as "less than $6.00 per meal", it actually comes out to anywhere between $12.00 and $17.00 per pound of meat. Very expensive. Needless to say, I have buyers remorse and cancelled the day after I first subscribed. (Of course, though I subscribed at 3:30 in the afternoon, the order "...has gone to shipping" by 7:30 the next day, forcing me to accept the order -- I wonder if they would have shipped a refund as quickly?

Submitted By Tony on 08/23/2019

Torn packaging - AGAIN. I signed up recently with the promo for Free Burgers for Summer. The first delivery came, the tops of each 4-pack of burgers were torn, and the top burger of each package was clearly freezer-burnt, so I decided not to trust the other burgers in the packages. I emailed customer service, sent pictures, got some non-related info about how their meat packaging may contain wrinkles or some nonsense, but they agreed to double the burgers in the following month's delivery. Received that delivery yesterday - two of the four 4-packs of burgers have torn packaging on top! Last month I did cook and eat everything I received (except the burgers), although I was very uneasy trusting the condition of the meat in all the other packages. Today I cancelled my subscription, and am going to request a refund for the entire box, as I don't want to eat any more meat from this company.

Submitted By greg curran on 08/08/2019

While pricier than our local butcher, the meat is so much tastier. I can't recall any other meat tasting as flavorful, fresh and delicious! Our only negative experience was with the St. Louis ribs, and after sending an email saying that we were disappointed, we were promptly given a credit for the ribs. I have never had any of the negative issues I see in some of the other reviews and I have recommended Butcher Box to friends and family...

Submitted By Francois on 08/02/2019

Butcher Box cheated me with a special that was to weigh 48oz (3lbs) but actually weighted 38.2 oz, that's 21% less . I hate companies that that are dishonest and ripp their customers. Can't trust= zero star.
Winner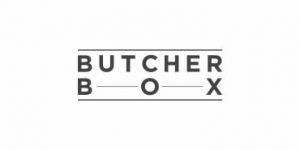 ButcherBox is one of the easiest ways to enjoy the highest-quality, grass-fed beef, organic chicken, and heritage breed pork. The service offers an impressive range of antibiotic-free, hormone-free premium and convenience cuts and allows you to decide on both the quantity and selection of meat in your box. Read more about it in our ButcherBox review.