Benefits Of Organic Grass-Fed Meat Delivery
If you are reading this article, you are probably already aware of the benefits of eating organic and grass-fed meats. In comparison to their non-organic, grain-and-GMO-fed counterparts, they have a higher nutritional value, primarily in terms of vitamins and healthy fats, and they are easier to digest. They are also safer, more humane, and better for both you and the planet. Not to mention that many experts and meat lovers claim that vegetarian-fed meats boast far superior flavor than grain-fed options.
However, what you may be wondering is why you would opt for an organic grass-fed meat delivery instead of getting your meat at a supermarket or your local butcher. The answer is actually pretty simple and it can be summed up in 3 words: convenience, variety, and reliability.
With an organic grass-fed meat delivery, you can have the meat you love delivered to your doorstep, whenever you wish, in the quantity you choose, in just a few clicks. You do not have to waste time on trips to the store that sells the right kind of meat. You do not have to carry the bags and you do not have to rush home so the meat does not start to spoil due to an inadequate temperature. You can just browse, order, and let the delivery service take care of everything else, thus investing minimum effort and time into meat shopping.
Even if you have found a store or butcher that sells your favorite cuts of organic and grass-fed meat, you cannot expect it to have all the cuts available at all times. Plus, stores usually sell a limited range of cuts, unlike organic grass-fed meat delivery services. Thus, whether you are interested in top sirloin or pemmican, you can find it at the online shops of the best organic grass-fed meat delivery services. Of course, the same is not true for your local store.
Finally, while the assortment of meat available in supermarkets and small butcher shops may change at any time, you can always rely on organic grass-fed meat delivery services to provide the meat that suits your taste and preferences. Since these services specialize in organic and grass-fed products, they never run out of them and they make sure that the range of cuts available can satisfy most carnivorous home cooks. Thus, you can be sure that they have just what you need at all times.
How Are The Best Organic Grass-Fed Meat Delivery Services Different
The basic concept behind all organic and grass-fed meat deliveries is the same, but the final realization of the main idea differs from one service to another. What makes the best organic grass-fed meat delivery services unique is that they do not only offer all the benefits we listed previously but also bring something extra to the table. Something that keeps their customers coming back for more.
Each of our top picks offers organic and/or grass-fed meat of premium quality. However, each of them also has something that sets it apart from others. This special something can be immense variety, exceptional freshness, extraordinary ordering flexibility, availability of hard-to-find cuts, stellar customer service or anything else that the service simply does better than others.
In other words, what makes the best organic grass-fed meat delivery services different is their dedication to ensuring the ultimate customer satisfaction. They know what their customers want and they know how to make it happen. Thus, they do not only offer high-quality organic and grass-fed meat, but they allow you to thoroughly enjoy every part of the experience.
Choosing The Right Organic Grass-Fed Meat Delivery For You
When assembling our list of the best organic grass-fed meat delivery services, we pay attention to the diverse needs and desires of meat lovers who prefer organic and grass-fed options. Based on our experience, the only sure way to create a list that can truly contain something for everyone is to take every important service aspect into consideration. We accomplish this goal by applying a carefully devised set of 6 criteria covering everything that customers look for in a delivery service of this kind.
In the following paragraphs, we will explain our selection process and help you find out what you should keep in mind when deciding which of the best organic grass-fed meat delivery services is right for you.
Meat Quality
We begin our quest for the best organic grass-fed meat delivery by identifying the services that offer organic meat, grass-fed meat or both. However, we do not assume that the meat is of high quality just because it falls into the abovementioned categories.
We check whether the meat is ethically sourced, humanely grown, and handled in food-safe facilities. We want to know if it is kept at consistent and adequate temperatures at all times. We make sure that its nutritional value is preserved, that is, that it is freshly chilled or flash frozen to lock in all the nutrients. The way that the meat is packed and transported is also of importance, as it determines whether or not your meat arrives in perfect condition.
Services that provide products that are hand-cut, dry-aged or wet-aged get extra points, as attention to detail matters and proper aging can certainly elevate your dining experience.
Meat Selection
There are not many carnivores that would not smile at the sight of a perfectly juicy, organic, grass-fed filet mignon. However, the best organic grass-fed meat delivery services offer far more than just the most popular and luxurious beef cuts. We expect our top picks to offer at least the majority of the meat types and cuts Americans love.
We give preference to services that have vast selections of beef, poultry, pork, and lamb cuts. Elk, venison, and other additional meat types bring bonus points. The same goes for less conventional items, like charcuterie, fats, bones, and organs.
Extras
Meat lovers do not only eat meat. Thus, the best organic grass-fed meat delivery should not limit its offer to only top-quality organic and grass-fed meat cuts. Extras that we generally look for include wild-caught finfish and shellfish, farm-fresh products, rubs, seasonings, and other items that are not easy to come by and fit nicely into a health-conscious carnivore's menu.
Sourcing Practices
When our top-rated companies say that they provide only ethically sourced, naturally grown organic and grass-fed meat, they do not expect you to take their word for it. They provide an abundance of information on their suppliers, thus letting you know exactly where and how the meat you eat is grown. They cooperate with the best family-owned farms and they take pride in this fact, which is why they are highly transparent about their sourcing practices.
When choosing the best organic grass-fed meat delivery services, we exclusively focus on the ones that source their meat the right way and allow you to make an informed purchasing decision. The sad truth is that people lie, which is why you should never buy meat of unspecified origin, regardless of what the crafty salesman may say about its quality.
Flexibility
Ordering flexibility is one of our key selection criterions for one simple reason. We want you to be able to decide on everything, from how often you order to how much meat you get in your deliveries. Commitments, oversized packages, unreasonable minimum orders, and similar limitations may prevent certain customers from purchasing the meat they want, which is unacceptable.
Thus, we only select companies that allow you to shop at the desired frequency, with low or no minimum orders. We pay attention to package size, so you can buy anywhere between a couple of ounces and 10 pounds of your favorite cut, depending on what works for you.
Price     
Organic and grass-fed cuts cannot be as affordable as mass-produced meat. However, this fact leads some services to overcharge for their products since they know that people who want healthy meat are willing to pay more.
The best organic grass-fed meat delivery services on our list have adequate pricing and often offer discounts, value packs, and free shipping in order to allow you to enjoy the meat you love at a price that fits your budget. They further offer satisfaction guarantees, making sure you never waste money on meat that does not perfectly suit your taste.
Best Organic Grass-Fed Meat Delivery Companies
Previously, we highlighted the key features of our top picks to help you understand why we consider them to be the best organic grass-fed meat delivery services in America. Now it is time to dig a bit deeper, learn something more about them, and find out which one is most likely to keep your mind, body, and palate happy.
1. ButcherBox

ButcherBox is an organic grass-fed meat delivery that makes healthy eating simple for carnivorous families with big appetites. Every month, it brings you a perfect mix of grass-fed and grass-finished beef, free-range organic chicken, and/or heritage pork. You can choose every item yourself or get a box filled with ButcherBox favorites, including both premium and budget cuts.
You get to decide on box size, modify or cancel your subscription at any time, and enjoy free shipping on all orders.
2. Greensbury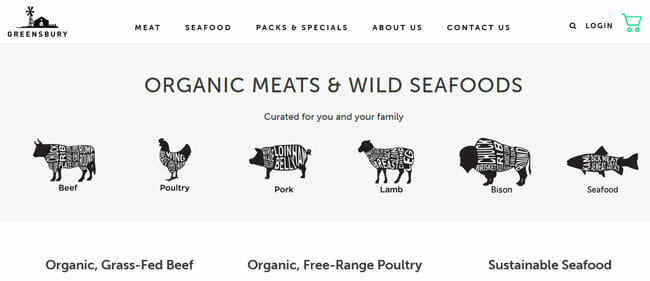 Shopping at Greensbury is a true delight. The meat is conveniently classified into Organic and Antibiotic-Free sections, so you know exactly what you are buying.
The beef is always organic and grass-fed. Chicken, duck, and turkey are free-range, certified organic, and antibiotic-free. The same goes for lamb and pork. Bison is always grass-fed as well as free-range. If you like seafood, you can get delicious wild-caught finfish and shellfish.
There are no obligations or minimums and you can order whatever and whenever you want. If you choose to subscribe to your favorites, you get 5% off every order.
3. Meat The Butchers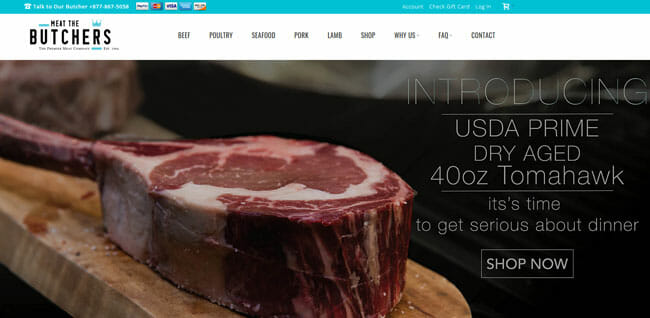 Meat The Butchers has been providing premium meat for over half a century. It does not focus on certified organic products, but its meat is always sustainably sourced, completely natural, and hand-cut by a pro butcher.
Its online shop features more than 70 premium items, including 100% grass-fed beef, free-range chicken, all-natural pork and lamb, and incredible sushi-grade seafood.
The items are sold in both large and small packages and there is no minimum order. Depending on location, shipping is free on orders over $75 – $350.
4. US Wellness Meats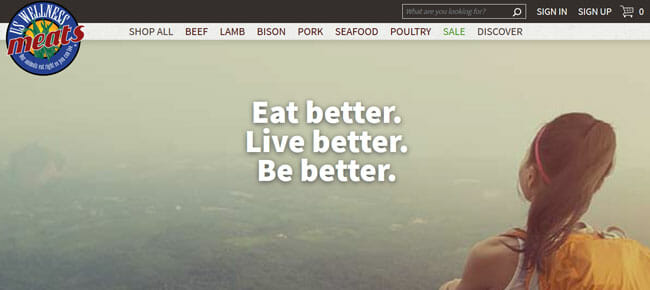 After the shutdown of Missouri's state-run certification program, US Wellness Meats ceased being certified organic, but its meat is still raised in accordance with organic principles. Plus, its offer is so vast that even the most adventurous carnivores are sure to be impressed.
The company's selection includes grass-fed beef, bison, lamb, and heritage pork, free-range poultry, wild-caught seafood, and an abundance of less common products, like farm-fresh dairy, healthy pet food, organs, bones, fats, broths, tallow, pemmican, and other specialties.
Shop whenever you wish, choose whatever you love, and only pay for the amazing food plus handling.
5. Moink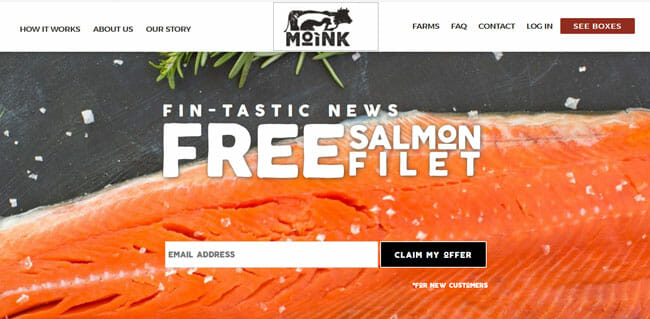 While Moink does not promise that its meat is certified organic, its entire selection is ethically sourced, humanely raised on family farms, and fed a healthy, primarily vegetarian diet free from GMO grains and artificial substances of any kind.
This subscription-based meat delivery offers 4 different subscriptions and allows you to enjoy grass-fed and grass-finished beef and lamb, pasture-raised and antibiotic-free chicken and pork, and wild-caught seafood.
You get to decide which meat types and specific items you want to get in your deliveries, choose to receive boxes every 3-6 weeks, modify or cancel your subscription at any time, and enjoy free shipping on all orders.