ButcherBox VS Pig Of The Month BBQ Comparison
Advertiser Disclosure
This website features affiliate links. For purchases made via these links, we earn commissions that allow us to keep producing helpful content. To find out more
click here
.
Close
No one understands how important it is to choose the right meal delivery service better than we do. That is why we are here to help you make the best possible choice. While both Pig Of The Month BBQ and ButcherBox offer delicious dishes and rather flexible subscriptions, there is much more to be considered before you make the final call. This Pig Of The Month BBQ VS ButcherBox comparison allows you to get to know these companies better, discover their greatest advantages and shortcomings, and of course, find out which one provides a bit higher quality of service.

BBQ Delights For True Meat Lovers
VS

Meat The Way Nature Intended It To Be
Highlights

Pig Of The Month BBQ offers convenient monthly subscriptions for bacon and BBQ fans. It also lets you shop its ribs, pulled meats, bacon, and sausage completely commitment-free. Enjoy all-natural, slow-smoked meat touted as the #1 mail-order BBQ by Wall Street Journal.
Price Range:

$$

Shipping Cost:

$9.95 to $29.95

Delivery Area:

50 states

ButcherBox offers monthly deliveries of pasture-raised, grass-fed beef and high-quality, natural pork and chicken. Opt for a subscription and handpick the items in your box or let the experts do the choosing. Enjoy tasty meat gifts and free shipping with all orders.
Price Range:

$

Average Price Per Meal:

$149.00

Shipping Cost:

$0

Delivery Area:

50 states
Compare Features

Best For
Best for BBQ lovers
Meat Selection
Pig Of The Month BBQ's offer includes BBQ baby back ribs, pulled pork, briskets, corned beef, smoked chicken, steaks, burgers, bacon and sweet bacon treats, sausage, ham, and BBQ feasts.
Meat Quality
Pig Of The Month BBQ provides premium-quality meat free from antibiotics and hormones. Its bacon, sausage, and ham never contain any nitrites or preservatives.
Other Products
Pig Of The Month BBQ exclusively offers meat products.
Sourcing Practices
Pig Of The Month BBQ sources sustainably raised, free-range meat. It cooperates with farms that grow animals in open spaces with adequate shelter and provide them with all-natural foods.
Flexibility
Pig Of The Month BBQ subscriptions are automatically renewed but can be easily canceled at the end of the subscription period. The minimum subscription period is 3 months. If you do not like commitments, you can opt for one-time purchases.
Refunds
Pig Of The Month BBQ offers a 100% happiness guarantee on all orders. If you are not happy with your delivery, you should return the unused portion within 30 days with free return shipping in order to receive a replacement or a full refund.
Shipping Costs
Pig Of The Month BBQ charges a flat $9.95 shipping fee for deliveries within the continental US. Alaska and Hawaii orders come with a $29.95 shipping fee per delivery.
Delivery Area
Pig Of The Month BBQ ships to all 50 US states.

Best For
Best for carnivorous families that want to eat healthily
Meat Selection
ButcherBox offers more than 60 different cuts of beef, pork, and chicken, available in curated and custom boxes. You can purchase delicious cuts like New York strip steak, ribeye, sirloin steaks, roasts, chops or ribs and various interesting add-ons such as breakfast sausage, burgers, and uncured, sugar-free bacon.
Meat Quality
ButcherBox offers premium-quality meat. Its beef is grass-fed and grass-finished, it only sells heritage pork, and its chicken is free-range and organic.
Other Products
ButcherBox only sells meat.
Sourcing Practices
The meat you receive from ButcherBox is grown on family-owned farms that employ humane cattle-raising practices. The animals interact with one another in the pastures, they have safe, uncrowded shelters, and the farmers do not interfere with their natural diet.
Flexibility
ButcherBox offers flexible subscriptions that you can modify, pause or cancel at any time. Keep in mind that you should make the desired changes before your order is billed.
Refunds
If something is wrong with your shipment, reach out to ButcherBox immediately and you can get a replacement or a refund.
Shipping Costs
ButcherBox offers free shipping on all orders.
Delivery Area
ButcherBox ships throughout the contiguous US.
Meat Types

Beef
Pork
Lamb
Chicken
Turkey
Duck
Quail
Elk
Venison
Bison
Rabbit
Charcuterie
Organs
Bones
Fat

Beef
Pork
Lamb
Chicken
Turkey
Duck
Quail
Elk
Venison
Bison
Rabbit
Charcuterie
Organs
Bones
Fat
Compare Customer Reviews

Submitted By Joe McAdams on 06/14/2019

Haven't had better brisket in a while! I was a bit skeptical at first, but I'm glad we decided to order. Haven't subscribed yet but I'm seriously thinking about it.

Submitted By Tim Roberts on 01/17/2019

Loved the ribs, the bacon was cool but I prefer simple flavors. Could be cheaper.

Submitted By Tom on 08/29/2019

Be careful prior to ordering. I was trying this service based on the 2 LB of ground beef for life. It wasn't until after the order had processed that there was any indication that the promotion was not part of my order. Even then, I only found out by making a call to customer service. Additionally, though the product is advertised as "less than $6.00 per meal", it actually comes out to anywhere between $12.00 and $17.00 per pound of meat. Very expensive. Needless to say, I have buyers remorse and cancelled the day after I first subscribed. (Of course, though I subscribed at 3:30 in the afternoon, the order "...has gone to shipping" by 7:30 the next day, forcing me to accept the order -- I wonder if they would have shipped a refund as quickly?

Submitted By Tony on 08/23/2019

Torn packaging - AGAIN. I signed up recently with the promo for Free Burgers for Summer. The first delivery came, the tops of each 4-pack of burgers were torn, and the top burger of each package was clearly freezer-burnt, so I decided not to trust the other burgers in the packages. I emailed customer service, sent pictures, got some non-related info about how their meat packaging may contain wrinkles or some nonsense, but they agreed to double the burgers in the following month's delivery. Received that delivery yesterday - two of the four 4-packs of burgers have torn packaging on top! Last month I did cook and eat everything I received (except the burgers), although I was very uneasy trusting the condition of the meat in all the other packages. Today I cancelled my subscription, and am going to request a refund for the entire box, as I don't want to eat any more meat from this company.

Submitted By greg curran on 08/08/2019

While pricier than our local butcher, the meat is so much tastier. I can't recall any other meat tasting as flavorful, fresh and delicious! Our only negative experience was with the St. Louis ribs, and after sending an email saying that we were disappointed, we were promptly given a credit for the ribs. I have never had any of the negative issues I see in some of the other reviews and I have recommended Butcher Box to friends and family...

Submitted By Francois on 08/02/2019

Butcher Box cheated me with a special that was to weigh 48oz (3lbs) but actually weighted 38.2 oz, that's 21% less . I hate companies that that are dishonest and ripp their customers. Can't trust= zero star.
Winner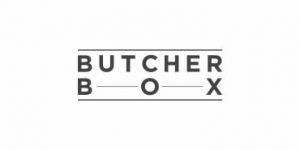 ButcherBox is one of the easiest ways to enjoy the highest-quality, grass-fed beef, organic chicken, and heritage breed pork. The service offers an impressive range of antibiotic-free, hormone-free premium and convenience cuts and allows you to decide on both the quantity and selection of meat in your box. Read more about it in our ButcherBox review.