Pig Of The Month BBQ Review
Advertiser Disclosure
This website features affiliate links. For purchases made via these links, we earn commissions that allow us to keep producing helpful content. To find out more
click here
.
Close
Pig Of The Month BBQ is a meat subscription service that offers BBQ and bacon subscriptions along with a variety of quality meat products and feasts available for a one-time purchase. Based in Dayton, Ohio, it has been on the market since 2011.
The service was founded by Lea Richards, a businesswoman who gave up her career on Wall Street to do something she truly loves and knows. Wishing to bring back childhood vacation memories filled with deliciously sticky ribs, bacon, and pulled meat, she searched the country for the best BBQ. After perfecting the craft, she decided to share the mouthwatering results with meat lovers nationwide.
Read this Pig Of The Month BBQ review to find out what more about this service's delicious offer.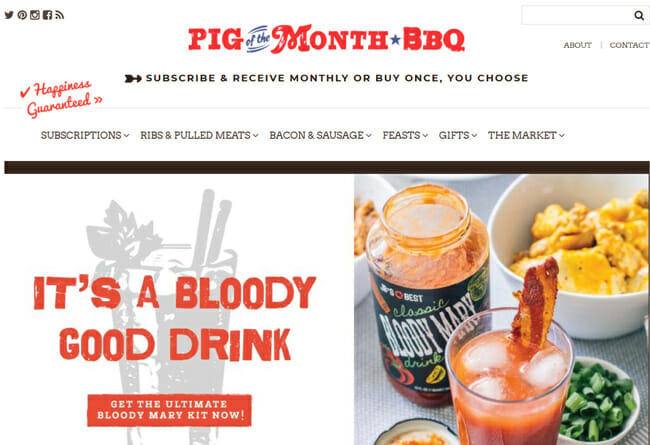 How Pig Of The Month BBQ Works
As a Pig Of The Month BBQ customer, you can choose between 2 clubs: Bacon Of The Month Club and BBQ Of The Month Club. Both options allow you to enjoy monthly deliveries of premium, all-natural meat. You can choose between the 3-month, 6-month, 9-month, and 12-month subscriptions.
The monthly boxes are not customizable, but their contents are disclosed in advance, so you can find out what you can get in the following months before you subscribe. Bacon Of The Month Club brings you 2 bacon flavors every month, 1 pound each. BBQ Of The Month Club provides 4-5 items per month, including ribs, brisket, BBQ sauce, bacon, jerky, and a whole range of other BBQ treats.
The ribs, brisket, pulled meat, ham, and turkey you get are slow smoked and fully cooked, so you only need to thaw and reheat them. Sausages and bacon are smoked only and come with preparation tips.

If you want to get a one-time delivery or a gift, you can choose from dozens of items on offer. You can opt for ribs, pulled meat, bacon, sausage, BBQ feasts, and gift boxes.
Subscriptions are automatically renewed until you cancel. All orders come with a 100% satisfaction guarantee. If you do not get what you wanted or do not eat everything in your order because you do not like it, you simply need to return the unused portion of your shipment free of charge within 30 days to receive a replacement or a full refund.
What Makes Pig Of The Month BBQ Different
Pig Of The Month BBQ aims to stand out from the crowd by offering all-natural meat of superior taste. It focuses on free-range meat that is free from hormones and antibiotics. It cooperates with farms that keep animals in open and uncrowded spaces and feed them a natural diet.
Due to the good raising practices employed by its partner farms, the service is able to offer meats that boast rich flavors and textures, which is one of the reasons why it is praised by both its patrons and critics. According to the Wall Street Journal, it is the #1 mail-order BBQ. On Good Morning America, celebrity chef Michael Symon said that Pig Of The Month BBQ's ribs are the best ribs he had ever eaten.
The service has been featured in numerous magazines and newspapers like Playboy, Forbes, and National BBQ News and dozens of bloggers have written about its unique offer. Simply put, Pig Of The Month BBQ is a service everyone is talking about. It is popular among celebrities, including Stephen Colbert, Whoopi Goldberg, and many others.
Pig Of The Month BBQ Products
Like stated earlier in this Pig Of The Month BBQ review, the service has a rather rich offer, with over 70 items available. The offer is divided into 4 main categories, including Ribs & Pulled Meats, Bacon & Sausage, Feasts, and Gifts.
In the Ribs & Pulled Meats section, you can find BBQ baby back ribs, pulled pork, briskets, corned beef, smoked chicken, steaks, and burgers. The items in this category include delights such as slow-smoked dry-style BBQ baby back ribs, Prime smoked pork chops, and 14-hour pit master BBQ beef brisket.

The Bacon & Sausage section includes over a dozen bacon flavors, about 10 types of sausages, bacon lover gifts like bacon jam, jerk rubbed bacon, and extra-thick hickory smoked bacon, as well as sweet bacon treats like chocolate-covered bacon and bacon salted caramels.
If you are looking for BBQ feasts, you have about 2 dozen options at your disposal. You can opt for luxurious meal boxes like BBQ Greatest Hits, Big BBQ Fiesta that feeds up to 20 people, Brisket + Ribs Feast, and Thanksgiving feasts, to name but a few. If you need help picking and choosing, you can take a look at Oprah's favorites.
Finally, the Gifts section includes gift boxes for bacon and rib lovers, holiday smoked turkey and ham packs, pulled meat and smoked meat samplers, and much more.
Many of the items listed above are available with subscriptions as well. Whether you opt for BBQ Of The Month Club or Bacon Of The Month Club, you can discover what treats are waiting for you by exploring the dedicated flavor guides for the current year.
Previously in this Pig Of The Month BBQ review, we mentioned that Bacon Of The Month Club brings you 2 pounds of bacon in every monthly delivery. You get to try out 2 flavors per month. Some of the featured flavors include garlic and basil, rosemary and lemon, honey habanero, chile margarita, citrus sugar, bourbon smoked black pepper, cranberry orange, white pepper parmesan, Thai sweet chili, and honey-baked bacon.

With BBQ Of The Month Club, you normally get about 5 items, including ribs, brisket, smoked meat, pulled meat, and extras like bacon caramels, BBQ sauce, and baked beans. For example, your order could include 1 rack of Texas ribs (1.75-2 pounds), 1 rack of Key West ribs (1.75-2 pounds), 1 bottle of Key West BBQ sauce, 1 pound of pulled pork, and 1 packet of artisan jerky. Be sure to check the BBQ flavor guide before ordering to find out what the service has prepared for the upcoming months.
The service does not offer a bunch of options for special dietary needs. However, you can state whether you have food allergies or unique requirements or preferences when ordering, so the staff can modify your delivery to accommodate your needs. It is good to know that many of the items on offer are gluten-free, including BBQ ribs, BBQ sauces, briskets, pulled pork, chicken, ham, turkey, sausages, and bacon.
Pricing
As expected, Pig Of The Month BBQ is not the cheapest mail-order BBQ service on the market, but its prices are fair. If you opt for Bacon Of The Month Club, you pay $48.44 to $49.75 per month, depending on the subscription length you choose. With BBQ Of The Month Club, you pay $74.83 to $75 per month.

The prices of items available for a one-time purchase start at about $13, which is how much you would pay for a pound of pre-sliced bacon cured for 30 days or a pound of smoked Italian sausage. Briskets and ribs normally cost $75 for a 4-pound or 6-pound pack. Pulled meats start at around $43 per 3-pound pack.
For deliveries within the continental US, the shipping fee amounts to $9.95 per delivery. Customers from Hawaii and Alaska pay a $29.95 shipping fee.
Delivery Areas
Pig Of The Month BBQ ships throughout the US, including Hawaii and Alaska. It only ships to physical addresses and does not deliver to PO boxes or FPO or APO addresses. Deliveries are made via FedEx and USPS. Tracking information is provided for every delivery. No signature is required. If you live in or near Dayton, Ohio, you can opt for local pickup at the company's facility (2571 Timber Lane).
The service ships boxes Monday through Wednesday. You can expect your order to arrive between Wednesday and Saturday. If you place your order by 11 AM EST on Wednesday, you can have your box shipped the same week. Depending on your preferences, you can state that you want your box to be delivered as soon as possible or you can choose a delivery date that works for you (Sunday/Monday delivery is not an option).
Pig Of The Month BBQ Pros & Cons
To make sure Pig Of The Month BBQ meets all your standards and expectations, it is important to know its biggest advantages and disadvantages. With a short overview of its pros and cons, you can easily decide if Pig Of The Month BBQ is the right company for you.
Pros
Bacon and BBQ monthly subscriptions
About 70 individual items in the online shop
All-natural ribs, pulled meat, brisket, bacon, sausage, and more
Gluten-free options
Commitment-free ordering
Satisfaction guarantee
Cons
Not highly affordable
No month-to-month subscriptions
Subscription boxes are not customizable
Bottom Line
Based on everything we have found out while researching for this Pig Of The Month BBQ review, we can conclude that this service is an excellent choice for true BBQ lovers. While its boxes are not customizable and the minimum subscription period is 3 months, you do not have to subscribe before you try it out and you always know what you get in advance. All the meats on offer are of premium quality and taste and there are numerous delicious options to choose from.
If your idea of a good meal is a rack of super-sticky ribs with a dash of professionally crafted BBQ sauce, be sure to add Pig Of The Month BBQ to your must-try list.