Kansas City Steaks VS Pig Of The Month BBQ Comparison
Advertiser Disclosure
This website features affiliate links. For purchases made via these links, we earn commissions that allow us to keep producing helpful content. To find out more
click here
.
Close
You no longer have to spend hours in the kitchen to eat healthy, delicious meals. Nowadays, you can order your food from meal delivery services and enjoy high-quality meals at affordable prices. Not sure whether Pig Of The Month BBQ or Kansas City Steaks can better meet your needs? This Pig Of The Month BBQ VS Kansas City Steaks comparison can help you make an informed decision!

BBQ Delights For True Meat Lovers
VS

High-Grade Meat Of Superior Taste
Highlights

Pig Of The Month BBQ offers convenient monthly subscriptions for bacon and BBQ fans. It also lets you shop its ribs, pulled meats, bacon, and sausage completely commitment-free. Enjoy all-natural, slow-smoked meat touted as the #1 mail-order BBQ by Wall Street Journal.
Price Range:

$$

Shipping Cost:

$9.95 to $29.95

Delivery Area:

50 states

Since 1932, Kansas City Steaks has been providing some of the best meat Kansas has to offer. Enjoy premium beef cuts, Berkshire pork, grass-fed lamb, delicious poultry and seafood, and gorgeous meals and desserts. Shop at your leisure, with no minimum order.
Price Range:

$$$

Shipping Cost:

$14.95

*

Delivery Area:

all 50 states
*
Continental US: $14.95 on one-time orders, additional $30 for Hawaii and Alaska, free shipping with subscriptions
Compare Features

Best For
Best for BBQ lovers
Meat Selection
Pig Of The Month BBQ's offer includes BBQ baby back ribs, pulled pork, briskets, corned beef, smoked chicken, steaks, burgers, bacon and sweet bacon treats, sausage, ham, and BBQ feasts.
Meat Quality
Pig Of The Month BBQ provides premium-quality meat free from antibiotics and hormones. Its bacon, sausage, and ham never contain any nitrites or preservatives.
Other Products
Pig Of The Month BBQ exclusively offers meat products.
Sourcing Practices
Pig Of The Month BBQ sources sustainably raised, free-range meat. It cooperates with farms that grow animals in open spaces with adequate shelter and provide them with all-natural foods.
Flexibility
Pig Of The Month BBQ subscriptions are automatically renewed but can be easily canceled at the end of the subscription period. The minimum subscription period is 3 months. If you do not like commitments, you can opt for one-time purchases.
Refunds
Pig Of The Month BBQ offers a 100% happiness guarantee on all orders. If you are not happy with your delivery, you should return the unused portion within 30 days with free return shipping in order to receive a replacement or a full refund.
Shipping Costs
Pig Of The Month BBQ charges a flat $9.95 shipping fee for deliveries within the continental US. Alaska and Hawaii orders come with a $29.95 shipping fee per delivery.
Delivery Area
Pig Of The Month BBQ ships to all 50 US states.

Best For
Best for meat lovers who appreciate variety
Meat Selection
Kansas City Steaks online shop features premium-quality beef, pork, lamb, chicken, and turkey. It mainly provides the most popular, quality cuts like filet mignon, ribeye, top sirloin, pork chops, leg and rack of lamb, chicken breasts, and whole turkey, as well as hickory-smoked hams and bacon. It does not provide products such as organs and bones.
Meat Quality
Kansas City Steaks focuses on high-grade meat, such as USDA Prime and American-style Kobe beef, Berkshire pork, and grass-fed lamb, turkey, and chicken.
Other Products
Kansas City Steaks provides a variety of extras, including seafood, gourmet meals, side dishes, appetizers, and desserts.
Sourcing Practices
Kansas City Steaks does not source its meat from family-owned farms and ranches but instead cooperates with the most reputable stockyards in Kansas.
Flexibility
Kansas City Steaks allows you to shop without any commitments or minimum orders. If you prefer receiving regular shipments, you can opt for auto-delivery that can be canceled anytime or join one of the company's gift clubs. One-time orders can be canceled at least 3 days prior to the scheduled shipping date.
Refunds
Kansas City Steaks offers a 100% satisfaction guarantee. If there is something wrong with your order, you can get a replacement or a refund. For quality-related issues, you should contact the support staff within 45 days. Shipping-related issues should be reported within 10 business days after delivery.
Shipping Costs
Kansas City Steaks charges $14.95 for shipping for one-time orders within the continental US. Shipments to Hawaii and Alaska come with an additional $30 fee. Shipping is free on auto-delivery, gift certificates, and seasoning packets.
Delivery Area
Kansas City Steaks delivers to all 50 US states.
Meat Types

Beef
Pork
Lamb
Chicken
Turkey
Duck
Quail
Elk
Venison
Bison
Rabbit
Charcuterie
Organs
Bones
Fat

Beef
Pork
Lamb
Chicken
Turkey
Duck
Quail
Elk
Venison
Bison
Rabbit
Charcuterie
Organs
Bones
Fat
Compare Customer Reviews

Submitted By Joe McAdams on 06/14/2019

Haven't had better brisket in a while! I was a bit skeptical at first, but I'm glad we decided to order. Haven't subscribed yet but I'm seriously thinking about it.

Submitted By Tim Roberts on 01/17/2019

Loved the ribs, the bacon was cool but I prefer simple flavors. Could be cheaper.

Submitted By Gerald Dennison on 03/11/2019

There is not much not to love, everything is there, the convenience, the variety, you can buy as much as you want, it's all great, but I don't order regularly because I can get pretty good meat for much less, so I only order when I'm craving something I can't find at the nearest store.

Submitted By Richard Vickery on 02/10/2019

Excellent quality but I usually spend a bunch of time looking for something that is affordable enough after I factor in the shipping fee. They could offer larger discounts, at least from time to time.
Winner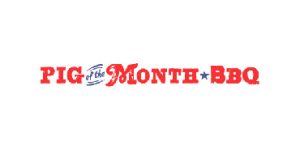 Pig Of The Month BBQ brings the most delicious bacon and slow-smoked BBQ straight to your doorstep. It provides convenient monthly subscriptions and also allows you to shop commitment-free and choose from over 60 mouthwatering items. Learn everything you should know before you order in this comprehensive Pig Of The Month BBQ review.