Gousto Review
Great Variety At A Great Price

Advertiser Disclosure
This website features affiliate links. For purchases made via these links, we earn commissions that allow us to keep producing helpful content. To find out more
click here
.
Close
If you like being spoilt for choice, Gousto may be just the kind of meal kit service you have been searching for. This service offers a rich selection of recipes every week, ranging from vegetarian delights to meals for meat-loving gourmets. In this Gousto review, we will focus on the quality of its offer, the way its subscription works, and of course, the prices.
What Is Gousto
Gousto is a meal kit service that provides carnivore, pescatarian, vegetarian, plant-based, and allergen-free recipes and fresh, sustainably sourced ingredients. It allows you to cook your meals in as little as 10 minutes.
If you want to order Gousto recipes and ingredients, you first need to subscribe. However, there is no need to worry about being stuck with a subscription, as the folks behind Gousto emphasize that ordering from this service comes with no strings attached. You can pause or end your subscription whenever you want. You can sign up for recurring deliveries and make additional one-off orders whenever you want. You are the one in control of your subscription.
In comparison to most meal kit services, the Gousto menu boasts twice as many recipes suitable for various skill levels and dietary preferences. With this service, you can build your weekly menu with ease regardless of potential restrictions and dislikes. You can decide how many servings you want each recipe to yield and order more food when you are having guests. Finally, you can choose to spend anywhere between several minutes and a whole hour in the kitchen.
Due to the quality of its ingredients, the range of meal options it offers every week, and the level of personalization it provides, Gousto is often regarded as one of the best meal kit services in the UK. It is a simple solution for healthy eating that does not cost too much and makes cooking and meal planning easier than ever.
How Does Gousto Work
As a Gousto subscriber, you get to choose any 2, 3 or 4 recipes from the company's rich menu, which includes 40 recipes per week. The recipes and the ingredients they call for are delivered to your doorstep every week, on the day that works for you.
Gousto offers 2-Person boxes that are, as the name suggests, suitable for 2 people, and Family boxes, created to suit the dietary needs of 2 adults and 2 or 3 children, depending on their age and appetite. The portions are ample, which guarantees that the meals will satisfy the appetites of the vastest majority of customers.
What is interesting to note is that you can order up to 3 boxes per week, which is not something all meal kit services offer. Furthermore, you can order the same recipe multiple times, that is, increase the amount of ingredients/number of servings, which is perfect for occasions when you are having friends over for dinner.
What Makes Gousto Different
What makes Gousto a great meal kit service is the fact that it offers incredible convenience, the ultimate freshness of ingredients, creative and unique recipes, amazing variety, and wonderful flexibility, all at highly reasonable prices. It does not impose any annoying limitations and it is completely transparent about ingredient sourcing, subscription terms, and pricing, with no additional or hidden fees.
As suggested previously in this Gousto review, the service offers a greater range of recipes than most meal kit services on the market. It also pays special attention to special dietary needs, with great selections of veggie, dairy-free, and gluten-free dishes. It aims to please and does everything possible to allow you to enjoy cooking more and make it less of a chore.
Gousto Meals And Recipes
Previously in this Gousto review, we have mentioned that you can choose between the 2-Person and Family boxes with 2, 3 or 4 recipes. No matter which box type you choose, you can select your recipes from the same menu that includes about 40 incredible meal ideas every week.
The recipes are conveniently categorized, so you can easily find what you are craving. You can opt for everyday favorites, go with the speedy, 10-minute options, view the selection of vegetarian or plant-based dishes, choose meals without gluten or dairy, explore dishes that feature fish, chicken, beef or pork or check out the company's healthy choices. In every category, there are at least 3-4 recipes, so you have plenty of options at your disposal regardless of your current cravings or special dietary needs.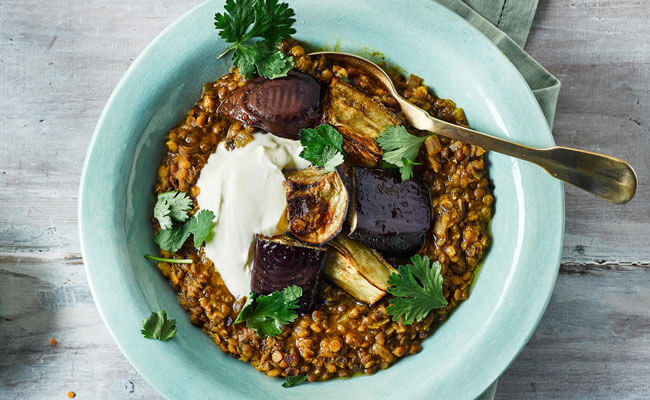 Most of the meals take 10-40 minutes to make and the preparation is always simple. For every recipe, you get information on the ingredients, calorie count, amount of fats, saturated fats, carbs, sugars, fibers, proteins, and salt, as well as allergens, and you can see which cuisine the dish belongs to. Of course, just like any other meal kit company, Gousto does not deliver the essentials like oil, salt, pepper, and flour, but every recipe contains information on the basic ingredients you should have in your pantry.
Due to the quality of its ingredients, the range of meal options it offers every week, and the level of personalization it provides, Gousto is often regarded as one of the best meal kit services in the UK. It is a simple solution for healthy eating that does not cost too much and makes cooking and meal planning easier than ever.
How Much Does Gousto Cost
With Gousto, the cost of your delivery depends on the recipe box type you pick and the number of recipes you order per week. The price per serving ranges from £2.98 to £6.25. If you order more food, you pay less per serving. Shipping is always free.
The 2-Person box with 2 recipes costs £24.99 (£6.25 per serving). The price of the 2-Person box with 3 recipes is £29.99 (£5 per serving). The 2-Person box with 4 recipes costs £34.99 (£4.37 per serving).
Family boxes are much more affordable. The Family box with 2 recipes costs £31.75 (£3.97 per serving). The Family box with 3 recipes costs £42.75 (£3.56 per serving). The price of the Family box with 4 recipes is £47.75 (only £2.98 per serving).
Where Does Gousto Deliver
Gousto ships its recipe boxes to addresses within the mainland UK. However, even in this part of the country, there are some areas that are outside Gousto's delivery map. The company is working on solutions that would allow it to expand its coverage.
At the moment, Gousto does not ship to: AB30 – AB39, AB41 – AB45, AB51 – AB56, AB99, BT, FK18 – FK21, GY, HS1 – HS9, IM, IV1 – IV28, IV30 – IV32, IV36, IV40 – IV49, IV51 – IV56, IV63, JE, KA27 – KA28, KW1 – KW3, KW5 – KW17, PA20 – PA38, PA41 – PA49, PA60 – PA78, PA80, PH15 – PH26, PH30 – PH44, PH49 – PH50, PO30 – PO41, TR21 – TR25, and ZE1 – ZE3.
On the other hand, the great news is that you can have your box delivered on any day of the week. Deliveries made between 8 am and 7 pm come with free shipping and you do not have to be at home to receive your package. In certain areas, you can choose to have your order delivered before noon or in the evening, between 6 pm and 10 pm. Such deliveries come with an additional £2.99 fee.
Gousto Pros And Cons
To make sure Gousto meets all your standards and expectations, it is important to know its biggest advantages and disadvantages. With a short overview of its pros and cons, you can easily decide if Gousto is the right meal kit service for you.
Pros
Immense variety of recipes
Fresh, quality ingredients
Variety of options for special diets
Incredibly flexible subscription
Reasonable prices
Sample Dishes
If you subscribe to Gousto, you can easily prepare culinary masterpieces using only the ingredients and recipes found in your meal kit box. You may not be a pro chef just yet, but with Gousto, you can easily make restaurant-grade meals. You don't have to take our word for it – check out the images below to get a better idea of the types of dishes you can enjoy with Gousto.
Black Bean Chilli
Bolognese
Lamb Tabbouleh
Meatballs
Bottom Line
As you may have noticed from our Gousto review, we really loved this meal delivery company. It offers a vast range of exciting recipes designed to suit different preferences and dietary needs, provides fresh, flavorful ingredients, and allows you to customize your subscription so it perfectly suits your needs and schedule. What is also important, the prices are more than reasonable and shipping is free. If you love cooking for yourself and your loved ones but wish it could be a bit easier and less time-consuming, Gousto can provide all the help you need without making a dent in your budget.
Gousto FAQ
Is Gousto worth it?
Gousto offers a broad range of excellent recipes, delivers fresh ingredients of premium quality, and allows its patrons to customize their subscriptions according to their needs. The prices are reasonable and the company provides free shipping.
How to cancel Gousto?
You can cancel your order until noon 3 days before your delivery day. Log into your Gousto account and select the Deliveries tab to see your upcoming boxes. Choose the order you wish to cancel and click on Cancel Order. You can read our blog post on how to cancel Gousto to discover more.
What companies are like Gousto?
The top alternatives to Gousto include Mindful Chef, HelloFresh UK, Abel & Cole, and SimplyCook.
What are the delivery times with Gousto?
Gousto delivers to much of the mainland UK seven days a week. Subscribers can choose their preferred delivery day. Boxes arrive anywhere from 8am–7pm. In some areas, there is an option to choose morning or evening delivery.
View All FAQs