SimplyCook Review
Advertiser Disclosure
This website features affiliate links. For purchases made via these links, we earn commissions that allow us to keep producing helpful content. To find out more
click here
.
Close
Believe it or not, now you can make a delicious dinner in just about a quarter of an hour; and no, we are not talking about frozen pizza. With SimplyCook, you can make restaurant-grade dishes in 15 to 20 minutes and impress your loved ones or dinner guests with your amazing cooking skills. SimplyCook recipes and super-special spices and flavor blends allow you to create a masterpiece in no time, using ingredients you probably already have in the fridge. Keep reading our SimplyCook review for more details about this superb service.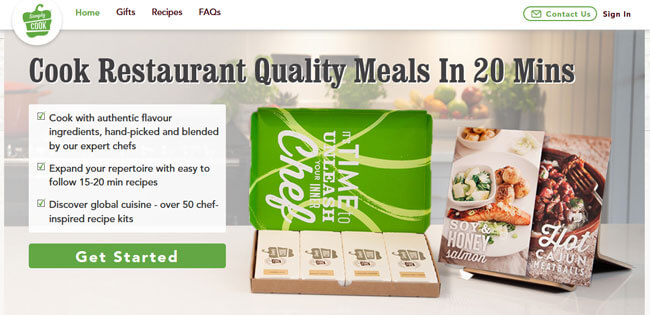 How SimplyCook Works
SimplyCook is not your average meal kit service. It does provide recipes and ingredients, but not all the ingredients. Unlike most services of this kind, it provides only the ingredients you cannot find at your local store and allows you to shop for the regular groceries yourself. Here is how that works.
SimplyCook offers around 80 carefully crafted gourmet recipes for meals ready in no more than 20 minutes. You get to choose 4 of them every week and receive flavor blends handcrafted by a professional chef, containing up to 18 different ingredients. The flavor blends include infused oils, culinary pastes, rubs, specialist stocks, garnishes, and herb and spice blends, all of which are designed to elevate the flavor and fragrance of the meals and turn a simple dish into a Michelin-star-worthy piece of art. Every recipe comes with a list of items you need to purchase, such as meat, fish, seafood, dairy, and vegetables, in the exact quantities. All of this lets you enjoy premium-quality meals at a good price, as you are the one in charge of purchasing the groceries, which means you do not have to pay the higher price you would normally pay for ingredients provided by a meal kit service.
The recipes in your first box are usually picked out by SimplyCook's chef, but you may also get to choose from a limited number of recipes. With the subsequent boxes, you get suggestions from the chef, but you can swap them with any recipe that tickles your fancy. Your subscription comes with no strings attached and you can end it whenever you want.

What Makes SimplyCook Different
As you could see so far in this SimplyCook review, this service is essentially different from most meal kit services out there. First of all, the meals are ready in just 15-20 minutes, which is possibly the shortest possible time you can spend preparing a meal. It is also less time than most recipes offered by meal kit services require. What is more, the meals are not only delicious, they are truly impressive, thanks to the secret ingredients you get in your kit.
As we have mentioned before, you only get the unique, professionally made flavor blends you cannot get elsewhere and you save money by purchasing the groceries yourself. The recipes call for only 4 to 6 ingredients of the kind that you purchase regularly, so no fancy items that cost more than you would like to spend.
If you like SimplyCook, you can spread the love by purchasing the 3-month, 6-month or 12-month subscription for a friend or loved one. You can also refer your friends and get great rewards for spreading the word about this service.
Meals And Recipes
SimplyCook offers 2 kinds of recipe boxes designed for omnivores and vegetarians. Every box contains 4 recipes for 2-4 people.

The Standard box is designed for home cooks who value variety above all else. It allows you to try out around 80 exciting recipes, 4 at a time, and broaden your culinary horizons. You can choose from all kinds of gourmet, gluten-free, and low-calorie recipes designed for meat, veggie, and seafood lovers.
The Vegetarian box is particularly designed for veggie lovers and lets you choose amazing, colorful, and fragrant dishes from the service's vegetarian cookbook that just keeps on growing. Its current selection of vegetarian recipes includes over 2 dozen innovative meal ideas.
Each recipe contains a shopping list, including optional items, as well as information on the preparation and cooking time and method, calorie count, and heat rating. You also get to learn some interesting details about the dishes and find out what other customers have to say about each recipe.

Pricing
All SimplyCook boxes cost the same – exactly £9.99. That is around £2.5 per meal or approximately £0.6-£1.25 per serving. Once you factor in the prices of the groceries you need to purchase, it turns out that one serving of SimplyCook meals costs between £3 and £6, which is more than OK, considering the quality and uniqueness of the herbs, spices, and flavor blends you get and the convenience you enjoy.
Shipping is free nationwide, so you only pay for the kits you receive.
Delivery Areas
SimplyCook kits are available in the entire UK. The kits are shipped via Royal Mail three times a week and delivered within 4 business days. You do not need to be at home to receive your delivery, as the kits fit most letterboxes and no signature is required.
SimplyCook Pros And Cons
To make sure SimplyCook meets all your standards and expectations, it is important to know its biggest advantages and disadvantages. With a short overview of its pros and cons, you can easily decide if SimplyCook is the right meal kit service for you.
Pros
More than 80 recipes to choose from
All meals are ready in only 15-20 minutes
Gourmet, vegetarian, gluten-free, and low-calorie recipes
Professionally crafted flavor blends not available elsewhere
Budget-friendly
Free shipping on all boxes all over the UK
Cons
Cannot choose the number of recipes and servings per box
Sample Dishes
If you subscribe to SimplyCook, you can easily prepare culinary masterpieces using only the ingredients and recipes found in your meal kit box. You may not be a pro chef just yet, but with SimplyCook, you can easily make restaurant-grade meals. You don't have to take our word for it – check out the images below to get a better idea of the types of dishes you can enjoy with SimplyCook.
Chicken Makhani
Jambalaya
Nyonya
Pulled Chicken
Bottom Line
Saying that SimplyCook is an interesting service would be a severe understatement. If you love cooking but have always wondered what kind of secret ingredients professional chefs use to make their meals taste so good, you do not have to wonder anymore. You can have them delivered to your doorstep every week. Plus, every meal takes around a quarter of an hour to make, which is shorter than the runtime of your average sitcom. You also get to be in charge of grocery shopping, so you do not have to spend more than you want to and you get free shipping on all recipe boxes. A great offer indeed.