Abel & Cole Review
Advertiser Disclosure
This website features affiliate links. For purchases made via these links, we earn commissions that allow us to keep producing helpful content. To find out more
click here
.
Close
If you want nothing but the finest organic produce, meat, fish, and groceries, go with Abel & Cole. This delivery service never compromises on the quality and freshness of its products and allows you to eat healthily without any effort. Its offer is incredibly rich and includes all kinds of organic products, but in this Abel & Cole review, we will focus on its excellent recipe boxes for people interested in healthy and delicious home-cooked meals.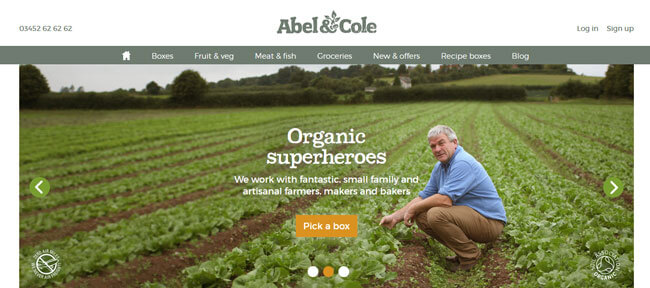 How Abel & Cole Works
Abel & Cole recipe boxes bring you amazing recipes for good-for-you meals that you can cook with ease. You can choose from 4 different recipe box types designed for cooks that love classic, gourmet, veggie, and light dishes.

Every week, there are 12 incredible recipes you can choose from and you can decide whether you want to order 1, 2 or 3 per box. Every recipe serves 2 people.
Abel & Cole recipe box subscriptions are incredibly flexible. You can choose whether you want your boxes delivered every 1, 2, 3, 4 or 8 weeks, according to your needs and schedule. If you are going on a holiday, you can simply skip the deliveries scheduled for the dates when you are away. You can also end your subscription at any time, as you are not bound by a contract of any sort.
What Makes Abel & Cole Different
The main difference between Abel & Cole and other services of this kind is that it exclusively focuses on organic, ethically sourced ingredients. You never have to worry about the origin of the food you eat and wonder whether it is good for you because Abel & Cole makes sure that everything you get is as healthy as it can be.
As we have mentioned before in this Abel & Cole review, this service does not only provide excellent recipe boxes but allows you to stock up on all things organic. You can purchase fruit, vegetables, salads, fresh herbs and spices, meat, fish, seafood, dairy, eggs, bakery goods, drinks, alcoholic beverages, and various items for your pantry and household. It also offers a variety of vegetable, fruit, meat, fish, and juicing and smoothie boxes.
As an Abel & Cole customer, you get to enjoy great perks. For example, you get a free cookbook delivered in your first box and the 4th box you order is free of charge.
Abel & Cole recipe box can be bought as a gift, as long as the recipient lives within the service's delivery area.
Meals And Recipes

Previously in this Abel & Cole review, we have said that this service offers 4 types of recipe boxes. Now we will explore each one of them in more detail.
The Simple box is designed for people who like familiar tastes and classic dishes but also enjoy creative twists on well-loved favorites that can make dinner time more exciting and fun.
The Foodie box is particularly suitable for those who love gourmet food and home cooks who want to wow their dinner guests. It features exotic and unique dishes that allow you to hone your cooking skills and explore new flavors.
The Veggie box is a meat-free option that focuses on the gems of the vegetarian cuisine. The meals in this box can be both light and rich, but they are always colorful, fragrant, and rich in nutrients.
The Light box brings you a variety of quick and easy recipes that make you feel more energized. Each meal in this selection has less than 500 calories while containing all the valuable substances your body needs to function perfectly.
The meals normally take less than an hour to make and the recipes are easy to follow. Although all recipes yield 2 servings, you can double or triple the amount of ingredients by ordering the same recipe more than once.
Pricing
The prices of Abel & Cole recipe boxes slightly vary depending on the style you decide to go with.
The Simple style box costs £13 per recipe. The price of the Foodie box is £14 per recipe. If you opt for the Veggie box, you pay £12 per recipe while the Light box costs the same as the Simple, £13 per recipe.

Abel & Cole does not offer free shipping. However, it does plan the routes carefully in order to minimize carbon emissions and the number of miles your food travels, so this smart shipping plan allows it to charge a shipping fee as low as £1.25 per delivery.
As far as ordering limitations are concerned, there is a minimum order value. However, it is nothing to worry about since it is £12, which is not higher than the price of any of the boxes.
Delivery Areas
We are sad to say that Abel & Cole does not deliver to all areas within the UK. Its delivery area is limited to England and certain parts of Wales. However, even within England, it does not deliver to all areas, such as Cornwall. Check whether your address falls within Abel & Cole delivery area by entering your postcode in the FAQ section of the website, by choosing the question: Do you deliver to me?
The delivery day depends on the location. The company only delivers once per week to every area it covers. Deliveries do not always come at the same time, but you do not have to be at home to receive your box, so this should not be a problem.
Abel & Cole Pros And Cons
To make sure Abel & Cole meets all your standards and expectations, it is important to know its biggest advantages and disadvantages. With a short overview of its pros and cons, you can easily decide if Abel & Cole is the right meal kit service for you.
Pros
Premium-quality, organic ingredients
12 recipes to choose from every week
Vegetarian, low-calorie, classic, and gourmet recipes
Free cookbook with first delivery
The 4th box is free of charge
Cons
Limited delivery area
Only offers recipes for 2 people
Delivery is not free
Sample Dishes
If you subscribe to Abel & Cole, you can easily prepare culinary masterpieces using only the ingredients and recipes found in your meal kit box. You may not be a pro chef just yet, but with Abel & Cole, you can easily make restaurant-grade meals. You don't have to take our word for it – check out the images below to get a better idea of the types of dishes you can enjoy with Abel & Cole.
One Pot Wonder Recipe Box
Roast with the Most Box
Slow Cook Recipe Box
Super Salad Recipe Box
Bottom Line
Abel & Cole is an excellent delivery service for individuals who want to maintain a healthy, balanced diet and focus on organic ingredients. Its recipe boxes make it easy to plan your meals and introduce more variety into your diet. The subscriptions are flexible, the prices are moderate, and although delivery is not free, the shipping fee is rather low. Whether you are a vegetarian, a gourmet, a fan of classic dishes or you like to keep your meals light, you have much to look forward to if you choose to subscribe to this service.