HelloFresh UK Review
Advertiser Disclosure
This website features affiliate links. For purchases made via these links, we earn commissions that allow us to keep producing helpful content. To find out more
click here
.
Close
In 2011, HelloFresh began as a small startup created by two friends who wanted to come up with an easier way to get a healthy, delicious dinner on the table every day. Today, it is an international meal kit delivery service with legions of satisfied customers in all countries where its amazing recipe boxes are available, including the UK. If you are curious about this popular service's offer for the UK market, keep reading this HelloFresh UK review and join us as we discover the wealth of options it provides.
What Is HelloFresh UK
HelloFresh UK is a subscription-based meal kit delivery service that provides simple recipes and fresh ingredients necessary to make the meals. Its recipes are suitable for omnivores, vegetarians, pescatarians, flexitarians, and little picky eaters.
With nearly 2 dozen recipes on the weekly menu, easy preparation that can take as little as 20 minutes, and pre-portioned ingredients that save time on measuring and eliminate food waste, HelloFresh UK makes dinnertime a breeze. Many of its recipes call for just 1 or 2 pots, thus significantly reducing the amount of mess you have to deal with after you are done cooking.
While its recipe boxes are best suited for households of 2-4, the service is surprisingly popular among singles as well. Its 2-serving kits are great for busy people looking for a 2-in-1 solution that lets them enjoy a delicious dinner and have something healthy to eat at work the next day.
HelloFresh UK primarily focuses on natural, seasonal ingredients that are delivered at peak freshness, so you do not have to rush to use them up in 2 days. With the exception of meats, which should last at least 3 days in the fridge, all ingredients you receive can last a whole week if properly stored, meaning that nothing ever wilts or goes to waste before you get the chance to enjoy it. This is a big deal, considering that many meal kit services promise freshness but actually bring you foods that are in suboptimal shape and need to be used up straight away.
As you can see, HelloFresh UK offers virtually everything a home cook hopes for when signing up for a boxed meal delivery. Thus, we gladly recommend it as one of the best meal kit services in the UK.
How Does HelloFresh UK Work
HelloFresh UK allows you to choose between the Classic, Rapid, and Family recipe boxes and cook 3, 4 or 5 times a week for 2, 3 or 4 people. You can order anything from the menu or opt for recipes particularly designed for the box type of your choice.
The weekly menu includes 21 distinct recipes and changes every week. The recipes are conveniently labeled in accordance with their suitability for families, home cooks who prefer quick recipes, and those who want to enjoy a balanced diet. Read more about the company's meal options in the Meals And Recipes section of this HelloFresh UK review.

As it is usually the case with top-tier meal kit services, subscriptions are flexible and allow you to adjust them to your needs, desires, and schedule. You can modify your order, skip a delivery or end your subscription whenever you see fit. However, all alterations need to be completed before the weekly cut-off, which is always on Wednesday at 11.59 pm.
With nearly 2 dozen recipes on the weekly menu, easy preparation that can take as little as 20 minutes, and pre-portioned ingredients that save time on measuring and eliminate food waste, HelloFresh UK makes dinnertime a breeze.
What Makes HelloFresh UK Different
HelloFresh UK is much more than a highly flexible and convenient service that makes home cooking easier than ever. Apart from its healthy recipes and high-quality, pre-measured ingredients, it also offers plenty of additional perks to its customers. Let us take a look at some of them.
First of all, the company has an excellent referral program. If you decide to recommend HelloFresh UK to your friends, you can join the program and the company will give your friends £20 off their first box and also reward you with £20 for every successful referral, allowing you to save cash on your next order.
If you like gifts, you are in luck because HelloFresh UK has another great treat for you. This service allows you to collect reward points simply by ordering its recipe boxes, referring friends, and collecting its special cooking badges that you receive after you have ordered 2, 5 or more boxes. These points can be exchanged for gorgeous cooking accessories available in the Rewards Shop. Once you collect enough points, you can choose the gift you want and if you order it before midnight on Wednesday, you receive the gift with your next delivery.
Finally, HelloFresh UK recipe boxes make for a great gift. You can surprise your foodie friends with HelloFresh UK gift cards and choose from gift boxes with 3, 4 or 5 meals for 2 people or 3 meals for 4 people.
HelloFresh UK Meals And Recipes
HelloFresh UK meal options
We have mentioned before in this HelloFresh UK review that the service designs different recipes for different recipe boxes. Now we will focus on each box individually.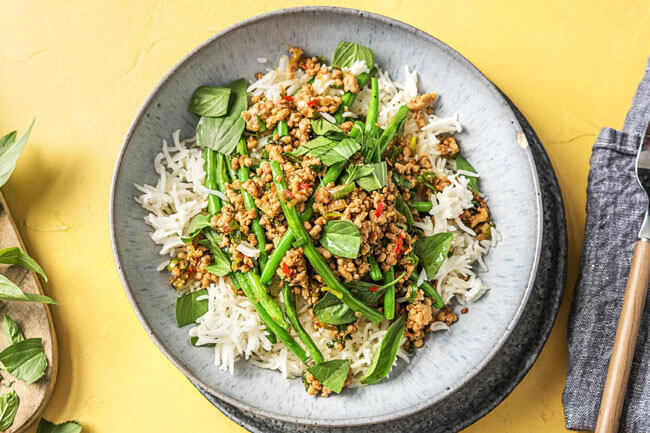 With the Classic box, you can usually choose from 21 recipes on the weekly menu. You can opt for the standard or the vegetarian version of the Classic box. With the standard version, you can enjoy meat, seafood, and veggie dishes and decide whether you want to cook for 2, 3 or 4 people. If you are cooking for 2, you can order 3, 4 or 5 recipes. If you are cooking for 3 or 4, you can order 3 or 4 recipes. With the vegetarian version, you can order 3 veggie recipes per week for 2, 3 or 4 people.
The Rapid box brings you amazingly quick and delicious recipes for 2, 3 or 4 people. Like with the Classic box, you can order 3, 4 or 5 recipes for 2 people or 3-4 recipes for 3-4 people. You can choose from 4 rapid, 20-minute meal ideas or add any of the 21 menu items to your order.
The Family box used to be reserved for families of 4. Recently, the company has decided to redesign it so it follows the same ordering pattern as the previous 2 boxes. Thus, you can opt for the 2-person Family box including 3, 4 or 5 recipes, the 3-person Family box with 3 or 4 recipes or the 4-person Family box containing 3 or 4 recipes. You can normally choose from 20 meal ideas every week, including 4 options designed with kids in mind. Family recipes usually require the use of just 2 pots and take up to 30 minutes to prepare.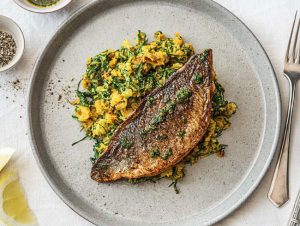 While creative, the recipes are never too extravagant or exotic. Keeping in mind the different tastes of its customers, HelloFresh UK strives to provide recipes that nearly everyone will love. You can expect delicious, gourmet burgers, juicy chicken prepared in a variety of ways, with all kinds of nutrient-packed sides, hearty stews, easy-to-make, colorful stir-fry dishes, and more.
Unfortunately, there are no customization options when it comes to the ingredients. If you are allergic to an ingredient, you should take a look at the allergen information provided with each recipe and simply skip the recipes that contain the products you need to avoid.
How Much Does HelloFresh UK Cost
The prices of HelloFresh UK recipe boxes depend on the number of people you are cooking for and the number of meals you want to cook per week. They range from £3.44 to £5.00 per serving. The more food you order per week, the less you pay per serving.
The pricing is always the same, regardless of which recipe box you opt for. If you are ordering for 2 people, the price you pay per serving is £5.00 if you order 3 recipes, £4.37 if you order 4 recipes, and £4.20 if you order 5 recipes. With the 3-person option, the price per serving is  £4.67 for 3 recipes and £4.08 for 4 recipes. Finally, with the 4-person option, you pay £3.83 per serving if you order 3 recipes and £3.44 per serving if you get 4 recipes per week.
The great news is that shipping is always free, no matter how much food you order or where in the UK you live.
Where Does HelloFresh UK Deliver
HelloFresh UK delivers its recipe boxes to mainland UK, the Isle of Wight, Jersey, and Northern Ireland. Its delivery map does not include the Scottish Highlands and Islands. The company is continuously working on expanding its geographical coverage.
The full list of postal codes that are currently outside the service's delivery map includes AB30, AB33-AB38, AB41-AB45, AB51-AB56, FK17-FK21, HS1-HS9, IM1-IM9, IM99, IV1-IV9, IV10-IV19, IV20-IV28, IV30-IV32, IV36, IV40-IV49, IV51-IV56, IV63, KA27, KA28, KW1-KW14, PA20-PA38, PA41-PA49, PA60-PA80, PH15-PH26, PH30-PH44, PH49-PH50, TR21-TR25, and ZE1-ZE3.
Boxes are delivered 6 days a week, between 8 am and 7 pm. Depending on your location, you may be able to choose the evening delivery option (from 5 pm to 9 pm) on Sunday or Monday, but keep in mind that this option comes with a small additional fee.
It is important to note that you do not have to be at home at the time of the delivery. All you need to do is provide instructions for a safe drop.
HelloFresh UK Pros And Cons
To make sure HelloFresh UK meets all your standards and expectations, it is important to know its biggest advantages and disadvantages. With a short overview of its pros and cons, you can easily decide if HelloFresh UK is the right meal kit service for you.
Pros
Quick and simple recipes
Fresh ingredients
Vegetarian recipes available
Flexible subscription
Free shipping on all orders
Rewards program
Referral program
Cons
Cannot be customized to exclude allergens
Sample Dishes
If you subscribe to HelloFresh UK, you can easily prepare culinary masterpieces using only the ingredients and recipes found in your meal kit box. You may not be a pro chef just yet, but with HelloFresh UK, you can easily make restaurant-grade meals. You don't have to take our word for it – check out the images below to get a better idea of the types of dishes you can enjoy with HelloFresh UK.
Bacon Gnocchi
Beef Ragu Rigatoni
Creamy Mustard Chicken
Pan Fried Sea Bream
Bottom Line
HelloFresh UK is driven by the belief that cooking healthy and tasty meals for yourself and your family should bring you joy and not cause additional stress. It provides great recipes for vegetarians, flexitarians, pescatarians, and meat lovers and allows you to quickly prepare meals that suit the tastes of the whole family. The prices are neither high nor low and shipping is free on all boxes. Unfortunately, it does not allow you to chuck out the ingredients you need to avoid, but that is the case with many meal kit deliveries out there. All in all, it is a good option for home cooks who want to take a break from recipe searching and grocery shopping and have more fun in the kitchen.