Mindful Chef Review
Advertiser Disclosure
This website features affiliate links. For purchases made via these links, we earn commissions that allow us to keep producing helpful content. To find out more
click here
.
Close
Mindful Chef is one of the most popular gluten-free meal kit delivery services in the United Kingdom. It offers high-quality, locally sourced ingredients, carefully crafted, easy-to-follow recipes suitable both for vegans and omnivores, and convenient home delivery. If you think you might like what this company's selling, you can find more useful and delicious details in this Mindful Chef review.
What Is Mindful Chef
Mindful Chef is a meal kit service that allows you to cook with ingredients delivered fresh from small British farms. Its recipes are easy, its meal boxes are free from fillers like white rice, and each meal on its menu is ready in 15 to 30 minutes.
Not only is Mindful Chef's menu rich and suitable for people with allergies and unique dietary preferences, but the service also allows you to tweak your deliveries to your needs. You can decide how you want to shape your diet, rule out ingredients you do not want to receive, and handpick every recipe in your box.
While the company's patrons mostly love it for the high-quality food and convenience it offers, there are 2 other major reasons for its popularity. The first is the fact that it caters to singles, couples, and families alike. The second is the fact that in addition to reducing the time you spend in the kitchen, it also helps you save cash.
Since all its ingredients are pre-measured, you are not wasting your cash on food that does not get used up and ends up in the trash. You further save on gas money, as you do not have to do grocery shopping yourself. You do not even pay for shipping; it is on the house. Plus, you are getting the best ingredients straight from the source at the right price. The service does not charge the same regardless of what is in the recipe box but instead adjusts the price for each item in accordance with the actual cost of the ingredients.
Keeping in mind its fair pricing, menu variety, and suitability for different home cook profiles, we can honestly say that Mindful Chef is currently among the best meal kit services in the UK.
How Does Mindful Chef Work
Mindful Chef is a subscription service, so you need to create an account before you order its meal kits. Then, you pick a meal plan in accordance with the number of people you want to cook for: 1, 2 or 4. You can order up to 5 recipes of your choice.
Each week, there are 16 simple and delicious recipes at your disposal. The number of recipes you can order depends on the number of people you are cooking for. If you are cooking for 1, you can order 3 to 5 recipes. When cooking for 2, you can select 2 to 5 meal ideas that appeal to you the most. Finally, with the 4-person option, you can order 2 or 3 recipes. In your deliveries, you receive both the recipe cards and the pre-portioned ingredients necessary to prepare the meals.
As a new patron, you get to decide whether you want to enjoy a balanced, protein-packed, pescatarian or plant-based diet. You can also let the service know which proteins you want to get in your deliveries, with the options including beef, lamb, pork, chicken, fish, shellfish, and vegan.
If you are worried about committing to a meal kit service, either due to your busy and ever-changing schedule or because you are afraid you might not like it, we are happy to say that ordering from Mindful Chef does not require any commitment and the subscriptions are incredibly flexible. You can skip a delivery up to 6 weeks in advance or you can end your subscription for whatever reason, at any time, no questions asked. On the other hand, if you need more food, you can have your recipe boxes delivered twice instead of once a week.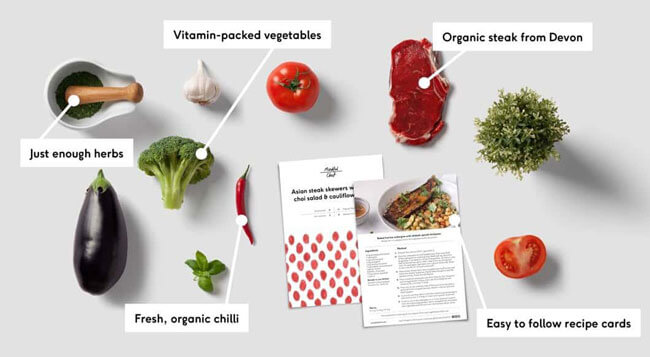 What Makes Mindful Chef Different
The meal kit market may be rich, but it is not that easy to find a company that offers only the freshest, natural ingredients and a variety of recipes that are both quick to make and suitable for people with special dietary needs. Mindful Chef offers all of the above.
The service brings you hand-picked, healthy ingredients originating from small West Country farms. Its recipes allow you to create wonderful meals in just about half an hour. As we have mentioned before in this Mindful Chef review, the menu is designed to suit the needs of veggie-lovers and people on gluten-free and dairy-free diets.
We also love that the folks behind this service do a lot to help those in need. For every meal bought, Mindful Chef donates one meal to the less fortunate. The meals are donated to schools in the poorest areas of the world and most of them go to children in Malawi and Zambia. The goal is to support education and provide those children with a healthier and happier childhood.
It is also important to note that Mindful Chef is the only meal kit service in the UK that caters for 1 person.
Mindful Chef Meals And Recipes
Mindful Chef meal options
Mindful Chef makes it easy for you to pick out the recipes that best suit your needs. First of all, every item on the menu is gluten-free and dairy-free, so people on gluten-free and dairy-free diets do not have to waste time checking all the ingredients and allergen info in order to make sure they have made a safe choice. Six recipes on the weekly menu are vegan and they are all clearly labeled. If you are looking for recipes that are really quick and simple to make, you can speed up your search by checking out the ones labeled as 15-minute recipes.
The menu changes every week and the recipes are only repeated once every 12 weeks. That gives you plenty of room to experiment and guarantees that you can enjoy a healthy and incredibly varied diet.
The main selection offers three choices: Healthy, Vegan and Family recipes. All the meals come with allergen information, as well as macros. You get the exact details about the calorie count and the amount of carbs, fat, and protein in every meal. You also get to find out which cuisine the recipes come from and which season they are best suited for.
How Much Does Mindful Chef Cost
With Mindful Chef, the price of your delivery depends on the plan you choose and the recipes you opt for. The company's meal kits normally cost £4 to £10 per portion. The general rule is that the more people you cook for, the less you pay per serving.
With the 1-person plan, the pricing starts at £8 per portion. The 2-people plan is more affordable and starts at £5.50 per portion. The 4-people plan is the most budget-friendly plan, starting at just £4 per serving.
There are no additional costs as the company offers free nationwide shipping. All meal kits come with a 100% happiness guarantee.
For every meal bought, Mindful Chef donates one meal to the less fortunate. The meals are donated to schools in the poorest areas of the world and most of them go to children in Malawi and Zambia.
Where Does Mindful Chef Deliver
Mindful Chef delivers all across the UK, including Scotland and Wales. However, some areas in the Scottish Highlands, Northern Ireland, and the Isle of Wight do not fall within the company's delivery map since the food cannot reach them in 24 hours.
Deliveries are made on Mondays, Thursdays, Fridays, and Sundays. You do not have to be at home to receive your box. Still, the service provides an estimated time of arrival on the day of delivery in case you want to pop the food in the fridge as soon as it lands on your doorstep.
Mindful Chef Pros And Cons
To make sure Mindful Chef meets all your standards and expectations, it is important to know its biggest advantages and disadvantages. With a short overview of its pros and cons, you can easily decide if Mindful Chef is the right meal kit service for you.
Pros
Locally sourced, all-natural ingredients
Gluten-free and dairy-free meals
Easy, 30-minute recipes
Suitable for vegans
Great variety
1-person plan available
Flexible subscriptions
No minimum subscription duration
Free shipping across the UK
Happiness guarantee
Cons
Not the most affordable meal kit service
Sample Dishes
If you subscribe to Mindful Chef, you can easily prepare culinary masterpieces using only the ingredients and recipes found in your meal kit box. You may not be a pro chef just yet, but with Mindful Chef, you can easily make restaurant-grade meals. You don't have to take our word for it – check out the images below to get a better idea of the types of dishes you can enjoy with Mindful Chef.
Thai Chickpea Burgers
Sundried tomato mushrooms and lentils
Roast Pork
Lamb Tikka Kebabs
Bottom Line
Mindful Chef is highly popular and for a good reason. It offers premium-quality, pre-portioned ingredients and recipes that do not require advanced cooking skills. It is the only meal kit service in the United Kingdom that is completely gluten-free and dairy-free and offers 100% vegan recipes. It is also the only UK service of this kind to offer 1-person boxes and exclusively focus on meals that take 30 minutes or less to make. Another great plus is that it offers free nationwide shipping. The prices of the meals are far from low, but considering the quality offered, they are not unreasonable either. If you want to enjoy a healthy, varied diet and spend less time cooking, recipe searching, and grocery shopping, Mindful Chef is definitely one of the best choices out there.