Compare Prices
The following price comparison is designed to help you easily figure out which of our top-ranked low-carb meal delivery services best fits your budget. We have brought all the pricing information to one place, including the shipping costs and details about the companies' delivery areas, so you can identify the perfect fit in a single glance.
Company
Avg. Meal Price
Shipping
Delivery Areas
Freshly
Avg. Meal Price
Shipping Cost
$0
Delivery Areas
The Good Kitchen
Avg. Meal Price
Shipping Cost
$0
Delivery Areas
South Beach Diet
Avg. Meal Price
Shipping Cost
$0
Delivery Areas
Home Bistro
Avg. Meal Price
Shipping Cost
$15.95-$59.95
Delivery Areas
Diet-to-Go
Avg. Meal Price
Shipping Cost
$20.00
Delivery Areas
True Fare
Avg. Meal Price
Shipping Cost
$0
Delivery Areas
Atkins Meal Delivery
Avg. Meal Price
Shipping Cost
$6.95
Delivery Areas
Pete's Paleo
Avg. Meal Price
Shipping Cost
$0
Delivery Areas
Trifecta Nutrition
Avg. Meal Price
Shipping Cost
$0
Delivery Areas
Healthy Chef Creations
Avg. Meal Price
Shipping Cost
$20.00
Delivery Areas
Paleo On The Go
Avg. Meal Price
Shipping Cost
$0
Delivery Areas
Best Low-Carb Meal Delivery Services
What all of our top picks have in common is that they are currently the best on the market. Now it is time to discover what makes each of these low-carb meal delivery services unique. Explore their distinctive features in the mini-reviews below and choose the one that best satisfies your personal needs.
1. Freshly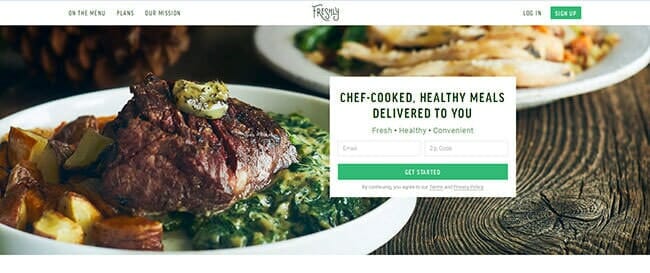 Freshly is one of the youngest meal delivery services on the market, known for its dedication to never freezing its meals, which helped develop a steady stream of loyal customers.  
All of the meals offered by Freshly are low in carbs and contain no gluten or processed sugars. They are, however, high in protein, which will help your body burn fat much faster and keep you energized throughout the day. 
2. The Good Kitchen

The Good Kitchen provides its customers with high-quality food without added sugars, processed products, additives, and preservatives. Apart from tasting delicious, its food is also professionally prepared using only organic, sustainably sourced, and non-GMO ingredients.  
Good Kitchen meal plans are divided into 2 categories (adult and kids) with 4 distinct plans in each. The company delivers its meals all across the US, including Alaska and Hawaii absolutely free of charge. 
3. South Beach Diet

South Beach Diet is a weight loss meal delivery particularly designed for individuals on low-carb diets. It allows you to easily shed pounds by enjoying tasty, ready-made, low-carb meals and snacks 6 times a day. All menu items are good for your heart, low in added sugars, and free from artificial substances. You can choose from 3 affordable 3-week meal plans that differ in the range of menu items available.
4. Home Bistro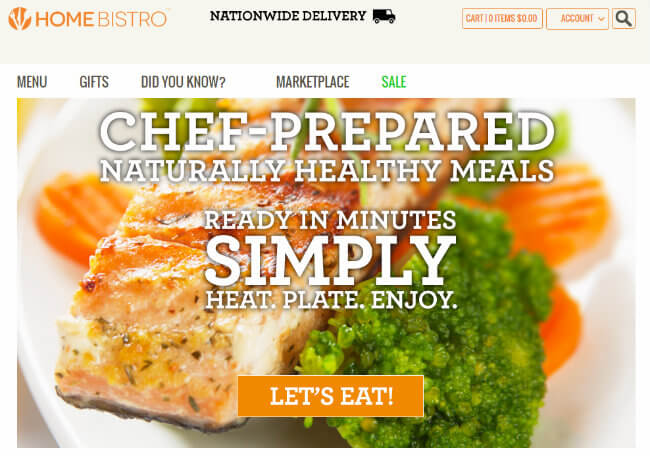 Home Bistro is a restaurant-grade gourmet meal delivery service ideal for all diets and nutritional limitations. Apart from low-carb meals and recipes, you can also find gluten-free, vegetarian, diabetic-friendly, heart-friendly, low-sodium, and Paleo options. 
A certified executive chef heads the company kitchen department and all the food is fresh frozen and delivered in insulated boxes in order to keep it fresh on delivery day and beyond.  
5. Diet-To-Go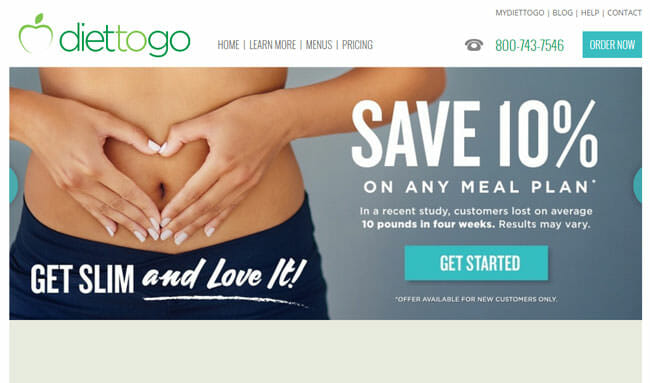 Diet-To-Go is a very innovative meal delivery service that offers a personalized selection of delicious and healthy ready-to-eat dishes based entirely on your personal taste.   All meals are perfectly portioned, nutritionally balanced, and ready to eat. Every customer is provided with 3 versions of the sample menu: Carb30, Balance, and Balance-Diabetes.  
Carb30 Menu is designed for individuals who prefer Atkins-style diets with restricted carbs. The menu replaces carbs with fats and offers a wide range of meals based on eggs, meats, and cheese. 
6. True Fare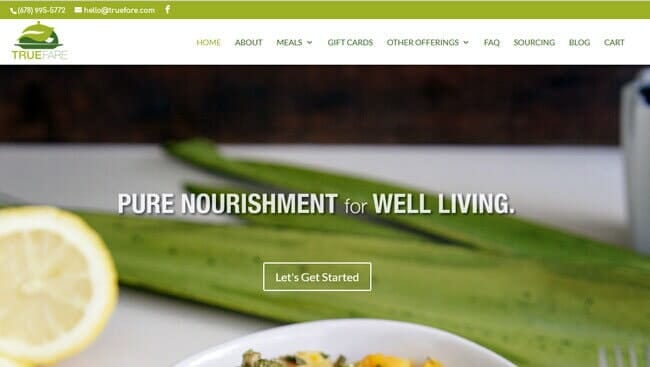 Pre-Made Paleo, which has recently been renamed to True Fare, started out by focusing on the Paleo diet and lifestyle. Over time, it also incorporated other popular diets, including keto, Whole30, and AIP.  
Two certified chefs in the company kitchen constantly work on adding new and exciting recipes that'll fit your budget and personal preferences. You can also create your custom meal plan with the A La Carte ordering option.
7. Atkins Meal Delivery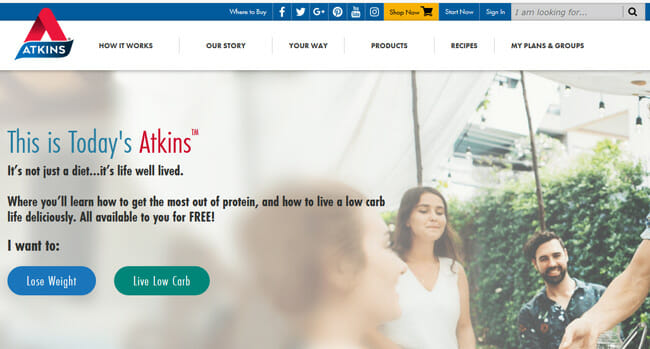 Atkins Meal Delivery is a low-carb meal delivery service designed for people who want to enjoy the benefits of the famous Atkins low-carb diet while saving plenty of time and cash. Its menu features close to 100 items, including ready-made low-carb meals, meal kits, shakes, bars, and delicious treats. The service provides low-carb meal plans and weight loss tools and resources free of charge. The prices are affordable and you can shop whenever you wish, no subscription required.
8. Pete's Paleo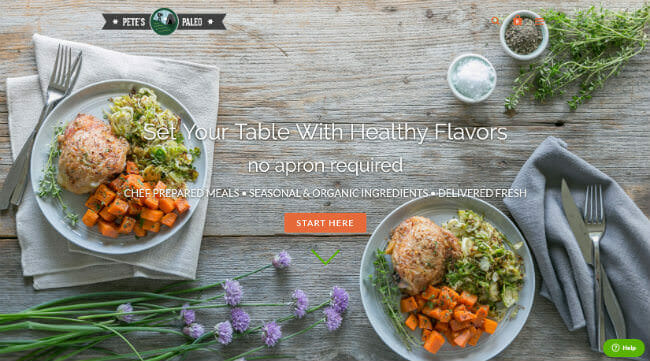 The folks over at Pete's Paleo take only the best ingredients from their partners to create a breathtaking variety of Paleo dishes that will blow your mind with flavors. The staff (sous chefs and higher) cook ingredients in different ways with a ton of amazing spices to create unique, delicious, and exciting new dishes.  
Becoming a member will give you the opportunity to taste the proprietary bacon & bone broth and read extensive written material on Paleo cooking. 
9. Trifecta Nutrition

Trifecta Nutrition was created to put a stop to our modern eating habits oriented toward fast foods, processed ingredients, take-outs, and other unhealthy choices. The company focuses on offering balanced meals made from organic and fresh ingredients at reasonable prices.  
If you so choose, you can also go for the bulk order option instead of having individual meals delivered. The food is neatly categorized into carbs, proteins, fruits, and vegetables.  
10. Healthy Chef Creations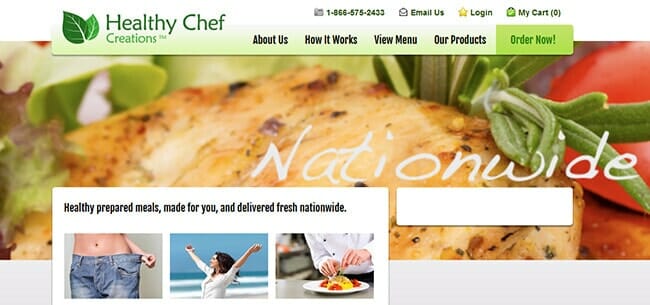 Healthy Chef Creations is a premier provider of fresh, gourmet prepared meals. It offers a wide range of wholesome options that are excellent for your health and taste amazing. The meals are also highly nutritious and specifically crafted to satisfy your nutritive requirements for the day.  
You can either pick your preferred option from a convenient meal delivery program or create a customized delivery from the A La Carte Menu that changes every week.  
11. Paleo On The Go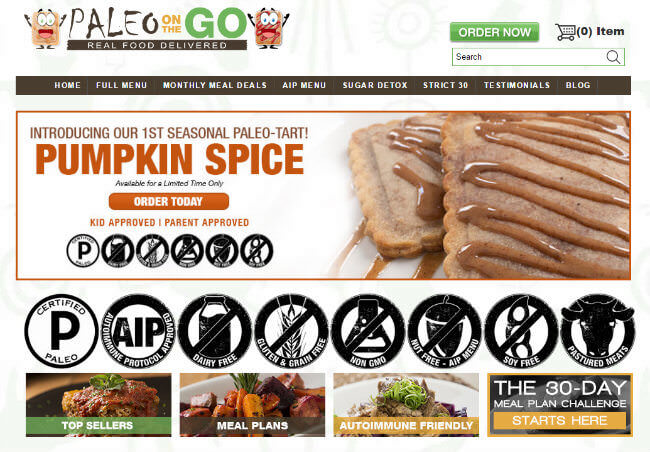 Paleo On The Go was launched in 2012 to prepare and deliver high-quality Paleo meals. Poor nutrition is one of the biggest problems of our time and we should use every possible opportunity to eat healthier and avoid processed foods.  
Paleo On The Go is a certified provider of Paleo meal plans. It only offers pastured meats and meals free of GMO, soy, nuts, dairy, gluten, and grains.