Compare Prices
The following price comparison is designed to help you easily figure out which of our top-ranked low-carb meal delivery services best fits your budget. We have brought all the pricing information to one place, including the shipping costs and details about the companies' delivery areas, so you can identify the perfect fit in a single glance.
Company
Avg. Meal Price
Shipping
Delivery Areas
Freshly
Avg. Meal Price
Shipping Cost
$0
Delivery Areas
The Good Kitchen
Avg. Meal Price
Shipping Cost
$0
Delivery Areas
South Beach Diet
Avg. Meal Price
Shipping Cost
$0
Delivery Areas
Home Bistro
Avg. Meal Price
Shipping Cost
$15.95-$59.95
Delivery Areas
Diet-to-Go
Avg. Meal Price
Shipping Cost
$20.00
Delivery Areas
True Fare
Avg. Meal Price
Shipping Cost
$0
Delivery Areas
Atkins Meal Delivery
Avg. Meal Price
Shipping Cost
$6.95
Delivery Areas
Pete's Paleo
Avg. Meal Price
Shipping Cost
$0
Delivery Areas
Trifecta Nutrition
Avg. Meal Price
Shipping Cost
$0
Delivery Areas
Healthy Chef Creations
Avg. Meal Price
Shipping Cost
$20.00
Delivery Areas
Paleo On The Go
Avg. Meal Price
Shipping Cost
$0
Delivery Areas
Benefits Of Low-Carb Meal Delivery Services
Meal delivery services come with many benefits. Having prepared meals delivered to your home address will save you a lot of time you would otherwise spend shopping for groceries and cooking. Meal delivery services offer only top-quality, fresh, and locally sourced ingredients, so you'll know exactly what you're eating and where your food comes from. Furthermore, you won't have to worry about any additives and other hazardous chemicals. Renowned low-carb meal delivery services usually partner with local farmers and fisheries, which also enables them to offer below-retail prices. 
Reducing carbs from your diet has a lot of benefits as well. More than 20 human studies on low-carb diets have been conducted since 2003, connecting low-carb and ketogenic diets not only to bigger weight loss but also major improvements in most risk factors (cholesterol included). Hunger and cravings make dieting a pretty miserable experience, which is why people usually give up on their diets. Once you cut carbs, however, your appetite will go down naturally and you'll eat fewer calories without even trying. A low-carb diet will lead to more weight loss than any other known diet, especially in the first 6 months. Your triglycerides will go down and you'll manage to reduce the harmful abdominal fat. Your blood pressure, LDL, insulin levels, and blood sugar will go down while you increase your HDL levels. 
How Are Low-Carb Meal Deliveries Different
There is as big a difference between regular meal deliveries and low-carb meal deliveries as there is between average low-carb meal delivery services and those that are actually worth your time and featured on our list. While many regular meal deliveries use carbs as affordable fillers that help them increase their profit at the expense of their customers' health, low-carb meal deliveries substitute carbs with protein and fat and reduce the number of empty calories in your meals. However, low-carb meal deliveries tend to greatly differ in their approach to this type of diet, as well as the quality of the dishes they provide.
The best low-carb meal deliveries make it easier for you to transition from a high-carb to a low-carb diet. They do not simply eliminate carbs and leave you feeling hungry and unsatisfied minutes after you have had your meal. They do not fix up a salad consisting of only lettuce or arugula and a few cherry tomatoes and call it a meal. They carefully calculate the ratio of valuable nutrients in their dishes and use high-quality proteins and fats that actually keep you feeling full for longer than if you ate a carb-loaded meal. They use flavorful spices that make the meals comforting, helping you change your mindset, and create a mental link between healthy food and the mood-elevating effects of pizza or mac and cheese.
With the right low-carb meal delivery, you do not stop enjoying food but learn how to enjoy healthy, low-carb food more. Thus, the greatest difference between the best low-carb meal deliveries and other services of this kind is that they help you effortlessly change your habits for the better and enjoy all the benefits of a low-carb diet while eating like a king. 
Choosing The Right Low-Carb Meal Delivery For You
By applying ranking criteria to each company we review, we can make sure only the best low-carb meal delivery services get a spot on our final list. We inspect every relevant aspect from the customer's point of view, making sure to list only the companies worthy of your time and money. In order to shine some light on our ranking process, we'll share some of the most important ranking factors with you. 
The overall variety of low-carb meals the company offers is our initial point of inquiry. We want to see a wide spectrum of meal options that will satisfy your dietary needs and scale with your culinary skills. Nutritional value and portion sizes are extremely important when it comes to any diet, especially one as demanding as low-carb. We don't give grades for flavor, but meal choices that leave us gasping for more definitely have the upper hand. 
Flexibility is also an important criterion since we want to provide you with subscription options you can customize according to your needs and preferences. This includes things like the length of the subscription, the frequency of your deliveries, the overall quality, type, and quantity of different meal options, and many other. Also, if you decide to take a vacation, visit your relatives or move, the option to pause your subscription can come in very handy. 
Finally, in order to make sure your investment is sound, we'll search the entire market for the best prices as compared to the value provided. 
Best Low-Carb Meal Delivery Services
What all of our top picks have in common is that they are currently the best on the market. Now it is time to discover what makes each of these low-carb meal delivery services unique. Explore their distinctive features in the mini-reviews below and choose the one that best satisfies your personal needs.
1. Freshly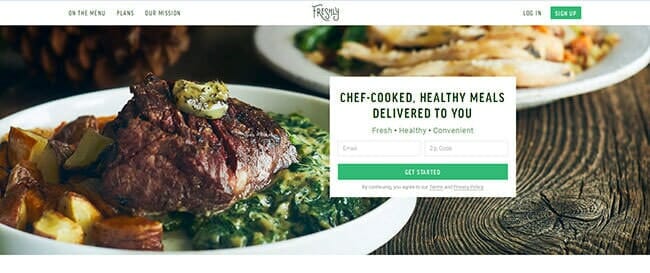 Freshly is one of the youngest meal delivery services on the market, known for its dedication to never freezing its meals, which helped develop a steady stream of loyal customers.  
All of the meals offered by Freshly are low in carbs and contain no gluten or processed sugars. They are, however, high in protein, which will help your body burn fat much faster and keep you energized throughout the day. 
2. The Good Kitchen

The Good Kitchen provides its customers with high-quality, low-carb food without added sugars, processed products, additives, and preservatives. Apart from tasting delicious, its food is also prepared using only organic, sustainably sourced, and non-GMO ingredients.  
You can opt for Paleo, keto, and Whole30-compliant dishes and enjoy low-carb delights crafted by professional chefs. The company delivers its meals all across the US, including Alaska and Hawaii.
3. South Beach Diet

South Beach Diet is a weight loss meal delivery particularly designed for individuals on low-carb diets. It allows you to easily shed pounds by enjoying tasty, ready-made, low-carb meals and snacks 6 times a day. All menu items are good for your heart, low in added sugars, and free from artificial substances. You can choose from 3 affordable 3-week meal plans that differ in the range of menu items available.
4. Home Bistro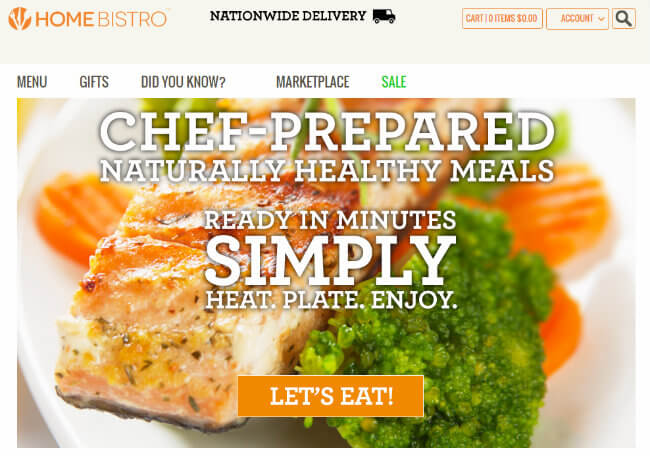 Home Bistro is a restaurant-grade gourmet meal delivery service ideal for all diets and nutritional limitations. Apart from low-carb meals and recipes, you can also find gluten-free, vegetarian, diabetic-friendly, heart-friendly, low-sodium, and Paleo options. 
A certified executive chef heads the company kitchen department and all the food is fresh frozen and delivered in insulated boxes in order to keep it fresh on delivery day and beyond.  
5. Diet-To-Go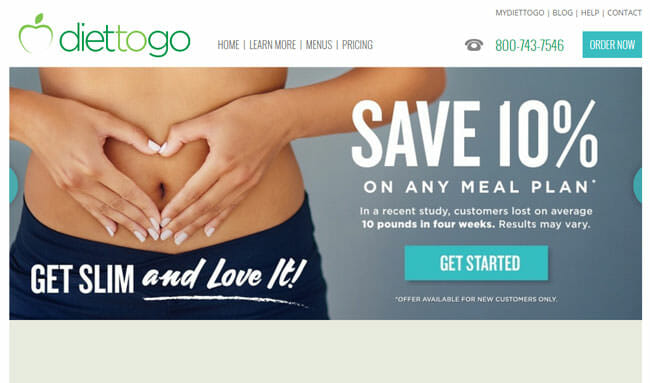 Diet-To-Go is a very innovative meal delivery service that offers a personalized selection of delicious and healthy ready-to-eat dishes based entirely on your personal taste.   All meals are perfectly portioned, nutritionally balanced, and ready to eat. Every customer is provided with 3 versions of the sample menu: Carb30, Balance, and Balance-Diabetes.  
Carb30 Menu is designed for individuals who prefer Atkins-style diets with restricted carbs. The menu replaces carbs with fats and offers a wide range of meals based on eggs, meats, and cheese. 
6. True Fare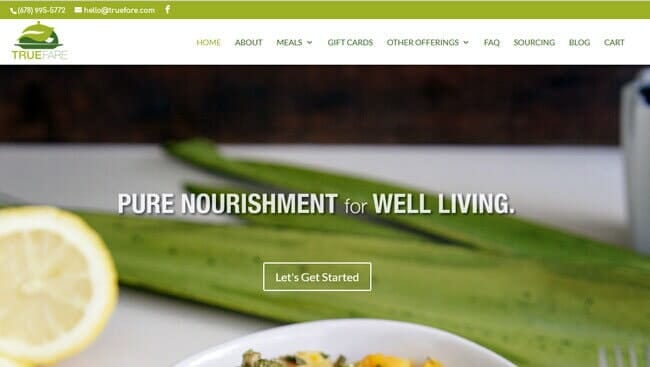 Pre-Made Paleo, which has recently been renamed to True Fare, started out by focusing on the Paleo diet and lifestyle. Over time, it also incorporated other popular diets, including keto, Whole30, and AIP.  
Two certified chefs in the company kitchen constantly work on adding new and exciting recipes that'll fit your budget and personal preferences. You can also create your custom meal plan with the A La Carte ordering option.
7. Atkins Meal Delivery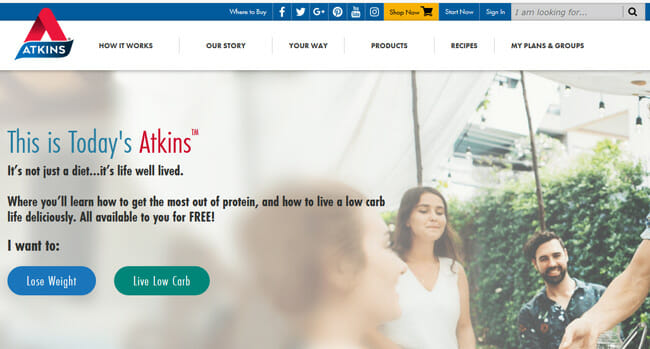 Atkins Meal Delivery is a low-carb meal delivery service designed for people who want to enjoy the benefits of the famous Atkins low-carb diet while saving plenty of time and cash. Its menu features close to 100 items, including ready-made low-carb meals, meal kits, shakes, bars, and delicious treats. The service provides low-carb meal plans and weight loss tools and resources free of charge. The prices are affordable and you can shop whenever you wish, no subscription required.
8. Pete's Paleo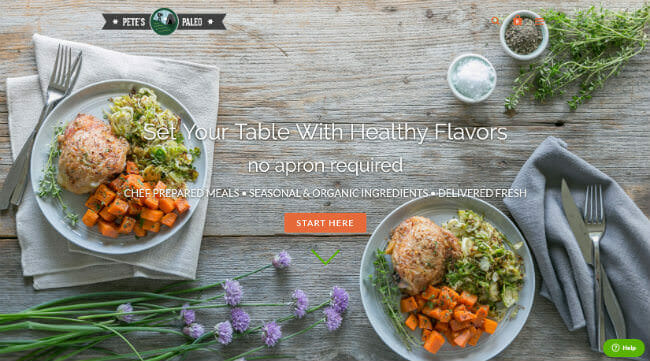 The folks over at Pete's Paleo take only the best ingredients from their partners to create a breathtaking variety of Paleo dishes that will blow your mind with flavors. The staff (sous chefs and higher) cook ingredients in different ways with a ton of amazing spices to create unique, delicious, and exciting new dishes.  
Becoming a member will give you the opportunity to taste the proprietary bacon & bone broth and read extensive written material on Paleo cooking. 
9. Trifecta Nutrition

Trifecta Nutrition was created to put a stop to our modern eating habits oriented toward fast foods, processed ingredients, take-outs, and other unhealthy choices. The company focuses on offering balanced meals made from organic and fresh ingredients at reasonable prices.  
If you so choose, you can also go for the bulk order option instead of having individual meals delivered. The food is neatly categorized into carbs, proteins, fruits, and vegetables.  
10. Healthy Chef Creations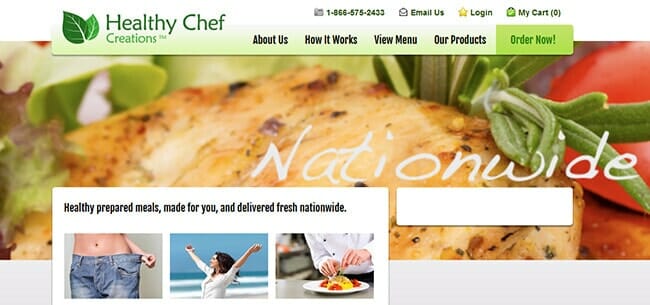 Healthy Chef Creations is a premier provider of fresh, gourmet prepared meals. It offers a wide range of wholesome options that are excellent for your health and taste amazing. The meals are also highly nutritious and specifically crafted to satisfy your nutritive requirements for the day.  
You can either pick your preferred option from a convenient meal delivery program or create a customized delivery from the A La Carte Menu that changes every week.  
11. Paleo On The Go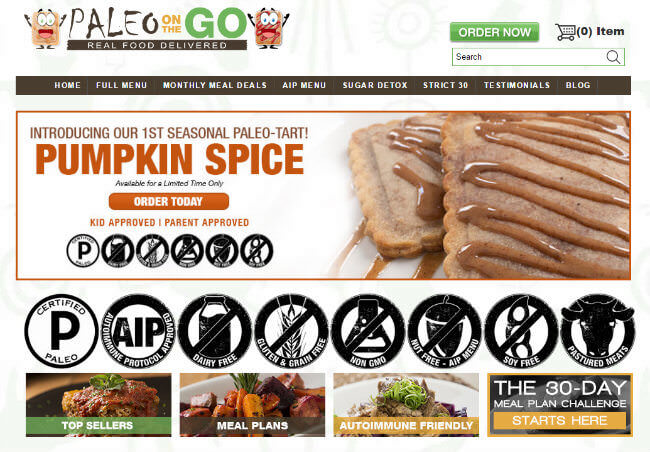 Paleo On The Go was launched in 2012 to prepare and deliver high-quality Paleo meals. Poor nutrition is one of the biggest problems of our time and we should use every possible opportunity to eat healthier and avoid processed foods.  
Paleo On The Go is a certified provider of Paleo meal plans. It only offers pastured meats and meals free of GMO, soy, nuts, dairy, gluten, and grains.