Discover The Charms Of Southern Cooking
Peach Dish Review - UPDATED Apr 2018
Peach Dish is a Georgia-based meal delivery service that delivers boxes with ingredients (or meal kits), as well as cooking instructions, to your doorstep on a weekly basis. The company places an emphasis on Southern cooking and seasonal dishes, although you can definitely expect some international, more exotic dishes on the menu every week. Our Peach Dish review will objectively explore the company's offer in an effort to help you decide if they are the right choice for you. 

Interface And Presentation
Peach Dish has a nice looking website with some neat design solutions, although they could definitely work on the organization of the site since we had to go around in circles for a while in order to figure out how the subscription works. There is a "How It Works" section, of course, but it doesn't make it immediately clear how many meals you can get and how often. We had to go to the FAQ section to learn that the standard box comes with two meals for two persons per week and that you can order meals on one-time basis, without having to subscribe.
The largest portion of the page is dedicated to recipes. You get to see the current weekly menu, as well as read about the recipes and the chefs behind them. You can also check out the Peach Dish blog with the latest updates and see the "Goodies" section where you can purchase items such as Peach Dish brine salt and a variety of desserts.
Meal Options And Variety
With Peach Dish, you get to choose between eight recipes each week. Four of them are original and you only get them that particular week while the other four are seasonal and are on the menu for several weeks. Two of those are vegetarian and the other two contain meat and/or fish and seafood.
There is a mark underneath each menu entry that indicates whether the dish is vegetarian, gluten-free, seasonal or containing a super-food, which comes in handy when choosing the dishes for the week.
Although the Peach Dish cuisine is inspired by Southern cooking, there are always fun, innovative, and delicious meals from other national and international regions. The ingredients are always fresh and usually locally sourced, except in the case of exotic spices and other ingredients that are not native to the United States.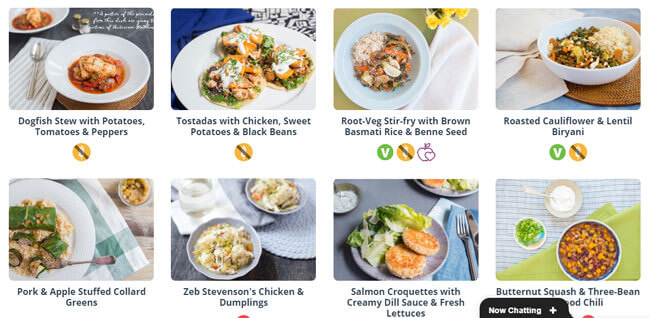 Recipes And Programs
Peach Dish does not offer any special menu plans for people with special dietary requirements and preferences, such as weight loss, Paleo, vegan, gluten-free, lactose-free, low-fat, low-calorie, kosher, etc. It also doesn't offer dishes that are 100% guaranteed allergen-free. They do, however, include at least one gluten-free dish on their weekly menu and there are always two vegetarian dishes in the seasonal menu and two veggie ones among the recipes that change on the weekly basis, as already stated at the beginning of this Peach Dish review.
Recipes are highly varied, especially those that change every week. In case you go for the standard dishes, you get the right balance of veggies, meat, dairy, and carbs. Their vegetarian dishes are exceptionally well-balanced too, as well as highly varied and original. Seasonal dishes are a particular delight since the chefs create those with special care and attention. They usually contain some trace of Southern influence and make use of the seasonal ingredients in the best possible way.
Some of the recipes you can expect from Peach Dish include Beef Hot Pot with Asian Greens, Ginger and Potatoes, Gnocchi with Chicken, Kale, Green Garlic and Lemon, Black Beans and Rice with Pickle Relish, Spicy Puttanesca Orecchiette with Olives and Pecorino, SuperFood Salad, and so on.
Pricing
Basically, a box of four meals (two meals per person, which is two dinners for two) is $12.50 per person come. If your family has more than two people, you can increase the quantity at a price break, so two meals for four people cost $90 instead of $100. The minimum requirement for the delivery is four servings (two meals for two) and the maximum is eight servings. The delivery is free nationwide.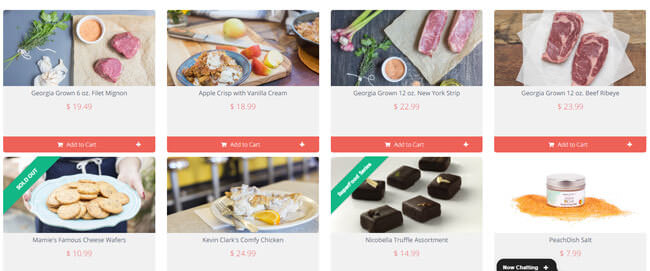 Delivery Areas
Peach Dish covers the entire continental United States. Like so many other meal delivery services, they do not cover Alaska, Hawaii, and Puerto Rico just yet. The company is based in Atlanta so your delivery times will depend on your proximity to that city.
While we are still very satisfied with PeachDish we reviewed here, there are many better options that you can find on our Top 10 Meal Delivery Services list.