PeachDish Review
Advertiser Disclosure
This website features affiliate links. For purchases made via these links, we earn commissions that allow us to keep producing helpful content. To find out more
click here
.
Close
PeachDish is a Georgia-based boxed meal delivery service that primarily seeks inspiration in the comforting Southern cuisine. Its menu is diverse and rich, the recipes are easy and innovative, the ingredients are natural and organic, ordering is simple and flexible, and the prices are reasonable.
In addition to convenient meal kits, the service offers a wealth of groceries you can add to your order, so you can pick up everything you need during the week right at its online shop. In this PeachDish review, we will explore the company's offer in greater detail in order to allow you to easily figure out whether it has what it takes to keep you full and happy and make cooking more fun and less of a chore.

How PeachDish Works
With PeachDish, you never have to sign any contracts and there are no long-term commitments. You can either opt for a flexible subscription or order as a guest. If you subscribe to the service, you receive automatic weekly deliveries and there are no additional costs – you only pay for the food you receive and shipping is free in most states. If you order as a guest, every order comes with a guest fee, but you can order as often or as rarely as you please.
Each delivery you receive from PeachDish includes the recipes of your choice, printed out on lovely cards with photos included, as well as all the ingredients you need to cook the meals, including dry goods, spices, fresh, organic produce, and humanely raised proteins. The only ingredients not included in the kits are kosher salt, black pepper, and oil – kitchen staples you should have at hand when preparing the meals.
PeachDish does not offer pre-defined meal plans but instead allows you to freely select your meals for the week and decide how many recipes you want to order. There are 20 recipes on the menu at all times, divided into 10 categories for easier browsing and ordering.
Whether you are ordering as a guest or subscriber, you can order as many meals as you wish, as long as the value of your shipment is equal to or higher than the minimum order amount (view the Pricing section of this PeachDish review for more information on the minimum order).
Subscriptions are flexible and allow you to skip a week or cancel whenever you want. You can state your desire to skip your delivery weeks in advance, but you can do it no later than the weekly cutoff, which is Sunday at 11:59 PM EST. The same goes for canceling your subscription – be sure to cancel before the weekly cutoff in order to avoid being charged for the following week.
What Makes PeachDish Different
PeachDish's menu is richer than those of most of its competitors. It does not only feature a rather large number of recipes, but it also includes recipes suitable for a variety of special diets and cooking preferences, from quick-fix dishes to vegetarian, vegan, and gluten-free meals.
One of its most attractive features is its market that features virtually everything you may need to stock up your fridge and pantry. You can order meat, seafood, pantry items, cookbooks, linens, seasonings, condiments, preserves, snacks, appetizers, sweets, pet food, quick breakfasts, beverages, and PeachDish signature kits and products, like its special salt and loose leaf tea. All market items are neatly categorized, so you can find what you need in no time.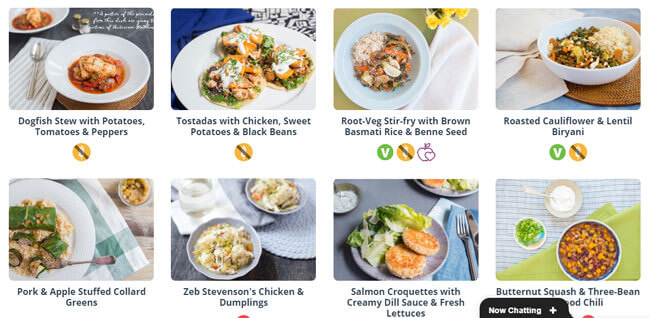 Another characteristic that sets PeachDish apart from the rest is the effort it invests in bringing only the finest ingredients to your kitchen. It sources only the freshest produce from local organic farms and gardens, it cooperates with artisan meat shops that provide humanely raised, organic meat, it gets its spices from the best artisan salt and spice studios, and it receives all its ingredients from farmers and vendors that employ the best sustainability and sourcing practices. Believing in the importance of knowing where your food comes from, PeachDish allows you to get to know all of its suppliers, so you can be sure everything on your table is completely natural and perfectly good for you.
All PeachDish products come with a 100% satisfaction guarantee. If you are not happy with certain items in your delivery, you can get a refund or return the items, as long as they are unused.
If you know someone who would appreciate a nice gift of premium-quality food, you can always turn to PeachDish. The service offers digital gift cards, physical gift cards, and lovely gift baskets, so a perfect gift is always just a click away, no matter what the occasion is.
Meals And Recipes
Like we said earlier in this PeachDish review, the service offers 20 recipes on its weekly menu. Some of the recipes are freshly crafted for the week while others are seasonal and rotated every few weeks. Therefore, there is always something new to try out, as well as a couple of safe choices that you have had the chance to try out in prior weeks.
The recipes on the menu are divided into following categories: Meat, Seafood, Vegetarian, Vegan, No Gluten Added, Quick Fix, Superfood, Ribbon, Special Kits, And Sweet Kits. Meat kits are greatly varied. Every week, there are items featuring both poultry and red meat, so you can always find at least a couple of options that suit your preferences. Usually, there are around 10 meat kits on offer.
Seafood kits are less numerous, but there are at least 3-4 seafood items on the menu every week. They feature everything from premium-quality shrimps to redfish and cod. Until recently, the service offered only 3 vegetarian recipes per week, but now it has doubled the number of vegetarian offerings. Usually, there are 3-4 dinner ideas and 2 vegetarian-friendly desserts you can try out.

Quick Fix kits allow you to prepare a gorgeous meal in just 30 to 35 minutes. They include meat, seafood, and vegetarian recipes, as well as delicious dessert ideas. Ribbon kits are unique kits that feature rare, hard-to-find ingredients. They are usually a bit pricier than others, but they allow you to discover exciting new flavors and textures, so they are more than worth the price.
Like the name suggests, Special kits are different than other kits, whether we are talking cooking techniques, occasion or origin. These include family dinners, Sunday suppers, Southern classics, slow-simmered dishes, recipes that allow you to learn new cooking techniques, recipes crafted by guest chefs, and more.
In the Sweet Kits section, you can find scrumptious desserts that are usually quick and easy to make. There are at least 2 dessert recipes on offer every week. No Gluten Added kits are quite numerous, with around 10 recipes available per week. These recipes include no gluten-containing ingredients, but they are not suitable for individuals with severe gluten allergies or people suffering from celiac disease due to potential cross-contamination.
Finally, Superfood and Vegan kits are the least numerous kits. Usually, there is 1 vegan-friendly recipe and 1 recipe featuring superfoods per week.
The recipes normally yield 2 servings, except for Special recipes like family dinners and dessert recipes, which usually yield 4 or 6 servings. The average prep and cook time is 35-60 minutes, with the only exception being slow-simmered dishes that may take as much as 3 hours to make. However, the hands-on time is rarely longer than 30 minutes, even with slow-simmered dishes. All recipes come with step-by-step instructions and they are suitable for even the least experienced home cooks.
Pricing
PeachDish kits all come with individual prices. The price per serving usually ranges from $10.99 to $19. Most kits on the menu cost around $12.50 per serving. The minimum order amount is $45 per delivery.
If you are ordering as a guest, you pay a $12 guest fee for each delivery. The guest fee is waived for subscribers. Shipping is free in most continental US states. The states where a $15 shipping fee per delivery applies include AZ, CA, CO, IA, ID, KS, ME, MN, MT, ND, NE, NM, NV, OK, OR, SD, UT, WA, and WY.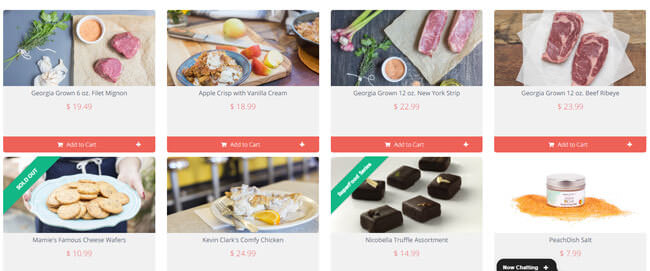 Standard PeachDish delivery
Servings
Meal kit price
Price per serving
2
$25
$12.5
4
$50
$12.5
6
$75
$12.5
8
$100
$12.5
12
$150
$12.5
Delivery Areas
PeachDish ships its meal kits throughout the United States. Like many other meal delivery services, it does not deliver to Alaska, Hawaii, and Puerto Rico just yet. You can choose the delivery day that works best for you and the available delivery days depend on your location. Deliveries are usually made between 11 am and 5 pm on the scheduled delivery day and should arrive no later than 8 pm.
PeachDish Pros And Cons
To make sure PeachDish meets all your standards and expectations, it is important to know its biggest advantages and disadvantages. With a short overview of its pros and cons, you can easily decide if PeachDish is the right meal kit service for you.
Pros
Diverse menu featuring 20 dinner and dessert recipes
Vegetarian, vegan, and gluten-free options available
Fresh, organic, locally sourced ingredients
Market section filled with premium-quality groceries and pantry items
Beginner-friendly recipes
Subscribe or order as a guest
Skip or cancel anytime
100% satisfaction guarantee
Cons
Shipping is not free in all states
Sample Dishes
If you subscribe to PeachDish, you can easily prepare culinary masterpieces using only the ingredients and recipes found in your meal kit box. You may not be a pro chef just yet, but with PeachDish, you can easily make restaurant-grade meals. You don't have to take our word for it – check out the images below to get a better idea of the types of dishes you can enjoy with PeachDish.
Hanger Steak Fig Balsamic Pan Sauce with Roasted Watercress Salad
Kevin Clark's Comfy Chicken
The Giving Kitchen Supper Club 3 Course Kit
The Giving Kitchen Supper Club Hors d'Oeuvres Kit
Bottom Line
PeachDish is a perfectly convenient organic meal kit delivery that allows you to cook effortlessly, skip grocery shopping, and discover new recipes, flavors, and cooking techniques every week. It offers a variety of recipes for special dietary needs, its recipes are always simple, its prices are quite all right, and you can pick up all the pantry items and groceries you need while shopping for delicious meal kits. You can order with or without a subscription and your deliveries come with a 100% satisfaction guarantee, so you can give PeachDish a shot completely risk-free.