Marley Spoon VS PeachDish
Wish you could eat great, healthy food every day without all the cooking, cleaning, and grocery shopping? That is exactly what Marley Spoon and PeachDish offer! If you are not sure whether to pick Marley Spoon or PeachDish, check out this comparison and find out which one can better meet your needs.

Home Cooking With Martha Stewart
VS
Discover The Charms Of Southern Cooking
Highlights

Marley Spoon provides unique meal kits crafted in cooperation with Martha Stewart, suitable for both vegetarian and omnivorous foodies, competitively priced, and designed with all cooking skill levels in mind.
Average Price Per Meal:

$9.00

Shipping Cost:

$0

Delivery Area:

48 states
PeachDish offers a wide selection of meal kits for different tastes and diets, as well as high-quality groceries and pantry items, all available for purchase with or without a subscription.
Average Price Per Meal:

$12.50

Shipping Cost:

$0

*

Delivery Area:

48 states
*
$15 state fee to the following states: AZ, CA, CO, IA, ID, KS, ME, MN, MT, ND, NE, NM, NV, OK, OR, SD, UT, WA, WY
Compare Features

Best For
Best for people who want to cook like Martha Stewart
Menu/Meal Plans
Marley Spoon has opted to include one menu in its offer, which is further divided into the 2-People and 3-4 People boxes based on the number of servings you would like to order.
Recipes/Meal Options
Each week, Marley Spoon offers 10 new recipes on its weekly menu.
Meal & Recipe Variety
Marley Spoon offers easy dinner recipes for couples and families. Its menu includes gluten-free, vegetarian, omnivore, and kid-friendly recipes. Most dishes are ready in 30-40 minutes. The recipes are highly innovative.
Food Quality
Marley Spoon provides the freshest, sustainably sourced produce, high-quality fish, grass-fed beef, Berkshire pork, antibiotic-free chicken, and artisanal products made by small-batch producers who use local ingredients.
Nutritional Value & Portion Size
The meals you make with Marley Spoon are highly satisfying and usually contain 650 to 900 calories. They are rich in nutrients and nutritionally balanced in accordance with the rules of healthy eating.
Subscription Flexibility
With Marley Spoon, you can switch between boxes, change your order, and skip, pause or cancel your delivery anytime, but you must inform the company of your changes 5 days before your next delivery is due.
Refunds
Marley Spoon boasts an awesome freshness and quality guarantee, so if you are not satisfied with your order, you may either recieve a credit or a partial or full refund.
Best For
Best for fans of the Southern cuisine
Menu/Meal Plans
Unlike most other meal kit delivery services, PeachDish doesn't offer specialized meal plans. Instead, the company provides its customer with a weekly menu to choose from.
Recipes/Meal Options
PeachDish provides 19 recipes per week.
Meal & Recipe Variety
PeachDish offers omnivore, vegetarian, vegan, and gluten-free recipes. You can choose from a variety of meaty, veggie, and seafood items suitable for lunch and dinner and delicious desserts to satisfy your sweet tooth. On weekdays, you can enjoy quick-fix, 30-minute recipes. On weekends, you can try out new cooking techniques.
Food Quality
PeachDish is incredibly transparent about its sourcing practices, allowing you to get to know all of its suppliers, including local organic farms and gardens, artisan meat shops offering the freshest organic meat, artisan salt and spice studios, and other farmers and vendors that provide the finest natural food in the country.
Nutritional Value & Portion Size
PeachDish uses only natural ingredients rich in nutrients and has a huge team of professional chefs who make sure the ratio of micronutrients and macronutrients is just right. The service does not impress when it comes to portion size but does not leave you hungry either.
Subscription Flexibility
With PeachDish, you can make changes to your subscription at any time. You can pause, skip or cancel your order whenever it suits you. All changes to your subscription must be made before Sunday at 11:59PM EST.
Refunds
You may receive a refund if you are unsatisfied with your delivery from PeachDish and return the item or items in 'unused conditions.'
Compare Plans & Pricing

Marley Spoon Plans & Pricing
Two Person Plan (2 servings)
Meals per week
Meal kit price
Price per serving
2
$48.00
$12.00
3
$61.50
$10.25
4
$76.00
$9.50
3-4 People Plan (3-4 servings)
Meals per week
Meal kit price
Price per serving
2
$76.00
$9.50
3
$106.80
$8.90
4
$131.20
$8.20
PeachDish Plans & Pricing
Standard PeachDish delivery
Servings
Meal kit price
Price per serving
2
$25
$12.5
4
$50
$12.5
6
$75
$12.5
8
$100
$12.5
12
$150
$12.5
Suitable For

Meals For Families
Meals For Kids
Meals For Seniors
Meals For One
Meals For Families
Meals For Kids
Meals For Seniors
Meals For One
Compare Meal Options

Vegetarian Meals
Vegan Meals
Paleo Meals
Keto Meals
Low-Carb Meals
Low-Fat Meals
Meals For Diabetics
Gluten-Free Meals
Organic Meals
Weight Loss Meals
Vegetarian Meals
Vegan Meals
Paleo Meals
Keto Meals
Low-Carb Meals
Low-Fat Meals
Meals For Diabetics
Gluten-Free Meals
Organic Meals
Weight Loss Meals
Compare Sample Meals

Spring Chicken Grain Bowl
Pork Dan Dan Noodles
Grilled Steak Fajitas
Creamy Tortelloni Casserole
Hanger Steak Fig Balsamic Pan Sauce with Roasted Watercress Salad
Kevin Clark's Comfy Chicken
The Giving Kitchen Supper Club 3 Course Kit
The Giving Kitchen Supper Club Hors d'Oeuvres Kit
Compare Extras

A La Carte Menu
Gift Cards
Marketplace
A La Carte Menu
Gift Cards
Marketplace
Compare User Reviews

Submitted By Tori Swejk

This company has horrible customer service, which is not good as they can't seem to ship boxes properly. I personally received a broken box, with meat and ice packs broken and red goo all over everything (gel+meat juice = gross). a friend of mine tried and her meat came spoiled. If you look at marley spoon's facebook (what they dont delete anyways) there are pictures of moldy food, and countless stories of bad customer service and spoiled meat. I am personally blocked and my review deleted. I ordered a box and recieved it 7/25. it was my second box, i paid full price. It was busted and i promptly contacted customer service. i was told i'd get a refund and a free box for the inconvenience. refund in 7-10 days. I was traveling so i skipped a few boxes. 10 business days go by- no refund. I contact them again. They tell me OOPS we had a mistake we will issue it now. Friday comes along, and I got charged for my "free" box. That was it, patience over, guns blazing. I posted my story all over, customer service was rude to me when i asked why i was charged for my free box... i was livid. They blocked me and deleted my review on facebook. Still no refund. I shared my story on my facebook page and people went to their facebook and reshared my review (i'm still blocked). I eventually filed a paypal claim since I THANKFULLY paid that way for the busted box. Customer service has been sending me emails and i responded and alerted them of the paypal dispute, and they told me "they couldnt issue my refund unless I canceled the claim". 1) my refund was supposed to have already been issued. if thats the case, they can put that in paypal and it will close the claim. 2) asking me to cancel a paypal claim would void my protection and leave them in the position to never have to refund me. I posted about this as well, with many facebook friends chiming in that they will now never use this service. a few hours later, no more word from marley spoon, and now i have a refund on paypal! I didnt even have to wait 7-10 more days

Submitted By Krista Barnes on 08/01/2018

Only one star since 0 isn't an option. Terrible. I am a member of 4 meal kit deliveries this is the worst. First off, the food is never delivered as cold as my other kits. Also the packing material is subpar compared to other kits. Paper bags stuffed with insulation type filling that was ripped and spilled all over my food. Received my first two orders, then skipped a week due to leaving for vacation, but SUPRISE! I was still charged and received a box of food. Customer service did nothing to assist offered no resolution. I contacted them prior to receiving my box (once I saw an email stating my box would be shipping) and nothing was addressed. All the recipes in the box I didn't order are nothing I want to eat. Pricing most expensive meal kit after your initial little discount you receive.

Submitted By Bill on 07/30/2018

Bait and Switch!!! I heard Martha offer 3 Free meals, never once mentioned a credit towards 6 meals!!! Shame on you Martha!!! I felt bad when Martha was sent to prison, perhaps she deserved it!!!

Submitted By Teresa Finley on 07/27/2018

I have been a customer for 5 weeks. This has been my first experience with a meal delivery subscription. The food was wonderful. What I received that was safe to eat. Plus delivery was a major, major issue. The very first delivery, I received after 11 pm on my delivery day of Wednesday. It included all listed ingredients and both my husband and myself were surprisingly thrilled. We agreed to make these recipes ourselves. Because I was concerned about my box being late I did contact customer service via email and was given a ten dollar credit. Week 2 was a holiday week. My delivered was moved to Tuesday. It arrived in the middle of the day. All ingredients were included. We were happy with our menu choices, but it was unlikely we would cook these on our own. Week 3 my delivery arrived a day late, We loved one of the meals, but the second one was just not pleasing to our taste buds. Due to the delivery arriving a full day late, I was again given a ten dollar credit from customer service via an e mail conversation. Week 4. My delivery was a day late, again. But this time I wasn't home to receive it. So it sat outside all morning. In the summer heat of Las Vegas. I called once again. Because the protein and all cold items were warm and the ice packs were completely melted they did give me a credit for the full amount. I told customer service that if it happened again, I would cancel the service. They were very helpful and friendly. My only issue was actually getting through on the phone. I was hung up on by the auto service twice because they were too busy to help me. I was advised by "Martha Stewart" to try again later. Click. Week 4 rolls around. I had changed my delivery day to Tuesday, hoping that it would arrive on time. Nope. Again a day late and well past dinner time this time. We had pizza delivered. It was pretty good, but not what I was looking for. My box was warm and all items were unsafe. But I had already called customer service, after unsubscribing on line, and a very nice man listened to my complaints. He was my 2nd call because the first woman gave me incorrect information about tracking my delivery. Something I had asked about previously and received no answer on. Due to the time and the info the CS rep was able to find regarding tracking, he gave me a full refund, not a credit. I had stated that I believed my box had spent at least a day and a half sitting in a warehouse without air conditioning then loaded on a truck, also without air conditioning. He didn't make me wait for my delivery so I didn't have to call back. Once again the box items were warm and the ice packs were melted. I just might try this again, but never in the summertime. I loved the recipes we were able to make and am disappointed in the offerings from other services. So come fall, I will give them another shot, to see if they have fixed the delivery schedule issue.
Submitted By Leslie Andersen on 03/19/2018

The meal selection is good. The produce arrives fresh. The ability to 'shop at the market' is great. The recipes are easy to follow. But.... the packing and delivery is awful. I tried PeachDish for about 8 weeks. Half the time the box arrive without damage but inside was a different story. Lamb juices leaked all over everything in the box. Another time the heavy cream container was empty ... where was the cream ... all over everything in the box. One box never arrived. And the nightmares went on until I cancelled my membership. In the beginning, PeachDish was responsive but later on I never received a response to my concerns and problems. I have switched to HomeChef and LOVE them.

Submitted By Marleen on 0109/2018

I got Peachdish for months and I loved it. The recipes are mostly delicious and easy to follow, and the ingredients are almost all sustainably sourced so I felt ok about eating meat and dairy. They also offer quite a few whole grains and vegetables. As per some other reviews, it seems obvious to me that if you don't want to use a lot of salt, don't use it! I always salt to taste. I've tried several other meal kit services and this was by far the best. The big downside is, of course, the price... but sometimes you get what you pay for.

Submitted By Mary on 09/10/2017

My daughter gave me a subscription for a gift. I ordered 2 of the vegetarian dishes and did not eat either one. I threw them out after eating a few bites . They had no flavor. The vegetables were not fresh. I actually went to the store and bought fresh vegetables before I cooked their recipe. Awful. One recipe said to use 1 tablespoon of olive oil to sauté the eggplant. You need far more than that to sauté eggplant.

Submitted By Emily Johnston on 07/13/2017

This food is being sent from heaven, I'm telling you. I always get what I've ordered, in big amounts and the meals always turn out great. Recipes are so good that even I can cook like a pro.
Winner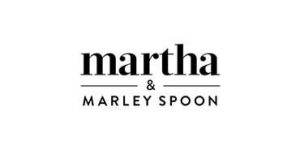 Marley Spoon is a meal kit delivery that brings you world-famous recipes created by Martha Stewart, transformed into 6-step instructions everyone can follow. Along with the recipes, you get flavor-packed, farm-fresh, pre-measured ingredients. Discover more in our honest review of the service and 50+ customer-written Martha and Marley Spoon reviews.