Marley Spoon Vs. PeachDish
Wish you could eat great, healthy food every day without all the cooking, cleaning, and grocery shopping? That is exactly what Marley Spoon and PeachDish offer! If you are not sure whether to pick Marley Spoon or PeachDish, check out this comparison and find out which one can better meet your needs.

Home Cooking With Martha Stewart
VS
Discover The Charms Of Southern Cooking
Highlights

Marley Spoon provides unique meal kits crafted in cooperation with Martha Stewart, suitable for both vegetarian and omnivorous foodies, competitively priced, and designed with all cooking skill levels in mind.
Average Price Per Meal:

$9.00

Shipping Cost:

$0

Delivery Area:

48 states
PeachDish offers a wide selection of meal kits for different tastes and diets, as well as high-quality groceries and pantry items, all available for purchase with or without a subscription.
Average Price Per Meal:

$12.50

Shipping Cost:

$0

*

Delivery Area:

48 states
*
$15 state fee to the following states: AZ, CA, CO, IA, ID, KS, ME, MN, MT, ND, NE, NM, NV, OK, OR, SD, UT, WA, WY
Compare Features

Best For
Best for people who want to cook like Martha Stewart
Menu/Meal Plans
Marley Spoon has opted to include one menu in its offer, which is further divided into the 2-People and 3-4 People boxes based on the number of servings you would like to order.
Recipes/Meal Options
Each week, Marley Spoon offers 10 new recipes on its weekly menu.
Meal & Recipe Variety
Marley Spoon offers easy dinner recipes for couples and families. Its menu includes gluten-free, vegetarian, omnivore, and kid-friendly recipes. Most dishes are ready in 30-40 minutes. The recipes are highly innovative.
Food Quality
Marley Spoon provides the freshest, sustainably sourced produce, high-quality fish, grass-fed beef, Berkshire pork, antibiotic-free chicken, and artisanal products made by small-batch producers who use local ingredients.
Nutritional Value & Portion Size
The meals you make with Marley Spoon are highly satisfying and usually contain 650 to 900 calories. They are rich in nutrients and nutritionally balanced in accordance with the rules of healthy eating.
Subscription Flexibility
With Marley Spoon, you can switch between boxes, change your order, and skip, pause or cancel your delivery anytime, but you must inform the company of your changes 5 days before your next delivery is due.
Refunds
Marley Spoon boasts an awesome freshness and quality guarantee, so if you are not satisfied with your order, you may either recieve a credit or a partial or full refund.
Best For
Best for fans of the Southern cuisine
Menu/Meal Plans
Unlike most other meal kit delivery services, PeachDish doesn't offer specialized meal plans. Instead, the company provides its customer with a weekly menu to choose from.
Recipes/Meal Options
PeachDish provides 19 recipes per week.
Meal & Recipe Variety
PeachDish offers omnivore, vegetarian, vegan, and gluten-free recipes. You can choose from a variety of meaty, veggie, and seafood items suitable for lunch and dinner and delicious desserts to satisfy your sweet tooth. On weekdays, you can enjoy quick-fix, 30-minute recipes. On weekends, you can try out new cooking techniques.
Food Quality
PeachDish is incredibly transparent about its sourcing practices, allowing you to get to know all of its suppliers, including local organic farms and gardens, artisan meat shops offering the freshest organic meat, artisan salt and spice studios, and other farmers and vendors that provide the finest natural food in the country.
Nutritional Value & Portion Size
PeachDish uses only natural ingredients rich in nutrients and has a huge team of professional chefs who make sure the ratio of micronutrients and macronutrients is just right. The service does not impress when it comes to portion size but does not leave you hungry either.
Subscription Flexibility
With PeachDish, you can make changes to your subscription at any time. You can pause, skip or cancel your order whenever it suits you. All changes to your subscription must be made before Sunday at 11:59PM EST.
Refunds
You may receive a refund if you are unsatisfied with your delivery from PeachDish and return the item or items in 'unused conditions.'
Compare Plans & Pricing

Marley Spoon Plans & Pricing
Two Person Plan (2 servings)
Meals per week
Meal kit price
Price per serving
2
$48.00
$12.00
3
$61.50
$10.25
4
$76.00
$9.50
3-4 People Plan (3-4 servings)
Meals per week
Meal kit price
Price per serving
2
$76.00
$9.50
3
$106.80
$8.90
4
$131.20
$8.20
PeachDish Plans & Pricing
Standard PeachDish delivery
Servings
Meal kit price
Price per serving
2
$25
$12.5
4
$50
$12.5
6
$75
$12.5
8
$100
$12.5
12
$150
$12.5
Suitable For

Meals For Families
Meals For Kids
Meals For Seniors
Meals For One
Meals For Families
Meals For Kids
Meals For Seniors
Meals For One
Compare Meal Options

Vegetarian Meals
Vegan Meals
Paleo Meals
Keto Meals
Low-Carb Meals
Low-Fat Meals
Meals For Diabetics
Gluten-Free Meals
Organic Meals
Weight Loss Meals
Vegetarian Meals
Vegan Meals
Paleo Meals
Keto Meals
Low-Carb Meals
Low-Fat Meals
Meals For Diabetics
Gluten-Free Meals
Organic Meals
Weight Loss Meals
Compare Sample Meals

Spring Chicken Grain Bowl
Pork Dan Dan Noodles
Grilled Steak Fajitas
Creamy Tortelloni Casserole
Hanger Steak Fig Balsamic Pan Sauce with Roasted Watercress Salad
Kevin Clark's Comfy Chicken
The Giving Kitchen Supper Club 3 Course Kit
The Giving Kitchen Supper Club Hors d'Oeuvres Kit
Compare Extras

A La Carte Menu
Gift Cards
Marketplace
A La Carte Menu
Gift Cards
Marketplace
Compare User Reviews

Submitted By Andrew Hall on 05/12/2018

Marley Spoon started out great for us. Really super inventive tasty recipes and quality ingredients. In the past few months it has started to decline precipitously. Lots of missing ingredients, spoiled food, punctured package, late deliveries. Not sure what is going on but seems like they are having significant growing pains...

Submitted By Jessie on 04/10/2018

The recipes were easy to follow and the food was fresh and tasted pretty good. BUT the recipes I had to choose from were all very high in calories and fat. I also thought the protein portions were very small. While the taste factor was there, it wasn't good enough to be worth the calories!

Submitted By debbie stavish on 03/31/2018

The food was very good. The chicken was super tender. All ingredients fresh. Less recycle than hello fresh which I liked. The wrong recipe came with one of the dishes but we looked it up in line after calling customer service twice with no response/follow up from them. That part was frustrating enough for us to give Blue Apron a shot. Yet I may come back depending...

Submitted By Sarah on 03/30/2018

We have been using the Martha Stewart meals for six months and love them. The delivery is always on time and the only time we had a missing ingredient was when I ordered the Christmas Cookies box. The produce and meat is so fresh. Portions are very large and easy recipes to follow. We have three meals per week and can't imagine life without this service. Perfect for a busy couple.
Submitted By Leslie Andersen on 03/19/2018

The meal selection is good. The produce arrives fresh. The ability to 'shop at the market' is great. The recipes are easy to follow. But.... the packing and delivery is awful. I tried PeachDish for about 8 weeks. Half the time the box arrive without damage but inside was a different story. Lamb juices leaked all over everything in the box. Another time the heavy cream container was empty ... where was the cream ... all over everything in the box. One box never arrived. And the nightmares went on until I cancelled my membership. In the beginning, PeachDish was responsive but later on I never received a response to my concerns and problems. I have switched to HomeChef and LOVE them.

Submitted By Marleen on 0109/2018

I got Peachdish for months and I loved it. The recipes are mostly delicious and easy to follow, and the ingredients are almost all sustainably sourced so I felt ok about eating meat and dairy. They also offer quite a few whole grains and vegetables. As per some other reviews, it seems obvious to me that if you don't want to use a lot of salt, don't use it! I always salt to taste. I've tried several other meal kit services and this was by far the best. The big downside is, of course, the price... but sometimes you get what you pay for.

Submitted By Mary on 09/10/2017

My daughter gave me a subscription for a gift. I ordered 2 of the vegetarian dishes and did not eat either one. I threw them out after eating a few bites . They had no flavor. The vegetables were not fresh. I actually went to the store and bought fresh vegetables before I cooked their recipe. Awful. One recipe said to use 1 tablespoon of olive oil to sauté the eggplant. You need far more than that to sauté eggplant.

Submitted By Emily Johnston on 07/13/2017

This food is being sent from heaven, I'm telling you. I always get what I've ordered, in big amounts and the meals always turn out great. Recipes are so good that even I can cook like a pro.
Winner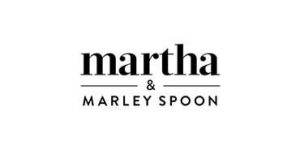 Marley Spoon is a meal delivery service that brings you world-famous recipes created by Martha Stewart, transformed into easy 6-step instructions everyone can follow. Along with the recipes, you get premium-quality ingredients brought straight from the farm into your weekly delivery. Learn more about this company's offer in this Marley Spoon review.