Compare Prices
The following price comparison is designed to help you easily figure out which of our top-ranked prepared meal delivery services best fits your budget. We have brought all the pricing information to one place, including the shipping costs and details about the companies' delivery areas, so you can identify the perfect fit in a single glance.
Company
Avg. Meal Price
Shipping
Delivery Areas
Freshly
Avg. Meal Price
Shipping Cost
$0
Delivery Areas
Bistro MD
Avg. Meal Price
Shipping Cost
$19.95
Delivery Areas
The Good Kitchen
Avg. Meal Price
Shipping Cost
$0
Delivery Areas
Home Bistro
Avg. Meal Price
Shipping Cost
$15.95-$59.95
Delivery Areas
Veestro
Avg. Meal Price
Shipping Cost
$0
Delivery Areas
Diet-to-Go
Avg. Meal Price
Shipping Cost
$20.00
Delivery Areas
True Fare
Avg. Meal Price
Shipping Cost
$0
Delivery Areas
Trifecta Nutrition
Avg. Meal Price
Shipping Cost
$0
Delivery Areas
Healthy Chef Creations
Avg. Meal Price
Shipping Cost
$20.00
Delivery Areas
Paleo On The Go
Avg. Meal Price
Shipping Cost
$0
Delivery Areas
Benefits Of Prepared Meal Delivery Services
There will always be days when cooking is not an option and all you need is a quick and easy way to satisfy your growing hunger. However, that does not mean that you have to settle for less-than-healthy options like fast food and takeout. There are plenty of perfectly simple, healthy, and delicious solutions on the market and we have singled out the best currently available. Prepared meal delivery services are the optimal solution for effortless home dining and here are the reasons why.
With these services, you can always have a whole range of delicious, ready-to-eat meals right there in your fridge. All you need to do is choose the meals you like, click the order button, and get a week's worth of delicious food delivered to your home. No stress, no effort, just pure enjoyment in the form of gorgeous meals prepared for you by professional chefs.
The best prepared meal delivery services have varied menus designed to suit different tastes and accommodate a variety of dietary restrictions. They do all the work for you and offer convenient home delivery while setting reasonable prices that fit most budgets. They are usually more affordable than takeout and offer meals of higher-quality.
To recapitulate, prepared meal delivery services allow you to eat what you love without spending any time in the kitchen, they make sure their meals suit your needs, they offer incredible convenience, and they may even help you save some cash. It does not get much better than that.
How Are The Best Prepared Meal Delivery Services Different
All prepared meal delivery services offer great convenience. However, they largely differ in terms of quality, variety, and flexibility. The best prepared meal delivery companies invest great efforts into providing a perfect ordering and home dining experience and making sure you are satisfied with every aspect of the service.
They offer easy ordering, without any annoying limitations. They let you order what you want, as much as you want, and whenever you want. They let you skip deliveries, pause your subscription, cancel at any time, and even order without a subscription, so you can schedule your deliveries in accordance with your needs.
They use only the best ingredients and hire the best chefs. They offer everything from well-loved classics to exciting, exotic dishes for adventurous foodies. They create meals that are both nutritious and delicious, so you can take care of your body while pleasing your palate. They always feature a variety of special diet options on their menus, ranging from vegan and vegetarian dishes to keto and AIP-friendly meals. They go to great lengths to satisfy their patrons' needs and desires and leave plenty of room for customization, so every meal you get is just what you have been craving.
They may offer luxurious meals for special occasions but mostly focus on healthy and tasty meals that you can afford to enjoy on an everyday basis. They provide special benefits in the form of discounts, free delivery, and other perks that make their offers even more appealing. They truly care about keeping their customers happy and that is what makes them essentially different from many others that are just looking to make a profit.
Choosing The Right Prepared Meal Delivery Service For You
Our selection method is as simple as it is thorough. When choosing the best prepared meal delivery services for you, we carefully examine every aspect of the services they provide, compare them in terms of how well they satisfy our criteria, and only feature the ones that receive the highest scores on each criterion. Here is a quick overview of our selection process.
We first analyze the companies' menus and rate them in relation to the criteria of variety and meal options. We choose the companies that offer a large number of dishes on their menus, whose offers are diverse enough to satisfy different preferences, and whose menus include a range of special diet options.
Second, we taste and analyze individual meals and determine their nutritional value. What we look for are optimally balanced meals, rich in valuable nutrients, and made from healthy, natural ingredients. We further focus on portion size and determine whether the meals can satisfy the appetites of the vastest majority of home diners.
In the third step of our selection process, we examine subscription flexibility and establish whether our short-listed companies offer the best value for your money. We choose the ones that allow you to easily modify and cancel your subscription and freely customize your orders and exclude the companies that charge prices that are too high to fit an average budget.
Only the companies that meet or exceed our expectations and perfectly satisfy all of our objective criteria are the ones that are worthy of a spot on our top list.
Best Prepared Meal Delivery Companies
What all of our top picks have in common is that they are currently the best on the market. Now it is time to discover what makes each of these prepared meal delivery companies unique. Explore their distinctive features in the mini-reviews below and choose the one that best satisfies your personal needs.
1. Freshly

Freshly is a gluten-free meal delivery service that allows you to enjoy amazing gourmet meals guilt-free. Its meals are professionally crafted, rich in protein, and low in carbs and sugars, which makes them perfectly satisfying and good for your body. All the meals on the menu are free from gluten and there are plenty of options for Paleo lovers and diabetics as well. Choose from nearly 30 delicious entrées and breakfasts.
2. BistroMD

BistroMD is a weight loss meal delivery service that offers personalized weight loss solutions. It does not only offer separate plans for men and women but also has excellent gluten-free, diabetic, menopause, and senior plans. Its meals are light and nutritious and focus on lean protein, healthy fats, and complex carbs. Its menu includes more than 150 breakfasts, lunches, dinners, and snacks, all low in calories and rich in flavor.
3. The Good Kitchen


The Good Kitchen is an organic meal delivery service that cooks and delivers delightful meals for the whole family. Its fully customizable meal plans can suit the needs of everyone from singles to large families. You can choose to order anywhere between 5 and 35 single-serving meals and have them delivered weekly, biweekly or monthly. The menu includes around 10 delicious items, including gluten-free, keto-friendly, Paleo, and Whole30-compliant meals. Handpick your meals, order multiple portions of the same dish, and decide on delivery frequency.
4. Home Bistro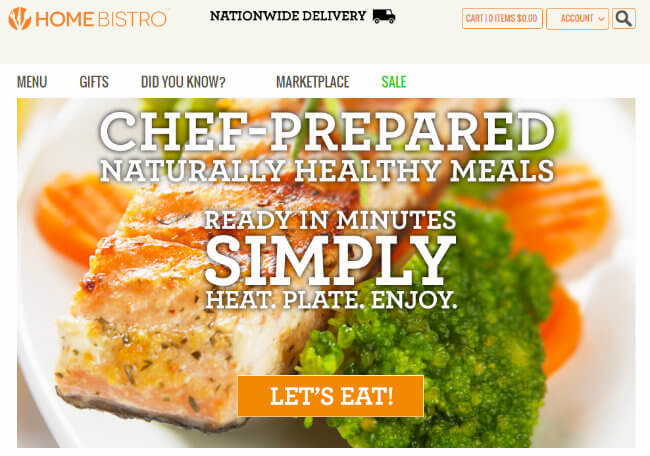 Home Bistro is a healthy meal delivery service with a rich menu featuring dozens of impressive, professionally cooked gourmet meals for different tastes. The selection includes a variety of vegetarian, Paleo, diabetic-friendly, Mediterranean, heart-friendly, gluten-free, low-sodium, and low-carb delights. Home Bistro meals contain only the freshest, highest-quality ingredients and they are prepared by an amazing chef who is ranked in the top 1% of all chefs in the US.
5. Veestro


Veestro is a vegan meal delivery service that offers some of the most delicious plant-based meals available on the market. Its menu includes a variety of organic breakfasts, entrées, soups, desserts, and juices. You can order a la carte, opt for a weight loss meal plan or juice cleanse or order some of the excellent meal packs, including kosher and gluten-free packs, wedding prep combo, meatless Monday pack, and more.
6. Diet-To-Go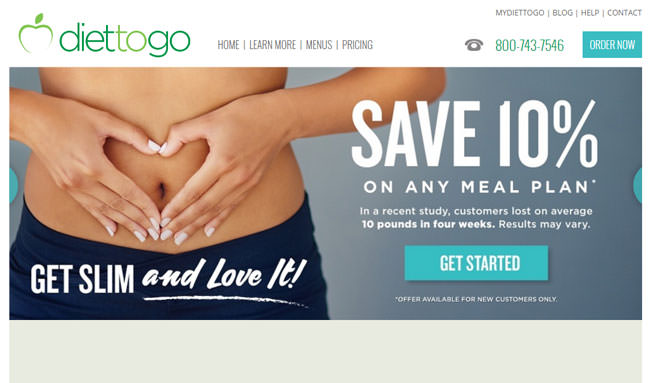 Diet-To-Go is a weight loss meal delivery service that has been around for more than 25 years. Since its launch, it has helped numerous dieters achieve their weight goals by providing them with healthy and delicious portion-controlled meals. At your disposal, there are 4 meal plans, including the heart-healthy Balance plan, rated #1 for taste by Epicurious, Balance-Diabetes, particularly designed for diabetics, Atkins-like, carb-restricted Carb30 plan, and Balance for Vegetarians.
7. Pre-Made Paleo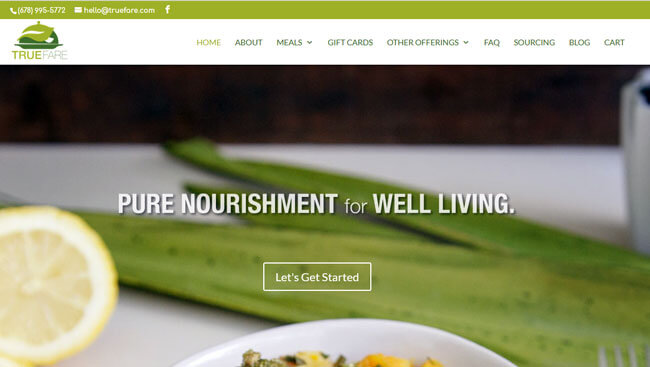 Pre-Made Paleo has recently changed its name to True Fare but the impeccable quality of its meals has remained unchanged. This top-notch Paleo meal delivery does not only offer delicious Paleo meals but also provides gorgeous meals for people on the AIP and keto diets, as well as meals that comply with the guidelines of several strict 30-day diets, including Whole30. Striving to provide only the best to its patrons, the service exclusively uses natural, organic ingredients.
8. Trifecta Nutrition

Trifecta Nutrition is an organic meal delivery that offers 5 excellent meal plans for healthy diets, as well as a la carte ordering. Its meals are made from certified organic ingredients, they are free from gluten, dairy, and soy, and suitable for omnivores, vegetarians, vegans, and people on the Paleo and clean diets. Easily avoid ingredients you dislike by ordering cooked meat, fish, eggs, and carby and veggie sides separately.
9. Healthy Chef Creations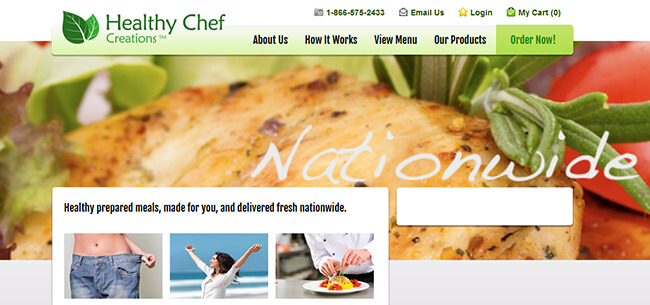 Healthy Chef Creations is a healthy meal delivery that offers natural, organic meals designed to help you improve your well-being. You can opt for its pre-defined weight loss or healthy living plan or create a custom plan by handpicking wholesome, gourmet meals from the a la carte menu.  The service offers a wide variety of breakfasts, lunches, dinners, and desserts, as well as meals designed for children, with plenty of vegetarian, vegan, low-carb, and gluten-free options on the menu.
10. Paleo On The Go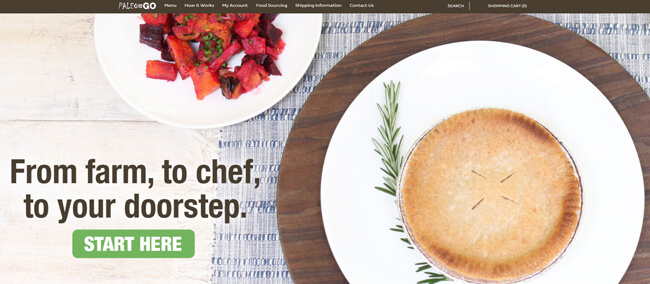 Paleo On The Go is an excellent Paleo meal delivery service that offers non-GMO, certified Paleo meals that never contain any gluten, grain, soy or dairy. It employs the best sourcing practices and designs perfectly natural and flavorful meals suitable for people on the AIP and keto diets, as well as strict 30-day reset diets like Whole30. Choose from dozens of delicious meals and desserts and save cash with affordable meal bundles.