Compare Prices
The following price comparison is designed to help you easily figure out which of our top-ranked healthy meal prep delivery services best fits your budget. We have brought all the pricing information to one place, including the shipping costs and details about the companies' delivery areas, so you can identify the perfect fit in a single glance.
Company
Avg. Meal Price
Shipping
Delivery Areas
Sunbasket
Avg. Meal Price
Shipping Cost
$6.99
Delivery Areas
Green Chef
Avg. Meal Price
Shipping Cost
$7.99
Delivery Areas
Marley Spoon
Avg. Meal Price
Shipping Cost
$0
Delivery Areas
Home Chef
Avg. Meal Price
Shipping Cost
$0
Delivery Areas
Hungryroot
Avg. Meal Price
Shipping Cost
$0
Delivery Areas
Purple Carrot
Avg. Meal Price
Shipping Cost
$0
Delivery Areas
HelloFresh
Avg. Meal Price
Shipping Cost
$6.99
Delivery Areas
Gobble
Avg. Meal Price
Shipping Cost
$6.99
Delivery Areas
Takeout Kit
Avg. Meal Price
Shipping Cost
$0
Delivery Areas
FreshDirect
Avg. Meal Price
Shipping Cost
$5.99
Delivery Areas
Benefits Of Healthy Meal Kit Delivery
Most people understand the importance of healthy eating, but not everybody has the time to hand-pick the best ingredients, search for healthy recipes, and perfectly cook the meals, preserving all the lovely flavors and valuable nutrients. In order to cook healthy meals, you need to possess knowledge on the foundations of a healthy diet and the way each type of food should be cooked in order to maximize its health benefits.  Or, you can simply choose a good healthy meal kit service and let its culinary experts do what they do best – choose the finest, natural ingredients and craft amazing yet simple recipes that can help you easily improve your diet.
With healthy meal kit delivery services, you can plan your meals for the week in minutes and choose from a range of meal ideas that are as healthy as they are tasty. You can discover different diets that have proven health benefits, like the Mediterranean diet, plant-based diet, Paleo diet, and many others. You can learn how to prepare your meals the right way and use pro chef tips to expand your knowledge of healthy cooking and improve your cooking skills.
What is equally important is that you get to expand your culinary repertoire and enjoy a more varied diet. With professional chefs crafting original recipes just for you, you can have exciting, new meals on your table throughout the week, discover healthy ingredients you may not have used before, and simply have fun in the kitchen while feeding your body the way it deserves.
What Makes Healthy Meal Kit Delivery Services Different
Healthy is a word that is used lightly in the world of meal kits. There are many services that claim to offer "healthy" recipes and ingredients because there is no strict definition of what healthy actually means. There is just the simple, common-sense definition that it is something that is good for your health. Thus, they may offer salad recipes that most people consider healthy, but these recipes may include too much oil or sodium that diminish the health benefits of the salad. They may provide natural ingredients but suggest that you deep fry them for better flavor.
Thus, one of the major differences between the best healthy meal kit delivery services on our list and many other services of their kind is that they do not try to fool you into thinking that the kits they offer are healthy. They actually invest a lot of effort into making sure that everything in their kits is truly good for you.
They choose only the freshest ingredients and use appropriate packaging in order to keep them fresh until you are ready to cook. They provide natural, often organic food that contains plenty of nutrients that are important for your health. They carefully craft their recipes so your meals are optimally balanced, providing all the important vitamins, minerals, proteins, and healthy fats your body needs, in just the right quantities.
Last but not least, they are careful about choosing the cooking methods and techniques. Their recipes do not require you to drench your food in unhealthy oils or cook the ingredients until all of their nutritional value is gone. They stick to grilling, steaming, and other methods that lock in all the nutrients, so your meals are as healthy as they can be.
Choosing The Right Healthy Meal Kit Delivery For You
We are not the ones to give our recommendation easily, so when we analyze healthy meal kit deliveries, we carefully inspect every single aspect of each service. First, we examine all relevant options on the market and choose the services that employ the best sourcing practices. That means that we give preference to those that cooperate with local farmers and suppliers of fresh, sustainably grown food and the ones that offer the finest ingredients that are rich in valuable nutrients.
Once we identify the most promising candidates, we try out their meal kits so we can see for ourselves whether their kits are as good as they claim. We pay attention to everything, from the freshness of the food in the kits to the way it is packaged, its aroma, texture, and overall quality. In this phase, we eliminate all the services that do not do their best to provide the freshest, natural food of the highest quality. We narrow our choice down to the ones that let you cook healthy meals with high nutritional value and carefully calculated portion sizes that can perfectly satisfy the appetites of hungry home diners.
Then, we take a close look at their menus in order to determine whether they provide enough variety and meal options to satisfy the needs of the majority of home cooks around the country. We choose the ones that do not only have a vast range of tasty and healthy menu items but also offer plenty of meal ideas for people on special diets.
In the last phase, we determine how flexible and affordable our top choices are and bring you a list of healthy meal kit delivery services that offer subscriptions that suit your lifestyle, budget, and health goals.
Best Healthy Meal Kit Delivery Companies
What all of our top picks have in common is that they are currently the healthiest options on the market. Now it is time to discover what makes each of these healthy meal kit delivery companies unique. Explore their distinctive features in the mini-reviews below and choose the one that best satisfies your needs.
1. Sun Basket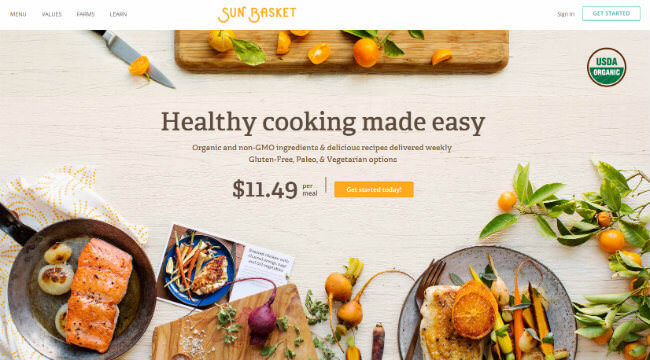 Sun Basket is a healthy meal kit delivery that has plenty to offer to home cooks who prefer natural food. Its weekly menu includes 18 recipes crafted by one of the best San Francisco chefs, along with healthy add-ons like 5-minute salads, dips, sauces, and veggie snacks. Its organic produce comes from the finest local farms and its meat and seafood are sustainably sourced and of the highest quality. You can choose from a variety of meal plans for healthy diets, including lean & clean, Paleo, gluten-free, vegetarian, vegan, pescatarian, diabetes-friendly, carb-conscious, and Mediterranean.
2. Green Chef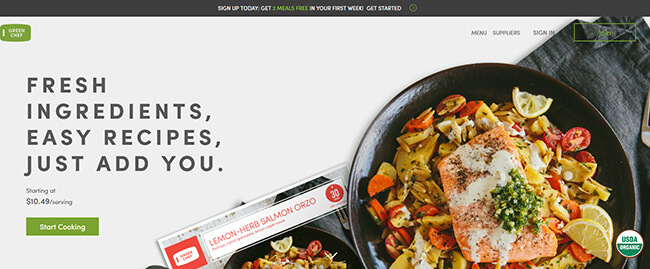 Green Chef is an organic meal box delivery that provides only the best for you and your family. All of its ingredients are USDA-certified organic and its recipes are crafted by professional chefs with both flavor and nutritional value in mind. It offers 5 meal programs for different dietary needs and preferences, including Family, Balanced Living, Plant Powered, Keto, and Paleo programs. Choose the option that best fits your lifestyle or switch between programs at your convenience.
3. Marley Spoon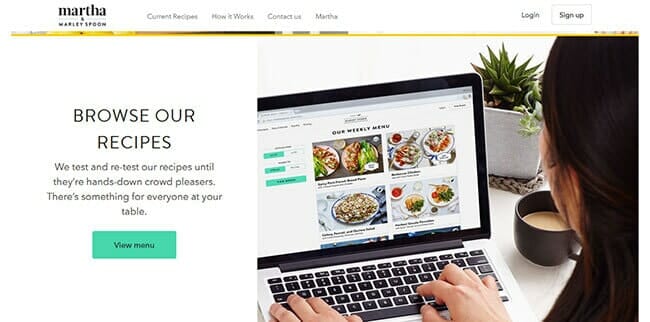 Marley Spoon's farm-to-table ingredient sourcing method and carefully balanced and nutritious dinner recipes make it a perfect choice for couples and families who want to eat healthily. In cooperation with Martha Stewart, the service has designed an impressive 20-item weekly menu featuring a special recipe category called Health & Diet. You can choose between a variety of good-for-you dinner options, including plant-based, low-calorie, low-carb, and allergen-free dishes. Most recipes require you to spend less than half an hour in the kitchen and some of them can be prepared in a single pot.
4. Home Chef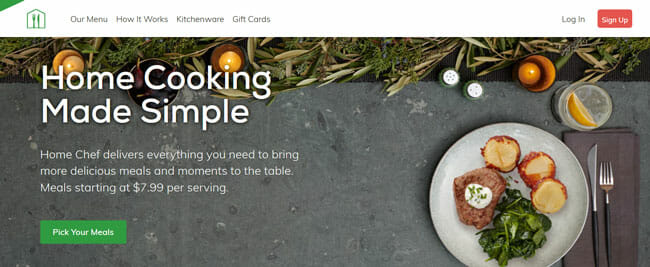 Home Chef makes healthy eating simple with its balanced dishes that virtually anyone can cook. Its ingredients are always fresh and natural, its recipes are suitable for various healthy diets, and its meal kits can be customized to suit your unique needs. You can choose from 18 items on the weekly menu and cook 2, 3, 4, 5 or 6 times a week for 2, 4 or 6 people. The prices are affordable and shipping is free on most orders.
5. Hungryroot
Hungryroot brings you natural and certified organic and non-GMO ingredients that are pre-prepped and ready to be cooked or combined into delicious meals that are good for your body. You can choose between the Small, Medium or Large meal plans, all readily customizable, and get regular deliveries of fresh-cut veggies, sauces, pastas, plant-based proteins, meat, fish, and more. All the meals are ready to eat in about 10 minutes. The menu includes omnivore, pescatarian, vegan, vegetarian, gluten-free, dairy-free, soy-free, and nut-free items.
6. Purple Carrot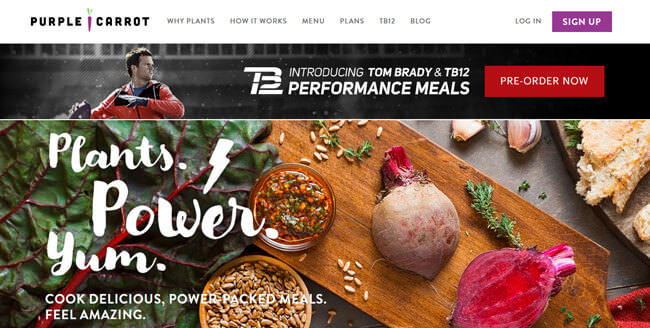 Purple Carrot is an excellent vegan meal kit delivery that exclusively offers natural ingredients and 100% plant-based recipes designed to make you feel and look better while cooking and enjoying restaurant-grade food. It offers 2 standard meal plans for 2 and 6 people, The plans bring you 2-3 dinner kits per week along with optional 5-minute lunch and breakfast add-ons. The company's selection includes gluten-free kits as well as high-protein options for individuals with active lifestyles.
7. HelloFresh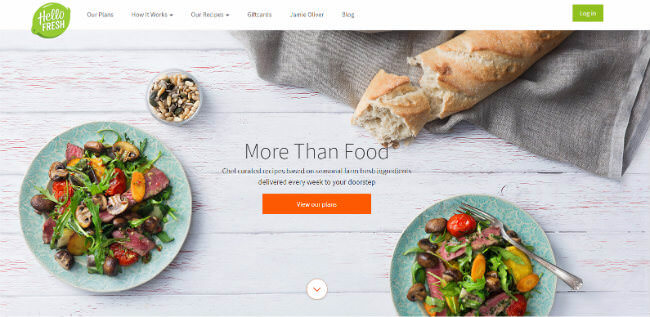 HelloFresh is a meal kit delivery service that allows you to cook healthy meals in as little as 20 minutes, with minimum cleanup. It sources only the freshest natural ingredients and provides recipes that are optimally balanced and easy to follow. It offers plenty of options for special diets, including vegetarian, kid-friendly, gluten-free, dairy-free, egg-free, and nut-free meal ideas, as well as recipes under 500 calories. It develops its recipes in cooperation with the famous healthy eating advocate and celebrity chef Jamie Oliver.
8. Gobble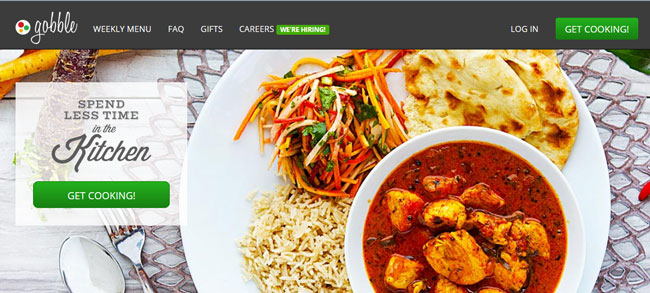 Gobble meal kit service has everything you need to improve your diet and health with less effort than you thought possible. This healthy meal kit delivery allows you to choose from 24 gorgeous recipes every week and cook with the freshest, natural ingredients, pre-measured, chopped, and prepped by pro chefs and ready to be combined into a beautiful meal. The meals take just 10-15 minutes to make and they are as tasty as they are good for you.
9. Takeout Kit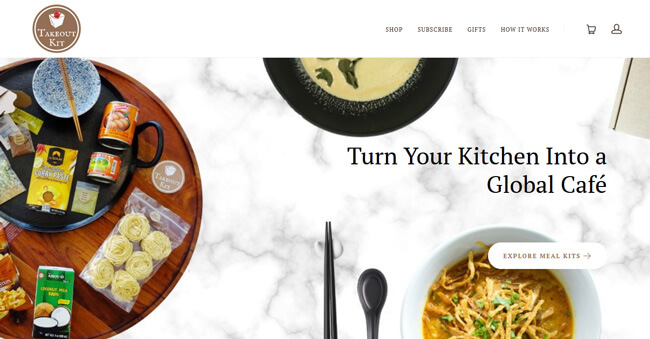 Takeout Kit is a unique meal box delivery that provides healthy meal kits with longer shelf life. Its recipes originate from some of the most famous world cuisines and its ingredients include the finest imported artisan ingredients that make the meals taste 100% authentic. There are more than 2 dozen kits and samplers to choose from and the selection includes amazing dishes for meat lovers, vegans, and vegetarians. With some kits, you can even choose the main protein source and spiciness level.
10. FreshDirect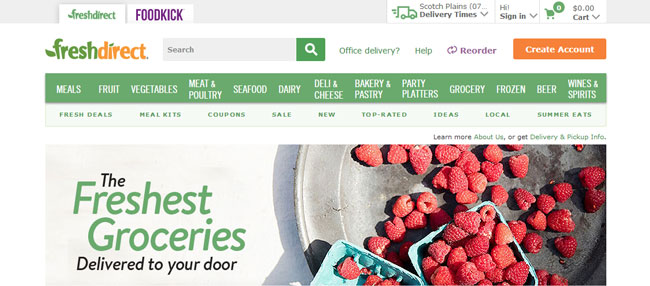 FreshDirect is an organic meal kit delivery that provides dozens of delicious meal kits designed for people who want to eat healthily, including but not limited to carnivores, omnivores, and vegetarians. It is well-known for the superior quality of its ingredients and in addition to meal kits, it offers 3,000+ varieties of fresh food items, allowing you to fill your pantry and fridge with top-quality food while shopping for tasty meal kits.