Are Sun Basket recipes really that good? Short answer: definitely. For those who are not saving kittens from a burning tree, here are all the reasons why Sun Basket recipes are among the best we have tried in a long time. Get your pans and spatulas ready, we guarantee that by the end of this article, you will want to do some awesome cooking.
Just What You Need
The great thing about Sun Basket recipes is that there is truly something healthy and delicious for everyone. Whether you wish to eat something light or crave a rich, gourmet meal, whether you are on the Paleo diet, have to steer clear of gluten or you are a passionate vegetarian, you can always find tons of amazing recipe ideas in the Sun Basket cookbook and quickly prepare a thoroughly satisfying meal.
As you probably already know, Sun Basket is one of the top organic food deliveries around. That is why it is no wonder that all the dishes on the Sun Basket menu are rich in nutrients, nutritionist-approved and above all, incredibly good for you.
Dynamic Duo
The genius behind Sun Basket recipes is San Francisco top chef Justine Kelly, who's got tons of experience, both cooking for the patrons of prestigious restaurants and for her own family.
Her partner is Sun Basket's in-house nutritionist Kaley Todd, who is there to make sure every meal is optimally balanced and gives your body all the valuable substances it needs. These two lovely ladies put their hearts and souls into every dish and work hard to come up with unbelievably delicious Sun Basket recipes that do wonders for your health.
Easier Than You Think
Having in mind that Sun Basket recipes are created by a pro chef, you may be worried that it takes a lot of cooking skills to prepare them. ,The truth is, the meals are surprisingly easy to make.There are no steps skipped, no acrobatic knife skills required and everything is so wonderfully explained, step by step, that you will have no trouble creating the very same masterpieces you see in the lovely pictures that accompany all Sun Basket recipes.
Know The Facts
Unlike many other food deliveries that offer you recipes they claim contain just the right amount of nutrients and expect you to take their word for it, Sun Basket lets you know the exact content of proteins, carbohydrates, fats and other nutrients in every meal. If you are on a special diet or just care about your health, you will be happy to see the nutrition facts attached to every Sun Basket recipe, carefully calculated by their very own Kaley Todd.
Tips & Tricks
Chef Justine has many tricks up her sleeve and loves sharing her wisdom with others. Quite often, you can find chef tips at the end of the recipe, telling you how to add that special something to the meal and attain that coveted restaurant quality. Considering that many recipes you can find on the web haven't even got all the basic steps covered, let alone the bonus tips and tricks, we have to say that the efforts put into composing Sun Basket recipes are truly admirable.
The Story Behind Sun Basket Recipes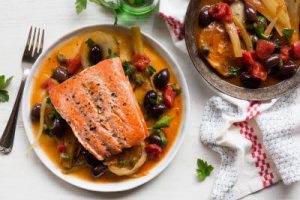 Now, this is something we were extremely excited to discover.
Apart from getting all the necessary and valuable info in every recipe, you even get a story about each one of them, containing all the reasons why the dish is good for you, what makes it extra juicy, crunchy or flavorful, as well as some fun trivia about certain dishes, like the geographical origin, the secret behind its name or even some sweet celebrity scoop related to the dish.
Try Something New
At the moment, there are around 650 Sun Basket recipes in their cookbook. New recipes are added all the time and if you are curious about what is planned for the next couple of weeks, you can stop by the Menu section and see recipes for weeks to come.
You may be surprised that Sun Basket does not keep its future recipes a secret. The reason behind this is that Sun Basket is not only about recipes, but also about the freshest, premium-quality organic ingredients that are hard to come by. If you want to feel all the amazing benefits of eating organic, we warmly recommend that you give Sun Basket a shot.