Are Sun Basket recipes really that good? Short answer: definitely. If you are interested in learning more about the kind of culinary delights you can prepare with this meal kit delivery, here are all the reasons why Sun Basket recipes are among the best we have tried in a long time. Get your pans and spatulas ready, we guarantee that by the end of this article, you will want to do some awesome cooking.

Just What You Need
The great thing about Sun Basket recipes is that there is truly something healthy and delicious for everyone. For starters, the service offers not 1 but 2 weekly menus – Classic and Family.
The Classic menu includes 18 deliciously varied recipes for 2 or 4 people, available within 10 distinct meal plans: Chef's Choice, Lean & Clean, Paleo, Gluten-Free, Vegetarian, Vegan, Pescatarian, Diabetes-Friendly, Quick & Easy, and Mediterranean.
The Family menu features 6 mouthwatering, family-friendly meal ideas for 4 people every week. If you opt for this menu, you can choose between 2 meal plans: Chef's Choice and Vegetarian. Now, let us see what kind of recipes you get to enjoy with each of Sun Basket's carefully designed plans.
Chef's Choice
With the Chef's Choice plan, you get to enjoy recipes handpicked by Sun Basket's star chef, Justine Kelly. These are not only the chef's favorites but recipes that make the best use of all the seasonal delights. If you want to go with the season, use the freshest, most nutritious ingredients available, and cook colorful and flavorful meals recommended by a top San Francisco chef, this is the plan for you.
Lean & Clean
The Lean & Clean plan is the best choice for home cooks who want to eat healthily, maintain their weight, and stick to light yet satisfying meals. The recipes available with this plan focus on lean proteins and clean ingredients and help you stay in shape while keeping you full and happy. They are free from gluten, dairy, and soy and usually have around 550 calories per serving.
Paleo
If you are a fan of the caveman diet, this is the plan designed for you. Just like all other Sun Basket recipes, its Paleo recipes feature clean ingredients, with an abundance of fresh and healthy veggies in every serving. However, what makes them different is that they are incredibly high in protein coming from the highest-quality meat and seafood. They are also low in carbs and free from dairy, gluten, grains, soy, and corn.
Gluten-Free
Finding good gluten-free alternatives can sometimes be quite tricky, but with Sun Basket, you have a top chef doing all the work for you. For Sun Basket recipes free from gluten, Chef Justine carefully chooses the best substitutes for gluten-containing ingredients and combines them with the freshest produce and herbs and the finest meat and seafood around.
Vegetarian
Hardly anyone does vegetarian better than Sun Basket. Its vegetarian recipes are incredibly innovative and rich in nutrients coming from crisp organic produce, responsibly sourced dairy, and farm-fresh eggs that are organic and pasture-raised. If you are a veggie lover craving more variety, be sure to give Sun Basket recipes for vegetarians a shot.
Vegan
What makes Sun Basket recipes for vegans different than the rest is not only the quality of the produce used. Sure, the fact that all recipes feature a wealth of organic veggies certainly does help. However, the incredible, unique flavor of the vegan meals you cook with Sun Basket is the result of a masterful combination of the freshest organic produce and house-made signature sauces that are fragrant, flavor-rich, and not available anywhere else.
Pescatarian
Sun Basket recipes for pescatarians feature colorful, organic produce and eggs and fresh, responsibly sourced dairy included in the vegetarian dishes. However, there is one important difference – the pescatarian recipes also include the freshest wild-caught, sustainably sourced seafood. The best of all is that you can decide what kind of seafood you want to see on your plate. If you are tired of regular ol' shrimp or salmon, you can substitute them with more luxurious offerings, like the fancy jumbo shrimp or wild-caught halibut.
Mediterranean
The health benefits of the Mediterranean diet are immense and Sun Basket knows how to bring a breath of the Mediterranean into your kitchen. With Sun Basket recipes inspired by the Mediterranean cuisine, you get to cook masterpieces rich in seasonal, organic produce, fresh herbs, high-quality lean meat, and wild-caught seafood, with a healthy dose of whole grains and healthy fats.
Diabetes-Friendly
Sun Basket recipes designed with diabetics and pre-diabetics in mind are created in cooperation with the American Diabetes Association. A single serving of Sun Basket diabetes-friendly meals contains at least 5 grams of fiber, at least 15 grams of protein, no more than 20-100 grams of carbs, and no more than 700 mg of sodium. The recipes are calorie-controlled and contain fewer than 700 calories per serving. Added sugars make up no more than 10% of the total calories. Most of the recipes on the Classic and Family menus are diabetes-friendly.
Quick & Easy
Quick & Easy Sun Basket recipes are particularly designed for beginners and busy home cooks. They are usually ready in around half an hour, they involve the most basic of cooking techniques, and they often require the use of just one pot or pan. With short prep and cook time and quick cleanup, these recipes are great for weekdays when you are too tired and hungry to spend an hour chopping and dicing and just want to have dinner ready asap.
Dynamic Duo

As we mentioned before, the genius behind Sun Basket recipes is San Francisco top chef Justine Kelly, who's got tons of experience, both cooking for the patrons of prestigious restaurants and for her own family. Her partner is Sun Basket's in-house nutritionist Kaley Todd, who is there to make sure every meal is optimally balanced and gives your body all the valuable substances it needs. These two lovely ladies put their hearts and souls into every dish and work hard to come up with unbelievably delicious Sun Basket recipes that do wonders for your health.
Easier Than You Think
Keeping in mind that Sun Basket recipes are created by a pro chef, you may be worried that it takes a lot of cooking skills to prepare them. The truth is, the meals are surprisingly easy to make. There are no steps skipped, no acrobatic knife skills required and everything is so wonderfully explained, step by step, that you will have no trouble creating the very same masterpieces you see in the lovely pictures that accompany all Sun Basket recipes.
The ingredients come pre-measured, so you do not have to deal with measuring cups and spoons or any food waste. Plus, there are no vague terms to worry about. There are no splashes of oil or drops of lemon juice. All the measurements are exact, so you cannot go wrong.
The meals usually take just around 30 minutes to make. If your schedule is so tight that even half an hour seems like too much time to spend in the kitchen, you can opt for the delicious 20-minute recipes or one-pan and one-pot wonders that minimize both prep and cook time and cleanup.
Know The Facts
Unlike many other food deliveries that offer you recipes they claim contain just the right amount of nutrients and expect you to take their word for it, Sun Basket lets you know the exact content of proteins, carbohydrates, fats, and other nutrients in every meal. If you are on a special diet or just care about your health, you will be happy to see the nutrition facts attached to every Sun Basket recipe, carefully calculated by their very own Kaley Todd.
Usually, the meals contain 500-800 calories per serving. However, if you are keeping it light and do not want to waste time looking at the labels, you can always opt for Lean & Clean meals that contain just around 550 calories per serving.
Tips & Tricks
Chef Justine has many tricks up her sleeve and loves sharing her wisdom with others. Quite often, you can find chef tips at the end of the recipe, telling you how to add that special something to the meal and attain that coveted restaurant quality. Considering that many recipes you can find on the web don't even have all the basic steps covered, let alone the bonus tips and tricks, we have to say that the efforts put into composing Sun Basket recipes are truly admirable.
The Story Behind Sun Basket Recipes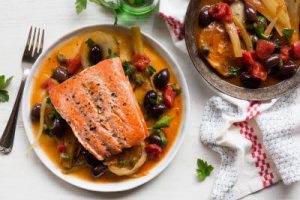 Now, this is something we were extremely excited to discover. Apart from getting all the necessary and valuable info in every recipe, you even get a story about each of them, containing all the reasons why the dish is good for you, as well as some fun trivia about certain dishes, like the geographical origin, the secret behind its name or even some sweet celebrity scoop related to the dish.
Try Something New
At the moment, there are around 650 Sun Basket recipes in its cookbook. New recipes are added all the time and if you are curious about what is planned for the next couple of weeks, you can stop by the Menu section and see recipes for weeks to come.
You may be surprised that Sun Basket does not keep its future recipes a secret. The reason behind this is that Sun Basket is not only about recipes, but also about the freshest, premium-quality organic ingredients that are hard to come by. If you want to feel all the amazing benefits of eating organic, we warmly recommend that you give Sun Basket a shot.
The Place Where Quality Meets Variety
Cooking with Sun Basket recipes is truly a pleasure. They are quick, highly detailed, and fail-proof. They are designed by one of the best chefs in San Francisco and beyond. They are nutritionist-approved and perfectly balanced, featuring the best ingredients available, as well as unique pre-made sauces that make every meal even more exciting and flavorful. Sun Basket recipes are also incredibly varied, with plenty of options for special dietary needs. Whether you wish to eat something light or crave a rich, gourmet meal, follow the Paleo diet, need to keep your blood sugar levels in check, have to steer clear of gluten or are a passionate vegetarian, vegan, pescatarian or fan of the Mediterranean cuisine, you can always find tons of amazing recipe ideas in the Sun Basket cookbook and quickly prepare a thoroughly satisfying meal.