Sun Basket knows that it is of utmost importance to be able to correctly guess what you are craving week in and week out in order to keep you and your palate happy. That is why its head chef devises the weekly menus in accordance with the season, the weather, and a number of other factors. The chef also makes sure that the menus include dishes for different tastes and that the meals range from incredibly light to wonderfully rich and comforting, anticipating the changes in your mood and appetite.
For those of you who have not yet had the pleasure to cook with Sun Basket, we have prepared short and sweet overviews of Sun Basket menus, highlighting their most interesting and most important features.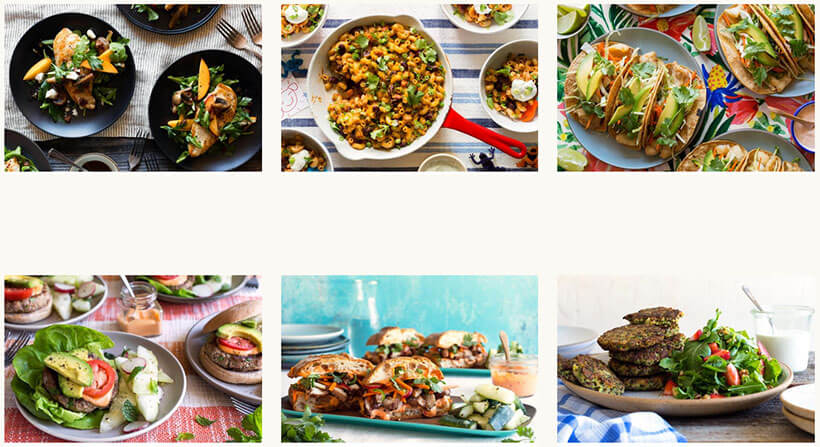 Sun Basket Menu Variety
Sun Basket offers 2 weekly menus – Classic and Family. They are both immensely varied and feature recipes that differ in everything from their geographical origin and cooking time and method to their suitability for different dietary requirements.
You can choose from meals inspired by the Italian, Mediterranean, French, Thai, Vietnamese, Chinese, traditional American, Mexican, and other famous world cuisines. You can make meals that can be cooked in one pot or pan, opt for easy-prep recipes, make a stir-fry in no time, choose a quick 20-minute recipe or opt for a meal that you can make ahead of time. You can pick any of the heart-check certified, dietitian-recommended, allergen-free, Paleo-friendly, diabetes-friendly, family-friendly, low-calorie, vegetarian, pescatarian or vegan recipes.
In other words, you are spoilt for choice and your next meal can be anything you want it to be. Now that we have got the basics covered, let us see what each of the two Sun Basket menus offer.
The Classic Menu
The Classic Sun Basket menu allows you to choose 3 out of 18 delicious recipes every week. It is perfect for home cooks making meals for 2 or 4 people, but it can also be great for people who are cooking for 1 and want to save time and money by enjoying delicious dinners and having leftovers for lunch the next day.

The meals featured on the Classic Sun Basket menu normally take around 30 minutes to make. Every week, there are dishes designed to suit a variety of dietary needs and preferences, including gluten-free, dairy-free, soy-free, vegetarian, Paleo, pescatarian, Mediterranean, diabetes-friendly, and vegan dishes, as well as one-pot wonders, quick & easy, and lean & clean meals.
Keeping in mind the importance of a varied diet, Sun Basket brings you recipes that call for ingredients from all food categories, so you can enjoy beef, pork, chicken, seafood, fish, and veggie delights every week and get all the nutrients your body needs.
The Family Menu
With the Sun Basket menu for families, you can choose 2, 3 or 4 out of 6 recipes that change every week. This menu is particularly designed for families with children and each recipe yields 4 servings. While all the recipes are kid-friendly, they are also suitable for a range of special diets, just like the ones on the Classic Sun Basket menu. You can expect dairy-free, soy-free, gluten-free, Paleo-friendly, diabetes-friendly, and vegetarian dishes.
Sun Basket Family recipes can be prepared in less than 20 minutes. While carefully avoiding ingredients that most children dislike, the recipes on the Family menu still feature an abundance of nutrient-packed ingredients and quite often manage to turn the not-so-well-loved items into delicious treats the little ones are sure to enjoy.

Nutritional Value & Portion Size
Our overview of the Sun Basket menu would not be complete without a couple of facts about the nutritional value of the meals and their suitability for different appetites. As we mentioned in our detailed Sun Basket review, the company has an in-house nutritionist who makes sure that all the meals are perfectly nutritious and optimally balanced. Since Sun Basket uses the freshest organic produce, whole grains, the highest-quality meat, healthy fats, and wild-caught, responsibly sourced seafood, all its meals are nutrient-dense and provide all the micro- and macro-nutrients your body needs, without any artificial or harmful substances that could harm your health and add inches to your waistline.
The calorie count usually ranges between 500 and 800 calories. If you are working on maintaining your weight and want your meals to be on the lighter side, you can opt for the lean & clean meals that virtually never contain more than 550 calories.
If you have a hearty appetite, you might be happy to hear that Sun Basket meals come in ample portions, carefully calculated to keep you full without the danger of overeating. All the meals on the Sun Basket menu are perfectly portioned to keep you healthy and satiated.
Bottom Line
The Sun Basket menu is designed to satisfy virtually any taste and appetite, accommodate a range of dietary requirements, introduce you to various world cuisines, suit the season, your mood, and your current cravings, and most importantly, allow you to cook magnificent meals even if you have little time and even less culinary experience. It is diverse, colorful, and inspiring and has just what it takes to get you in the cooking mood and motivate you to create the best meal you have ever had.
As the recipes on Sun Basket menus change regularly, you can always look forward to fresh meal ideas. What never changes is the quality of the ingredients and the deliciousness of every item on the company's menus. If you are curious about discovering the wonderful dishes Sun Basket has prepared for you, be sure to stop by its official website and feast your eyes on the mouthwatering delights that await you.