Sun Basket knows that it is of utmost importance to be able to correctly guess what you are craving week in and week out in order to keep you and your palate happy. That is why its head chef devises the weekly menus in accordance with the season, the weather, and a number of other factors. The chef also makes sure that the menus include dishes for different tastes and that the meals range from incredibly light to wonderfully rich and comforting, anticipating the changes in your mood and appetite.
For those of you who have not yet had the pleasure to cook with Sun Basket, we have prepared short and sweet overviews of Sun Basket menus, highlighting their most interesting and most important features.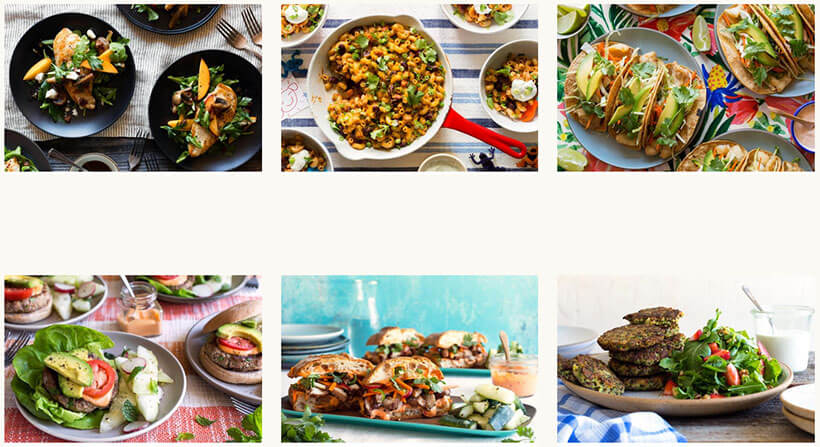 The Classic Menu
The Classic Sun Basket menu allows you to choose 3 out of 18 delicious recipes every week. It is perfect for home cooks making meals for 2 or 4 people, but it can also be great for people who are cooking for 1 and want to save time and money by enjoying delicious dinners and having leftovers for lunch the next day.
The meals featured on the Classic menu normally take around 30 minutes to make. Every week, there are dishes designed to suit a variety of dietary needs and preferences, including gluten-free, dairy-free, soy-free, vegetarian, Paleo, pescatarian, Mediterranean, and vegan dishes, as well as one-pot wonders and lean & clean meals.
Keeping in mind the importance of a varied diet, Sun Basket brings you recipes that call for ingredients from all food categories, so you can enjoy beef, pork, chicken, seafood, fish, and veggie delights every week and get all the nutrients your body needs.
The Family Menu
With the Family menu, you can choose 2, 3 or 4 out of 6 recipes that change every week. This menu is particularly designed for families with children and each recipe yields 4 servings. While all the recipes are kid-friendly, they are also suitable for a range of special diets, just like the ones on the Classic menu. You can expect dairy-free, soy-free, gluten-free, Paleo-friendly, and vegetarian dishes.
Sun Basket Family recipes can be prepared in less than 20 minutes. While carefully avoiding ingredients that most children dislike, the recipes on the Family menu still feature an abundance of nutrient-packed ingredients and quite often manage to turn the not-so-well-loved items into delicious treats the little ones are sure to enjoy.
As the recipes on Sun Basket menus change regularly, you can always look forward to fresh meal ideas. What never changes is the quality of the ingredients and the deliciousness of every item on the company's menus. If you are curious about discovering the wonderful dishes Sun Basket has prepared for you, be sure to stop by its official website and feast your eyes on the mouthwatering delights that await you.