Jenny Craig Review
Advertiser Disclosure
This website features affiliate links. For purchases made via these links, we earn commissions that allow us to keep producing helpful content. To find out more
click here
.
Close
Jenny Craig is a popular weight loss meal delivery service based in Carlsbad, California. It was founded back in 1983 and started operating in the US in 1985.
The service has long been recognized as one of the best weight loss solutions. In a 2015 study published in Annals Of Internal Medicine, it was named as one of the most effective weight loss programs and US News and World Report recognized it as one of the easiest diets to follow for 8 years in a row. Such a long tradition and impressive reputation inspired us to create this comprehensive Jenny Craig review.
Join us as we discover how this program works, what kinds of results it can help you achieve, and whether it is worth your time and money.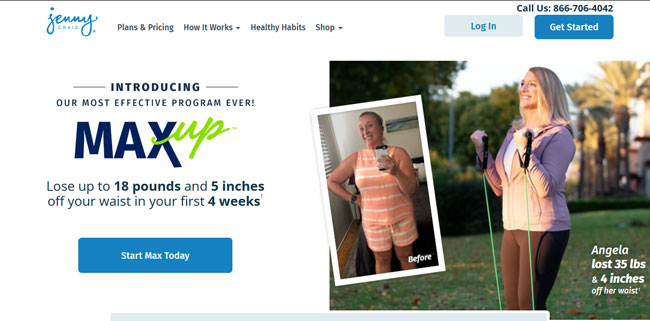 What Is Jenny Craig
Jenny Craig is a weight loss meal delivery program known for its unique approach to dieting. It is the only weight loss solution that offers both ready-made diet meals and the help of personal consultants who guide dieters every step of the way.
The program is designed for individuals aged 13 and up. It works equally well for women, men, omnivores, diabetics, adolescents, new moms, postmenopausal women, and virtually everyone else who wants to lose weight effortlessly and efficiently.
One of the greatest advantages of Jenny Craig is that it provides completely personalized plans that perfectly suit the needs of each individual dieter. Its menu is created by accredited practicing dietitians, in accordance with the guidelines provided by the Ministry of Health and National Health and Medical Research Council.
As a Jenny Craig subscriber, you get enough ready-to-eat food to keep you satisfied throughout the day and you get to enjoy unlimited weight loss support available online and in over 600 local centers. You can plan out your menus, exercises, and weight loss tactics in cooperation with your dedicated consultant and reach your weight and health goals in less time than you imagined.
Jenny Craig For Weight Loss
When researching for this Jenny Craig review, our primary aim was to uncover the facts about Jenny Craig's structure, effectiveness, restrictiveness, comprehensiveness, and health effects. In other words, we wanted to know how the Jenny Craig program works, what it includes, how hard it is to follow, how good or bad it is for your health, and how much weight it can help you lose if you stick to it. Here is what we found out.
Does The Jenny Craig Diet Work
Jenny Craig can help you shed up to 16 pounds in the first 4 weeks on the diet and steadily lose 1-2 pounds every subsequent week. A clinical study evaluating its effectiveness showed that dieters who completed the program lost 11.6 pounds on average.
Dieters with Type 2 diabetes can achieve equally astonishing results. According to clinical studies, diabetics who followed the Jenny Craig program lost 3 times more weight than those receiving usual care, achieved a lower HbA1c of 6.6% in comparison to 7.5% with the usual care, manifested significant improvements in good cholesterol and triglyceride levels, and managed to reduce or completely eliminate the use of insulin. Thus, the program can help individuals with diabetes lose weight and significantly improve their health at the same time.
Individual results may vary depending on age, gender, current weight, activity levels, and metabolism. According to user reports, it is possible to lose over 110 pounds on the program. Individuals with 40+ pounds to lose often achieve more drastic results during the first weeks on the diet.
On average, Jenny Craig weight loss plans allow dieters to eat between 1,200 and 1,300 calories a day, 150 to 300 calories per meal. This places Jenny Craig in the healthy calorie range for individuals who are looking to shed extra pounds risk-free.
Why Does Jenny Craig Work
The high effectiveness of the Jenny Craig diet is the result of 4 key factors. These include structured, low-calorie nutrition, regular 1-on-1 counseling, dietary education, and holistic weight loss techniques that focus on both your body and your mind.
Jenny Craig leaves no room for guesswork when it comes to your nutrition on the program. It makes it easy to eat well by providing nearly all the food you need in the form of pre-packaged, dietitian-designed meals, snacks, and extras.
For your snacks and meals outside the Jenny Craig menu, it provides clear guidelines that help you avoid foods that can impede your progress. It carefully plans your meals, distributes your calories evenly throughout the day, and teaches you how to eat mindfully, which can help you improve your metabolism and burn fat more easily.
Through 1-on-1 counseling, you get all the help you need to adjust the Jenny Craig program to your needs and achieve better results. Your personal consultant is there to help you deal with cravings, choose the right forms of physical activity, push past weight loss plateaus, and stay motivated and on track.
In the initial phases of your weight loss journey, Jenny Craig makes dieting effortless by focusing on pre-packaged foods that are ready to enjoy. However, once you reach the point where you have lost about half the extra pounds you wish to shed, one of the program's primary aims is to help you form life-long healthy eating habits.
It teaches you how to prepare and portion your meals and structure your menu properly. It steers you towards good food choices and away from foods and beverages that do nothing but increase your appetite and decrease your chances of staying slim. Essentially, it provides the dietary education you need to become more independent in your weight loss and management endeavors and keep the pounds off for good.
Finally, Jenny Craig employs holistic weight loss strategies that train your mind to think the right way about food and health. It encourages self-monitoring, teaches you how to say no to extra food in situations where it may seem difficult, helps you substitute overeating with healthy habits, and lets you rely on your counselor whenever you need a bit of external motivation to stay on the right path.
All these elements of the Jenny Craig program are scientifically proven to promote weight loss. Reducing your calorie intake and eating frequently in small portions is known to produce visible weight loss results. Regular meetings with a weight loss consultant have been shown to result in 3 times more weight lost than independent dieting. Finally, education and mind training minimize the risk of going back to bad eating habits and regaining the lost weight.
Therefore, the Jenny Craig diet works simply because it does not provide a mere quick-fix solution but instead addresses all crucial issues that may prevent you from getting and staying slim.
Your Typical Day On The Jenny Craig Diet
As mentioned earlier in this Jenny Craig review, the program is designed to make eating properly as easy as it can be. That means that as you get started with the program, you enjoy ready-made foods 5 times a day and you are only required to prepare 1 snack on your own. Your typical daily menu includes:
A Jenny Craig breakfast;
A Jenny Craig lunch;
A Jenny Craig dinner;
2 Jenny Craig snacks in between meals;
1 homemade snack prepared in accordance with the Jenny Craig rules.
For your homemade snack, Jenny Craig provides a whole list of foods you can use. It further encourages you to enrich your pre-made meals with a nice selection of fresh, low-calorie groceries that can help you stay full without exceeding your daily calorie limit. In the next section of this Jenny Craig review, we will explore all the foods you are allowed to enjoy in addition to your Jenny Craig meals and snacks.
It is nice to know that you can mix and match the items on your menu any way you please. If you are not craving the next lunch on your list, you can substitute it with another, enjoy your mid-morning snack after lunch, and simply adjust your menu to suit your liking. This unusual flexibility increases your chances of sticking to your new regimen and allows you to enjoy your meals more.
Exercise
Due to the limited calorie intake, Jenny Craig advises against increasing workout intensity during the first several weeks on the program. This means that individuals who already exercise should stick to their routine instead of engaging in more demanding physical activity in hopes of enhancing their results. Dieters who do not exercise regularly should start with light activities like fast-paced 10-minute walks 3 times a week. Then, they should gradually increase workout intensity and duration, aiming for 30 minutes of moderate activity 5 times a week.
If you are not sure where to begin, you can talk to your consultant and devise a workout plan that suits your current needs and abilities. For extra inspiration, you can check out the fun exercises available on the Jenny Craig website and choose the ones that best suit your preferences. Remember, the more you enjoy your workout, the more likely you are to stay active and improve your weight loss results.
Hydration
Like the majority of popular weight loss programs, Jenny Craig advises you to drink 8 glasses of water per day in order to prevent dehydration and reduce cravings. However, it does not stop at this general advice and provides extra tips on how to stay properly hydrated. Namely, depending on the ambient temperature and your activity levels, you should try to consume 0.5 to 1 ounce of water for every pound you weigh.
For example, when the weather is hot and you are more active than usual, you should drink 100 ounces of water if you weigh 100 pounds. During winter months and sedentary phases, you do not have to drink much more than 50 ounces of water if you weigh 100 pounds.
To help you remember to drink enough water, Jenny Craig provides useful hydration tips, such as setting reminders and daily water intake goals and choosing an attractively-designed drinking bottle to carry with you at the times.
Jenny Craig Food List
Earlier in this Jenny Craig review, we mentioned that the service offers personalized meal plans with menus and calorie intakes adjusted to dieters' individual needs. What this means is that depending on your height, weight, age, gender, and metabolism, you may be allowed to eat more or fewer calories than the average daily intake and indulge in extra foods more or less often.
Together with your dedicated consultant, you can figure out how many servings of groceries you can enjoy in addition to your 5 daily Jenny Craig meals and snacks. Your consultant can help you make the right food choices and shape your menu adequately.
However, regardless of your target calorie intake and individual needs, you can enjoy everything from the Jenny Craig Food List. To help you understand what your homemade snacks and extras can include, we will now go over each category of foods approved by Jenny Craig.
Fruit
As you probably already know, fruit contains sugar, which is why you should consume it in small portions. A single portion of fruit should contain about 60-84 calories and 15 grams of carbs. Your serving of fruit can be:
1 small/medium apple;
1 small banana;
1 small/medium dragon fruit;
1 small/medium feijoa;
1 small/medium grapefruit;
1 small/medium nashi or regular pear;
1 small/medium nectarine or peach;
1 small/medium orange or paw paw;
1 small/medium quince;
½ custard apple, jackfruit, mango, persimmon or pomegranate;
2 apricots, figs, guavas, kiwis, mandarins, or plums;
2 starfruits, tangelos or tangerines;
3 fresh dates;
6 cumquats, lychees, passionfruits or rambutans;
½ cup of grapes;
1 cup of berries, cherries or cut fruit (melon, pineapple or mixed fruit);
½ cup of canned apples, apricots, grapefruits or mandarins
½ cup of canned fruit salad;
½ cup of canned mango, peach, pear, pineapple or plum;
4 dried apple rings;
4 dried apricots;
2 dried figs;
2 tablespoons of goji berries;
5 strips of dried mango;
2 halves of dried nectarine or peach;
¼ cup of dried paw paw;
½ dried pear;
3 prunes or dried dates;
1 tablespoon of cranberries, currants, raisins or sultanas;
½ cup of unsweetened fruit juice (up to 1 serving a day);
1 cup of unsweetened coconut water (up to 1 serving per day).
Non-Starchy Vegetables
A serving of non-starchy veg should contain up to 24 calories per serving. Your daily menu should include at least 5 servings of non-starchy veggies. One veggie serving is normally equal to 1 cup of raw veg or ½ cup of cooked or canned veg with no added salt. You can opt for:
Artichoke;
Asparagus;
Bamboo shoots;
String beans;
Alfalfa, mung bean or soy bean sprouts;
Beetroot;
Bok choy;
Broccoli;
Broccolini;
Chinese broccoli;
Brussels sprouts;
Cabbage;
Capsicum;
Carrot;
Cauliflower;
Celeriac;
Celery;
Cucumber;
Daikon radish;
Eggplant;
Fennel;
Kale;
Kohlrabi;
Leek;
Mushrooms;
Okra;
Onion;
Radish;
Stewed rhubarb with no added sugar;
Salad greens like lettuce, rocked, radicchio or baby spinach;
Sauerkraut;
Silverbeet;
Snow or sugarsnap peas;
Spinach;
Button squash;
Swede;
Tamarillo;
Tomato;
Turnip;
Zucchini.
Grains
Your serving of grains can contain about 84-107 calories, fewer than 20 grams of carbs, no more than 3 grams of fat, and more than 3 grams of proteins. It is important to know that Jenny Craig classifies starchy veg as grains. While you should focus on whole-grain and whole-meal options, you can choose any of the following items:
½ bagel;
1 slice of bread;
2 ½ tablespoons of bread crumbs;
3 pieces of crispbread;
1 crumpet, dinner roll or sandwich thin;
2 small slices of pumpernickel;
2 thick or 4 thin rice or corn cakes;
10 rice or water crackers;
½ English muffin or bread roll;
1 small pita pocket;
6 small salada crackers;
6-inch tortilla;
1/3 Lebanese bread;
½ cup of cooked cereals (like barley, bulgur or oats);
¼ cup of uncooked cereals or muesli;
½ cup of cooked pasta;
2/3 cup of whole-grain flake cereals;
2 whole-wheat breakfast biscuits;
5 roasted chestnuts;
2 tablespoons of whole-meal white flour;
3 cups of plain, air-popped popcorn;
65 milliliters of probiotic drink;
4 sheets of rice paper;
1 tablespoon of honey, jam or maple syrup;
1 tablespoon of chocolate drink powder;
½ cup of sorbet;
1 tablespoon of sugar;
4 tablespoons of reduced-fat hummus;
1 cup of soup;
35 grams of roti or naan bread;
6 chocolate squares;
1 tablespoon of chocolate hazelnut spread;
7 small, regular-fat crackers;
½ cup of low-fat ice cream or frozen yogurt;
1 muesli bar or pancake;
25 grams of pikelet;
½ plain scone;
½ medium muffin or cupcake without icing;
2-inch square of plain cake;
2-3 small, uncoated, unfilled, plain sweet tea biscuits.
Meat & Meat Substitutes
Meat and meat substitutes are divided into 2 categories: lean and higher-fat options. Lean options contain about 48-71 calories, 7-10 grams of proteins, and fewer than 3 grams of fat per serving. You can enjoy:
30 grams of cooked beef, goat, kangaroo, lamb or pork;
30 grams of cooked poultry, rabbit or veal;
60 grams of cooked calamari;
20 grams of reduced-fat yellow cheese or feta;
¼ cup of low-fat cottage cheese or ricotta;
1 small can of chicken in spring water;
4 egg whites;
45 grams of cooked fish or deli meat;
40 grams of cooked offal;
50 grams of cooked mussels or quorn;
6 raw oysters;
60 grams of cooked shellfish;
30 grams of smoked salmon;
100 grams of soft tofu or tempeh;
45 grams of drained canned tuna, salmon or sardines in spring water;
1/3 cup of cooked or canned legumes.
Higher-fat meat and meat substitutes contain 91-115 calories, 7-10 grams of protein, and more than 3 grams of fat per serving. Your options include:
30 grams of cooked beef or minced meat;
20 grams of regular cheddar or parmesan;
¼ cup of regular ricotta;
35 grams of regular feta, bocconcini or mozzarella;
40 grams of haloumi or goat cheese;
1 large egg;
45 grams of pan-fried fish;
30 grams of cooked pork;
80 grams of firm tofu;
45 grams drained canned tuna, salmon or sardines in oil;
55 grams of anchovies;
30 grams of fat-trimmed bacon;
50-gram beef burger patty;
60 grams of chicken loaf;
1 small hot dog or Frankfurt;
30 grams of fried poultry or salami;
70 grams of grilled sausage;
50 grams of grilled soy or veg sausage.
Milk & Dairy
Your serving of milk or dairy should contain 84-150 calories, up to 15 grams of carbs, about 7 to 10 grams of protein and more than 3 grams of fat. The following items count as 1 serving of milk and dairy:
1 cup of non-fat, skim or 1% milk;
2/3 cup of fat-free or low-fat yogurt;
1 cup of low-fat buttermilk;
40 grams of yellow, reduced-fat cheese;
½ cup of low-fat cottage cheese;
40 grams of reduced-fat feta or goat cheese;
½ cup of reduced-fat ricotta;
½ cup of skim evaporated milk;
3 tablespoons of powdered milk;
1 cup of low-fat soy milk with added calcium;
½ cup of low-fat custard;
1 cup of almond, coconut, oat or rice milk.
If you need more healthy fats, you can enjoy richer, higher-fat dairy. In that case, your dairy serving can be:
1 cup of full cream milk;
40 grams of regular feta, cheddar or parmesan;
½ cup of regular cottage cheese;
1 cup of goat milk or regular soy milk;
3 tablespoons of full cream powdered milk;
½ cup of regular custard;
200 grams of full-fat yogurt;
½ cup of regular evaporated milk;
½ cup of regular ricotta.
Fats
Healthy fats can help increase your energy levels and support important bodily functions. However, they should be enjoyed in small portions in order to avoid weight gain.
A serving of fatty foods should contain about 43 calories and 5 grams of fat. Unsaturated fats are preferred. Your serving of polyunsaturated and monounsaturated fats can contain:
1 tablespoon of avocado or dukkah;
1 teaspoon of plant spread or margarine;
1 teaspoon of mayo, tartare sauce or aioli;
6 almonds, cashews or hazelnut;
2 walnut halves or Brazil nuts;
3 macadamia nuts or pecan halves;
10 pistachios, peanuts or pine nuts;
2 teaspoons of nut meal;
2 teaspoons of linseed, sunflower seed, and almond meal;
1 teaspoon of unsweetened nut spreads without added salt;
1 teaspoon of oil (e.g. canola, flaxseed or sunflower);
3 teaspoons of regular oil-based salad dressings;
8 olives;
1 tablespoon of olive tapenade;
2 teaspoons of pesto or seeds;
10 pieces of sundried tomato.
Saturated fats are not off limits, but you should enjoy them less often than their unsaturated counterparts. Each of the following options counts as 1 serving of saturated fats:
1 teaspoon of butter;
2 teaspoons of regular-fat, thickened cream;
1 tablespoon of regular spreadable cream cheese;
1 ½ tablespoon of light spreadable cream cheese;
2 tablespoons of extra-light spreadable cream cheese;
2 teaspoons of regular creamy salad dressing;
1 tablespoon of reduced-fat creamy salad dressing;
3 teaspoons of dried coconut;
15 grams of fresh coconut;
1 tablespoon of regular coconut milk;
2 tablespoons of low-fat coconut milk;
1 teaspoon of coconut oil;
2 teaspoons of regular sour cream;
1 tablespoon of reduced-fat sour cream.
Free Foods
Free foods are products that are extremely low in calories. They contain up to 24 calories per serving. You can enjoy them with every meal, but be sure to add them in moderation. You can opt for:
Coffee or tea;
Sugar-free soda;
Sparkling or mineral water;
Natural or artificial enhancers;
All approved non-starchy veggies;
Broth or stock;
Capers;
Chili sauce;
Yeast extract;
Fish sauce;
Garlic;
Ginger;
Unsweetened pickles;
Fresh or dried herbs;
Horseradish;
Lemon or lime juice;
Mustard;
Pickled onions;
Seaweed;
Sriracha sauce;
Spices like chili, turmeric or paprika;
Soy sauce;
Tabasco sauce;
Tomato paste;
Vinegar;
Wasabi;
Worcestershire sauce.
Limited Free Foods
Limited free foods are low in calories – but not enough to count as standard free foods. You can have 3 servings of limited free foods per day and choose any of the following as 1 of your daily servings:
1 cup of diet soft drink, diet cordial or diet tonic water;
½ cup of low-sodium vegetable juice;
½ cu of berries, grapefruit, melon or paw paw;
2 lychees, passionfruits or rambutans;
8 medium cherries;
3 cacao beans;
2 teaspoons of custard or cacao powder;
¼ pack of diet jelly;
1 tablespoon of psyllium husks;
1 teaspoon of linseed, sunflower seed, and almond meal;
¼ cup of gravy;
1 sheet of rice paper;
250 grams of konjac or kelp noodles;
30 grams of pickles;
2 teaspoons of BBQ sauce, chutney or low-sugar jam;
2 teaspoons of kecap manis, hoisin sauce or oyster sauce;
2 teaspoons of sweet chilli sauce, teriyaki sauce or veg relish;
1 tablespoon of fat-free salad dressing or mayonnaise;
1 tablespoon of miso, shrimp or tomato paste or ketchup;
2 tablespoons of salsa or taco sauce.
Is Jenny Craig Healthy
Although Jenny Craig products do contain a limited amount of processed foods, the program focuses on healthy, natural options. Due to its scientifically sound structure, it can help improve your heart health and sleep and lower the risk of diabetes.
Other health benefits you can enjoy on the Jenny Craig program include decreased risk of cancer, better mood, reduced risk of inflammation, improved gut health, alleviated chronic pain, enhanced memory, better skin health, and even prolonged life.
So far, no major negative side effects of Jenny Craig have been detected. Individuals who used to eat much more than 1,300 calories a day before enrolling in the program may experience transient issues such as fatigue, diarrhea or constipation.
The program is safe for all dieters over the age of 13 who do not suffer from serious health problems that could prevent them from reducing their calorie intake. If you use strong medication or suffer from a chronic medical condition, you should talk to your physician before getting started with any weight loss program, including Jenny Craig.
How Does Jenny Craig Delivery Work
Jenny Craig is a subscription-based service. It offers 2 programs primarily differing in duration: the 12-week trial program and the 12-month Premium program. Getting started, you first need to enroll in the program of your choice online or via phone.
Once you choose a program, you begin your weight loss journey by creating a unique plan of your own in cooperation with your personal consultant. You get to choose your own meals from more than 100+ items on the menu. You get in touch with your personal consultant at least once a week to talk, monitor your progress, and make sure you stay on track. You can talk to your consultant in person in one of over 600 Jenny Craig centers or at home, via video chat or phone.

If you opt for the 12-week trial program, you get a personal consultant, weight loss coaching and support once a week, and 5 Jenny Craig meals of your choice per day. You get to eat 6 times a day, but you need to prepare one snack yourself.
With the 12-month Premium program, you get a personal consultant, unlimited weight loss coaching and support, and 5 Jenny Craig meals of your choice per day. Just like with the trial program, you eat 6 times a day and prepare one snack on your own.
Both programs include Rapid Results, the company's new program designed in accordance with Nobel Prize-winning revolutionary science focusing on the body clock's circadian rhythm. This program allows you to burn fat faster by eating during the 12-hour nourishment period and resting during the 12-hour rejuvenation period. This program makes perfect use of your body's natural fat-burning ability and optimizes your metabolism.
It is important to note that dieters with Type 2 diabetes can get specialized diabetes support and special meals that can help them manage the condition and lose weight at the same time. If you wish to cancel your Jenny Craig subscription, you should inform the support staff via phone, email or snail mail.
Jenny Craig Meals And Recipes
Previously in this Jenny Craig review, we mentioned that the company's menu boasts more than 100 chef-crafted items. Now it is time to see exactly what you get to eat while on the program.
The Jenny Craig menu is divided into 4 sections: breakfast, lunch & dinner, snacks & desserts, and shakes, bars & more. In the breakfast section, there are around 2 dozen healthy, low-calorie items. You get to choose from a variety of cereals, bagels, sandwiches, waffles, cinnamon rolls, burritos, pizzas, frittatas, and other classics.
The lunch & dinner section features over 40 delicious items. You get to enjoy well-known, comforting dishes like lasagna, burgers, sandwiches, pasta, fish and chips, pot roasts, pizzas, meat loaves, burrito and fajita bowls, salads, and chili.
In the snack & dessert section, there are around 16 items to choose from. You can expect such satisfying snacks and treats like brownies, hummus and crackers, cookies, chocolate lava cake, cheese crisps and curls, bars, cupcakes, and cheesecakes.
The shakes, bars & more section features nearly a dozen of items, including chocolate and vanilla shakes, cookie dough, strawberry yogurt, and peanut butter bars, soups, breakfast syrup, and veggie sides like cheesy broccoli.
The Jenny Craig menu is generally designed with omnivores in mind. It is not suitable for vegans, there are not too many options for vegetarians, and gluten-free options may be available but not enough for a complete menu. There are enough dishes for a full diabetic-friendly menu. The meals are generally low in calories, sodium, and fat.
How Much Does Jenny Craig Cost
With Jenny Craig, the price of your subscription includes a one-time enrollment fee and a monthly membership fee. You pay extra for the food you enjoy. Membership fees amount to $19–$39 per month. Meal prices generally range from $20 to $27 per day.
It is important to emphasize that you cannot get a subscription without purchasing food items. Another valuable piece of information is that Jenny Craig regularly offers discounts on its subscriptions.
The trial program normally costs $39 per month and there is no enrollment fee. However, you can often purchase the trial program for just $16 per month and even get discounts on your food orders.
The Premium program costs $19 per month, plus a $99 enrollment fee. Frequently, there are great discounts on the enrollment fee, so it may cost as little as $49. Plus, if you reach your goal weight by the end of the program, you can get the money you spent on your enrollment fee back.
Shipping is generally not free and significantly varies depending on location and chosen shipping method. The costs per delivery can be anywhere between $29 and $173. This may sound like a lot, but the service often offers free shipping promos, so you may even save cash on shipping.
The trial program
Costs per month
Enrollment fee
$39
0
The Premium program
Costs per month
Enrollment fee
$19
$99
Where Does Jenny Craig Deliver
Jenny Craig ships its diet products throughout the United States and Canada. At the moment, the service is not able to ship internationally due to import/export restrictions. It does not deliver to P.O. Boxes or A.P.O. or F.P.O. addresses either.
The available shipping options include standard shipping (3-4 business days) and express shipping (1-2 business days). If you want to avoid shipping costs, you can pick up your food at a local Jenny Craig center.
Jenny Craig Pros And Cons
To make sure Jenny Craig meets all your standards and expectations, it is important to know its biggest advantages and disadvantages. With a short overview of its pros and cons, you can easily decide if Jenny Craig is the right meal delivery service for you.
Pros
Proven effectiveness
100+ low-calorie, low-fat, low-sodium meals
Suitable for omnivores and diabetics
Completely personalized meal plans
Personal consultants
Unlimited weight loss coaching and support
Frequent discounts
Cons
Shipping is not free
Charges an enrollment fee and monthly fees
Food costs may be high
Sample Snacks
Jenny Craig features an impressive collection of snacks in its offer. To get a better idea of what you will receive in your delivery, check out our curated selection of the items you can enjoy with Jenny Craig.
Beef Merlot
Margherita Pizza
Triple Chocolate Cheesecake
Chocolate Walnut Brownie
Bottom Line
Jenny Craig is a weight loss meal delivery service that has been around for over 30 years. Its effectiveness has been proven in clinical studies, its menu is rich and designed by accredited practicing dietitians, its meal plans are completely personalized, and every dieter gets a personal weight loss consultant. The prices are not low, but discounts are available rather often. If you are seeking a personalized, easy-to-follow weight loss solution that has proven to be highly effective for the majority of its users, Jenny Craig is certainly worth considering.
Jenny Craig FAQ
Which one is better – Jenny Craig or Nutrisystem?
Jenny Craig and Nutrisystem are two popular weight loss meal delivery services. Both services are subscription-based and offer meal plans carefully designed for healthy weight loss. Find out more in our Jenny Craig vs Nutrisystem comparison.
Does Jenny Craig work?
This weight loss program is designed to help participants lose up to 16 pounds in the first 4 weeks and 1-2 pounds every following week. According to 2 empirical studies, the average weight loss among the dieters who completed the program was 11.6 pounds.
Who owns Jenny Craig?
Jenny Craig is a subsidiary of North Castle Partners, a California-based private equity firm. It was previously owned by Nestle.
How to buy Jenny Craig food without joining?
Jenny Craig makes its food available only to its subscribers.
Where to buy Jenny Craig food?
After subscribing to one of the Jenny Craig programs, you can order its food via the company website, by phone or through one of Jenny Craig centers in the USA, Canada, and Puerto Rico.
How much does Jenny Craig cost per month?
Jenny Craig costs between $450 and $780 per month, depending on the items you choose. Bear in mind that you also have to pay a one-time enrollment fee, plus a monthly subscription, which is currently $20 for the 12-week trial program. Find out more here.
What is the Jenny Craig diet?
Jenny Craig is a weight loss program based on a proven scientific approach known as time-restricted feeding, which relies on the body's natural clock. The program optimizes your metabolism and helps you burn fat faster. Jenny Craig typically provides three entrées and two snacks each day, plus one-on-one support from a weight-loss consultant.
Is Jenny Craig healthy?
Most of the products are prepackaged and processed. The company does not give precise information on ingredient sourcing, but all of its meals meet the Dietary Guidelines for Americans and contain less sodium and fat than other prepackaged meals.
What is Jenny Craig success rate?
The company does not offer precise information on the success rate of its weight loss program.
What are the best Jenny Craig alternatives?
Jenny Craig offers an effective weight loss program, but if you are looking for a worthy alternative, you can try some of the best weight loss meal delivery programs on the market, such as Nutrisystem, South Beach Diet, WonderSlim, and Atkins Meal Delivery.
How much does Jenny Craig cost weekly?
According to the information from the Jenny Craig website, the average weekly cost of this service is $158 US/$175 CAN. Find out more here.
View All FAQs