Good Chop Review
Advertiser Disclosure
This website features affiliate links. For purchases made via these links, we earn commissions that allow us to keep producing helpful content. To find out more
click here
.
Close
There are a lot of meat subscription boxes available to all meat lovers all across the US. In this Good Chop review, we will go over all the important details about one of the rising stars in this niche. This is a young company that started working in early 2021 and took the market by storm. One of the many things that make them stand out is the fact that you can choose the content of each box you order. And this also means you can order both meat and seafood in the same box.
The process is very simple and we will go over it in detail in just a few moments. For now, we want to focus on the things that make Good Chop different. Unlike some other meat delivery companies, they do not import anything. So, all of the meat comes from animals born, raised, and harvested by domestic family farms and independent ranchers. Also, all of their seafood comes from U.S. fisheries. Good Chop products are free from anything unnatural. Finally, the box is delivered to your door, frozen and on dry ice in an insulated, recyclable box every month.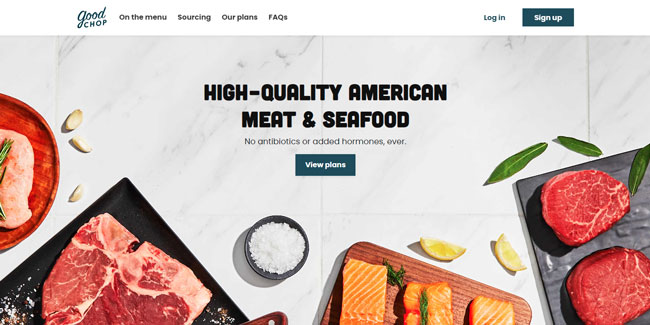 How Good Chop Works
One of the main things we want to cover in this Good Chop review is how do does Good Chop works. Well, the short answer is very simple and easy. However, as you all know, we here at Top 10 Meal Delivery Services like to go deeper. So, here's the whole process. After you've reached their homepage just go to on the menu selection. There, you will be greeted with a wide variety of different meats and delicious seafood cuts. Select what you would like to add to your subscription box, enter your shipping details and you're done.
That's right, there's absolutely no commitment, something that makes Good Chop different than other meat delivery companies. You can also pause, deactivate or even cancel your subscription any time you like. However, you should know that you should do that five days before your delivery date. This ensures that there will be no problems on either end. There are two box sizes currently available. The Medium box includes 6 meat and seafood selections for $149, and the Large box comes with 12 selections for $269.
As we already mentioned we really like to talk about all the details, so here's how that deal looks broken down. A Medium box includes up to 36 portions or meals. This means that the prices start at $4.14. per meal. If you choose the Large box, it includes up to 72 meals meaning that the price starts at around $3.74 per meal. You should also know that Good Chop is offering free shipping to each and every customer. And they intend to keep this policy indefinitely.
When it comes to the types of meat and seafood you can order their selection is somewhat limited but of superior quality. They offer Beef, Pork and Chicken while their seafood selection includes sockeye salmon, Pacific cod, rockfish, and lobster tails. We will talk about this more in our Products section. Any product you order will come from American farms and fisheries. And it will also be free from all artificial enhancers. This means no added hormones, no additives, no antibiotics and no coloring.
What Makes Good Chop Different
We already mentioned in this Good Chop review that one of their trademarks is the flexibility they offer. You create your own box each month and you can change whenever you like. So, even if you change your mind towards the end of the month, you can still update the products you're going to receive. Just make sure that those changes are done five days before you're supposed to receive your monthly selection of premium meat and seafood.
Good Chop is so sure you're going to like what you get that they've instituted a pretty wild policy. Yes, we're talking about their now-famous 100% Satisfaction Money-Back Guarantee. You might be wondering what does that exactly means so here are the details. If you're unhappy or simply don't like the service or products, for any reason whatsoever, you will get your money back. Just reach out to their customer service and choose what option you prefer. They can either credit your account or you can get a refund.
And remember all of their products come from U.S. farms and fisheries. So, you'll be helping our economy as well as enjoying tasty meals. Finally, we just have to say that we love their Forever Free Shipping policy. When you're getting quality meat and seafood you know you're going to pay a little extra, so it helps to know that the shipping is free.
Good Chop Products
There are four main categories of products you can order and we will go over them in detail. Responsibly-raised Beef, Antibiotic-free Pork, Free-roam Chicken and Sustainably-sourced Seafood will make it hard to create your box. Mostly because you'll have trouble deciding which delicious cuts you should order this month. This is why we suggest you go with their Large Box containing enough meat for up to 72 meals.
You can choose between whopping 47 different items by simply adding them to your box. Here are some of the most popular ones:
Beef products
As you might have noticed Good Chop offers a lot of high-quality beef products. They are also their best sellers which is not surprising considering the fact we're talking about Angus breeds. And if you want absolutely the best, just go for the 100% grass-fed, USDA choice beef sourced from family farmers in Iowa, Nebraska, and South Dakota. Now, these items are a bit pricier but really worth it.
Boneless Ribeye Steaks (2 x 10 oz steaks)
Top Sirloin Steaks (4 x 6 oz steaks)
100% Grass Fed Filet Mignon (2 x 6 oz steaks)
New York Strip Steaks (2 x 10 oz steaks)
Stew Beef (1 x 16 oz pack)
T-Bone Steak (1 x 16 oz steak)
Flat Iron Steaks (4 x 6 oz steaks)
Chicken Products
All of Good Chop chicken products come from trusted family farms in Nebraska and Iowa committed to responsible handling from start to finish. It goes without saying that all of the chickens are free-roam meaning they are never put in cages. They are also air-chilled instead of immersion-chilled. And while the latter will save you time and money it will compromise the taste of the chicken. By using air-chilling tenderness, moistness, and overall flavor of the end product are guaranteed.
Boneless Skinless Chicken Breasts (6 x 6 oz pieces)
Boneless Skinless Chicken Thighs (6 x 5 oz pieces)
Organic Chicken Wings (3 x 1 lb)
Chicken Drumsticks (3 x 1.5 lbs)
Organic Chicken Drumsticks (3 x 1.5 lbs)
Pork Products
If you're looking for the best pork products look no further than Good Chop's selection. We recommend you try their  pork chops as they are generally leaner and are perfect for grilling, pan searing, stuffing, or frying.
Boneless Pork Chops (4 x 8 oz chops)
Thick-Cut Uncured Bacon (1 x 16 oz pack)
Pulled Pork
Pork Tenderloin (1 x ~12 oz pack)
Boneless Pork Butt (1 ~1.75 lb pack)
Ground Italian Pork Sausage (2 x 16 oz packs)
Pork Loin Roast (1 ~2.5 lb pack)
Seafood Products
Good Chop seafood products are all wild-caught off American coasts or raised in U.S. farms. Their partners are responsible fisheries that carry the blue Marine Stewardship Council (MSC) label. This means that they're trying to combat over-fishing and restore wild fish populations.
Wild-Caught Alaskan Sockeye Salmon (6 x 5 oz filets)
Rockfish (6 x 5 oz filets)
Wild-Caught Pacific Cod (6 x 5 oz filets)
Pacific Coldwater Shrimp (2 lbs)
Wild-Caught Sea Scallops (10 oz)
Pricing
As we already talked about in this Good Chop review, you will pay a little bit more than with other meat subscription companies. There are a few reasons for that but the main one is that all of the delicious meat you'll be getting comes from U.S. farms and fisheries. Secondly, their meat and seafood does not contain antibiotics, added hormones or growth promotants. And finally, it's flash-frozen to preserve the taste and texture.
And remember, you can choose anything off the menu as you're actually choosing what will you receive in your box. Since this is a subscription, you can choose between two options:
This box is recommended for individuals and small families. You can store it for up to a year in your freezer because of the special way the meat is processed and box packaged. If you choose the Medium Box you get to select 6 items from the menu that currently contains 47 different items. These six items equal up to 36 portions or $4.14 per meal. If you want to save more or simply have a bigger family, we recommend you take a look at the next option.
Large Box is recommended for a large freezer and big families because you'll be getting a lot of meat. How much meat you ask, well, up to 72 portions or $3.74 per meal. This also means that you can select double the amount of items from the menu. So, that's 12 items for $249 and you can see how this option makes more sense for bigger families.
Delivery Areas
Are you ready for more great news? Good Chop delivers throughout the United States. It is available in all 48 continental US States but it's unfortunately not available in Hawaii and Alaska. We do not know when the delivery will be available for those two states. Once your order is out for delivery, you will receive an email with a tracking link for your delivery.
If you're wondering when do they deliver, it all depends on where you live. Usually, they deliver on Tuesdays, Wednesdays, Thursdays, and Fridays. You can cancel, pause or reschedule your order five days before it's supposed to arrive. Finally, the most important thing about this whole thing is that it's free. Yes, Good Chop offers free shipping to all its customers!
Good Chop Pros & Cons
It's time to sum up our impressions of this new meat and seafood delivery service. We will go over the main things we like and dislike about them. It's very important to get the full picture in order to have the best possible experience and make the best possible decisions. We hope this short list will help you to do that with Good Chop.
Pros
Born, raised, and harvested in the United States
Free of antibiotics, growth hormones, preservatives, or artificial ingredients
Very flexible subscription model
100% Satisfaction Money-Back Guarantee
Free nationwide shipping
Cons
Limited selection
A bit pricier
Bottom Line
We hope this Good Chop review has helped you to better understand why this company is quickly becoming one of the most popular on the market. Their flexible subscription model, reasonable pricing and sheer quality of meat cuts are just some of the things we liked. And we shouldn't forget free shipping. That's one of those sneaky items that people tend to forget about when thinking about whether some meal delivery or in this case, meat delivery service is right for them.
Finally, we want to commend Good Chop on their Born, raised, and harvested in the United States policy. We know that it's much easier and cheaper to source your meat from abroad but this shows they really care about the quality of their products. Something that's further bolstered by another one of their great policies 100% Satisfaction Money-Back Guarantee.