FarmFoods Review
Full-Flavored Meat From Small Family Farms
Advertiser Disclosure
This website features affiliate links. For purchases made via these links, we earn commissions that allow us to keep producing helpful content. To find out more
click here
.
Close
If you are tired of dealing with meat of unknown origin, questionable freshness, and unsatisfactory quality, maybe it is time to give FarmFoods a try. This young meat delivery service aims to offer a healthy alternative to anonymous supermarket meat. It lets you shop for your favorite cuts online and learn all you should know about the origin of every steak, rib, and drumstick that ends up on your plate.
The service was launched in 2018 and it is based in Los Altos, California. Although it is still new to the market, it is already quite popular among meat lovers nationwide. In this FarmFoods review, we discover whether it is good enough to replace your favorite local butcher.
How FarmFoods Works
FarmFoods is not a subscription-based service. It is all about getting you what you want, when you want it, in any quantity that works for you. It lets you freely browse its online shop and handpick every single item in your cart. There is no minimum order unless you want to enjoy free shipping, in which case the products in your delivery should weigh at least 10 pounds total.
You can browse the company's offer by meat type or farm. Whichever browsing option you choose, you can find out exactly where and how the meat is grown, what kind of diet the animals are fed, and more. For every product on offer, you get to know which farm it originates from, so you can read up on all the key facts available on the FarmFoods website and decide whether the farm and product in question meet your expectations.
On the one hand, FarmFoods keeps it safe when it comes to the selection of meats featured in its shop. It only offers beef, pork, chicken, and seafood. No bison, no quail or game meat of any kind.
On the other hand, the service offers far more than just steaks and chops. Burgers, ribs, bacon, stew meat, marrow bones, organs, lard, pork feet, chicken feet, and virtually every other part or byproduct of an animal you can think of is available for purchase at FarmFoods. You can even get some lovely bone broth for those days when you really need something warm and comforting.
All the orders you place are one-off orders by default, so there are no strings attached. However, you should make sure to review your cart carefully before you place your order to avoid complications. If you notice an error in your order after placing it, you can reach out to the company's customer support via chat or email and request modifications.
Whether or not FarmFoods is able to accommodate your request depends on the status of your order. As long as it has not been shipped yet, modifications are possible. In case you want to add more meat to your box, you need to talk to the support staff first and then create a new order. Your two orders are then combined and shipped as one. Do not worry; you are only charged for shipping once. The shipping costs for the second order are refunded immediately.
What Makes FarmFoods Different
What separates FarmFoods from many other meat delivery services is its explicit focus on transparency. It does not only aim to provide the healthiest, tastiest meat possible, but it also wants you to enjoy the comfort of knowing who is in charge of bringing this meat to your table and why you should trust them.
The service cooperates with small farms with long traditions that represent the antipode of mass production. While these small-scale family farms cannot afford expensive organic certifications, they employ some of the best-known practices and grow animals in complete accordance with nature.
The meat you get from FarmFoods is locally grown on farms across Northern and Southern California, Idaho, Iowa, Oregon, Montana, Kentucky, and Alaska. The beef is always 100% grass-fed and pasture-raised. The pork on your plate is heritage breed, pastured on grass, and injected with no salt or additives of any kind. The chicken is pasture-raised, with a diet consisting of organic and non-GMO plants, corn and soybean from local mills, and nothing else.
Whichever meat type you choose, you can be sure that it is completely free from hormones and antibiotics. If you opt for seafood, you may be happy to hear that it is invariably wild-caught in Alaska.
In brief, FarmFoods is dedicated to bringing you real meat grown by dedicated, hardworking people who do not take shortcuts but raise animals the old-fashioned way: with a lot of care and zero synthetic growth promoters, crowded spaces, and stress.
If you want to give the gift of all-natural, full-flavored meat to a fellow carnivore, you can get a FarmFoods gift card straight from the company website. Gift card values range from $10 to $100 and the cards are good for any farm in Farmfoods' partner network.
FarmFoods Products
Earlier in this FarmFoods review, we drew a quick sketch of the company's offer. In this section, we will zoom in on different categories in its product selection and find out what kinds of meaty delights you can find on its virtual shelves.
Grass-Fed Beef
Of all the products in the FarmFoods online shop, grass-fed beef products are the most numerous. You can opt for juicy steaks including filet mignon, flat iron, skirt steak, chuckeye steak, hanger steak, tri tip, London broil, ribeye, and many others. Other than steaks, you can purchase burger patties, ground meat, stew meat, osso bucco, roasts, and ribs.
Less common beef items include liver, fat pieces, cheeks, oxtail, tendon, and marrow bones. The Beef section includes bone broth as well, which is the only ready-to-heat product in the company's selection.
The packages are reasonably small. Ground meat and burgers come in 1-pound packs, steak packs normally weigh between 0.5 and 2 pounds, and roasts come in the largest packages, weighing 3 to 5 pounds.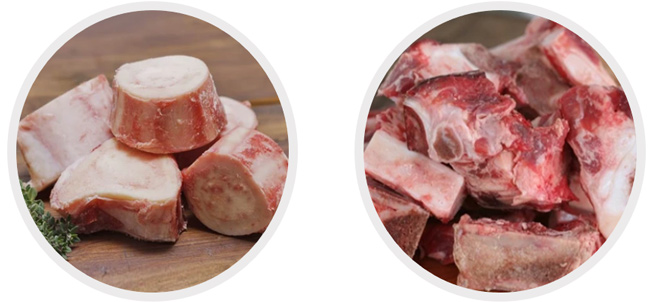 Heritage Pork
As far as heritage breed pork goes, you can get everything from chops, ground pork, spare rib racks, and roasts to cured and fresh bacon, pork belly, cured ham, bratwurst, and Italian sausage. Other pork items that may tickle your interest include neck bones, marrow bones, pork feet, liver, heart, kidney, lard, and the special spicy pork sausage.
Pasture-Raised Chicken
The selection of chicken products is not as varied as the previous two categories, but it is still quite interesting. You can get a whole chicken or opt for parts like drumsticks, wings, and breast. For more adventurous chicken lovers, there are plenty of tasty choices like liver, heart, feet, bones, chicken feet, and gizzards.
Wild Seafood
If you are planning a surf and turf party, you can enrich your order with some wild-caught Alaskan seafood like sockeye salmon, king salmon, cod, rockfish, and halibut. For quicker shopping, the service offers an 8-filet variety pack featuring beef, pork, chicken, and salmon.
Storage And Thawing Tips
FarmFoods meat arrives in vacuum-sealed pouches. It is flash-frozen immediately after it is cut and trimmed. This ensures that the meat preserves its flavor, nutritional value, and texture. To keep it in perfect shape, you should transfer it to a freezer as soon as you receive it.
To find out how long it can stay in your freezer, you should check the production date on the packaging. From that date, uncooked meat can generally stay frozen for 4-12 months without deteriorating in quality. However, if you buy bacon and sausages, you should try to consume them within 1 to 2 months.
You should avoid thawing more meat than necessary since refreezing can result in poor texture and flavor. The recommended thawing methods include thawing in a refrigerator overnight or in an ice bath for approximately 15-30 minutes or longer, depending on the size and thickness of the cut.
Pricing
At FarmFoods, product prices depend on both the product type and the farm of origin. Since there are too many products to provide a full pricing overview, we will now go over the prices of some of the most popular products.
If you are interested in beef products, you can expect to get:
Filet mignon for about $30 per pound;
Osso bucco for around $10 per pound;
Ground beef for $7.99 per pound;
Burger patties for $9.99 per pound;
Bone broth for $11.99 per 16-ounce pack.
As expected, pork is more affordable. You can purchase:
Pork chops for less than $15 per pound;
Cured bacon for $15.99 per pound;
Ground pork for $7.99 pound;
Spare rib racks for about $10 per pound.
Chicken is even more budget-friendly, even though somewhat strangely priced. You can get:
A whole chicken for $7.99 per pound;
Drumsticks for $7.99 per pound;
Wings for $8.99 per pound;
Heart for $8.99 per pound.
With it comes to wild-caught seafood, the prices are as follows:
Sockeye salmon stars under $20 per pound;
Rockfish costs about $20 per pound;
Cod sells at about $16 per pound;
Halibut comes at a price of about $45 per pound.
Like we mentioned before in this FarmFoods review, shipping is free for orders weighing 10 or more pounds. Smaller orders come with a $9.99 shipping fee. However, these rules only apply to the continental US. Orders shipped outside the continental US always come with a flat shipping fee of $29.99 per delivery.
Delivery Areas
The great news is that FarmFoods delivers throughout the United States. It is available in all 48 continental US States, as well as Alaska, Hawaii, and the US Virgin Islands. It primarily ships via UPS but cooperates with USPS and FedEx too.
At FarmFoods, orders are shipped every Monday and Tuesday. Once shipped, orders generally arrive within 2 to 3 days. The service provides a tracking number for each shipment, so you can know when to expect your order to reach your home and whether there may be any potential delays.
Most of the time, deliveries are made in the afternoon. You do not have to be at home to receive your delivery, as long as there is a safe place to leave your package.
FarmFoods Pros & Cons
To make sure FarmFoods meets all your standards and expectations, it is important to know its biggest advantages and disadvantages. With a short overview of its pros and cons, you can easily decide if FarmFoods is the right company for you.
Pros
Healthy meat from small family farms
100% grass-fed beef, heritage pork, and pasture-raised chicken
Vast selection of products ranging from filet mignon to chicken feet
No antibiotics or hormones used
Wild-caught Alaskan seafood available
Reasonable prices
Free nationwide shipping on orders over 10 pounds
Cons
Limited selection of charcuterie
Only 3 types of meat available
Bottom Line
Judging from everything we found out while researching for this FarmFoods review, we can conclude that this meat delivery service has started out strong and we are excited about following its expansion in the following years. So far, it has managed to form partnerships with a number of small family-owned farms that provide meat of superb quality. Its product selection may only include 3 of the most popular types of meat, but it is still rather impressive. On top of that, the service has achieved nationwide coverage and set its prices in accordance with the average consumer's budget.
Combine these advantages with the fact that every product in FarmFoods' offer comes with plenty of information on its origin and you get a meat delivery service that constitutes a safe, smart, and delicious choice for carnivorous families across the country.