D'Artagnan Review
Advertiser Disclosure
This website features affiliate links. For purchases made via these links, we earn commissions that allow us to keep producing helpful content. To find out more
click here
.
Close
Many a passionate carnivore knows D'Artagnan as the place to get hard-to-find meat delicacies for those special occasions when compromise is not an option. This New Jersey-based online meat delivery has been in the business for more than 3 decades and its dedication to quality has put its products on the menus of 4-star restaurants across New York City.
From Japanese wagyu beef to foie gras, D'Artagnan truly has it all – and although its products can get quite expensive, they are worth every dime. Sit back and enjoy as we introduce you to the company's impressive, mouthwatering offer in our dedicated review of D'Artagnan.
What Is D'Artagnan
D'Artagnan is an online meat delivery service that has been offering premium meat products since 1985. Popular among world-class chefs and home cooks alike, it is best known for its selection of pates, confit, smoked delicacies, and game meats.
The story of D'Artagnan began when its owner Ariane Daguin worked at a New York charcuterie that refused to cooperate with the first foie gras farm in the US. Since Ariane grew up in Gascony, France, which has a strong foie gras tradition, she did not want to miss out on this exquisite opportunity. She dropped out of college, quit her job, started her own company, and teamed up with the unique farm her former employers turned down.
At first, her company's only products were foie gras and duck breast that was perfect for confit and pates. She reached out to restaurateurs who immediately fell in love with her products and wanted more. They started asking for everything they could not get from their standard suppliers, including quail, squab, buffalo, and a lot more. This was the start of a journey that would result in D'Artagnan becoming one of the most trusted artisanal meat purveyors in America.
Nowadays, D'Artagnan products are not only available in high-end restaurants. The company caters to all carnivores interested in exquisite, humanely grown fresh meats and delicacies that cannot be found at just any butcher shop. Its online store is chockfull of gourmet delights that are perfect for those occasions when you want to treat yourself to a meal to remember.
How Does D'Artagnan Work
D'Artagnan is not a subscription-based service. It functions as a regular online store where you can shop at your leisure and place one-off orders whenever you need quality meat. The only rule is that your order needs to be worth at least $40.
The company's offer is divided into 7 major categories, including Meat & Game, Duck & Poultry, Foie Gras & Caviar, Charcuterie, Truffles & Mushrooms, Pantry, and Gifts. You can browse products by categories and subcategories or you can check out Collections, where items are divided by cooking method, cut, and theme to facilitate your search. Furthermore, you can take a look at the latest additions to the D'Artagnan selection or browse the items that are currently on sale.
The ordering process is perfectly straightforward. You choose the items you want to order, decide on the type or size, and add everything you wish to your cart. Then you complete the checkout process and wait for your order to arrive. You can become a registered user free of charge to speed up the checkout process or you can shop as a guest.
Once you place an order, you can cancel it no later than 5 PM ET 3 days before the scheduled delivery date. To request a cancelation, you should get in touch with the company's support staff via phone or the contact form on the D'Artagnan website. Keep in mind that an order cannot be canceled if it has already been prepared or dispatched.
It is further important to know that you cannot modify an order after it is placed. Instead, you need to cancel the existing order and place a new one.
What Makes D'Artagnan Different
As we mentioned before in this D'Artagnan review, the company stands apart from the rest thanks to the superior quality and rarity of its products. From the very start, it has been committed to sourcing only the finest, free-range, humanely raised meat from farms that employ the best sustainability practices and use no added hormones or antibiotics.
On top of that, it specializes in gourmet, artisanal products that only a limited number of meat companies offer and that are usually found in fancy restaurants. Whether you are in the mood for wild boar, pheasant, poussin or mangalica ham, D'Artagnan has got your back.
All products you get at the D'Artagnan online store come with a 100% satisfaction guarantee. While the company does not accept returns, you can request a refund or a replacement within 5 days of receipt in case you are not entirely happy with your delivery.
D'Artagnan Products
D'Artagnan's offer includes hundreds of items, making it impossible to list them all. That is why we will now offer a quick categorized product overview in order to give you a sense of the wealth of options before you.
Meat & Game
This is one of the richest sections of the company's offer. It includes beef, lamb, pork, buffalo, rabbit, venison, veal, and wild boar.
When it comes to beef, you can opt for Angus beef, grass-fed beef, and wagyu and Japanese wagyu beef. All the popular cuts and products are there. You can get filet mignon, ribeye steak, New York strip steak, brisket, tri tips, short ribs, oxtail, ground beef, burger patties, and a lot more.
If you are interested in pasture-raised and grass-fed lamb, you can go with either Australian or domestic lamb, both certified Halal. At your disposal are about 20 different cuts, including lamb loin, volcano shanks, sirloin steaks, lamb shoulder, rack of lamb, and leg of lamb.
For those interested in pork, D'Artagnan offers Berkshire and heritage pork and you can get everything from chops, ribs, pork belly, and bacon to porcelets and whole pigs. There are about 40 different pork products available at all times.
Finally, in case you are craving game meat, you can get delicious buffalo steaks, ribs, and ground meat, whole rabbits, and rabbit legs, venison chops, medallions, and osso buco, wild boar rib rack, shoulder, and tenderloin, veal chops, racks, and sweetbreads, and many more exciting cuts.
Duck & Poultry
The Duck & Poultry category is incredibly diverse and includes items exclusively available at D'Artagnan. The Duck subsection alone features a variety of mouthwatering options, such as Moulard duck, Muscovy duck, Pekin duck, Rohan duckling, and the company's famous cassoulet kit.
Chicken lovers can opt for the lovely free-range, vegetable-fed Green Circle chicken and organic chicken and enjoy delicacies like poussin, chicken leg confit, and smoked chicken breast. Equally exciting is the Turkey subsection featuring organic, wild, heritage, and Green Circle turkey.
Those interested in rare poultry finds can delight in the company's selection of capon, goose, Guinea hen, pheasant, quail, squab, and wild Scottish game products.
Foie Gras & Caviar
A visit to the D'Artagnan online shop would not be complete without a visit to the Foie Gras & Caviar section. Here you can find the popular mousse of duck foie gras, grade-A duck foie gras slices, medallion of duck foie gras with black truffles, osetra caviar, and more must-try delicacies.
Charcuterie
The Charcuterie section has about 60 distinct handmade products ranging from prosciutto to rillettes. For easier browsing, it is divided into 10 subsections, including ham, bacon, sausage, cured & smoked meats, pate & mousse, confit & rillettes, charcuterie kits, ready-to-eat charcuterie, duck charcuterie, and pork-free charcuterie. You cannot go wrong with any of the amazing specialties in this category, but the company's famous pates and confit should definitely make it onto your shopping list.
Truffles & Mushrooms
In the Truffles & Mushrooms section, you can find both cultivated and wild mushrooms and truffles, with about 30 delectable options at your disposal. You can try out fresh wild ramps and fiddlehead ferns, organic maitake and shiitake mushrooms, fresh black winter truffles and summer truffles, truffle butter and oil, and much more.
Pantry
The Pantry category is dedicated to pantry staples that pro chefs use to achieve superior results in the kitchen. These include the likes of duck and veal demi-glace, duck fat, cooked chestnuts, Reserve Jean Reno olive oil from Provence, and various butters and oils that add flavor and silkiness to any dish.
Gifts
If you want to get a special D'Artagnan gift for a loved one, you have more than 120 options waiting for you in the company's online shop. You can opt for D'Artagnan's most popular products like foie grass and charcuterie, go with a deluxe gift box or a recipe kit, treat someone to a game sausage or bacon sampler or simply get a gift card worth anywhere between $50 and $500 and let the gift recipient enjoy choosing from the whole range of D'Artagnan products.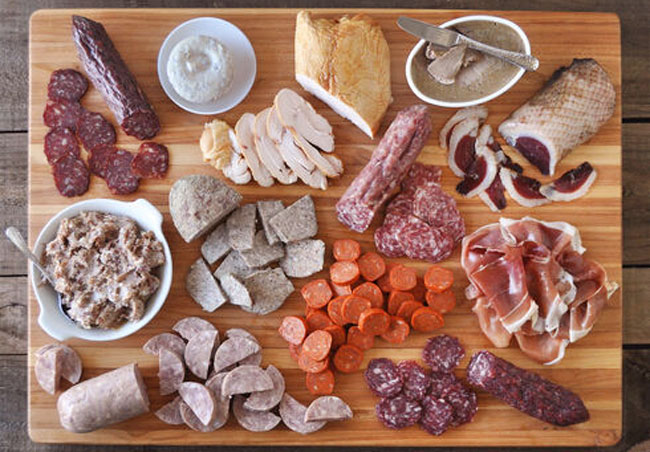 How Much Does D'Artagnan Cost
Keeping in mind the vastness of D'Artagnan's offer, our review would be incredibly long if we listed the prices of all products. That is why we have decided to focus on some of the company's top products in order to give you a sense of the price range.
For example, you can get 10 grass-fed filet mignon steaks (8 ounces each) for $234.99. Porcelet rib racks averaging at about 3-4 pounds sell for $99.99. Moulard duck breasts start at $14.99 for a 14-ounce breast while Rohan ducklings start at $34.90 for 1 duck weighing 5.25 to 5.75 pounds. You can also get a whole fresh pheasant weighing 2 to 2.75 pounds for $34.99.
Mousse of duck foie gras costs $19.99 per 8-ounce tub and osetra caviar starts at $124.99 for a small 1-ounce tin. Duck leg confit costs $12.99 per 5-ounce leg while country-style pate comes at a price of $9.99 per 9-ounce tub. Wagyu beef bresaola costs $149.99 per piece, averaging at $1.75 to 2.25 pounds.
As you can see, the prices are far from low, which is not surprising since these are mostly luxury items. In spite of that, there are many delicious products that you can enjoy without spending too much money. Orders over $99 come with free shipping while smaller orders come with varying shipping fees that depend on order weight, location, and the desired delivery date.
Where Does D'Artagnan Deliver
D'Artagnan delivers throughout the United States, including Alaska and Hawaii. Its shipping method of choice is FedEx Overnight. If you place your order by noon ET Monday through Thursday, you can have your order delivered as soon as the next day.
You do not have to be at home to receive your delivery, unless it is worth more than $500, in which case a signature may be required. Orders are shipped in reusable insulated boxes filled with ice packs that keep your food cool until you get a chance to pop it into your fridge or freezer.
D'Artagnan Pros & Cons
To make sure D'Artagnan meets all your standards and expectations, it is important to know its biggest advantages and disadvantages. With a short overview of its pros and cons, you can easily decide if D'Artagnan is the right company for you.
Pros
Premium-quality, sustainable, and humanely raised meat
Hundreds of artisanal meat items
Rare specialties exclusively available at D'Artagnan
Commitment-free ordering
Low minimum order threshold
Free shipping on larger orders
100% satisfaction guarantee
Cons
Does not fit every budget
Bottom Line
If you are a discerning meat lover, you are sure to be delighted by the range of exceptional delicacies available at D'Artagnan. Many of the premium items in its offer are virtually impossible to find anywhere else and they are worth trying out at least once. Even though the prices in general are not exactly budget-friendly, they do start under $10 and everything you buy comes with a money-back guarantee, so you can purchase these must-try specialties completely risk-free.