Compare Prices
The following price comparison is designed to help you easily figure out which of the best tasting meal delivery services best fits your budget. We have brought all the pricing information to one place, including the shipping costs and details about the companies' delivery areas, so you can identify the perfect fit in a single glance.
Company
Avg. Meal Price
Shipping
Delivery Areas
Sun Basket
Avg. Meal Price
Shipping Cost
$6.99
Delivery Areas
Home Chef
Avg. Meal Price
Shipping Cost
$0
Delivery Areas
Freshly
Avg. Meal Price
Shipping Cost
$0
Delivery Areas
Plated
Avg. Meal Price
Shipping Cost
$0
Delivery Areas
Blue Apron
Avg. Meal Price
Shipping Cost
$0
Delivery Areas
The Good Kitchen
Avg. Meal Price
Shipping Cost
$0
Delivery Areas
HelloFresh
Avg. Meal Price
Shipping Cost
$6.99
Delivery Areas
Home Bistro
Avg. Meal Price
Shipping Cost
$15.95-$59.95
Delivery Areas
Green Chef
Avg. Meal Price
Shipping Cost
$6.99
Delivery Areas
Veestro
Avg. Meal Price
Shipping Cost
$0
Delivery Areas
Best Tasting Meal Delivery Companies
What all of our top picks have in common is that they are currently the best on the market. Now it is time to discover what makes each of these meal delivery companies unique. Explore their distinctive features in the mini-reviews below and choose the one that best satisfies your personal needs.
1. Sun Basket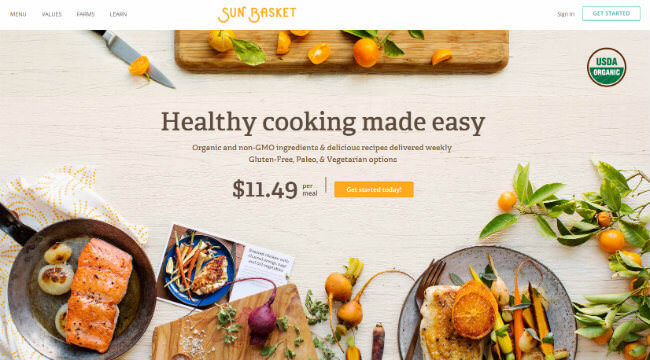 If you want superior taste, you cannot go wrong with Sun Basket, a superb organic meal kit delivery that provides the freshest, fragrant, all-natural ingredients and recipes crafted by the former head chef of James Beard award-winning restaurant The Slanted Door. This unique service allows you to choose from 18 delicious meal ideas and 12 healthy add-ons every week. It offers 11 different meal plans, including Chef's Choice, Paleo, Lean & Clean, Gluten-Free, Vegetarian, Vegan, Pescatarian, Diabetes-Friendly, Quick & Easy, Carb-Conscious, and Mediterranean.
2. Home Chef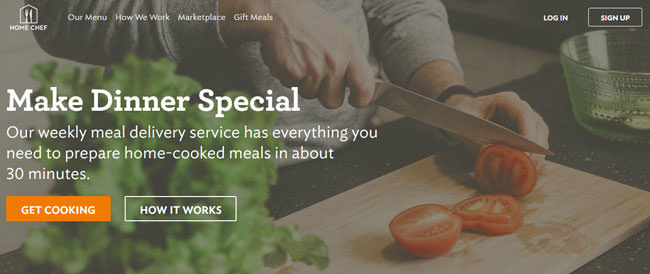 Home Chef is a healthy meal kit delivery that builds your unique taste profile based on your preferences. It recommends recipes that perfectly suit your taste and provides natural, nutritious, pre-portioned ingredients that allow you to cook up a gorgeous meal with incredible ease. Every week, its menu features 13 new scrumptious dinners, 3 tasty 5-minute lunches, a smoothie, and a fruit basket. You can opt for meaty, seafood, vegetarian, allergy-friendly, low-calorie, and low-carb dishes.
3. Freshly

Freshly is a gluten-free meal delivery service that offers healthy, chef-crafted meals that are rich in protein and low in carbs. This company's meals are Paleo-inspired, wonderfully flavorful, and good for your body, allowing you to enjoy amazing food guilt-free. You can choose from around 20 entrées and half a dozen breakfasts suitable for various kinds of low-carb diets. Freshly also offers a vast range of diabetic-friendly and allergen-free meals.
4. Plated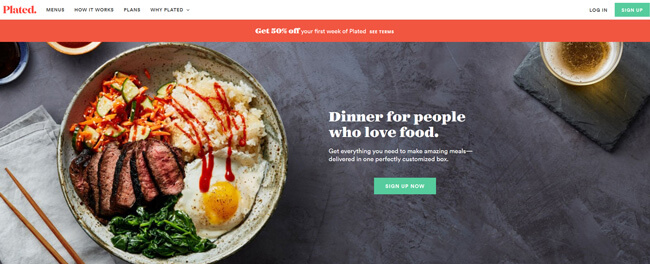 Plated is definitely one of the best tasting meal prep delivery services on the market. It does not only provide natural and organic ingredients beaming with flavor but also allows you to cook with special artisanal ingredients that cannot be found in regular stores. The menu includes 20 mouthwatering dinner recipes and 2 lovely desserts. The recipes are chef-crafted and designed for omnivores, carnivores, vegetarians, and seafood lovers.
5. Blue Apron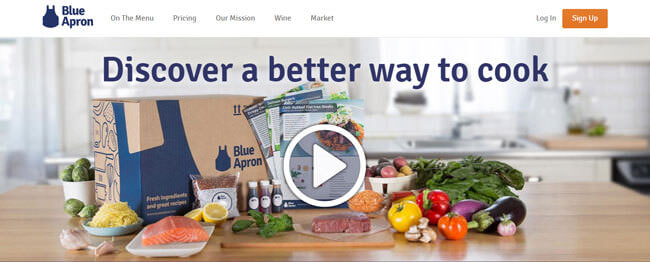 Blue Apron has long been one of the best meal kit delivery services in America. Its recipes are utterly impressive and surprisingly easy and its ingredients are always of the finest quality. It is suitable both for busy couples and families who want to enjoy great food while minimizing time spent in the kitchen. Its menu features a total of 22 recipes every week, with plenty of gourmet, vegetarian, and Mediterranean-inspired meal ideas, as well as recipes designed in cooperation with WW, Weight Watchers reimagined.
6. The Good Kitchen



The Good Kitchen is an organic meal delivery service that manages to perfectly satisfy the tastes and needs of both grown-ups and little ones. Its meals are made from the best ingredients, cooked to perfection, and rich in both natural flavors and valuable nutrients. All meals on the menu are gluten-free, soy-free, and peanut-free and many of them are keto-friendly, Paleo, and Whole30-compliant. With 4 meal plans for adults and just as many plans for children, you can easily find a solution that fits your schedule.
7. HelloFresh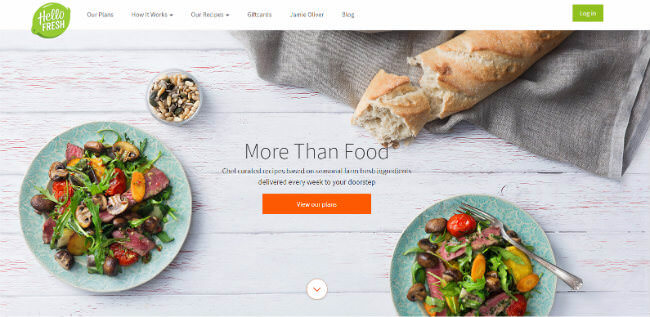 HelloFresh is a healthy meal kit delivery designed by people who truly know and love food. Its meals can take as little as 20 minutes to make and the result is always a restaurant-quality meal that pleases your palate and perfectly nourishes your body. You can choose from 3 meal plans and opt for 2-4 out of 3-17 delicious recipes on the weekly menus. The recipes at your disposal include vegetarian, kid-friendly, omnivore, calorie-smart, gourmet, egg-free, nut-free, dairy-free, and gluten-free meal ideas.
8. Home Bistro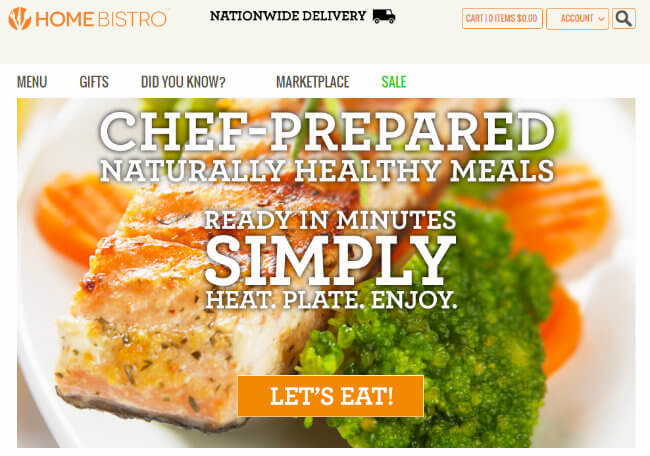 Home Bistro is a gourmet meal delivery service that offers dozens of chef-prepared meals made from premium-quality ingredients. Its diverse menu includes sensational meals for vegetarians, Paleo lovers, diabetics, and fans of the Mediterranean cuisine, along with gluten-free, heart-friendly, diabetic-friendly, low sodium, and low carb dishes. Amazing flavor and texture are guaranteed, as Home Bistro meals are prepared by one of the best chefs in all of America.
9. Green Chef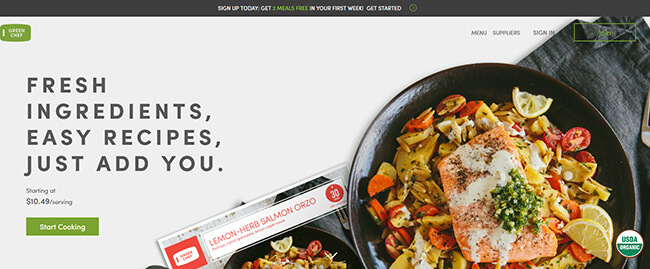 Green Chef is an organic meal delivery designed for home diners with sophisticated palates. This magnificent service offers as many as 9 different meal programs for a variety of diets, including omnivore, carnivore, balanced living, gluten-free, plant powered, vegetarian, pescatarian, keto, and Paleo. Not only do you get to choose a program that suits your dietary preferences and lifestyle but you can switch between the programs as often as you please, so you can enjoy maximum variety.
10. Veestro


Veestro is one of the best vegan meal delivery services created for plant lovers who value diversity. Its offer includes healthy and wonderfully tasty breakfasts, entrées, soups, desserts, and juices available on the a la carte menu. For special diets and occasions, Veestro has designed 7 handy meal packs. Furthermore, the service offers 3 excellent weight loss plans and 2 juice cleanses that can reboot your metabolism while pleasing your taste buds.