Yumble Review
Fun & Healthy Meals For Kids

Advertiser Disclosure
This website features affiliate links. For purchases made via these links, we earn commissions that allow us to keep producing helpful content. To find out more
click here
.
Close
Launched in the summer of 2016, Yumble is a rather young meal delivery service that caters to the youngest and the pickiest of eaters. The meals offered by this company are ready-made and designed to satisfy the dietary needs of children aged 1 to 12. However, being delicious and wonderfully healthy, they can bring pleasure to the taste buds of older children and parents as well with some extra portions to satisfy their appetites. In love with the idea behind this service, we have decided to check whether it is as good as it sounds. We report our findings in this honest Yumble review.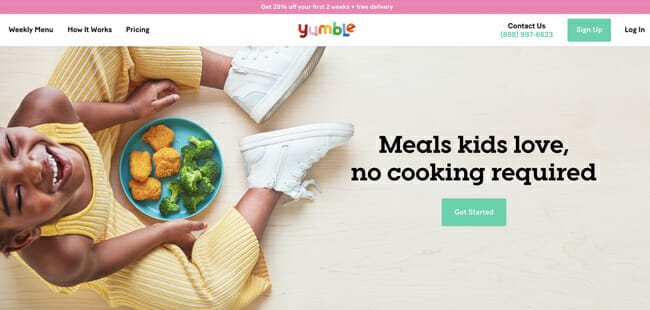 How Yumble Works
Yumble is a subscription-based meal delivery service that offers tasty meals made of natural, wholesome seasonal ingredients, organic whenever possible. The dishes are professionally prepared with the needs of the little ones in mind.
As soon as you subscribe, you get to state which dietary restrictions the Yumble team should be aware of when preparing your child's meals. The menu is carefully crafted to include a variety of options for different diets, including vegetarian, dairy-free, egg-free, and gluten-free.
Every week, you can choose from 18 scrumptious meals and 2 healthy snacks that can also make for a nice breakfast. Depending on your child's appetite and your schedule, you can order 6, 12 or 24 meals per week.
If you forget to choose the meals for the week, there is nothing to stress about. Yumble will handpick some tasty meals for your child based on your previous orders and the dietary restrictions you listed.
While you do need to subscribe before you can order the meals, you can modify your subscription to suit your needs at any time. You can change the number of meals you want to receive, you can skip a week if you are out of town or have some other plans, and you can pause or cancel your subscription whenever you like. All the modifications can be made online, straight from your Yumble account.
What Makes Yumble Different
Yumble is the brainchild of a busy mom who knows how hard it can be to plan meals for the little ones, with their preferences and needs constantly changing. It can be particularly difficult to get them to eat healthy meals rich in veggies, which is why this smart lady came up with a way to turn kids' favorites into more balanced and nutritious meals made with the finest ingredients.
In an effort to make mealtime more fun, Yumble offers more than just meals. Apart from the delicious food, your first order includes a welcome pack filled with crayons, coloring sheets, and a star chart that your kids can use to track their meals. Once the chart is complete, you can take a cute photo of your kids with the chart and get a great prize. All subsequent deliveries include collectible coins that can be redeemed for exciting gifts for the little ones.
Meals And Recipes
As we already mentioned in this Yumble review, this company offers 3 meal plans, allowing you to order 6, 12 or 24 meals per week. Therefore, you can order up to 3 meals per day for 6 days for one child or one meal per day for 6 days for up to 3 children.
The 20-item menu changes regularly and includes 18 lunches and dinners and 2 snacks/breakfasts. Every meal item is good for 1 serving and includes 3 components, featuring an optimal balance between proteins, carbs, and nutrient-packed veggies. The snacks come in packs of 4 to 6 servings of healthy bites, such as mini muffins and protein poppers.
The items that are vegetarian, egg-free, gluten-free or dairy-free are clearly labeled, so you can easily choose the perfect meals for your child. While the meals are not made in a nut-free kitchen, they are normally free from tree nuts, peanuts, and coconuts.
All meals are ready to eat, so you can just reheat them in a microwave or an oven or serve them at room temperature. The reheating process takes between 45 seconds and 2 minutes in a microwave or 8 to 15 minutes in an oven preheated to 350 degrees. The containers used to pack the meals are microwave-safe for greater convenience but should not be heated above 375 degrees.
Pricing
Yumble meals do not have individual prices; instead, the price depends on the number of meals in your weekly delivery. You pay a lower price per meal if you decide to order more meals per week.
If you choose to order 6 meals per week, you pay $7.99 per meal, which amounts to $47.94 per week. With the 12-meal plan, you get the meals at the price of $7.49 per meal, that is, $89.88 per week. The 24-meal plan is the most affordable option, with the price per meal amounting to $6.99, so your weekly delivery costs $167.76.
Along with the reasonable prices, Yumble allows you to enjoy free shipping on all of your orders.
Yumble meal prices
Meals per week
Price
Price per meal
6
$47.94
$7.99
12
$89.88
$7.49
24
$167.76
$6.99
Delivery Areas
At the moment, Yumble meals are available in 26 states on the East Coast. The company intends to expand its delivery area to include the West Coast as well. If everything goes as planned, the expansion will take place in the first quarter or 2018. In Manhattan and most of Brooklyn, the meals are delivered via Parcel Inc. and the rest of the deliveries are shipped via FedEx. All meals normally arrive within 1 or 2 days. You can expect to receive your Yumble delivery on Monday, Tuesday or Wednesday between 8 a.m. and 8 p.m.
Yumble Pros And Cons
To make sure Yumble meets all your standards and expectations, it is important to know its biggest advantages and disadvantages. With a short overview of its pros and cons, you can easily decide if Yumble is the right meal delivery service for you.
Pros
Natural, wholesome, often organic ingredients
All meals made with children's dietary needs and restrictions in mind
Choose from 18 ready-made meals and 4 healthy snacks every week
Order 6, 12 or 24 meals per week
Vegetarian, gluten-free, dairy-free, and egg-free options available
Modify, pause or cancel your subscription anytime
Additional fun items and prizes for the little ones
Free shipping on all orders
Cons
Currently delivers to only 26 states on the East Coast
Sample Dishes
With Yumble, you get delicious meals prepared by pro chefs at affordable prices. To find out what kinds of delights you will receive in your delivery, we have chosen a couple of sample dishes that accurately represents its offer and can help you decide if it is the right service for you.
Cheeseburger
Chili
Grilled Chicken Strips
Tacos
Bottom Line
By offering a variety of fun, healthy, and tasty meals every week, Yumble takes all the guesswork out of planning meals for your kids. Everything on the menu is not only good for your children, it is also prepared in a way that makes it appealing to the little ones, with lively colors and interesting shapes. The company's offer includes meals for different diets and the meals you receive are made with your child's dietary restrictions in mind. The prices are affordable and there are no shipping and handling charges. While the service is currently only available on the East Coast, we hope that the company will soon make its amazing meals for kids available throughout the US.