Yumble VS Nurture Life
Advertiser Disclosure
This website features affiliate links. For purchases made via these links, we earn commissions that allow us to keep producing helpful content. To find out more
click here
.
Close
When choosing between two such amazing services like Nurture Life and Yumble, you need to take a good look at all the little details that may make one superior to the other. The goal of this Nurture Life VS Yumble comparison is to provide an objective assessment of the quality of both services based on the degree to which they satisfy all the major criteria for meal delivery comparison. View the scores they received on every criterion, take a look at their most prominent features side by side, and discover which one of them has done more to ensure your complete satisfaction.

Organic Meals For Kids Of All Ages
VS

Fun & Healthy Meals For Kids
Highlights

Nurture Life offers fresh, organic meals for children aged 6 months to 14+ years, which are available within custom-tailored meal plans that can perfectly satisfy your kids' unique dietary needs and preferences.
Average Price Per Meal:

$9.00

Shipping Cost:

$6.00

Delivery Area:

38 states

Yumble offers organic, allergy-friendly, ready-to-eat meals for children aged 1 to 12, available within customizable, budget-friendly meal plans.
Average Price Per Meal:

$7.49

Shipping Cost:

$0

Delivery Area:

26 states
Compare Features

Best For
Best for parents who want professionals to take care of their kids' diets
Menu/Meal Plans
Nurture Life has 3 menus, one for babies, one for toddlers, and one for kids.
Recipes/Meal Options
Nurture Life's menu for babies is separated into 3 parts based on the child's age, each featuring 10 recipes. Its menu for toddlers has 12 recipes and its menu for kids is also divided into 3 categories according to the child's age, each category providing 12 recipes.
Meal & Recipe Variety
Nurture Life's menus for babies include meals suitable for children aged 6+, 8+ and 10+ months. The meals are mostly pureed and made of veggies, fruit, herbs, meat, and fish. Its toddler menu includes healthy versions of kids' favorites like mac & cheese and chicken bites. Its menus for older children include meals for children aged 4-8, 9-13, and 14+ and feature classics similar to those on the toddler menu. Special diet options include vegetarian, vegan, gluten-free, soy-free, egg-free, and dairy-free meals.
Food Quality
Not only are Nurture Life meals carefully designed by culinary and pediatric nutrition experts, but they are also made of the finest ingredients. They only contain all-natural and organic produce, vegetable-fed meat free from antibiotics, and freshly caught and sustainably farmed fish and seafood.
Nutritional Value & Portion Size
Nurture Life meals for babies aged 6-10 months come in 4 oz. portions. Meals for babies aged 10+ months come in 8 oz. portions. Toddler meals come in 1 ¼ cup servings. For children aged 4-8, the company offers 1 ¾ cup servings. Serving size for meals for children aged 9-13 is 2 ½ cups while meals for children aged 14+ come in 3 ½ cup servings. All meals are nutritionally balanced and designed with the developmental needs of children in mind.
Subscription Flexibility
With Nurture Life, you can change, skip/pause or cancel your subscription anytime. Keep in mind that changes to your plan cannot be made after the weekly cutoff date, which depends on your chosen delivery day.
Refunds
If you are not happy with your order from Nurture Life, you can call the company within 24 hours of the delivery date and you may receive a refund or credit.

Best For
Best for busy parents looking for an easy way to feed their kids healthy, delicious foods
Menu/Meal Plans
Yumble features one menu for its patrons to choose from.
Recipes/Meal Options
Yumble has around 20 recipes on its menu.
Meal & Recipe Variety
Yumble offers organic lunches, dinners, and snacks that can double as healthy breakfasts. The meals are designed with the nutritional needs and tastes of children in mind and include omnivore, vegetarian, egg-free, gluten-free, and dairy-free meals, as well as meals free from tree nuts, peanuts, and coconuts. Most meals include an entree, grains, and vegetables and they occasionally feature a dipping sauce.
Food Quality
Yumble exclusively uses clean, natural, and organic ingredients that are farm-fresh and locally sourced. The meat is always free from antibiotics and hormones. All meals are free from preservatives and refined sugars.
Nutritional Value & Portion Size
Yumble bases serving sizes on the recommendations of the American Academy of Pediatrics and makes sure that all of its meals are nutritionally balanced and nutrient-dense in order to adequately support your child's development. If you are ordering for a child over the age of 12, you may need to increase the number of meals/portions per week.
Subscription Flexibility
With Yumble, you can make changes to your order, skip a week or pause/cancel your subscription at any time. The weekly cutoff day for editing your order is Wednesday at noon EST.
Refunds
For any information about refunds, you should contact Yumble directly.
Compare Plans & Pricing

Nurture Life Plans & Pricing
Babies 6+ months
Meals per week
Price per week
Price per meal
8
$35.00
$4.37
14
$60.00
$4.28
Babies 8+ months
Meals per week
Price per week
Price per meal
8
$45.00
$5.62
14
$75.00
$5.36
Babies 10+ months
Meals per week
Price per week
Price per meal
8
$55.00
$6.87
14
$89.00
$6.36
Toddlers 1-3 years
Meals per week
Price per week
Price per meal
5
$47.00
$9.40
10
$89.00
$8.90
Kids 4-8 years
Meals per week
Price per week
Price per meal
5
$52.00
$10.40
10
$99.00
$9.90
Kids 9-13 years
Meals per week
Price per week
Price per meal
5
$57.00
$11.40
10
$109.00
$10.90
Kids 14+ years
Meals per week
Price per week
Price per meal
5
$62.00
$12.40
10
$119.00
$11.90

Yumble Plans & Pricing
Yumble meal prices
Meals per week
Price
Price per meal
6
$47.94
$7.99
12
$89.88
$7.49
24
$167.76
$6.99
Suitable For

Meals For Families
Meals For Kids
Meals For Seniors
Meals For One

Meals For Families
Meals For Kids
Meals For Seniors
Meals For One
Compare Meal Options

Vegetarian Meals
Vegan Meals
Paleo Meals
Keto Meals
Low-Carb Meals
Low-Fat Meals
Meals For Diabetics
Gluten-Free Meals
Organic Meals
Weight Loss Meals

Vegetarian Meals
Vegan Meals
Paleo Meals
Keto Meals
Low-Carb Meals
Low-Fat Meals
Meals For Diabetics
Gluten-Free Meals
Organic Meals
Weight Loss Meals
Compare Sample Meals

Cheese & Veggie Strata
Chicken Fricassee
Lentil Casserole with Cauliflower Potato Mash
Salmon & Chickpea Paella

Cheeseburger
Chili
Grilled Chicken Strips
Tacos
Compare Extras

A La Carte Menu
Gift Cards
Marketplace

A La Carte Menu
Gift Cards
Marketplace
Compare User Reviews

Submitted By Erin on 02/25/2019

The food is tasty and of decent quality for the most part. And the service is incredibly convenient for working parents, but only when the service itself works correctly, which is not frequently enough. My complaint is constant shipping problems. In the few months I was a client, I lost track of the number of deliveries that were so late that the Nuturelife advised that the food must be thrown away. Deliveries due on a Friday wouldn't arrive until Tuesday. NutureLife simply blames FedEx, saying the it is "beyond [their] control", which is the part that offended me the most. The refusal to take responsibility for the carrier they chose. No option to change carriers. No credits, coupons, or other concessions offered as compensation for their failure. When my delivery was late twice in one month for at least the third time (meaning I had to scramble for a week's worth of food options at a moment's notice), I finally quit the service. In response to my cancellation notice, Nuturelife again just blamed FedEx. Pathetic and bad customer service.

Submitted By Bee on 02/21/2019

Shady business! When I logged in my account I still had time to change the meals and time to reschedule/cancel a shipment. Since my 5yr old didn't care for the meals I decided to call Nurture Life and cancel my account. The moment I notify them to cancel my subscription they say it's too late to cancel the shipment. It's bullshit- they just wanted my money before losing another customer. They don't even derserve 1 star. Rat Bastards!

Submitted By Michelle Bosch on 06/21/2018

First of all my child didn't like the food to the point I had to throw the majority of jars which have 24 hour expiring time after opened and about a week sealed. The food 10+ months looks like pieces from canned food. My issue came after I paused the week after the first delivery as I was going to schedule it for every other week until she was used to this new food, but still got that paused week charged and delivered without me knowing or choosing any of the food options.

Submitted By Angela on 06/15/2018

Great idea but I am not going to risk ordering anything because 1.) you don't even let us inform you of any potential allergies so to avoid getting those and my little one is allergic to 8 different things and 2.) when I message you privately to inquire about how you handle(according to Facebook you responded within an hour) you saw my message according to Facebook and you almost 4hrs later after you saw my message you still have yet to respond. I don't see how difficult it is to answer a question about how you handle allergies

Submitted By Rebecca on 13/02/2019

Yumble is such a scam. My kids didn't like the foods (I don't blame them), and I canceled after two weeks. Apparently if you cancel with a reason of "picky eater", you have to also "opt out" of their "picky eater club" offer. This is not obvious and now I was just sent more gross food, and my concern about getting a refund is going unanswered. Do not recommend!

Submitted By Evelyn McConnell on 10/17/2018

Great quality, really creative and diverse, I am just a bit unhappy with the portions. My 8-year-old has a big appetite and quite often he asks for a snack soon after he finishes the meal. He always says he feels full, but I'd like it if the portions were just a bit larger, just to avoid snacking. Still, I could never get him to eat all the veggies and I'll definitely keep ordering, these guys really know what they're doing and they seem to understand my kid's taste better than I do :)

Submitted By William Clark on 09/27/2018

I'm not a good cook, my wife works long hours, and our twins are hungry every 2 hours. Yumble has really made things so much easier. The boys love the meals and they are happy they no longer have to put up with my lousy cooking, ha ha :smile: Plus, it's really cheap, I couldn't make anything nearly as delicious and healthy for that kind of money. 5 out of 5!

Submitted By Katy Silva on 09/18/2018

I bought this product seeking to avoid the typical frozen meal I can get in any supermarket for 5 dls but that was exactly what I received from Yumble. I think they spend too much on kid engagement with useless fictional characters and toys and too little on real healthy food. I'm trying to cancel my subscription at this moment.
Winner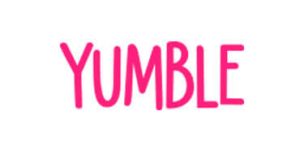 Yumble Kids is a meal delivery for children designed to make it easier to get your little ones to eat only what is perfectly good for them. You can choose from nearly 2 dozen healthy and delicious Yumble meals every week and customize your orders in accordance with your child's dietary restrictions. For more useful details, read our Yumble Kids review.