Nurture Life Review
Organic Meals For Kids Of All Ages
Advertiser Disclosure
This website features affiliate links. For purchases made via these links, we earn commissions that allow us to keep producing helpful content. To find out more
click here
.
Close
Nurture Life is a Chicago-based meal delivery service that offers fresh, organic meals for babies, toddlers, and kids of all ages. Designed by a skilled chef and pediatric dietitian, all dishes perfectly satisfy the needs of children at every developmental stage. By handling everything from meal planning, cooking, and ingredient sourcing to portion control, this service allows parents to ease their hectic schedule and relax, knowing that a team of dedicated professionals is taking care of their children's diet. If this sounds tempting, get ready to discover the full range of advantages in this Nurture Life review.
How Nurture Life Works
Your journey with Nurture Life starts with a couple of simple questions about your child, including basics such as name, birth date, and dietary preferences, reflected in two options – veggies only or veggies, meat, and fish. If you have more than one child, you can easily create 2 or more plans custom-tailored to the individual needs of the little ones.
You get to choose how many meals you want to receive per week. You can opt for the Chef's Choice menu or handpick the meals from Seasonal and Favorites menus. Keep in mind that even if you choose the Chef's Choice option, you can still swap in the meals from the other two menus at your disposal and add meals for any age to your weekly delivery. The menus change every week.
All meals are made to order and ready to heat. They are never frozen; instead, they are chilled in order to preserve the freshness. Nurture Life allows you to change your meal plan to accommodate your child's changing dietary needs. Furthermore, you can skip a week and pause or cancel your subscription at any time.
What Makes Nurture Life Different
While there are now several interesting services on the market that exclusively cater to children, Nurture Life has a uniquely rich offer designed to suit the needs of children aged anywhere from 6 months to 14+ years. It allows you to always have perfect meal solutions regardless of your children's age and preferences. With dozens of menu items designed to support kids' development throughout their childhood, a variety of options for special dietary needs, and easy customization, it allows you to effortlessly navigate picky eating and make sure your child's body and mind are perfectly nourished.
In addition to creating its meals in cooperation with both culinary and pediatric nutrition professionals, Nurture Life sources the ingredients from the best farmers and purveyors, using only organic and all-natural produce, antibiotic-free and vegetable-fed meat, and fresh caught and sustainably farmed seafood.
The service does not only provide excellent meals for kids but also allows parents to learn more about ways to keep their little ones healthy and thriving, with great expert advice that can be found in the company's blog. Be sure to browse its extensive collection of fun and educational articles, as you are sure to discover plenty of tips and tricks every parent should know.
Finally, if you are looking for a perfect gift for a fellow parent, a Nurture Life gift card is an excellent choice. You decide on the amount and your friend gets a chance to enjoy the benefits of being a member of the Nurture Life family.
Meals And Recipes
Nurture Life meal options
Nurture Life offers 7 distinct menus, one for each one of its meal plans. The menus are divided into 3 categories: menus for babies, toddlers, and kids. You can choose from the main menu for babies, designed for little ones aged 10+ months. Each menu features 10 items, including favorites and seasonal delights. The meals mostly include purees made of the finest produce, meat, and fish.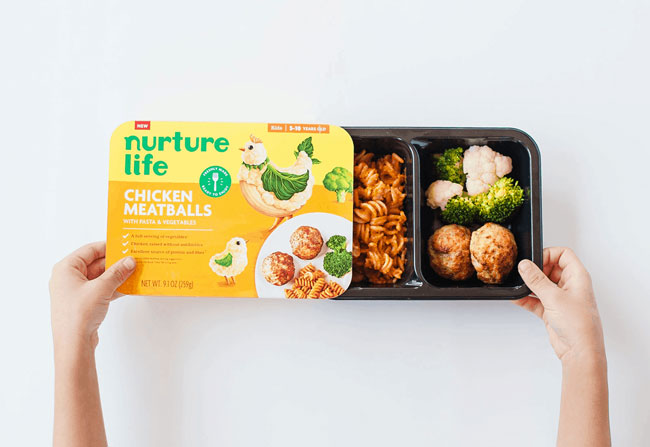 The toddler menu includes 12 colorful dishes that look appealing and pack all the valuable nutrients your child needs in his/her diet. The meals are incredibly creative and combine kids' favorites with healthy veggies that are carefully hidden behind the deliciousness of mac and cheese and other classics.
The kid menus include menus for children aged 4-8, 9-13, and 14+. Each menu features 12 delicious, optimally balanced meals that satisfy both the needs and the desires of children. For children with special dietary needs, Nurture Life offers a vast range of vegetarian, vegan, gluten-free, soy-free, egg-free, and dairy-free dishes.
Pricing
As we mentioned earlier in this Nurture Life review, this service offers 7 weekly subscription plans, designed for children at different stages of development. The price you pay per week depends on the age of your child and the number of meals you order per week. All plans come with a $8 shipping fee. However, if you spend more than $59 you will get free shipping. Not to mention that if you spend $79 you will get a 5% discount and 10% if you spend $99, plus free shipping.
Babies plan is designed for babies aged 10 months – 24months and price per meal is $6.89.
Toddler plan is created for children aged 1 to 4 years and price per meal is $7.99.
Kids plan is perfect for kids aged 5 to 12 years and price per meal is $8.99.
Teens & Adults is a meal plan designed with teenagers aged 13 and up and the price per meal is $10.99.
Cold Lunches offers a selection of yummy meals (usually around 300 calories) and it costs just $7.99 per meal.
Shareables is the most diverse Nurture Life product category with prices that starts at $9.99.
Nurture Life's plan for babies (10 months – 24months) allows you to get 6 meals per week for $41.34 or 10 meals per week for $68.90. Serving size is 1 ¼ cup. If you choose the plan designed for toddlers between the ages of 1 and 4, you get 5 meals per week for $39.95 or 10 meals per week for $79.90. Serving size is 1 ¾ cups. For kids between the ages of 5 and 12, 5 meals per week cost $44.95 and 10 meals per week cost $89.90. Serving size is 2 ½ cups.
Finally, if you are ordering for a teenager aged 14 or older, you pay $62 for 5 meals per week or $119 for 10 meals per week. Serving size is 3 ½ cups.
Babies 6+ months
Meals per week
Price per week
Price per meal
8
$35.00
$4.37
14
$60.00
$4.28
Babies 8+ months
Meals per week
Price per week
Price per meal
8
$45.00
$5.62
14
$75.00
$5.36
Babies 10+ months
Meals per week
Price per week
Price per meal
8
$55.00
$6.87
14
$89.00
$6.36
Toddlers 1-3 years
Meals per week
Price per week
Price per meal
5
$47.00
$9.40
10
$89.00
$8.90
Kids 4-8 years
Meals per week
Price per week
Price per meal
5
$52.00
$10.40
10
$99.00
$9.90
Kids 9-13 years
Meals per week
Price per week
Price per meal
5
$57.00
$11.40
10
$109.00
$10.90
Kids 14+ years
Meals per week
Price per week
Price per meal
5
$62.00
$12.40
10
$119.00
$11.90
Delivery Areas
At the moment, Nurture Life meal kits are available in 38 US states, mostly in the Midwest and East Coast. You can check whether the service delivers to your area by entering your zip code on the website. While it does have a somewhat limited geographical coverage, it is worth noting that Nurture Life is actively working on adding more states to its delivery map.
Nurture Life Pros And Cons
To make sure Nurture Life meets all your standards and expectations, it is important to know its biggest advantages and disadvantages. With a short overview of its pros and cons, you can easily decide if Nurture Life is the right meal delivery service for you.
Pros
Meals for children aged between 10 months and 14+ years
Vegetarian, vegan, gluten-free, soy-free, egg-free, and dairy-free options
Designed by culinary and pediatric nutrition professionals
Organic and all-natural ingredients
Flexible subscriptions
Moderate prices
Cons
Shipping is not free of charge
Does not deliver nationwide
Sample Dishes
With Nurture Life, you get delicious meals prepared by pro chefs at affordable prices. To find out what kinds of delights you will receive in your delivery, we have chosen a couple of sample dishes that accurately represents its offer and can help you decide if it is the right service for you.
Chicken Bites with Green Beans & Roasted Sweet Potatoes Kid
Chicken Chow Mein Kid
Chicken Sweet Potato & Waffle
Mac & Cheese with Peas
Bottom Line
Nurture Life is an excellent choice for parents who want to provide their children with nothing but the best and save time on meal planning and preparation. The meal plans are professionally designed, the ingredients are carefully sourced, the meals are perfectly cooked and chilled to stay fresh, and the prices are quite alright. We would be happier if shipping was free and the meals were available throughout the country, but even with these minor flaws, this service is definitely a dream come true for the modern busy parent.