True Fare Review
Advertiser Disclosure
This website features affiliate links. For purchases made via these links, we earn commissions that allow us to keep producing helpful content. To find out more
click here
.
Close
Important update: We regret to inform you that True Fare has closed its doors and is no longer fulfilling orders. At the moment, it is not known whether the service will resume its operations at some point in the foreseeable future. For the time being, True Fare is referring its patrons to its affiliate Pete's Paleo, which is currently one of the best Paleo meal delivery services on the market.
True Fare, formerly known as Pre-Made Paleo, is the brainchild of RSB Foods, a company formed in 2012 with a single vision – to change the way Americans eat and see food. The company is led by Chef Richard Bradford and Chef de Cuisine Amy Crites. The two of them joined forces to develop a company that would provide the public with delicious meals adhering to the Paleo lifestyle. Over time, the company started focusing on other popular diets as well, including Whole30, AIP, and keto. This intriguing concept is what inspired us to create this True Fare review.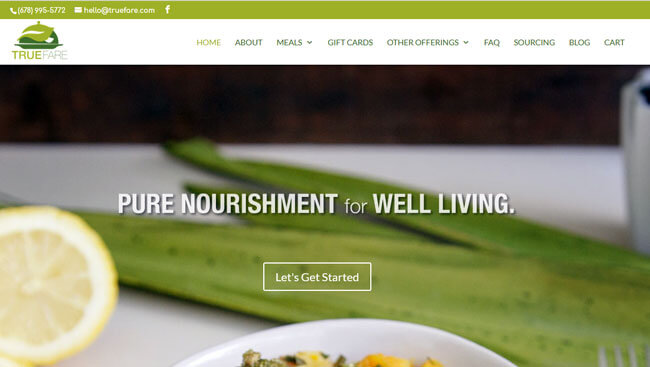 How True Fare Works
True Fare allows you to choose whether you want to order individual meals a la carte whenever you need them or opt for a subscription and receive automatic shipments every week, biweekly or monthly.
If you decide to order a la carte, you can freely choose your breakfasts, lunches, dinners, and vegetable sides from the company's diverse menu. There are around 50 items to choose from. All items on the menu are Paleo-friendly and Whole30-approved and many of them are AIP-friendly and keto-friendly. In addition to the standard, single-serving breakfasts, lunches, and dinners, True Fare offers family meals, raw, ready-to-cook wild-caught fish and seafood, spices, sauces, raw meats, bone broths and stocks, Paleo snacks, bacon, and more.
If you wish to subscribe, you can opt for the standard Paleo-friendly 5-meal, 10-meal, 20-meal, 30-meal, and 40-meal plans, 10-day, 15-day, 20-day, and 30-day Whole30 plans, 5-day keto plan, and 5-day, 10-day, and 20-day AIP plans. If you do not like any of the available plans, you can request a custom plan.
All subscriptions can be canceled at any time, but you must notify the company at least 7 days before the next scheduled shipment. Subscriptions come with no extra fees. The minimum number of shipments with a subscription is 2 (i.e. minimum 1 renewal). Meals you receive with subscriptions may come at discounted prices. If you cancel before receiving 4 shipments, you may be charged for the difference to the regular prices.
What Makes True Fare Different
True Fare is a Paleo meal delivery service that does not limit its offer to just Paleo meals. Unlike most meal delivery services on the market, it offers meals that are in complete accordance with the keto and AIP diets. Not only that, but every single menu item is Whole30-approved. This is something you can hardly find anywhere else.
However, the availability of meals for special diets is not the only characteristic that sets it apart from the rest of the lot. It also uses the best possible ingredients. Its meals are prepared using premium-quality grass-fed beef, free-range chicken and turkey, heritage-breed pork, and organic produce. They are free from fillers, preservatives, stabilizers, and artificial ingredients of all kinds. They are completely natural, highly nutritious, and perfectly good for you.
Although True Fair does not offer refunds for meals that do not suit your taste, it is more than happy to give you your money back in case there is something wrong with your shipment. If you notice that some of the meals have arrived damaged or spoiled, be sure to get in touch with the staff within 24-48 hours in order to receive a refund.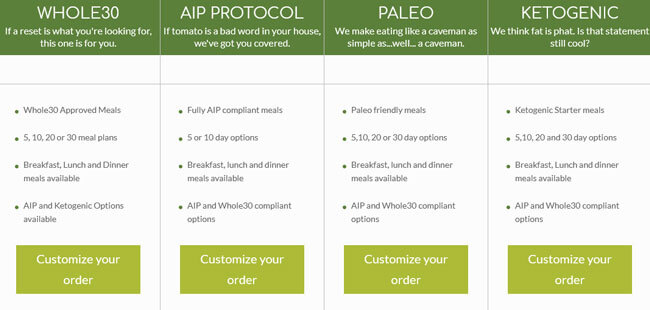 Meals And Recipes
Like stated previously in this True Fare review, the service offers just around 50 items on its menu. All standard meals are shipped frozen, but fresh meals are available as well, although in a limited number of areas.
The meals normally include an entrée and a 6 oz. vegetable side dish. Entrées come in 2 portion sizes – Regular, 5 oz., and Warrior, 8 oz. For most meals, you can choose the portion size that suits your appetite and you can decide whether you want your meals to include pork or you want pork substituted with chicken. The average calorie count per serving is around 300 calories.
Now that we have covered the basics, let us explore the company's special AIP, keto, and Whole30 meals and meal plans in greater detail. True Fare AIP meals are perfectly suitable for the elimination phase of the Autoimmune Protocol. They are free from nightshades, nuts, seeds, seed-based spices, and eggs. All AIP meals are Whole30-approved as well. The AIP meal plans include breakfast, lunch, and dinner.
Keto meals are designed in complete accordance with the rules of the ketogenic diet. They are low in carbs and high in protein and suitable for both the keto and Whole30 diets. The keto-friendly meal plan includes breakfasts, lunches, dinners, and nut-butters (almond).
Unlike with many other meal delivery services, with True Fare, you get meals that are actually Whole30-approved. This means that they are free from added sugar, grains, legumes (excluding green beans and sugar snap and snow peas), dairy, MSG, sulfites, baked goods, and other forbidden ingredients. The Whole30 meal plans include breakfast, lunch, and dinner, as well as healthy, approved snacks.
Finally, all meals are Paleo-friendly, which means no processed foods, added sugar, grains, legumes, trans fats, and most dairy products. The only oil used in the preparation of the meals is extra virgin olive oil. The standard Paleo-friendly meal plans include entrées and sides suitable for lunch and dinner.
Pricing
Considering it only uses the highest-quality and most conscientiously-grown food, True Fare is really not that expensive. The subscriptions start at $72 a week (5 meals). They go up to $995, which is the price of 30-days of Whole30 meals, including 30 breakfasts, 30 lunches, 30 dinners, and 60 servings of Trail Mix Snacks.
The prices of individual a la carte meals normally range from $9.50 to $18.50. Veggie sides usually cost $4.95 per serving. As far as shipping is concerned, it is free on all orders over $295. Orders worth between $50 and $294.99 come with a $15 shipping and handling fee. Deliveries to Georgia addresses worth $50+ come with free shipping.
Regular Subscription Plans
Number of meals
Price
Price per meal
5
$72.00
$14.40
10
$135.00
$13.50
20
$259.95
$12.99
30
$385.00
$12.83
40
$400.00
$10.00
Whole30 Subscription Plans
Duration
Price
Price per meal
10 days
$349.00
$11.63
15 days
$509.00
$11.31
20 days
$675.00
$11.25
30 days
$995.00
$11.05
AIP Subscription Plan
Duration
Price
Price per meal
15 days
$485.00
$10.77
Delivery Areas
True Fare delivers everywhere in the United States and even gives you a map of how long it will take to bring you your ordered meals. It ships to the majority of the continental U.S. within 3 days, with the exception of a few western states. Fresh meals are available in Georgia, Alabama, and select southeast cities, including Nashville, Charlotte, and others. You can check availability directly on the company's website.
True Fare Pros And Cons
To make sure True Fare meets all your standards and expectations, it is important to know its biggest advantages and disadvantages. With a short overview of its pros and cons, you can easily decide if True Fare is the right meal delivery service for you.
Pros
Organic and humanely raised ingredients
AIP, keto, Whole30, and Paleo meals and meal plans
Over 50 meals on the menu
All items on the menu are Whole30-approved
Subscribe or order a la carte
Free shipping on all orders over $295
Cons
The prices are not exactly low
Bottom Line
True Fare is an organic meal delivery service that offers an impressive selection of meals suitable for the Paleo, keto, AIP and Whole30 diets. All of its meals are Whole30-approved and made of natural, organic ingredients. You can order whenever you want or opt for one of its many subscription plans. You can choose everything from the number and selection of meals in your order to portion size, delivery frequency, and type of meat in your meals. The meals are available throughout the US and shipping is always free on orders worth more than $295. The prices may not fit all budgets, but considering the quality and variety, we did not expect them to be any lower.