True Fare Review - UPDATED Apr 2018
True Fare, formerly known as Pre-Made Paleo, is the brainchild of RSB Foods, a company formed in 2012 with a single vision – to change the way Americans eat and see food. The company is led by Chef Richard Bradford and Chef de Cuisine Amy Crites. The two of them joined forces to develop a company that would provide the public with delicious meals adhering to the Paleo lifestyle. Over time, the company started focusing on other popular diets as well, including Whole30, AIP, and keto. This intriguing concept is what inspired us to create this True Fare review.
Richard graduated from the Culinary Institute of America and currently lives in Dallas where he works on new recipes and contributes to various publications around the world on the subject of the Paleo diet.
Amy graduated from Le Cordon Bleu where she once again reignited her passion for farm-to-table cooking and the healthy lifestyle that comes with it. She met Richard in 2011 and it did not take them long to realize that a new Paleo diet service is their ultimate goal. Amy is responsible for much of the groundwork, training new people, designing new menus, and more.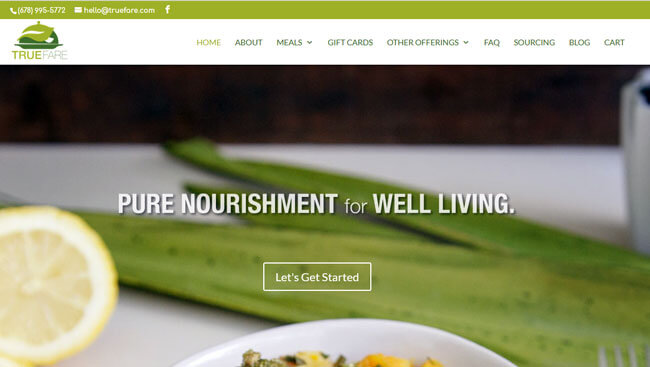 Interface And Presentation
We have encountered some truly gorgeous meal delivery websites, but True Fare is just too stunning to believe. When you visit the website, you are greeted by a slideshow of some of their tastiest and most beautiful dishes. There is a single button inviting you to GET STARTED.
By clicking on it, you are given a chance to explore and discover new parts of the website, such as the page where True Fare is explained, where different Whole30, Ketogenic, and AIP plans are covered, and where you can will find all the recipes that you will ever need.
The website also features a blog and we have to be perfectly honest and say we expected more. While researching for this True Fare review, we noticed that the articles were not posted regularly, which we found to be a bit disappointing. We would wish for more of them, especially since they are so well written.
Meal Options And Variety
While we had a bone or two to pick with the True Fare blog, we definitely have nothing against the meal options and the variety of dishes that they offer to their customers. It is not that unusual to see such a huge number of different dishes for all meals in the day, but the people from True Fare have really taken it to a whole other level.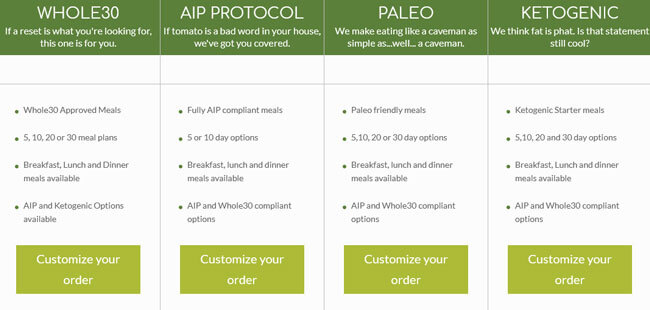 For instance, they have an entire section dedicated solely to Wild Caught Fish. Yes, that is where you will find all their meals with fish caught in the wild. We do not have to tell you how healthy this kind of fish is. They also feature a section with Exotic Meats, such as elk, venison, and wild boar. Talk about true Paleo!
Recipes And Programs
With not just one but two certified chefs designing the recipes and coming up with new delicious dishes, True Fare really knocks it out of the park in this respect too. They add new recipes regularly and once you start your relationship with them, you will not be able to wait for the next recipe to blow your mind.
As far as various programs are concerned, the people from True Fare have done everything in their power to accommodate both your needs and your budget. Besides choosing one of the existing Lunch & Dinner Only and Breakfast Only programs, as well as the W30 Program, Keto, and AIP Meal Plans, you can create a custom plan of your own with the A La Carte ordering option.
Pricing
Considering they only use the highest-quality and most conscientiously-grown food, True Fare is really not that expensive. They have subscriptions ranging from $72 a week to much more, depending on the number of the meals and the type of the plan you go for. More exotic meals such as elk and wild boar, as well as wild caught fish, can be on the more expensive side, but you would expect something like that for those kinds of ingredients.
Delivery Areas
True Fare delivers everywhere in the United States and they even give you a map of how long it will take them to bring you your ordered meals. They will ship to the majority of the continental U.S. within 3 days, with the exception of a few western states. Shipping is free on Georgia orders over $50, Eastern Region orders over $295, and Western Region orders over $349. For other orders, the shipping & handling fee depends on the value of the order and the customer's location.