Simply Lobsters Review
Speedy delivery of fresh Maine seafood
Advertiser Disclosure
This website features affiliate links. For purchases made via these links, we earn commissions that allow us to keep producing helpful content. To find out more
click here
.
Close
– – – – Important Update – – – –
As of late March of 2021 Simply Lobsters site is not working. We do not have any additional informations about this. If you're looking for great seafood delivery services we recommend Lobster Anywhere. Just read our comprehensive Lobster Anywhere review and decide for yourself.
– – – – Important Update – – – –
Simply Lobsters is a popular seafood delivery service based in Lewiston, Maine. It has been delivering fresh Maine lobsters, steamer clams, and various seafood specialties for more than 2 decades. Due to a large number of loyal patrons, it ships thousands of pounds of lobsters on a daily basis. Such exceptional customer demand allows it to ship perfectly fresh, handpicked seafood at surprisingly good prices.
As a company that has managed to strike a perfect balance between quality and affordability, Simply Lobsters has earned a place among the best Maine lobster delivery services in the country. If you are tired of overpaying for your lobsters and want to enjoy only the finest crustaceans the ocean has to offer, this Simply Lobsters review may introduce you to your next favorite seafood delivery.
How Simply Lobsters Works
Simply Lobsters functions as a regular online shop. You browse its offer, select the items you like, choose the desired quantity, and pick the delivery day that works for you. The company does not offer subscriptions and there are no rules on how much seafood you can order.
In essence, ordering from this service is rather simple. The only tricky part is locating the items you want on the website. While the main product categories are listed on the homepage and you can browse them easily, not all products on offer are included in these categories. Therefore, we advise to check the company's product index or use the search option to find what you need more quickly.
As far as lobsters go, you can opt for live hardshell Maine lobsters, cooked softshell lobsters, culls, lobster tails, lobster meat, and lobster roll kits. Other products include steamer clams, shrimps, king crab legs, crab cakes, surf & turf packages, steaks, seafood soups, seafood meals and feasts, and desserts.
If you are interested lobsters, you should order in advance to allow the service to prepare your delivery. Cooked lobsters should be ordered by 12 PM EST the day before the desired delivery day. Live lobsters should be ordered no later than 2 PM EST the day before you want them to arrive.
What Makes Simply Lobsters Different
Simply Lobsters differs from other seafood deliveries in both good and bad ways. As suggested in the previous section of this Simply Lobsters review, the main negative aspect of this service is that its online shop is hard to navigate, which can be a bit frustrating.

It is not that rare for seafood deliveries to have outdated websites. While many customers dislike websites that do not feature a modern look, they may still purchase the goods they are interested in, as long as they are easy to locate. Simply Lobsters does not do that well in this regard since its site is not attractively designed. On top of that, some of its products can only be found on the Product Index page, which many customers may fail to find, as it is tucked away in the site footer. Therefore, we believe that the service should definitely consider redesigning its website to make ordering effortless.
On the other hand, Simply Lobsters offers high-quality products, fresh from the boats of Maine fishermen and fisherwomen. It provides speedy service, its products come with a satisfaction guarantee, and its prices are significantly lower in comparison to that of many of its competitors. That is why it has a considerable customer base that is consistently growing, in spite of the aforementioned navigation issues.
The company's seafood is giftable and makes for a great present for pescatarians and home cooks who like to fill their weekly menus with treasures of the sea. If you are not sure what your seafood-loving friends would like to get, you can always opt for a gift certificate sent via mail or email. Gift certificate values start at $15 and you can choose any custom amount that suits your budget.
Simply Lobsters Products
Now, let us discover the full range of items available in the Simply Lobsters online store. As it is only fitting, we will start with the company's live Maine lobsters and go all the way up to delicious desserts that can make your lobster dinners complete.
Hardshell Lobsters
Simply Lobsters offers hardshell lobsters is 9 sizes, including 1.15 pounds, 1.35 pounds, 1.65 pounds, 2 pounds, 2.5 pounds, 3 pounds, 3.5 pound, 4 pounds, and 4.5-15 pounds. For lobsters weighing more than 4 pounds, you need to place your order by phone. All hardshell lobsters come from Maine and they are shipped live to your doorstep unless you want the company's team to cook them for you.
Softshell Lobsters
Softshell Maine lobsters are not shipped live, as they may not survive the trip. They are exclusively delivered cooked and come in 3 sizes: 1.15 pounds, 1.35 pounds, and 1.65 pounds. Unfortunately, they cannot be bought individually but usually come in packs of 4, 6 or 10.
Culls
Culls, otherwise known as 1-clawed lobsters, weigh between 1 pound and 1.35 pounds each. You can buy them in 10-pound, 20-pound, and 30-pound packs.
Lobster Tails
The company provides cold-water Maine lobster tails that are delivered fresh-frozen. They are available in 7 sizes: 4-5 ounces, 5-6 ounces, 6-7 ounces, 7-8 ounces, 9-10 ounces, 11-12 ounces, and 13-14 ounces. You can buy them individually or in packs of 4, 6 or 8.
Lobster Meat
If you are interested in freshly cooked, never frozen Maine lobster meat, you can buy it by the pound or opt for money-saving packages. Normally, the service offers packages weighing 2, 4, 6, 8 or 10 pounds.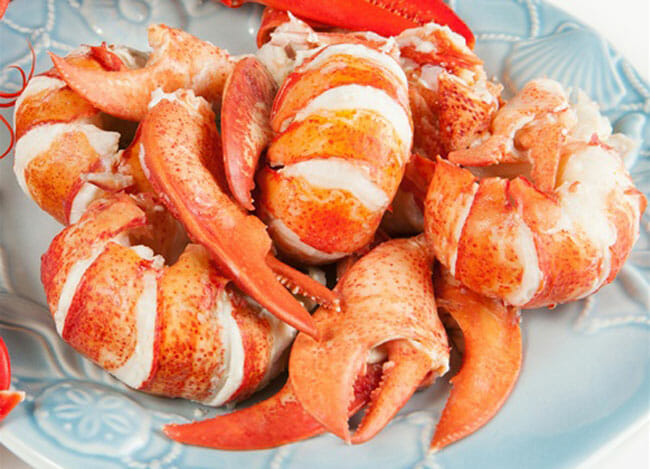 Lobster Rolls
Lobster roll kits are available in 4-serving and 8-serving sizes. The 4-serving option brings you 1 pound of lobster meat plus 4 buns while the 8-serving option includes 2 pounds of lobster meat and 8 buns.
Clams & Oysters
In case you are craving some freshly caught steamer clams for Maine, Simply Lobsters can deliver as many of them as you please. They are sold by the pound as well as in packages weighing between 5 and 70 pounds. Fresh oysters in the shell come in 100-count packs and they are sourced from the Chesapeake Bay and York River.
Gulf Shrimps
Gulf shrimps are sold in 5-pound packages. You can choose between large (21-25 per pound), jumbo (16-20 per pound), and super colossal (10-15 per pound) shrimps. They are delivered with their heads off.
Crabs
When it comes to crabs, there are not many options at your disposal. You can purchase 5-pound packages of Florida stone crabs or fresh-frozen king crab legs. The legs come from colossal red Alaskan king crabs that are both enormous and delicious.
Steaks
Apart from seafood, the service offers some of the most prized steaks. You can opt for 8-ounce filet mignon, 10-ounce New York strip, and 16-ounce porterhouse steaks.
Surf & Turf
Usually, there are 4 surf & turf packages on offer. They differ in size and normally combine juicy, trimmed filet mignon with Maine lobster tails. They are suitable for 1-4 people.
Seafood Soups
Simply Lobsters offers 20-ounce seafood soups made of healthy, natural ingredients. They are made of fresh seafood, natural spices, cream, butter, and veg. You can order lobster bisque, crab bisque, Manhattan clam chowder, shrimp & roasted corn chowder, and New England clam chowder.
Crab Cakes
Made of fresh Maryland crabs and combined with special spices, Simply Lobsters crab cakes are great for those occasions when you want to wow your dinner guests with a healthy and delicious appetizer. You can opt for 3-ounce, 5-ounce, and 6-ounce cakes and order packages including anywhere between 2 cakes and 3 dozen tasty bites.
Meals & Feasts
Meals and lobster feasts are not numerous, but they are scrumptious and often quite impressive. The company's selection includes scallop pies, shrimp pies, lobster ravioli, the 4th Of July Family Feast including lobsters, clams, and clam chowder, and the Ultimate feasts, which contain lobsters or lobster tails, crab claws, New England clam chowder, and whoopie pies, plus optional shrimps.
Desserts
At last, we come to Simply Lobsters' desserts, which come in many forms. Normally, there are about a dozen desserts available, including key lime pie, German chocolate cake, coconut cake, chocolate truffle torte, chocolate ganache cheesecake, black forest cake, banana cake, apple Bavarian pie, and more.
Pricing
So far in this Simply Lobsters review, we have not talked much about the company's pricing. We have only mentioned that its pricing is affordable and it is worth adding that the company offers regular discounts. Now, let us see what you can expect price-wise when ordering from Simply Lobsters.
Live hardshell lobsters start at about $14 per pound (+$1 if you want them cooked) while softshell lobsters cost $10+ per pound. Culls usually cost $14.5+ per pound, tails start at about $14 per tail, and lobster meat costs $50+ per pound. Lobster roll kits for 4 cost $64.99 while kits for 8 people cost $124.99.
The prices of clams start at about $11 per pound, shrimps start at $16 per pound, and oysters cost around $1 apiece. Stone crabs and king crab legs cost $20 per pound.
As far as steaks go, you pay $24.99 to $29.99 per 8-16-ounce steak.  Surf & turf packages start at $29.99 per person, all seafood soups cost $11.99 each, and crab cakes start at about $8 apiece.
Finally, meals like shrimp and scallop pies usually cost $15.99 per 9.9-ounce container, feasts cost $169+, and desserts normally cost $39.99 per 9-inch pie or cake.
Now, when it comes to shipping, we have to say that while the company claims that shipping costs are surprisingly low, we do not find them to be low at all. For example, even if you order just 1 hardshell lobster worth about $14, you still pay about $60 for shipping, which is quite a lot. As your order grows in weight and value, so does the shipping fee. Saturday deliveries come with an additional $15 fee.
The company has a clear policy on refunds. If you decide to cancel your order at least 48 hours before your scheduled delivery, you get a refund minus the 5% cancellation fee. If you cancel fewer than 48 hours before delivery, you do not get a refund. If you are unhappy with your shipment, you should call Simply Lobsters within 2 hours after receipt and request a refund or a replacement. You should follow the same procedure if you find dead lobsters in your live lobster delivery.
Delivery Areas
Simply Lobsters products are available throughout the United States, including Hawaii and Alaska. However, due to state regulations, Hawaiian customers who want to order live seafood need to provide an import permit before the company can send their live lobsters or clams to their homes. It is further important to note that the service only ships to residential addresses and cannot deliver to rural routes.
Orders are shipped Monday through Friday. Simply Lobsters sends shipments via UPS and its shipping method of choice is Next Day Air. Since no signature is required, the recipient does not have to be at home to receive the delivery unless there is no safe place for the carrier to leave the package.
Simply Lobsters Pros & Cons
To make sure Simply Lobsters meets all your standards and expectations, it is important to know its biggest advantages and disadvantages. With a short overview of its pros and cons, you can easily decide if Simply Lobsters is the right company for you.
Pros
High-quality live Maine lobster
Nice selection of crustacean and mollusk products
Tasty extras like seafood soups and desserts
Affordable prices
Satisfaction guarantee
Available nationwide
Cons
Poorly designed website
Shipping costs are higher than expected
Bottom Line
Simply Lobsters has a pretty rich offer and great pricing. It ships live, fresh, and cooked seafood all over the country, its products come straight from fishing boats in Maine, and everything in its online shop is of high quality. We only dislike its website that could be more user-friendly and we do not understand why shipping costs are described as low when they can get really high. Still, what matters most is that you get fresh, quality seafood whenever you wish, as quickly as possible, and Simply Lobsters does not disappoint in this department.