Lobster Anywhere Review
True Lobster Fan's Delight
Advertiser Disclosure
This website features affiliate links. For purchases made via these links, we earn commissions that allow us to keep producing helpful content. To find out more
click here
.
Close
More than three decades have passed since Lobster Anywhere first opened its doors and started delivering the liveliest lobsters to fine dining establishments and hedonistic home cooks alike. Based in Amesbury, Massachusetts, this seafood delivery company cooperates directly with local fishermen to ensure not just optimal freshness but ultimate enjoyment at the table as well.
Ambitious in its endeavors and dedicated to perfection, the company promises to provide the finest seafood and top-notch customer service at highly competitive prices. Join us as we explore the service inside and out in this Lobster Anywhere review.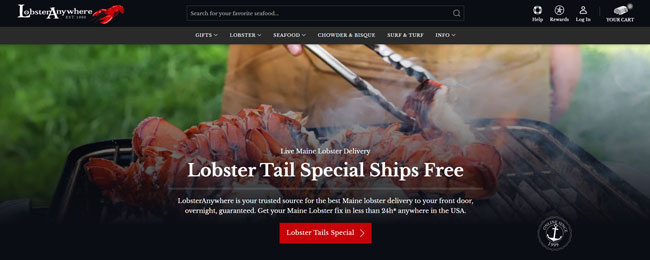 How Lobster Anywhere Works
At Lobster Anywhere, you can order as little or as much seafood as you want. There are no subscriptions and one-time ordering comes with no limitations. Essentially, when you crave what Lobster Anywhere is offering, you just stop by its online shop and pick up what you need.
As you may have guessed, the service focuses on lobsters. You can order live Maine lobster, lobster tails, lobster meat, lobster rolls, and lobster dinners. The service also offers deliciously comforting chowders and bisques. Non-lobster items include fresh scallops, colossal shrimps, and delectable New England desserts and sweets.

Since the service is not subscription-based, there are not many rules when it comes to ordering. You should just keep in mind that if you want your seafood to be delivered the next day, you should place your order by 2 PM ET. However, even if you fail to order on time, you can reach out to Lobster Anywhere's friendly representatives and they promise to do their best to accommodate your needs.
Of course, you can always order in advance and choose the delivery day that works for you. If you are ordering fresh seafood, the company advises you to choose the delivery day that coincides with your dinner plans, so you can cook the food while at peak freshness. For frozen seafood, the recommended delivery time is about a day before you plan to cook.
What Makes Lobster Anywhere Different
There are quite a few reasons why you may want to choose Lobster Anywhere over other delivery services of its kind. The first reason is the freshness.
Namely, Lobster Anywhere sources its premium seafood straight from the fishing boats of local fishermen and fisherwomen. Creatures of the sea then spend minimum time in refrigerated tanks filled with cool, fresh, cycled salt water. The company's staff grades and handpicks them for delivery as soon as they are placed in the tanks and packs them with lots of super-cold gel packs. Within 24 hours, your order arrives at your doorstep. This is amazing, compared to lobsters and other seafood that you can get from many stores and delivery services that store their seafood for weeks before they sell them.
Another advantage of Lobster Anywhere is the fact that it is a wholesaler. This means that it can charge less than retailers and provide the finest, freshest seafood at a rather good price. Furthermore, every delivery comes with top-quality accessories that add value to your order.
For patrons who want to learn more about lobsters and their preparation, the company offers an abundance of resources. In addition to providing guides with all deliveries, Lobster Anywhere has a special section on its website called Lobster University, where you can find cooking tips and tricks, amazing recipes, and much more.
If you become a regular customer, you can take advantage of the company's Sand Dollar Rewards program. By becoming a registered customer, you get 15,000 sand dollars, writing a review of your order brings you 20,000 sand dollars plus an e-certificate, and you get 100 sand dollars for every $1 you spend at its online shop. You can exchange every 5,000 sand dollars for $2 in store credit. You can use your store credit to pay for your future orders.
Finally, for passionate seafood lovers in your life, Lobster Anywhere offers gift certificates that can be sent via e-mail or snail mail. Gift card values start at $25.
Lobster Anywhere Products
Previously in this Lobster Anywhere review, we touched upon the range of products the company has on offer. In this section, we will dig a bit deeper and learn more about the options at your disposal.
Live Maine Lobster
If you opt for the company's top product, live Maine lobster, you can choose between 5 sizes, including 1.25, 1.5, 2, 3, and 5-6 pounds. Live lobsters are always hard-shell, wild-caught, and shipped from the trap to your table.
Lobster Tails
In case you are interested in lobster tails, the company offers several options, ranging from fresh tail meat to frozen tails. Flash-frozen lobster tails come in 4 sizes: medium (6-7 ounces), jumbo (8-10 ounces), colossal (16-20 ounces), and monster (20-24 ounces). They are shipped raw in the shell. Lobster tail meat is available in packages weighing 1, 2, 4, and 6 pounds and you can choose between large and colossal tails. Lobster tail specials include jumbo tail and chowder combos.
Lobster Meat
For customers interested in claw and knuckle meat, Lobster Anywhere has prepared 1-pound packs of raw CK meat. You can also get 2-pound and 4-pound packs of cooked TCK lobster meat.
Lobster Rolls
Fans of lobster rolls can order lobster roll kits including 2 pounds of top-quality lobster meat, 8 Pepperidge Farms rolls, and 5.5 ounces of Maine sea salt butter, along with 7 ounces of New England salt water taffy for dessert. One kit makes 6-8 rolls.
Lobster Dinners
For those special occasions, you can pick up a lobster dinner with a dessert included. Lobster dinners normally come in 2-person and 4-person packages and there are about 20 options on offer, including Boston Lobster Bake, Poseidon's Catch, XOXO Lobster For Two, and more.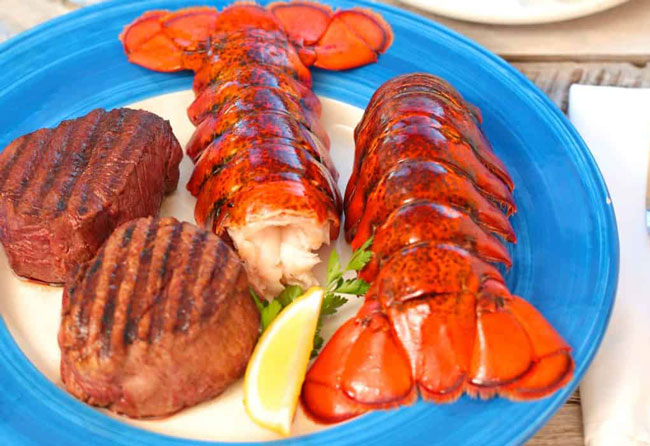 Scallops & Shrimps
When you want to enjoy something other than lobsters, you can order 1-pound and 2-pound packages of fresh and dry sea scallops from New Bedford. Alternatively, you can get 1, 2, 4, 6 or 8 pounds of quick-frozen, uncooked black tiger colossal shrimps, recommended by the Monterey Bay Aquarium Seafood Watch as the best choice.
Chowders & Bisques
At times when you need a bowl of soul-warming liquid to help you forget all your troubles, you can enjoy Lobster Anywhere's chowders, bisques, and bisques. Usually, there are about half a dozen options on offer, such as New England clam chowder and lobster bisque.
New England Desserts & Sweets
Finally, at the end of a good meal, you can enjoy Lobster Anywhere's pies and treats. You can opt for fresh blueberry pie, key lime pie, whoopie pies, salt water taffy, lobster gummy candy, chocolate truffles, and various sea-themed sweets.
Pricing
We have already mentioned that Lobster Anywhere has competitive pricing. In addition, it offers quantity discounts and free shipping on select items. While the prices may vary, we will now list the average prices of its main products, so you can determine how affordable they really are.
Live Maine lobsters cost $21.5 to $23.2 per pound, depending on their size. Frozen lobster tails start at $21 per medium tail and go up to $79.5 per monster tail.
The price of lobster tail meat starts at about 50 per pound while CK and TCK lobster meat starts at about $45 per pound.
Lobster rolls cost $134-$159 per 8-serving kit and the most affordable lobster dinners for 2 cost $99.
Scallops start at $34 per pound while shrimps can cost anywhere between $34 and $40 per pound.
Chowders and bisques start at about $5 per serving and desserts cost the same, around $5 apiece.
If the items you choose do not come with free shipping, the shipping fee you pay depends on the value of your shipment and the shipping method. For orders worth up to $300, shipping costs amount to $29-$79 per delivery. For orders worth $300 or more, shipping costs range from 14% of the order value to 16% of the order value plus $19.
All orders come with a satisfaction guarantee. If you are not happy with your delivery, reach out to customer support as soon as you receive it and request a refund or a replacement.
Delivery Areas
Lobster Anywhere does not ship outside the United States, but it does ship to every corner of all 48 contiguous US states as well as Alaska and Hawaii. As its name suggests, it delivers fresh seafood to any American who may crave it, regardless of location. It takes pride in the fact that it once shipped its lobsters all the way to the North Pole, Alaska.
The company relies on FedEx to deliver the packages on time and in good shape. It uses both overnight and second-day services. Due to the nature of the product, live seafood is exclusively shipped overnight.
No signature is required unless the order is worth over $500. Therefore, you generally do not have to be at home to receive the delivery, provided that there is a safe place to leave the package. Still, when you are ordering seafood, it is always advisable to store your delivery properly as soon as it arrives.
Lobster Anywhere Pros & Cons
To make sure Lobster Anywhere meets all your standards and expectations, it is important to know its biggest advantages and disadvantages. With a short overview of its pros and cons, you can easily decide if Lobster Anywhere is the right company for you.
Pros
Premium Maine lobster fresh from the trap
Lobster tails, meat, dinners, and rolls
Wild-caught shrimps and sea scallops
Gorgeous desserts, bisques, and chowders
Easy ordering with zero limitations
Quantity discounts
Free shipping on select items
Satisfaction guarantee
Rewards program
Great lobster accessories
Bottom Line
Lobster Anywhere is a seafood delivery service that truly cares and we dare to say that we love pretty much everything about it. Its products are perfectly fresh and of exceptionally high quality. Its offer may not be huge but everything on offer is exciting, flavorful, and worth a try. The prices are good and we like that certain products come with free shipping, especially since shipping fees can get rather high, as it is usually the case with seafood delivery. After everything stated so far, we can only say that Lobster Anywhere gets our warmest recommendation.