Best Maine Lobster Delivery Companies
You are just a step away from finding the perfect Maine lobster delivery for your needs. Keep reading to discover more important details about our top choices and find out which one of them you should rely on to supply some lobster goodness for your next feast.
1. Lobster Anywhere

Lobster Anywhere is a Maine lobster delivery service that is popular among both restaurateurs and lobster lovers around the nation. Its direct cooperation with local lobstermen, efficient organization, and 24-hour delivery guarantee superior freshness.
The company's online shop features all the favorites, including live Maine lobster in 6 sizes, lobster tails in 4 sizes, TCK and CK meat, lobster roll kits, lobster dinners with decadent desserts, and lobster bisques. Its lobster deliveries include the finest accessories, its products are competitively priced, and if you are not perfectly satisfied, you can always get a replacement or a refund.
2. Lobster Gram

A company with a stellar reputation, Lobster Gram has been featured on Oprah, Rachel Ray, Wall Street Journal, and the like and it boasts 4.8 stars in Google Trusted Stores. Its selection of Maine lobster products is incredibly rich. It includes live lobsters, lobster tails, surf & turf combos, lobster dinners complete with chef-prepared sides and desserts, and convenient lobster meat & roll packages that are perfect for parties.
All of its products adhere to the highest quality standards and they come with a 100% happiness guarantee.
3. Vital Choice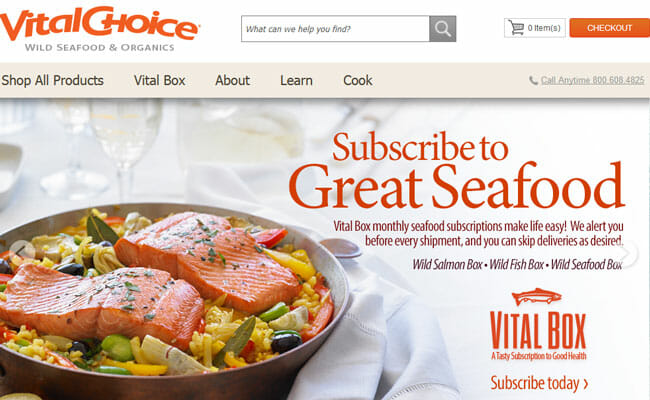 Vital Choice may not offer as many options as some our previous choices, but its handpicked Maine lobster items are always sustainably harvested and of premium quality. You can opt for 1- pound to 1.14-pound lobsters delivered in the shell, get 5-count packs of large Maine lobster tails or purchase as much shucked Maine lobster meat as you need.
All items ship frozen and come with a satisfaction guarantee. If you order larger quantities, you get to enjoy free shipping and a discount of up to 43%.
4. The Crab Place

Whether you prefer your Maine lobsters live and whole or you want to get some succulent lobster tails that are frozen fresh and ready to cook, The Crab Place has just what you need to make a perfect lobster dinner. Its live lobsters come in sizes ranging from 1 to 5 pounds and its lobster tails come in 10 sizes, ranging from standard (4-5 ounces) to giant (28-32 ounces).
You can freely decide on the quantity, choose from a variety of other seafood delights, and get your crustaceans at a reasonable price. Your satisfaction is guaranteed.
5. Simply Lobsters

With Simply Lobsters, you get to enjoy Maine lobsters that are delivered straight from the boat to your kitchen. Due to the volume of its business, the company is able to provide top-notch products at unbeatable prices. Its hardshell lobsters are delivered both live and cooked and come in as many as 9 sizes. Additionally, you can opt for softshells, culls, lobster tails and meat, rolls, bisques, meals, and much, much more.
The service is available nationwide, it offers fast delivery, and it lets you shop commitment-free and risk-free.