Benefits of Maine Lobster Delivery Services
Shopping for lobster in person and handpicking the one you want to cook for dinner is exciting for sure, especially if you are an expert and know exactly what qualities to look for. However, if you do not live in Maine, with plenty of fresh lobsters around, or you simply do not know all the tricks for choosing the right lobster, the initial excitement can quickly wear off.
On the other hand, a good Maine lobster delivery allows you to get the finest Maine lobsters with zero effort and guesswork. If you have not ordered your lobsters online before, here are some of the main reasons why you may want to give mail-order lobster companies a try.
Freshness
Maine lobster delivery services allow lobster lovers around the nation to enjoy the freshest specimens available whenever they wish. Advanced packaging solutions and fast shipping methods now make it possible for services to ship same-day catch and deliver the liveliest lobsters to your home within a day, which is rather impressive if you think about it.
It is a well-known fact that maximum flavor requires maximum freshness and this is exactly what the best Maine lobster delivery services promise. No longer do you have to settle for lobsters that have been in a tank for so long that they have lost their will to live. You can enjoy your crustacean at peak freshness instead of just cooking whatever is available in stores and you are sure to notice the difference straight away.
Reliability
When you are planning a lobster dinner, it is comforting to know that you can get everything you need on time and in perfect condition. If you are shopping at a store, you may often find the lobster selection available to be underwhelming or simply unsuitable for your needs and plans. Whole lobsters may not be large enough for your taste, tails may be frozen beyond recognition or you may not find the items you are seeking at all.
Since Maine lobster delivery services specialize in Maine lobster, all the most popular items are virtually always available in their online shops. You can order in advance or just a day before you plan to cook and know that your lobsters are sure to be in your kitchen right when you need them.
Convenience
Another benefit that should not be underestimated is the convenience that Maine lobster delivery services provide. As a customer, you have true experts handpicking your lobsters, handling them with care, and ensuring that you only get the best items available. Your only job is to pick what you need, pop it into the cart, and wait for your order to arrive, fresh, flavorful, and ready to cook.
Abundance Of Choices
Maine lobster products come in many shapes and forms, only a few of which are available in stores. With the right Maine lobster delivery service, you can choose from different size options and get lobsters and lobster tails larger than any you have seen before. You can freely decide on the quantity and get as much or as little as you need. On top of that, you can order more than just whole lobsters, tails, and meat. From famous New England lobster bisques to complete lobster feasts, lobster roll kits, and the most delicious surf & turf combos, you can get them all in just a click.
How Are The Best Maine Lobster Delivery Services Different
Obviously, not all Maine lobster delivery services are equally good at what they do. They differ in many crucial characteristics, including but not limited to lobster quality and variety, affordability, and dedication to ensuring customer satisfaction. Let us find out what makes the best Maine lobster delivery services better than the rest.
Quality & Sustainability
If you are an eco-conscious shopper, you want your lobsters to be sustainably sourced, in accordance with the principles of responsible aquaculture. That way, you are making the right choice for the health of the planet and your family. The best Maine Lobster delivery services never provide anything but sustainably harvested lobsters obtained from trusted lobstermen.
What is equally important is that with these services, you always get the highest-grade lobsters. Normally, these are companies with numerous customers, long traditions, and reputations to uphold, which is why they cannot risk sending out lower-quality items at the expense of potentially losing business. They only choose the best lobsters for your sake as well as their own.
Efficiency
Companies that are in the lobster business know that their customers do not only want their lobsters to be perfect but also expect their orders to be handled as efficiently as possible. The best Maine lobster delivery services have large teams that work like a well-oiled machine. Orders are processed quickly, lobsters are expertly selected and prepared for shipping as soon as possible, and deliveries are never delayed. This means that you always get the freshest items right on time and never have to cancel or postpone your lobster dinner plans.
Pricing
This may come as a surprise, but the best Maine lobster delivery services that offer the highest-quality lobsters often charge less than other companies. Their sales are high, they cooperate tightly with local lobstermen, and they cut good deals with their carriers. Therefore, they are in an advantageous position in comparison to other companies that have lower sales or do not work with lobstermen directly. Consequently, this allows them to offer better products at lower prices.
Trustworthiness
It is crucial to know that you are getting your lobsters from a company you can trust. Too often, live lobsters arrive dead due to improper selection and handling or colossal tails turn out to be medium-sized when they reach the customer's kitchen.
With the best Maine lobster delivery services, you do not have to worry about unpleasant surprises. You get exactly what you ordered every single time. If you are not perfectly happy with your delivery, you get a refund, no questions asked. You never have to worry about wasting cash or having your lobster feast plans ruined. When the best Maine lobster delivery services say that your satisfaction is guaranteed, they really mean it. That is what separates them from their competitors that make empty claims and only focus on getting money into their pockets instead of maintaining their loyal customer base.
Choosing The Right Maine Lobster Delivery Service For You
All Maine lobster delivery services claim that they can make your lobster dreams come true. However, the reality is that many of them fail to deliver on their promises and make you regret your purchasing decision. Our goal is to help you narrow your choice down to services that actually deserve your attention. Here are the factors that guide our selection process.
Freshness
If you wanted sad lobsters that had been living in a tank for weeks, you could have bought them at your local store. That is why we only choose Maine lobster delivery services that get their lobsters straight from lobstermen's traps. Additionally, we make sure that they do not keep them hostage for prolonged periods of time but instead deliver fresh-caught specimens that still smell of the sea and salt.
Quality
Even the most experienced lobstermen cannot guarantee that every lobster that ends up in their traps is sure to be of the highest quality. Of course, that does not mean that it is ok to send out low-quality specimens just because the day's catch did not live up to expectations.
The best Maine lobster delivery services handpick each lobster that they ship. They focus on lively, high-grade fellas with hard shells and firm meat. They do not settle for just chicken lobsters but strive to provide a variety of size options to satisfy the varying needs and desires of their patrons.
Variety
While it is ok to offer just a couple of the most popular lobster items, as long as they are of high quality, we do prefer services that have vast product selections. Not every lobster fan is interested in purchasing live lobsters. There are many who prefer their lobsters fresh, not frozen. Some just want to make some lobster rolls for a casual party with friends while others are hoping for an unforgettable romantic lobster dinner.
With the best Maine lobster delivery services, you can always get what you need, whatever your preferences may be. Tails, meat, rolls, bisques, fancy dinners, and whole specimens are just waiting for you to pick them and turn them into a meal to remember.
Extras
While a fresh, well-prepared lobster is a treat in itself, it is nice to know that you can enrich your feast with other items that go well with your favorite crustacean. Therefore, we give bonus points to companies that offer other prized catches as well as surf & turf packages, desserts, and other delicious extras that allow you to enjoy your lobster dinner even more.
Shipping
Whether you are ordering live, cooked or frozen lobsters, it is essential that your order arrives in perfect condition. Otherwise, you have wasted your money and your dinner plans are ruined. Unfortunately, shipping seafood requires skill that many mail-order lobster companies lack.
For this reason, we pay special attention to how our top picks ship their lobsters, which shipping methods they choose, and whether they guarantee that their products will arrive fresh and delicious. Only if the packaging is properly designed, the delivery is fast, and refunds are offered for unsatisfactory products does a company deserve to be regarded as one of the best Maine lobster delivery services around.
Price
Obviously, lobsters cannot cost 2 bucks apiece. However, you can get them at surprisingly low prices if you choose your delivery service wisely. Many top-notch Maine lobster deliveries have large networks of trusted lobstermen, boast thousands of customers, operate as wholesale businesses or simply prefer selling more instead of overcharging for less. Although we primarily focus on the quality, affordable pricing is one of the main characteristics we look for when choosing the best Maine lobster delivery service for you.
Best Maine Lobster Delivery Companies
You are just a step away from finding the perfect Maine lobster delivery for your needs. Keep reading to discover more important details about our top choices and find out which one of them you should rely on to supply some lobster goodness for your next feast.
1. Lobster Anywhere
Lobster Anywhere is a Maine lobster delivery service that is popular among both restaurateurs and lobster lovers around the nation. Its direct cooperation with local lobstermen, efficient organization, and 24-hour delivery guarantee superior freshness.
The company's online shop features all the favorites, including live Maine lobster in 6 sizes, lobster tails in 4 sizes, TCK and CK meat, lobster roll kits, lobster dinners with decadent desserts, and lobster bisques. Its lobster deliveries include the finest accessories, its products are competitively priced, and if you are not perfectly satisfied, you can always get a replacement or a refund.
2. Lobster Gram
A company with a stellar reputation, Lobster Gram has been featured on Oprah, Rachel Ray, Wall Street Journal, and the like and it boasts 4.8 stars in Google Trusted Stores. Its selection of Maine lobster products is incredibly rich. It includes live lobsters, lobster tails, surf & turf combos, lobster dinners complete with chef-prepared sides and desserts, and convenient lobster meat & roll packages that are perfect for parties.
All of its products adhere to the highest quality standards and they come with a 100% happiness guarantee.
3. Simply Lobsters
With Simply Lobsters, you get to enjoy Maine lobsters that are delivered straight from the boat to your kitchen. Due to the volume of its business, the company is able to provide top-notch products at unbeatable prices. Its hardshell lobsters are delivered both live and cooked and come in as many as 9 sizes. Additionally, you can opt for softshells, culls, lobster tails and meat, rolls, bisques, meals, and much, much more.
The service is available nationwide, it offers fast delivery, and it lets you shop commitment-free and risk-free.
4. The Crab Place
Whether you prefer your Maine lobsters live and whole or you want to get some succulent lobster tails that are frozen fresh and ready to cook, The Crab Place has just what you need to make a perfect lobster dinner. Its live lobsters come in sizes ranging from 1 to 5 pounds and its lobster tails come in 10 sizes, ranging from standard (4-5 ounces) to giant (28-32 ounces).
You can freely decide on the quantity, choose from a variety of other seafood delights, and get your crustaceans at a reasonable price. Your satisfaction is guaranteed.
5. Vital Choice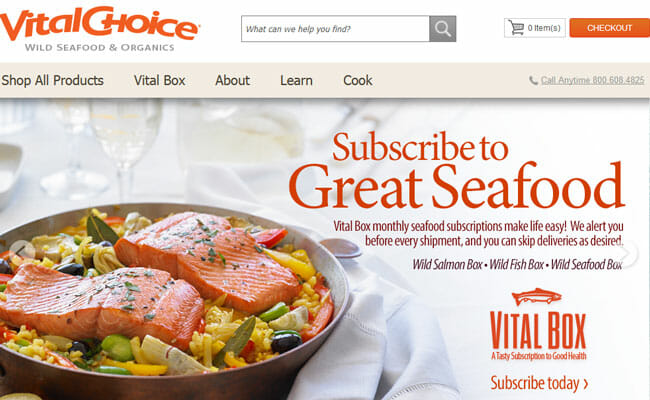 Vital Choice may not offer as many options as some our previous choices, but its handpicked Maine lobster items are always sustainably harvested and of premium quality. You can opt for 1- pound to 1.14-pound lobsters delivered in the shell, get 5-count packs of large Maine lobster tails or purchase as much shucked Maine lobster meat as you need.
All items ship frozen and come with a satisfaction guarantee. If you order larger quantities, you get to enjoy free shipping and a discount of up to 43%.