Plated does not offer the lowest prices on the meal kit market. Its average price per serving is a few cents above the industry average. Therefore, you can find several meal kit deliveries that can put a smaller dent in your budget. The question is whether Plated provides something extra in comparison to more affordable alternatives and whether it offers good value for your money.
To help you make the right choice for your weekly meals, we will dissect Plated's pricing policy, explore its advantages, and discover whether this service is worth your cash.
What You Get In A Plated Delivery
Your weekly deliveries from Plated can include 2, 3 or 4 meal kits, each yielding 2, 3 or 4 servings. You can choose the recipes in your deliveries and order dinners only or get desserts as well. In your box, you get pre-portioned ingredients, including pre-made sauces and spice blends for easier cooking, plus recipe cards with step-by-step instructions. What you do not get are salt, pepper, oil, parchment paper, and similar essentials that you are expected to have in your kitchen.
Plated's ingredients are fresh, sustainable, natural, high-quality, and organic when possible. They are not the finest on the market, as there are a few more expensive services that offer 100% organic ingredients of the highest quality. However, they are probably among the best you can get for that kind of money, at least when we are talking about meal kits.
How Much Does Plated Cost
The average price of Plated meal kits is $9.95 per serving. The prices range from $11.95 to $8.95 per portion and depend on the number of people you are cooking for and the number of kits you order per week. Let us find out how much you pay per meal and per week with each of the options available.
Plated 2-Serving Plan Cost
The company's 2-serving plan is the most expensive option. You get 1 serving for $10.95 to $11.95. That means that if you want to get 2 servings per meal, your deliveries cost:
$47.80 per week if you order 2 meals;
 $65.70 per week if you order 3 meals;
 $87.60 per week if you order 4 meals.
The prices shown here do not include shipping.
Plated 3-Serving Plan Cost
The 3-serving plan is significantly more affordable, with the price of $8.95 to $9.95 per serving. Should you decide to go with 3-serving kits, you can expect to pay:
$59.70 per week if you order 2 meals;
$80.55 per week if you order 3 meals;
$107.40 per week if you order 4 meals.
In comparison to the previous plan, you save $2 per portion and $6 per 3-serving kit, which is not negligible.
Plated 4-Serving Plan Cost
The kits you get with the 4-serving plan cost the same as the ones you get with the 3-serving plan – $8.95 to $9.95 per serving. With this option, your weekly deliveries cost:
 $79.60 if you get 2 meals per week;
$107.40 if you get 3 meals per week;
$143.20 if you get 4 meals per week.
Due to the difference in prices, you may want to consider this plan even if you are cooking for 2. Namely, you pay $2 less per serving than with the 2-serving plan. If you order 2 four-serving meals per week, you can divide your kits in 2 and cook the same meals twice, thus converting 2 meals for 4 into 4 meals for 2. This may seem like a bit of a hassle, but you do get to save $16 per week, so it may be worth trying out.
Plated Shipping Costs
Plated offers free shipping on all orders worth $60 or more. Therefore, you only pay for shipping if you order 2 meals for 2 people or 2 meals for 3 people. In such cases, the shipping fee amounts to $7.95 per delivery. This is a bit higher than the standard, which is $6.99 per delivery. However, the difference is less than $1 per week and numerous services charge higher fees. Furthermore, shipping is free on most orders, so we find Plated's shipping pricing model to be pretty fair.
Plated Coupons & Special Offers
First-time Plated customers can count on amazing discounts. If you are thinking about subscribing, be sure to visit our Plated Coupons page first to check out what the company is currently offering. Usually, there are at least 1 or 2 coupons available, allowing you to save upwards of $150 on your first few orders, which is quite generous.
Existing Plated customers can save cash by referring friends. Referral bonuses change from time to time. As we are writing this article, Plated patrons get 2 free plates (servings) for every successful referral. Likewise, their friends get 2 servings for free in their first orders.
Plated Returns & Refunds
If there is something wrong with your Plated delivery, you can request a refund by reaching out to the company's support staff via email or phone. You have as many as 90 days from the date you are charged for the shipment to send in your request. Within that time frame, you can receive a credit that you can use for your future purchases. If more than 90 days have passed since you have been billed for the delivery in question, you may get a gift card as compensation for the damaged or missing goods. Keep in mind that the company can refuse to issue a credit in cases of suspected fraud or abuse.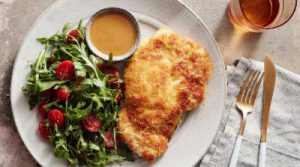 Is Plated Worth It?
So far, we have mostly examined Plated's offer and prices in isolation. Now we will compare this service with its 3 different alternatives: other meal kits, takeout, and conventional cooking. Let us see what makes Plated a better or less favorable choice than other solutions for home cooking and dining and try to determine whether it is worth the money.
Plated Vs. Competitors
As suggested before, Plated is neither the most nor the least expensive meal kit service in America. More than a few popular services are less affordable, but some of them do offer higher-quality ingredients, like Sun Basket. Virtually none of the less expensive services are superior to Plated in terms of food quality or variety, including HelloFresh and Dinnerly. In comparison to many meal kit deliveries currently on the market, Plated offers:
More meal options (e.g. desserts and meals for special diets);
More convenient subscriptions;
Better ingredients;
More creative recipes;
Vaster range of options for different cooking preferences.
There are not many services that can compete with Plated when it comes to variety. The company offers as many as 20 new dinner recipes every week, which is more than enough to satisfy the tastes of the majority of home diners. Its recipes are inspired by a variety of popular cuisines, including American, Mexican, Italian, Korean, Chinese, and many others. However, what is interesting is that all the dishes are adapted in accordance with the average American's preferences.
If you are a meal kit fan, you probably already know that Plated is one of the rare meal kit deliveries that regularly offer dessert recipes. This is a great advantage that has inspired many home cooks to opt for Plated instead of other similar services.
Keeping in mind the diverse needs of its patrons, Plated has decided not to cater to omnivores only. With an offer that includes gourmet, family-friendly, pescatarian, vegetarian, low-calorie, low-carb, and gluten-free items, the service offers more special diet options than a number of its competitors.
In comparison to some other popular meal kit services, Plated offers more flexible subscriptions, letting you choose from 2-serving, 3-serving, and 4-serving options and allowing you to order 2, 3 or 4 recipes per week. It further lets you eliminate ingredients you do not like or cannot eat and enables you to switch between meal plans, skip a delivery or cancel your subscription anytime.
While not 100% organic, Plated ingredients are still superior to those that many of its competitors offer. Its produce is fresh, natural, locally sourced, and often organic, its meat is responsibly raised and free from antibiotics and added hormones, its seafood is sustainably harvested, and its specialty products are hand-crafted and produced in small batches by trusted artisans. This is not something you get with just any meal kit delivery.
What is further worth knowing is that Plated recipes are more innovative than most and quite obviously crafted by chefs who are passionate about food. Even with something as simple as grilled cheese, the Plated culinary team knows how to liven the plate up a bit with healthy and colorful additions like broccolini, honey, and pepperoncini. Such an imaginative approach to recipe crafting is sure to inspire you to get cooking and enjoy making your meals much more.
Finally, Plated invests extraordinary efforts into satisfying the preferences of different kinds of home cooks. It offers 20-minute meals for busy individuals who just want to quickly whip up something nice and healthy at the end of the day. However, it also provides recipes that may be more complex or take up to an hour to make, which is great for special occasions. These differences in dish complexity, cooking time, and skill level required are refreshing and make Plated a great choice for beginners and skilled cooks alike.
Plated Vs. Takeout
Ordering takeout and cooking with Plated can be quite similar price-wise. Of course, prices significantly vary, so it all depends on your preferences and available takeout options. However, what is vastly different is the nutritional value of the meals. With takeout, you usually get high-calorie meals prepared with plenty of unhealthy fats and possibly less than fresh ingredients. In other words, you get food that may taste good but that is not all that good for your body.
Plated meals are nutritionally balanced, rich in veg, optimally portioned, and often low in calories. They do not contain artificial additives and they have moderate fat content. Simply put, they are much healthier than takeout, which makes them a far better option if you are watching your weight and trying to eat well.
Plated Vs. Conventional Cooking
You should not expect to spend less on a Plated meal than a homecooked meal unless you regularly use exotic and premium ingredients. However, there is more than 1 way in which cooking with Plated helps you save cash in comparison to conventional cooking.
With Plated, you only spend money on food you actually eat. What we mean by this is that you do not buy groceries that you do not really need and you do not buy more food than your meals require. You get 1 or 2 tablespoons of hoisin sauce, not the whole bottle. You get half a cup of rice, not a whole bag. Nothing is left sitting in your fridge or pantry until it goes bad.
Furthermore, your meals are carefully portioned, so you do not have to worry about leftovers ending up in the trash. Generally speaking, home cooks tend to purchase and prepare much more food than they need, which generates a lot of food waste, which equals money wasted.
You also get to reduce the number of trips you take to the store every month. This does not only save you gas money but also minimizes unplanned purchases. You would be surprised by how much extra money people spend on food they do not need but start craving once they see it on the shelf!
In sum, if you order from Plated regularly, you may not notice any major savings in the short run, but you can actually save cash on a yearly basis.
Plated Is A Good Choice For…
Plated is not an ideal choice for vegans, diabetics or people who only eat organic. It is also a suboptimal choice for people on an extra-tight budget and individuals who do not really like cooking, chopping, and dicing in particular. On the other hand, we find it to be an excellent solution for:
Couples who like trying out new recipes;
Single parents;
Small and medium-sized families;
Vegetarians and pescatarians;
People who are trying to reduce their carb or calorie intake;
People who want to perfect their cooking skills;
Home cooks who appreciate variety;
Dessert lovers;
Busy singles who want to eat healthily;
Picky and adventurous eaters alike.
We hope that this has helped you determine whether Plated is the right choice for you. What we can say based on our experience and research is that Plated is more than worth it, as long as it fits your culinary and dietary preferences. It is not amazingly affordable, but its prices are reasonable and the quality of its offer has helped it secure its place among the best meal kit delivery services around.